The number of wine festivals popping up across the nation are increasing. However, not all are created equal. Here are some of America's best (food and) wine festivals in each of the 50 United States.
This list will be updated annually so if you feel we've missed a CANNOT MISS food and wine festival, please contact us with the event information and why it's a must.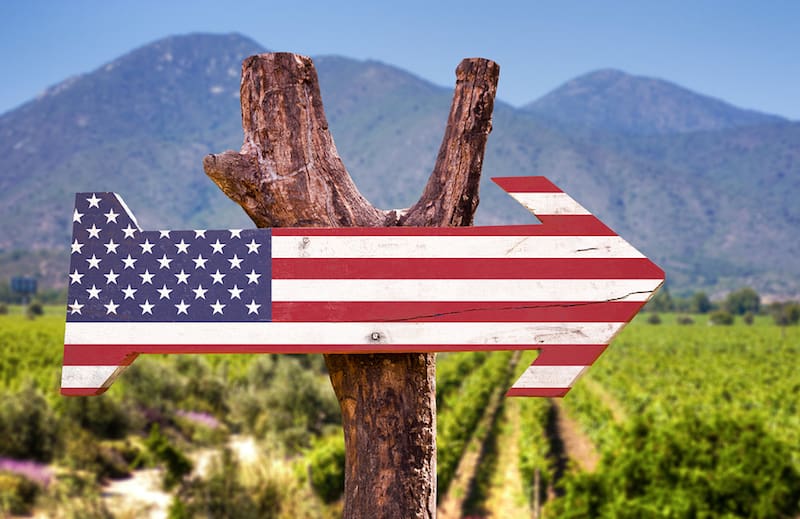 ---
ALABAMA WINE FESTIVALS
September 21-25, 2022
Presented by Homegrown Huntsville, and widely known as Alabama's first state winery competition, Crush Wine & Food Festival is a must for wine lovers. Tickets for this much-loved food and wine festival don't last for very long, so you'll want to make sure you grab tickets quickly when the annual date is revealed.
May 4, 2022, Birmingham AL
Attendees get to travel to all corners of the globe with the best wine and beer that are specific to certain regions. This wine and food fest features food for sale from some of the city's best restaurants and you'll get to enjoy music from local musicians too.
---
ALASKA WINE FESTIVALS
January 28-29 2022 in Anchorage, AK
A fun two-day event filled with tasting great beers and barley wines from Alaska brewers and national standouts, while also enjoying food samples, music, dancing and other entertainment. The food and wine festival supports two local charities; American Diabetes Association, Alaska Lions Club and is well worth putting in your calendar.
---
ARIZONA WINE FESTIVALS
January 28-30, 2022, Phoenix
The three-day festival will kick off with a winemakers' dinner to support Horses Help Foundation, Arizona's premier accredited therapeutic and recreational agency that serves the special needs population through a unique collaboration of horses and people. The two-day festival on Saturday, January 29 – Sunday, January 30 featuring 20 Arizona wineries pouring over 150 wines, along with live music, food trucks, artist, and other local vendors.
May 20-22, 2022, Willcox, AZ
Rated by Fodro's Travel as one of the top 10 wine festivals in North America, the Willcox Wine Country Festival is a weekend-long celebration that features Arizona wines from the Willcox region. The Annual Festival will showcase 18 Arizona Farm Wineries from Willcox Wine Country or with ties to the region, plus five music acts and over 70 local artists, crafts.
May 28, 2022
---
ARKANSAS WINE FESTIVALS
Enjoy sample pours from some of Arizona's top wineries, craft distilleries, and craft breweries along with music performed at two small stages, one at each end of this grassy venue. Tickets include wine glass and 10 wine sampling tickets. There is no charge to enter the event venue.
Summer 2022, Fayetteville, AR at the Walton Art Center
Since 2000, Walton Arts Center's Art of Wine Festival has been enjoyed by Arkansans and visitors from across the country. This annual, multi-day food and wine festival has quickly grown into one of the largest in the region, featuring hundreds of wines, food from dozens of area restaurants and live entertainment. Proceeds from the Art of Wine Festival support Walton Arts Center, a non-profit arts presenting organization serving the region for more than twenty years. Each year more than 200,000 community members experience a variety of performing arts at Walton Arts Center and approximately 50,000 school children and teachers in Arkansas participate in our arts education and outreach programs.
---
CALIFORNIA WINE FESTIVALS
California is the largest wine producing state in the United States, it's also home to the largest number of wine festivals. With so many amazing events we created a stand-alone post with California Wine Festivals not to miss. Here are few to sip in right away.

May 27-29, 2022
Experience Napa Valley wine, beer, music, art and restaurants. Acts include headliners such as The Black Crows, Metallica, Twenty One Pilots, P!INK, PitBull, Michael Franti.
September 15-18, 2022, Lodi
What started out as a small food festival has evolved into a four-day event filled with entertainment, food, vendors, a carnival and wine tasting.
Sample the Sierra
2022 Dates TBD, Bijou Community Park, South Lake Tahoe
June 4-5, 2022
The annual Fest pairs of wines from California and around the Globe with live music each day. The 'Celebration of All Things Wine' offers tastes from 50+ wineries, numerous craft breweries, plus artisan boutiques and gourmet food trucks for purchase. There are also two special Boutique Winery gardens that offer tastings from boutique wineries producing under 2,000 cases of wine per year (separate ticket).
July 15-16, 2022
Don't miss the annual California Wine Festival, in beautiful Santa Barbara – one of the largest outdoor wine festivals in the state! This beautiful city is the original home of the CWF, a spectacular gathering of wine, food, music and fun at the beach! A true world-class resort city, Santa Barbara attracts sophisticated visitors from around the world many of whom spend a few days by the beach tasting great California wines. A hip crowd of wine lovers flock to the three-day Festival, making this one of the most desirable consumer wine events of the year.
2022 Dates TBD
The San Diego Bay Wine + Food Festival spotlights the culinary scene of America's Finest City, with events focusing on the city's latest trends, including: its commitment to sustainable seafood, fermentation, and exploring the neighboring gastronomy of San Diego's bordering Baja region.
The week long California wine festival culminates with the Grand Tasting on the scenic San Diego Bay featuring over 60 of San Diego's top Chef's and restaurants as well as over 200 international wineries, breweries and spirit companies, chefs, culinary personalities, and gourmet food. The festival sees over 10,000 wine and food aficionados from across the nation for the biggest wine and food celebration in Southern California.
---
COLORADO WINE FESTIVALS

2022 Dates TBD, Denver

Named by Fodor's Travel as one of the top 10 wine festivals not to miss, the Annual Denver International Wine Festival is a must. (I'm biased to this show as I'm also one of the wine judges for the winners!) The festival has become the premier International Wine & Food Festival in the Rocky Mountains so set your expectations high and you will not be disappointed.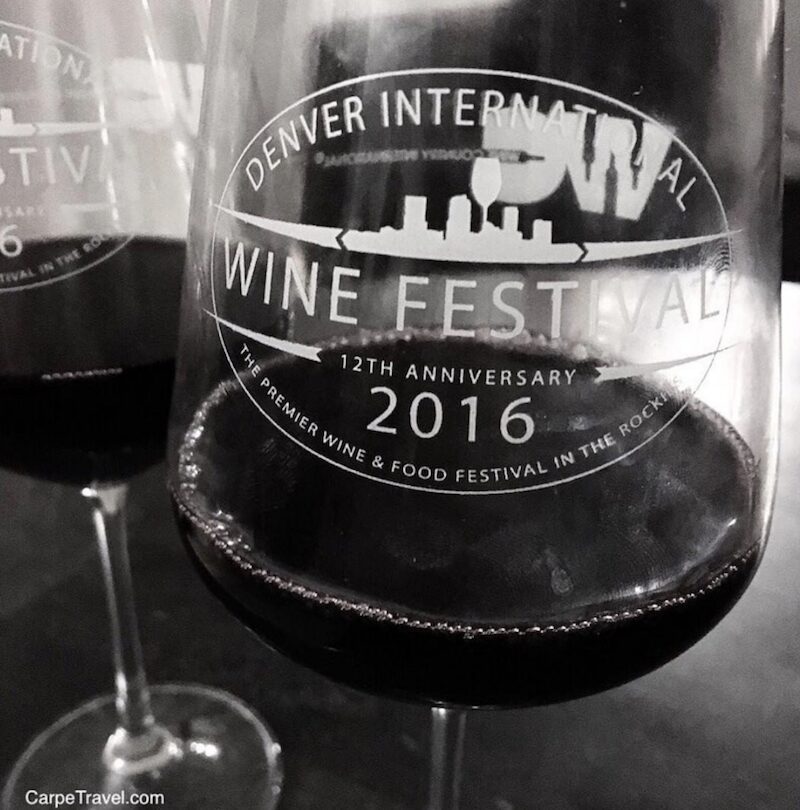 June 23-26, 2022, Telluride
Since 1981, Telluride has hosted the prestigious Telluride Wine Festival. The food and wine festival is a beautiful gathering of the local culinary community, enthusiastic visitors, vintners and chefs from around the world. Also happening within the four days of world-class wines and cuisine are amazing modern-cuisine, cooking classes, a "Celebration of Colorado" featuring local wines and spirits, cooking demonstrations, cocktail classes and samplings of unique and deliciously prepared foods.
July 20-23, 2022, Crested Butte
The Crested Butte Wine & Food Festival takes place each July, which is THE perfect time of year to visit this scenic and captivating area. This food and wine fest features a selection of seminars, fine dining Winemaker dinners, the signature event, the Grand Tasting, which presents over 500 select wines from 25 wineries and distributors, food demonstrations, and more.
July 29th-31st, 2022, Breckenridge
The Breckenridge Wine Festival is a unique wine and small bites festival held in the heart of the Rocky Mountains. Indulge in exciting wine seminars taught by master sommeliers and food pairings that will tantalize the taste buds as you take in the amazing mountain views.
September 15-17, 2022, Breckenridge
The Breckenridge Wine Classic is a premier destination event each autumn where master winemakers, culinary greats, and our distinguished guests gather to play, wine, and dine in Breckenridge, Colorado.
September 17, 2022, Palisade
Colorado Winefest has been voted the Best Wine Festival in the U.S. by USA Today's 10 Best and for good reason. The "Festival in the Park" is the state's largest and oldest wine festival featuring dozens of Colorado wineries, live music, a grape stomp, chef demonstrations and seminars.
June 17-19, 2022, Aspen
Each year, FOOD & WINE hosts its FOOD & WINE Classic in Aspen, which has become one of the nations premier culinary events with the world's most accomplished winemakers, celebrity chefs, and culinary experts coming together in one breathtaking setting – the base of Aspen Mountain. Foodies will delight in the range of food and wine offerings both in the grand tasting pavilion as well as the carefully curated seminars at this food and wine festival.
April 6-9, 2022, Vail
The Taste of Vail has been rated among the nation's best spring food and wine festivals by Forbes, USA Today and The Travel Channel. During this year's annual four-day event, 5,000+ people are expected to taste, sip and soak in the Vail Valley. The event features world-class restaurants, fine wine poured by winemakers and winery owners from renowned wineries throughout the world, interactive cooking seminars, the iconic Mountain Top Tasting sensory extravaganza at the top of Vail Mountain, and the famous Grand Tasting auction as well as other exciting events.
June 4, 2022, Manitou Spring
Spend your day just outside of Colorado Springs in the charming and quirky town of Manitou Springs for the annual wine festival. Over 30 state-wide wineries offer tastings along with live music, food trucks and local vendors inside Manitou's Memorial Park.
October 6-8, 2022, Denver
Ok, we know it's not wine but it's super fun and is the largest collection of U.S. beer ever served in a public tasting event plus a private competition. With Colorado being king of craft beers, it only makes sense to hit the GABF to explore craft beers from around the U.S. and the world.
---
CONNECTICUT WINE FESTIVALS

Spring 2022
The multi-day event features a Master Chef Dinner on Friday evening, and all-day Saturday festival featuring tastings, demonstrations by celebrity and local talent, celebrity chef book signings, Burger Battle, Top Bartender's Showdown and a live musical performance. The food and wine festival benefits local and national charitable organizations, with past beneficiaries including Paul Newman's Hole in the Wall Gang Camp, James Beard Foundation, Greenwich Breast Cancer Alliance and more.
---
DELAWARE WINE FESTIVALS

Summer 2022, Harrington
The Delaware Wine and Beer Festival was the State's first "official" wine and beer festival. In fact, it was the first of its kind, and still the only one that features all of Delaware's breweries, wineries and distilleries. The festival includes music, performers, games, DJ's, and access to a select number of local eateries featuring gourmet foods and Delaware delicacies. There will be vendors and a wine store with discounted prices on bottles or cases of Delaware-made wines.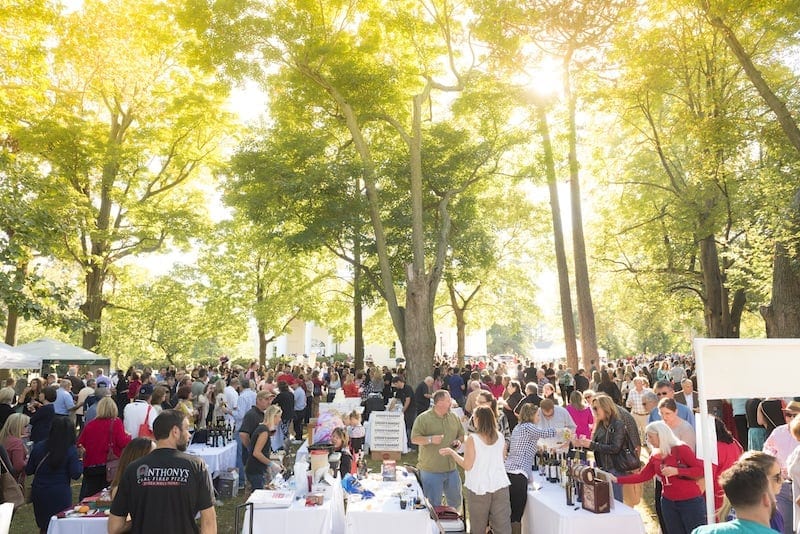 ---
FLORIDA WINE FESTIVALS
January 28-30, 2022 Naples
The Naples Winter Wine Festival is ranked among the top 10 arts and entertainment events for wealthy Americans by the Luxury Institute. Proceeds from the Festival benefit the Naples Children & Education Foundation, whose vision is to make a profound and sustaining difference in the quality of children's lives.
January 26 – 30, 2022, Key West
The Key West Food & Wine Festival is a series of wine and food themed events showcasing a diverse range of wines and inventive cuisine. With more than 20 unique events including waterfront tasting, winemaker/chef collaborations and local funky events, it's a great way to experience an authentic taste of Key West.
Dates TBD. Walt Disney World Resort in Orlando, Florida
Over six weeks, this annual fall festival at Walt Disney World's Epcot Park showcases food and wine specialties from 25 countries. You can explore international kiosks, cooking demonstrations, cheese seminars, culinary demonstrations, wine tastings, as well as live musical performances and wine/dinner pairings. Admission to the basic food and wine festival is included with park admission, but guests must purchase the food and drink separately.
---
GEORGIA WINE FESTIVALS

2022 Dates TBD
Jam-packed with tasting events, night markets, Southern cuisine and exquisite wines, the Atlanta Food and Wine Festival has been running since 2011. The goal of the organizers is to shine a spotlight on the outstanding food, wine, beer and spirits of the South.
2022 Dates TBD
Focusing on locally-sourced foods that represent the culinary heritage of the Lowcountry, this festival is a must for both food and wine lovers. There are usually 300+ vendors in attendance and they offer early bird discounts to select events so snap them up when they come on sale.
February 12, 2022
2022 Dates TBD
Whether it's hail, rain or shine, attendees are invited to taste wines from around the globe and enjoy music at metro Atlanta's largest outdoor wine festival. Proceeds benefit the Decatur Arts Alliance, which produces the Decatur Arts Festival and many other arts events that are free to the community.
---
HAWAII WINE FESTIVALS

October 21-23, 2022 – Kaanapali, Maui
October 28-29, 2022 – Island of Hawaii
November 3-6, 2022 – Oahu
The Hawaii Food & Wine Festival is the premier epicurean destination event in the Pacific. Set in the lush island paradise of Hawaii, the Festival will take place over three weekends on multiple islands, featuring a roster of more than 100 internationally-renowned master chefs, culinary personalities, and wine and spirit producers. The Festival in Hawaii Island, Maui, and Oahu will showcase wine tastings, cooking demonstrations, one-of-a-kind excursions, and exclusive dining opportunities with dishes highlighting the state's local farmers, fishermen, and ranchers.
---
IDAHO WINE FESTIVALS

June 2022 at the Idaho Botanical Garden in Boise, ID
The Idaho Grape Growers and Wine Producers Commission host the annual Savor Idaho, which has become Idaho's Premier Food and Wine Event. The event features a vast array of Idaho wineries and restaurants giving consumers a unique opportunity to savor the best Idaho has to offer in wine and food while enjoying live music.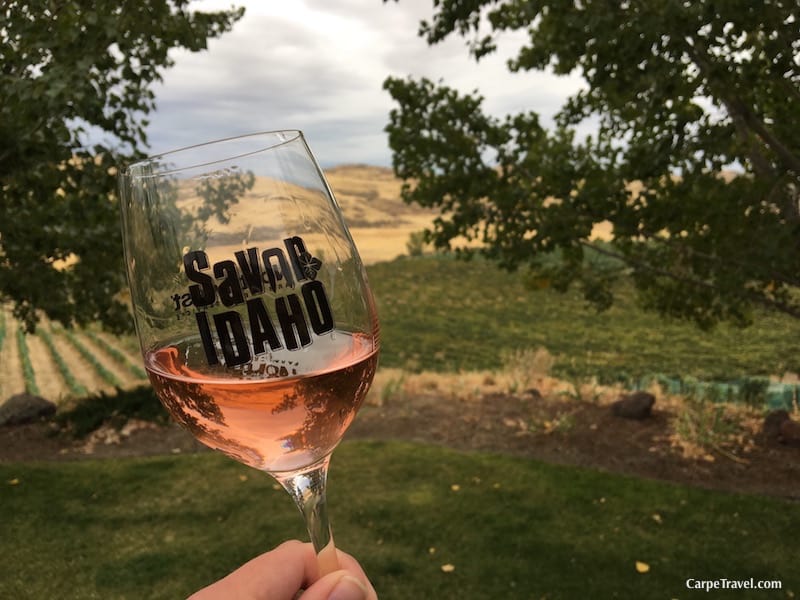 Interested in learning more about Idaho wine? See our Idaho wine travel guide.
---
ILLINOIS WINE FESTIVALS
September 17 – 18, 2022, Utica
The state's largest wine festival festival began in 2003, and each year more than 25 Illinois wineries pour the fruits of their labors at Vintage Illinois. The event is hosted by the Illinois Grape Growers and Vintners Association (IGGVA), a non-profit organization dedicated to developing the viticulture and enology interests of Illinois.
2022 Dates TBD
The Annual Chicago Wine Fest is an elevated wine tasting experience that aims to stimulate all of your senses with great food and live musical performances, all while sampling some of the best varietals from around the world.
INDIANA WINE FESTIVALS

June 4, 2022, Military Park in Indianapolis
This award-winning food and wine festival will take place at Military Park in downtown Indianapolis. The festival celebrates Indiana wineries as they offer samples of more than 200 award-winning wines.
May 7, 2022, Story
The Indiana Wine Fair is one of Indiana's oldest and largest wine events. For more than a decade, Indiana's vintners have descended upon the little town of Story, Indiana to dole out one-ounce pours of their finest Reislings, Malbecs and Cabernets to an appreciative audience. You'll be able to sample and purchase wines from over 30 of the state's vintners. The fair will include a variety of food trucks and live music.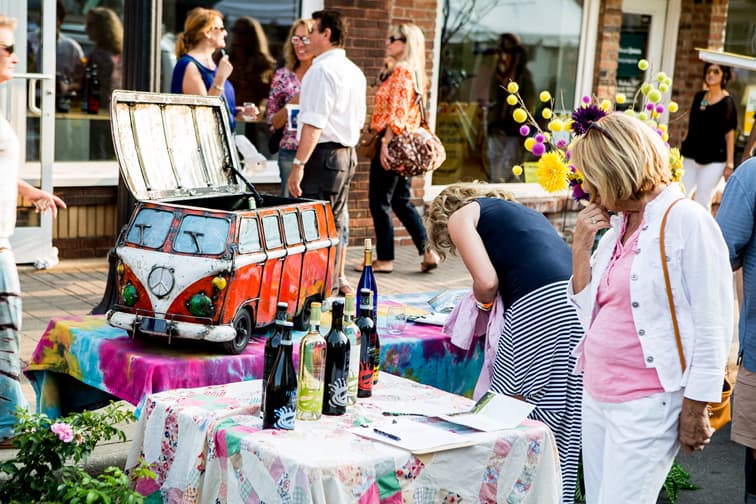 IOWA WINE FESTIVALS
2022 Dates TBD, Des Moines
Hosted by The Des Moines Wine Festival Foundation, Winefest is an annual event that celebrates fine food and wine while bettering the community. The event has grown into one of Des Moines' most anticipated weekends of the year and has raised more than $400,000 for local charities and cultural organizations.
August 11-21, 2022, Iowa State Fair
The Iowa Wine Experience at Grandfather's Barn is open during the Iowa State Fair where visitors can learn more about the grape and wine industry in Iowa, sample Best of Show award-winning wines from the Commercial Wine Competition. Outside, the infamous Grape Stomp competition takes place four times a day and industry speakers talk twice a day about various topics such as wine making, tasting tips, craft beer and mead, growing grapes, hop production, etc. The whole family is welcome up on the hill, where children can learn more about grapes at the "Grape Get-a-Way" or play outdoor yard games, while parents relax at the end of a long day at the Fair with a glass of local Iowa wine, beer or craft soda and enjoy live music each evening.
---
KANSAS WINE FESTIVALS
April 21-22, 2022
This annual event is usually held every April. It features the Old Town Walkabout – a food and wine sampling stroll through Wichita's historic Old Town warehouse district; various wine dinners throughout Wichita; and concludes with the Grand Tasting and Auctions. Proceeds benefit the Guadalupe Health Foundation.
---
KENTUCKY WINE FESTIVALS

2022 Dates TBD
The Kentucky Wine & Vine Fest is the Official Wine Festival of Kentucky where visitors can sip and savor their way through all of the 15 Kentucky wineries. It's a celebration of all the wonderful things that make the Kentucky Good Life so darn good–especially the unique blend of history, heritage, and modern wine making available at Kentucky's vineyards and wineries.
September 14-18, 2022, Bardstown
I know it's not wine but Kentucky is home to Bourbon. This annual festival is a must. Today it is one of the Commonwealth's leading community festivals, saluting and showcasing the Bourbon making process and the storied history of Kentucky's renowned industry. Many distilleries, plus genuine Kentucky arts and crafters, display their wares.
---
LOUISIANA WINE FESTIVALS

June 7-12, 2022
Each year hundreds of wineries and restaurants participate in the New Orleans Wine & Food Experience. Menus feature local flavor and innovative creations inspired by diverse cuisines. Over two dozen restaurants feature special dining events throughout this New Orleans food and wine festival. The weekend also features over 1,000 wines from around the world, with special tasting events from wineries. You can enjoy grand tasting events, promenade evenings in the French Quarter, and seminar series to hone your palate.
---
MAINE WINE FESTIVALS

2022 Dates TBD
During The Union Fair, you can enjoy wines from over 20 Maine wineries. If wine is not your thing, the pavilion also offers select Maine made beer, and spirits from some of Maine's best craft distillers.
---
MARYLAND WINE FESTIVALS
2022 Dates TBD
The Maryland Wine Festival is one of the oldest wine festivals in the country – 2021 marked its 37th year. The event features an incredible variety of local wines from across Maryland. More than 150 Maryland wineries will be onsite for you to sip through! Fine artisanal cheeses produced by creameries in Maryland, live music and local chefs will also be featured at the event.
May 21 – 22, 2022, Symphony Woods in Columbia
The annual Wine in the Woods is one of the premiere events in the region and a source of pride for Howard County. The food and wine festival has been voted Best Outdoor event by Columbia Magazine in 1997 and 1998 and awarded Best Annual Festival in Howard County by Howard Magazine for the past five years. The venue- Merriweather Post Pavilion – Symphony Woods – sets this festival apart from other similar events as it can make attendees feel transported. Columbia is conveniently located between Baltimore and Washington D.C. but Symphony Woods is a beautiful green space that can help visitors feel much farther away than they are from big cities, traffic and the like. The festival features more than 35 local Maryland wineries, wine education seminars, food, fun and several more events.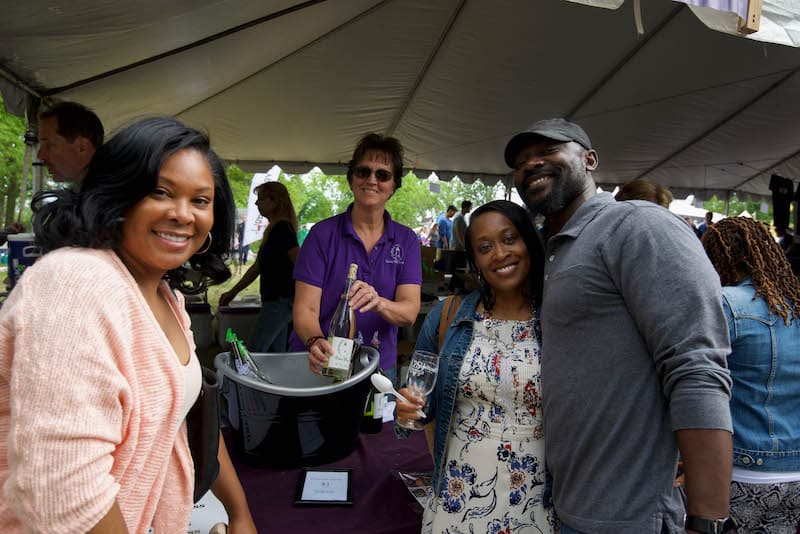 MASSACHUSETTS WINE FESTIVALS
2022 Dates TBD, Nantucket
The Nantucket Wine & Food Festival is 30-miles off the coast of Cape Cod – the world's historic whaling capital becomes the nation's wine capital every May. Famous for its vast array of featured winemakers and talent, the Nantucket Wine Festival began in 1996 as a one-day Grand Tasting event held on the beach in Siasconset, the eastern-most tip of the island. It has since grown. The festival now draws over 3000 attendees to the island for this annual spring fête and boasts a continually growing family of vintners, wineries, renowned chefs and restaurants.
2022 Dates TBD
Launched in 2007, the Martha's Vineyard Food & Wine Festival proudly brings together the culinary talent of Martha's Vineyard, and the farmers, fishermen, oyster producers and artisans with whom they work. Guest chefs and vintners from around the world are all there, too, celebrating the Island's rich tradition of farming and fishing that has helped make it the culinary gem that it is today. A highlight each year is the Grand Tasting held on iconic Harbor View Hotel's Great Lawn. The event features more than 300 winemakers, distillers, brewers, gourmet food vendors and restaurants, and provides attendees access to top chefs from Martha's Vineyard, Boston and beyond.
January 21-March
The Boston Wine & Food Festival features an array of events at the five-star Boston Harbor Hotel. The event, now in it's 33rd year features themed weekends and intimate winemaker-hosted dinners, luncheons, tastings, seminars, and more. Opening weekend kicks off on January 21st, and events run through late March.
---
MICHIGAN WINE FESTIVALS

September 23, 2022
One of Michigan's largest wine tasting events, Detroit Uncorked features more than 250 wines, Michigan beers and premium spirits.
2022 Dates TBD
The wine festival features fantastic regional live music programming, a big top tent that houses locally-grown-and-produced wine varietals from The Lake Michigan Shore AVA including 12 Corners, Baroda Founders, Cody Kresta, Cogdal, Contessa, Dablon, Domaine Berrien, Fenn Valley, Gravity, Hickory Creek, Karma Vista, Lawton Ridge, Lazy Ballerina, Lemon Creek, Round Barn, St. Julian, Vineyard 2121, Warner and White Pine. Visitors have access to the beach and beautiful Lake Michigan, an enviable sunset all below the backdrop of the towering sands of Warren Dunes.
2022 Dates TBD Leland
Enjoy tasting local award-winning wines from 12 Leelanau Peninsula wineries and one local brewery, delicious specialties from eight local food vendors while soaking up beautiful views of Lake Michigan and the Manitou Islands from our Leland Harbor venue. Live music, artist booths and the beach will all be a part of the festivities at this food and wine festival.
2022 Dates TBD
The festival offers something for everyone including tastings and tours for wine enthusiasts; a 5k, grape stomping competition, kayak race, and other contests for the active members of your family; four stages of entertainment for music-lovers; and carnival rides, fireworks, and the parade for all ages. This is one weekend you won't want to miss.
---
MINNESOTA WINE FESTIVALS

May 13-14, 2022
March 5-6, 2022
---
MISSISSIPPI WINE FESTIVALS

May 7, 2022
Since 2006, Santé South has grown into the largest wine and culinary extravaganza in the state of Mississippi. Epicureans and connoisseurs in the greater Southeast revel in the fresh and flavorful cuisine. Boutique vintners from across the globe travel to Mississippi to present their annual new release wines. Santé South affords a rare opportunity for the wine enthusiast to speak directly with the winemaker and features more than 120 exceptional wines and fine food samplings from more than 20 top Mississippi restaurants. World-class wine offerings reveal the highest quality available from all corners of the winemaking world stemming from a passion for wine and the desire to share it with others.
---
MISSOURI WINE FESTIVALS

September 10, 2022
Independence Uncorked is the largest wine festival in Missouri. It features 25 Missouri wineries sampling several of their wines, a guest spirits distiller, and over 2600 attendees. The day will also feature art, music, beer, food booths and wine classes. The festival is hosted at the Bingham-Waggoner Estate, an 1852 mansion and estate once owned by George Caleb Bingham, the famous Missouri artist. Proceeds from the events will go towards various national and local charities supported by the Rotary Club of Eastern Independence.
---
MONTANA WINE FESTIVALS

May 12-14, 2022
The Montana State University Billings Foundation's Wine & Food Festival has become a signature event in Montana and the region for wine and culinary enthusiasts.
February 18-21, 2022
Montana's premier luxury ranch resort, The Resort at Paws Up, continues its annual WinterFest Culinary weekend, with notable culinary talent and winemakers from California's coast. This four-day, three-night weekend food and wine festival includes intimate cooking demonstrations, winter-themed feasts, wine tastings, a festive ice bar, and an exhibition curling match.
---
NEBRASKA WINE FESTIVALS

August 19-20, 2022
This wine festival soars to new heights as festival participants sample some of wines from more than 18 of Nebraska's best wineries, all under the soft glow of colorful hot air balloons.
May 13-14, 2022 and November 12, 2022
This is the largest gathering of Nebraska wineries in the state. TOAST Nebraska is offering two events in 2022, a spring event hosted at Stinson Park in Omaha and a winter holiday event at Fonner Park in Grand Island Nebraska. Tickets include unlimited tastings at all participating wineries.
---
NEVADA WINE FESTIVALS

2022 TBD
An hour west of Las Vegas and an hour east of Death Valley National Park you'll find the town of Pahrump, otherwise known as the heart of the desert and the home to the Pahrump Valley Winery. Every year, Pahrump Valley Winery hosts the annual Grape Stomp, which has become a traditional fall celebration in Pahrump. The stomping of the grapes starts in the afternoon around 1 p.m. (You must sign up for the grape stomping in advance.) There is usually seven two-person teams stomping every 15 minutes for a four hour period. At the food and wine festival, visitors will find craft booths, food, and live music and yes wine tasting.
2022 Dates TBD
The Las Vegas Food & Wine Festival is a celebration of the senses, featuring an eclectic selection of elegant fare from locally renowned celebrity chefs. Feast on an enormous array of delicious foods, invigorate yourself with sensational spirits, and enjoy the good life.
---
NEW HAMPSHIRE WINE FESTIVALS

2022 Canceled
January 21 – February 13, 2022
Perched on New Hampshire's 18-mile seacoast, the historic Wentworth by the Sea Hotel & Spa opened its doors in 1874. Every January, the hotel hosts its annual Winter Wine Festival, a month-long celebration of wine, food, and song. Events include a multi-course Grand Vintner's Dinner, a Big Tasting in the Grand Ballroom, weekday Flight Nights, Shell-Shocked – an oyster event in SALT's lounge – and Bubbles and Jazz Brunches.
---
NEW JERSEY WINE FESTIVALS

2022 TBD, Crystal Springs Resort, Hamburg
The annual New Jersey Wine & Food Festival is one of largest independent food and wine festivals in the U.S.
2022 TBD
Festival goers can look forward to sampling wines from a nice variety of award-winning Garden State wineries. In addition to wine tastings, there will also be live entertainment, as well as crafters, retail vendors and food vendors.
See our New Jersey Wine Travel Guide to sip in more of New Jersey.
---
NEW MEXICO WINE FESTIVALS

September 21-25, 2022
The Santa Fe Wine & Chile Fiesta celebrates five days of events featuring 90 national wineries and 75 of Santa Fe's best restaurants. The festivities include cooking demos, wine seminars, and winery luncheons and dinners. The Santa Fe Wine & Chile Fiesta is a great way for visitors to get to Santa Fe in the fall season to experience the famous green chile harvest/roasting season as well as the inventive pairings of Santa Fe's gourmet cuisine with wines from around the country.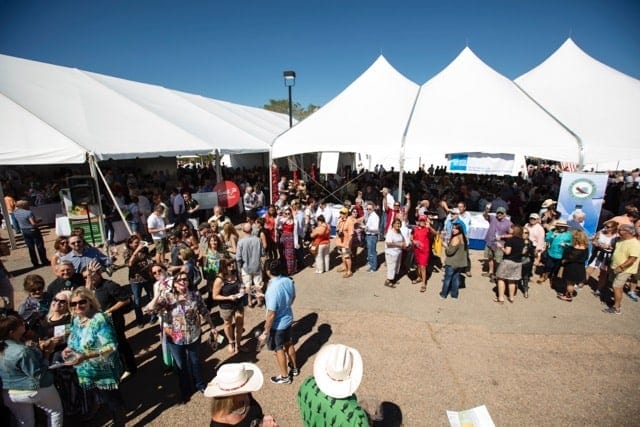 February 3-6, 2022
The Taos Winter Wine Festival is an annual four-day weekend of events featuring the culinary artistry in Taos coupled with wine and sking. By bringing over 30 national wineries to Taos to partner with 20 of the areas best restaurants, a four-day schedule food and wine events featuring a Reserve Tasting, chef luncheons, aprés ski tastings, winery seminars and wine dinners.
---
NEW YORK WINE FESTIVALS
October 2022
The NYC Wine & Food Festival is considered the largest food and wine festival in New York City. With more than 100 events, it is widely recognized for its tastings in celebration of America's favorite foods, intimate dinners with world-renowned chefs, late night parties, hands-on classes, educational seminars, coveted wine tastings and more. To date, the festival has raised $11.5 million to help fight hunger, with 100 percent of the net proceeds benefiting the No Kid Hungry® campaign and Food Bank For New York City.
July 7-10, 2022
The Finger Lakes Wine Festival—named "Best Wine Festival in the USA" by USA Today readers—is held each July at Watkins Glen International in Watkins Glen, NY—also named "Best NASCAR Track" by readers of USA Today. The food and wine event fuses wine tasting with regional artisans, music, culinary classes, cooking demonstrations, and breweries and draws thousands of visitors each year. Camping, glamping, and pace car rides at Watkins Glen International are also available during the event.
February 12-13, 2022
This unique winter festival, hosted by Casa Larga Vineyards, celebrates the sweet dessert wines produced from grapes that have been left to freeze naturally on the vine. The wine festival offers visitors ice wine samples from a variety of New York wineries, an ice wine infused menu, horse-drawn wagon rides through the vineyard, ice wine tours, seminars, chef cook-offs, and more.
February 1 – 28, 2022
Winterfest takes place on Long Island's East End on the famed North and South forks home to dozens of vineyards, charming B&B's and pristine beaches. The four-week long Winterfest combines locally-made wine selections with live music, dance and theater performances and farm-to-table culinary delights. Featured events include private tastings with winemakers, VIP tours, exclusive specials and yoga/wine activities all paired with transportation and luxurious hotel accommodations.
September 10-11, 2022, Rhinebeck, NY
The Hudson Valley Wine and Food Fest is a celebration of the bounty of New York. The food and wine festival features hundreds of wines from Hudson Valley wineries, NY distilled spirits, craft beers and gourmet specialty foods from all over the country. Visitors can learn more about wine through the festivals educational seminars and brush up on their culinary skills with cooking demonstrations from regional celebrity chefs throughout the weekend.
Oct. 20 – 22, 2022, Marriott Marquis, New York, NY
Hosted by Wine Spectator, the event includes sit-down seminars, and a VIP Critic's Choice Grand Tasting, a two-night event featuring 250+ wines from the world's best wine-growing regions. Guests will also enjoy wine pairing lunches and a grand award banquet featuring the wining wines from the Grand Tasting.
---
NORTH CAROLINA WINE FESTIVALS

October 15, 2022
The North Carolina Wine Festival has been held with the ongoing mission to educate the public on wine appreciation and the wine quality of our North Carolina vineyards. It has become the longest-running and largest wine festival in North Carolina. The festival travels to three cities throughout the year – Clemmons, Midtown Park at North Hills and Selma – bringing with it North Carolina wines, breweries, spirits, and ciders paired up with chef-inspired treats too.
November 10-13, 2022, in Highlands, NC
The four-day-long festival features world-class food from renowned local and regional chefs from across the Southeast for exquisite culinary experiences capped with live music from today's top artists, fine wine and spirits, specialty dinners and more.
---
NORTH DAKOTA WINE FESTIVALS

2022 Dates TBD
The North Dakota Wine Festival is a new wine festival that began in 2019 with annual plans. Attendees will enjoy a wine pairing dinner, fun Sip and Wine activities, and wine sampling that showcases wines from the best wineries in North Dakota, northwestern South Dakota and eastern Montana.
---
OHIO WINE FESTIVALS
August 5-6, 2022
This annual two-day festival boasts dozens of Ohio wines, local artisans, live entertainment, food trucks and more. For those who want even more variety, there is a craft beer section to enjoy. Voted by USA Today 10 Best.
---
OKLAHOMA WINE FESTIVALS
2022 TBD
The Oklahoma Wine Walk and Brew Fest feature wineries and breweries from across the state allowing you to sample the vast selections of true Oklahoma wine and beer.
May 14, 2022, Stillwater
---
OREGON WINE FESTIVALS

July 29-31, 2022, McMinnville
The three-day event is famous around the globe, as a mecca for lovers of Pinot Noir and northwest cuisine. During the weekend, world-renowned winemakers, northwest chefs, esteemed media, epicures, and wine lovers will gather in McMinnville, Oregon, for three days of exploring Pinot Noir, savoring unforgettable meals, and learning and celebrating with luminaries of the food and wine world. Along with the speakers and chefs, it is the relaxing and festive atmosphere that sets it apart from all other food and wine festivals. Whether tasting Grand Cru Burgundy or walking through Oregon vineyards with the grower who planted them, guests find themselves unwinding in picturesque Oregon wine country for what wine legend Jancis Robinson described as "one of the most enjoyable wine weekends in the world".
April 2022, Yakima Valley
Yakima Valley wine tasting from the barrel is a unique experience. Expect wines to taste different than you are used to out of the bottle. The vintages are brand new – giving tasters a sneak peek in to how they could mature.
2022 TBD, Portland
The annual Northwest Food and Wine Festival has become the definitive wine festival in Portland with a targeted half-day wine and food celebration. The festival brings the highest quality regional wines, spirits, beers, foods and prominent chefs and restaurants. It's designed to present a rich and rewarding experience for wine lovers, gourmet food enthusiasts and industry experts.
---
PENNSYLVANIA WINE FESTIVALS

June 2022 TBD
A family-friendly weekend of Pennsylvania wines, 250 to be exact, unique vendors, local food, and live bands. If wine isn't your thing, head over to Brew Kids on the Block, the festival will offer a tour of Pennsylvania's 20 or so newest breweries.
June 2022
Uncork summer with the Annual Great Tastes of Pennsylvania Wine and Food Festival. This two-day outdoor festival features food and craft vendors, live musical entertainment, and samples from an estimated 30 Pennsylvania wineries.
---
RHODE ISLAND WINE FESTIVALS

September 16, 17, 18, 2022
Sophisticated and sublime, this festival features grand tasting of hundreds of wines and food samples on the lawn of one of Newport's historic mansions. The festival attracts top wineries from around the globe and offers visitors the opportunity to view cooking demonstrations and seminars, join in a collectible wine dinner, and gala.
---
SOUTH CAROLINA WINE FESTIVALS

March 2-6, 2022
The annual food and wine festival infuses home-grown flavor with top chefs, winemakers, authors, storytellers, artisans, and food enthusiasts from around the globe for a five-day event that spans the first full weekend each March.
---
SOUTH DAKOTA WINE FESTIVALS

April 8, 2022, Historic Deadwood
If you love fine food, wine and distinctive brews, don't miss the annual Forks, Corks and Kegs Food and Wine Festival. Sample a variety of beer and wine from all across the country, as well as the Black Hills favorites as you make your way to various tasting venues across town. Each location will feature their chef's finest culinary creation paired with the perfect complimentary beverage. Then head to the granddaddy finale, a Grand Tasting, featuring dozens of beer and wine varieties, light hors d'oeuvres, and dessert samples.
---
TENNESSEE WINE FESTIVALS

Sip TN
March 26th, 2022, Chattanooga
June 4th, 2022 in Nashville
Join wine producers from across the state, showcasing the best wine Tennessee has to offer. Sip TN is a premier local wine festival made up entirely of Tennessee Wineries and showcased at Local Farmers' Markets. Featuring, Artisan Crafts, Gourmet Food and fantastic Tennessee Wines.
---
TEXAS WINE FESTIVALS

2022 TBD
The Austin Food + Wine Festival, sponsored by FOOD & WINE, brings an array of taste, talent and culinary entertainment to the Capital City while helping to support the non-profit, Austin Food & Wine Alliance. The three-day weekend is the epitome of high spirits, with a packed schedule of hands-on grilling demos, up-close tastings with top chefs and sommeliers, and a Grand Tasting event like few others.
Looking for more ideas for things to do in Texas or Texas's wine regions? Click on over to Carpe Travel's Texas Wine Travel Guide.
April 30, 2022, Waco
Located in the picturesque Indian Spring Park, Rootstock will feature 16 of Texas' best when it comes to wines grown and produced in the Lone Star State. The wine festival will also feature a half-dozen local chefs and restaurants competing to create the best small bite to pair with Texas Tempranillo – visitors get to vote for the winner!
September 15, 16, 17 & 18, 2022, Grapevine
The Annual GrapeFest is truly a Texas wine experience. Attendees will enjoy wines not only from Texas, but as well as wines from Finger Lakes region of New York and Niagara-on-the-Lake region of Canada. (This is also located in my hometown! I grew up attending every year and my parents did a lot of volunteering at the wine booths… I promise, it's A LOT OF FUN!) Check out more on the Grapevine Urban Wine Trail.
---
UTAH WINE FESTIVALS

September 29 – October 1, 2022
---
VERMONT WINE FESTIVALS

September 23-24, 2022 Wilmington
The Annual Vermont Wine & Harvest Festival has been designated as one of North America's Top 100 events by the American Bus Association, the only Vermont event to have made the list. The festival is set in the backdrop of the Vermont fall foliage, attendees will discover, savor and enjoy Vermont vintners, small specialty food producers, chefs, painters, publishers, cheese makers, potters, jewelers, photographers and farmers.
---
VIRGINIA WINE FESTIVALS

February 26-March 6, 2022 Richmond, VA
Lonely Planet named Richmond to its 2018 Top Ten must-visit list of the U.S. destinations you "need to see". The amazing craft beverage and food scene were mentioned prominently. If there is one event in Richmond that encapsulates the amazing craft beverage and food scene in Richmond – and Virginia – it's the Virginia Wine Expo.
2022 Dates TBD, Charlottesville
The Charlottesville area may be known for its renowned historic sites like Thomas Jefferson's Monticello and the prestigious University of Virginia (both of which are UNESCO World Heritage sites), but more recently, the destination has been receiving top accolades for its wide variety of wines. Wine Enthusiast recently dubbed the Charlottesville area as one of the top wine destinations in the world. With all of these recognition's and 30+ wineries, there is a festival that celebrates and embodies the area's affinity for a good glass of vino – the annual Taste of Monticello Wine Trail Festival. The wine festival includes special winemaker events, a Monticello Cup Awards celebration, and it culminates with a huge wine tasting where attendees can sample a large variety of local wines from the area's 30+ wineries.
---
WASHINGTON WINE FESTIVALS

2022 Canceled
July 8-10, 2022
Celebrate Walla Walla Valley Wine – The World of Syrah
July 14-16, 2022
---
WEST VIRGINIA WINE FESTIVALS

October 1-2 2022, Morgantown
West Virginia Wine and Jazz Fest is just what it sounds like, a weekend filled with wine and jazz in West Virginia. The festival is more than just a good time though; it's for a good cause as it raises money for various local organizations in need.
---
WISCONSIN WINE FESTIVALS

Sep 17-18, 2022, Cedarburg
2022 TBD
2022 TBD
October 20–23, 2022, Kohler
To sip in more of Wisconsin wine country, see our guide.
---
WYOMING WINE FESTIVALS

March 10-12, 2022
June 17-18, 2022 Cheyenne
2022 TBD, Sheridan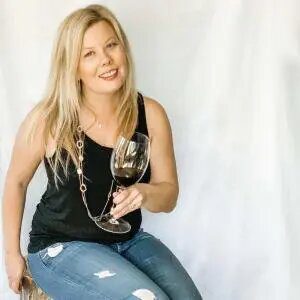 Elaine Schoch (pronounced the German way – Shock) is the editor and founder of Carpe Travel as well as an award-winning travel writer, wine judge, certified by the Wine & Spirit Education Trust (WSET) Level 2 and certified American Wine Expert. She is married to The Husband and has two kids, Princess One and Two – who's interest and knowledge in wine is quite extensive. Not to mention the stamps in their passports.