An insider guide to the history of winemaking in Uruguay, the best wineries to visit, where to stay—and what to do and eat.
Uruguay, literally translated, means the river of painted birds.
Everywhere you turn, in the country's cities, on its beaches and in the countryside, you'll be greeted with the sound and sight of the more than 450 species of birds that live there. Many are large and colorful, like the flightless fast-running three-toed Rhea, while others full of sound and fury like the Screamers with their bulky duck bodies and small down heads. Dozens, like the gregarious hot pink Flamingos, are instant Instagram bait. And together, they do indeed flow through the country's landscape like a colorful, sonic, ever-evolving painted river.
Agriculture is the top industry in Uruguay. Not only do cows outnumber people by four to one, it is not a strange sight to see a person walking their pet horse, alongside their pet dog, through the bustling neighborhoods surrounding Uruguay's capital city, Montevideo.
This South American country, which has long played second fiddle in the American imagination to the more well-known mountainous countries it is flanked by—Brazil and Argentina—harbors incredible charm for bird, beach and wine lovers.
Where is Uruguay?
Uruguay is South America's second-smallest country, roughly the size of Wisconsin, at 105,000 square miles. And like a nice wedge of Wisconsin cheddar, Uruguay nestles between Brazil and Argentina, along the Atlantic coast.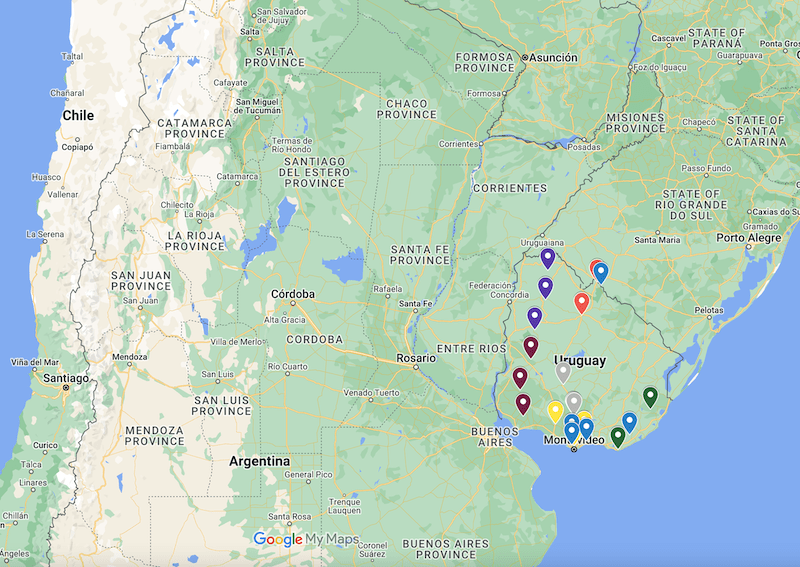 A Brief History of Winemaking in Uruguay
Winemaking began in Uruguay as it did in the rest of the New World. It started small, and was largely fueled by thirsty European immigrants. In Uruguay's case, most were Italian and Spanish immigrants, and vineyard planting began in the mid 19th century.
A military dictatorship transformed the country's society and economy from 1973-1985 and essentially decimated commercial viticulture. To survive, in the 1980s, winemaking families banded together to standardize and elevate winemaking, creating a third-party verified label, Vino de Calidad Preferencial, or Preferential Quality Wine, to indicate quality. The National Viticultural Institute was also founded in 1987.
In the 2000s, several now-iconic standard-bearing wineries were created, and multi-generational family operations began to focus on premiumization and quality control.
Today, there are about 180 wineries in Uruguay, and most of the wine is consumed in the country—just 10% gets exported, and only about 25 wineries have a presence in the United States. And while traditionally, wineries have focused on their home turf, they're increasingly eager to send their wines abroad, and welcome guests to their wineries.
Terroir & Grapes of Uruguay
There are about 14,450 acres of grapes under vine in Uruguay, and the Atlantic Coast—which runs along a third of the country—has an enormous influence on the wines made there.
The sea delivers wind and rain, and moderates temperatures, which means fresher flavors and complexity in your glass.
Uruguay is relatively small and flat (most vineyards are less than 500 feet above sea level), but still harbors a diverse enough range of soils and terrains to merit five distinct terroirs in six separate regions.
The Grapes of Uruguay
Tannat and Albarino are considered the country's calling cards. Tannat is by far the most widely planted grape, with more than 3,890 acres under vine. Merlot, Cabernet Sauvignon, Cabernet Franc and Marselan follow as top red varieties, with around 1,530, 790, 533 and 444 acres under vine respectively. While Albarino has captured the imagination of wine lovers, Sauvignon Blanc still leads the white pack, with 326 acres under vine. Chardonnay and Albarino follow, with 266 and 234 acres, respectively.
Wineries of Distinction
Wineries in Uruguay, like wineries in the U.S., are not limited by rules or traditions. Anything can—and often does—go. These wineries are examples of the best and most innovative winemaking happening in the country. And while not every winery in Uruguay is ready and willing to host visitors in style, the following are.
Bracco Bosca Winery
Bracco Bosca Winery, in Canelones launched its winery in 2005, but has been growing grapes for five generations. The family hailed from Piedmont, Italy, and settled in Uruguay with the goal of growing grapes. Located 5 miles from the sea, with clay calcareous soil, the wind is a constant presence on the 50-acre estate, bringing energy and preserving acidity in the 27 acres under vine.
Currently, Bracco Bosca is led by the charismatic Fabiana Bracco, who began opening her doors to tourists in 2018.
"It all started with one Russian man who came here and asked if he could taste our wines," she recalls over her estate wines and generous portions of lunchtime Asado served at the cozy, casual tasting room. "Well, he posted about it online and said we had the best Asado he'd ever tasted, and incredible wines. The next day, a bunch of Americans showed up, saying they'd read his review. Visitors have been coming ever since."
During the pandemic, they began offering more tables outside, and they built two mini wine-hotels, with bathrooms and kitchen spaces. (Two more are on their way). Guests can wake up amid the vines, and take a dive in the vineyard's personal pool (conveniently located adjacent to the hotels) and relax in the hot tub. Which, of course, is made from a wine barrel.
Can't go to Bracco Bosca Winery? Sip this.
Bracco Bosca Gran Ombú Cabernet Franc: Delicate, but full of verve. Black cherries, red cranberries, earthy and lightly spiced.
Bodega Garzón is located in Maldonado. If you only know one winery from Uruguay, it's most likely this one. Founded by billionaire Alejandro Bulgheroni in 2008, the winery almost didn't happen.
"He and his wife have a house right on the coast, and they looked up at this land," recalls the winery's general manager, Christian Wylie, over a tasting at Garzon's award winning restaurant, helmed by the iconic Francis Mallmann. "She found out he wanted to put in windmills, and she said 'no!'"
Today, the LEED-certified solar and wind-powered winery is perched 8 miles from the Atlantic Coast, and has close to 620 acres under vine on the 2,500-acre property. There are 16 varieties there, including Tannat, Albarino, Sauvignon Blanc, Cabernet Franc and Merlot.
Go for the award-winning wines, but stay for the experiences in the vineyard (definitely ride the train), gawk at the 75,000-square-foot green roof, planted with nine species of native bushes and grasses that recycle the winery's water waste, and make sure to take part in one of the many curated experiences. You can picnic and bike amid the vines, or embark on a sommelier-guided private tour and tasting of Garzón's most iconic wines paired with seasonal cuisine.
Can't go to Bodega Garzón? Sip this.
Balasto 2018: Made of Tannat, Cabernet Franc, Petit Verdot, Merlot and Marselan, fermented in cement tulips and matured for 20 months in unroasted French oak barrels, this is bold and juicy, blueberries, black raspberries, crushed plums, pepper.
Located in Canelones, this winery in Uruguay has made its way through many hands. The family scooped it up in 1979, eager to put a modern twist on one of the oldest wine making estates in the country.
Originally, Bodega Familia Decias was the home to Jesuit monks, who made wine for communion; in 1830, Don Francisco Juanico took over and planted the first vines there, with the goal of creating a winery that could stand up to Bordeaux's best.
Third-generation winemaker Santiago Deicas explains that his family hopes to honor the winery's historical roots while looking toward the future. Visitors can check out the ancient cellar previously used by the monks and currently used to age their most prized barrels, and the newer cellar, created with the advice of legendary wine consultant Paul Hobbs.
"He has helped us hone our winemaking techniques, and consider things we were afraid to try before, like using native yeast to vinify our whites," Deicas explains. "We are exploring different regions too, and have planted or are working with about 15 different vineyards and soil types."
Santiago's sister, Mercedes Deicas, has built a classic seasonally inspired Asado-centric menu that pairs with the wine. And if you're traveling with kiddos, the Deicas promises to keep them entertained.
"Once we started having children ourselves, we realized how challenging it could be to travel with them if there aren't fun things for them to do," he explains. "On the weekends, we set up games and let them stomp grapes. It's become very popular with local families too."
Can't go to Bodega Familia Decias? Sip this.
Familia Deicas 2018 Atlántico Sur Tannat: Ripe and wild, black and red cherries, bramble berries, spice, bright and lithe acidity.
Located in Montevideo, this Bodega Bouza was founded by Juan and Eliza Bouza, and winemaker Eduardo Boido in 2000. This is the crew that introduced Albarino to Uruguay, in part to honor the family's Galician heritage, but also because they believed the terroir—humid, rainy, influenced by the Ocean—would be ideal.
Clearly, they were onto something. In addition to launching the country's flagship white wine, they pioneered the concepts of single vineyard winemaking, micro-vinifications, controlled and cool ferments and hand-selection of berries in the country.
The Bouzas are a large family, with incredible creativity and entrepreneurial passion. Along with the wines, visitors should plan on spending time in the garage-style tasting room (outfitted with Juan's impeccable collection of classic cars), then dining at the in-house restaurant, brimming with meticulously prepared dishes starring many of their other family projects (like BoBo Gin, made with flowers from Tannat, cheese made by the Juan's father, artisanal ice cream from two Bouza boys called Grot, organic vegetables grown on the farm … and more).
Can't go to Bodega Bouza? Sip this.
Bouza 2021 Albarino: Grapefruits, stone fruits, salinic, jasmine, stones.
Located in Rivera, the 10th generation of the Carrau family is running the show. If you do visit Bodega Cerro Chapeau, it is by far the longest drive. Most of the other wineries are within an hour or two (tops) of each other and Montevideo.
This winery is so close to the Brazilian border, it has 12 acres in grapes over the border. (They grow those grapes for vintners in Brazil).
"It's far away, but it is incredible for growing grapes," says winemaker Francisco Carrau. "There are deep, sandy soils, incredible drainage and we're surrounded by flat hills that are typical of the region. Everything we do is with nature, not against it."
The Carrau family has the oldest Tannat vines in the country (they are more than 40 years old), but they also have an experimental nursery where they try out under-loved, almost extinct grapes.
"We brought in Manseng Noir, because it's Tannat's brother, and there are only about 3 hectares of it in existence in France now," Carrau says. "We have been delighted with what we've found. We will release our first bottle in May, and we think it holds a lot of promise, and that other wineries who want a lower-alcohol and shorter-aging Tannat should plant it."
In addition to experimenting in the cellar, they use sheep to weed their vineyards when harvest is over, they welcome more than 300 species of birds to their fields, they use native yeasts and they intervene in the vineyard and cellar as minimally as they can. It was the first South American winery built into a hillside, so that they can "use" gravity to help them make their wines (no pumps needed) and eliminate the need for temperature control in the cellar.
Can't go to Bodega Cerro Chapeau? Sip on this.
Bodega Cerro Chapeau's Castel Pujol Folklore Pet Nat: Made of 80% Trebbiano, 20% Malvasia is fresh and fun, guava, pears, zested mandarin, racy.
Feast on This
Food and wine go hand in hand in Uruguay, as evidenced by the attention wineries devote to creating revelatory food-pairing experiences for guests. Given the number of cows in the country, beef is a mainstay of their diet, as is lamb.
The national dish is Asado (or barbecued meat), and mollejas (sweetbreads) are particularly delicious here, if you are so inclined. The chivito (or fully loaded steak sandwich) is Uruguay's fast-casual headliner, a la America's burger or Italy's pizza. If you love seafood and vegetables, creative and unexpected iterations abound as well—and whatever you see on the sweets menu involving Dulce de Leche, don't think twice, just order it.
Can't-miss bites
Located in what someone 35 years old or more might call the "hipster" section of downtown Montevideo, plastered with rigorously executed street art, this is Uruguay's first vermouth bar, founded as an offshoot by the team behind Vermut Flores.
The company was launched right before the pandemic, but the strength of its brand has made it soar, despite the obvious challenges. The vermouth is based on Tannat wine, and infused with a careful selection of teas, flowers and herbs. Sip it with a slice of lemon for the rosé version, a slice of lime for the red, both over ice, with olive floaters, tonic optional. La Vermuteria serves Flores on tap, along with a rotating menu of addictive tapas, like crispy Fainá, a pizza-like flatbread made with chickpea flour, fried to a crisp and topped with garlicky, herby, lemon scented pesto.
Perched in the heart of Montevideo's historic Old City, steps from Plaza Zabala, Jacinto features generally one main, rotating seasonal meat-based dish, but the focus is on vegetables, filtered through an Italian and Spanish lens. Creative cocktails and local wine flows, as do imaginative small plates, like an avocado crema topped with pickled and brined beats, and a soft-boiled egg. Look for specials like cream of corn, with olive oil braised heirloom tomatoes, dabs of tangy-creamy goat cheese and salted and deep-fried garlic. An offshoot of the main restaurant is a coffee house with lovely pastries, open all day.
Located on the street of the same name in Montevideo, it is almost a century old. Plastered with ephemera, pictures, records and anecdotes from its time leading and elevating the local bolichera culture, this is a place where you too, will want to proliferate, enjoy, and hang for longer than you intended. Chivitos are the star here: order yours with all of it—beef loin, lettuce, tomato, egg, bell pepper, ham, mozzarella, bacon, mayo galore. Dig in, order a beer and get comfortable.
Parador La Huella
Located at the iconic luxe resort of Jose Ignacio, this is the elevated beach shack of your dreams. The spacious indoor-outdoor comfortable seating melts into the beach, and you can dine on the fresh-caught fish (get the fish of the day, even if you haven't heard of it, the grilled squid with seasonal vegetables and multiple rolls), from the open sushi bar. Whatever you do, don't miss the Dulce de Leche volcano for dessert.
WHERE TO Stay IN URUGUAY WINE COUNTRY & HOW TO Get Around
If you crave a luxe bed to sink into after a long day of wandering, the good news is, you can get a lot of bang for your buck here. Consider staying at the palatial Sofito Montevideo Casino Carrasco, a stone's throw from the beach with a spa, gym and indoor / outdoor pools or the renovated Art Deco mansion, Alma Histórica Boutique Hotel with 15 different sumptuous (100% Egyptian 320 count cotton linens, gleaming hardwood floors, thoughtful decor) rooms inspired by important cultural figures in Uruguay, both in Montevideo.
But if you have your heart set on a stay in wine country, you could either book one of Bracco Bosca Winery's mini-hotels, or head over to the city of Garzon, with Francis Mallmann's small, uber-chic hotel, Garzon. Or stay outside of Punte del Este (details below).
Drinking and driving isn't just frowned upon in Uruguay, there is a zero tolerance policy, and out-of-town offenders will face very serious problems. Instead, leave the drives into wine country to someone else (like Wine Explorers Uruguay), and walk, Uber or bike around town.
Dig Into Uruguay's Culture
Innovation, creativity, generosity and openness are values woven into the fabric of Uruguay's society. The country has the highest literacy levels in South America, the highest GDP in South America, one of the highest levels of renewable energy use in the world (90% of energy is green).
When it's time to vote, more than 90% of the country turns out to vote, and it was the first country to give every child in the country a laptop (2009)—and the first to legalize cannabis (2013).
Everywhere you go, color and art flourishes. Like the colorful, joyfully trilling birds that fill the air, casual and ambitious street art and crafts are everywhere you turn—from murals and graffiti, to squares of artisan designers peddling their wares.
Explore Montevideo
Montevideo, Uruguay's capital city, is a great place to headquarter your explorations. It sprawls across 12.5 miles from east to west, spanning an industrial port, several fantastic neighborhoods and several beaches open to the public.
Explore the Ciudad Vieja (Old City), making your way from the Cabildo de Montevideo to Plaza Zabala, all within what was once a walled city, originally built in 1724. From there, head over to the Mercado del Puerto, where local wine and food can be found, along with artisanal crafts. La Rambla, a broad boulevard for bikes and pedestrians, runs along the rim of the city; take advantage of the many available rental bikes and explore on wheels.
Discover Punte Del Este
Punte Del Este is worth a visit too, and is considered the crown jewel of the country, from the avant-garde architecture of its hotels, to the placid turquoise beach west along the Río de la Plata, and the tempestuous and white-frothed emerald waves crashing along the northern Atlantic shore.
While you're there, check out whitewashed cement and stucco Casapueblo, about eight miles out of town. Famed Uruguayan artist Carlos Páez Vilaro originally constructed it in 1959 as a summer home and workshop. The first iteration, which he dubbed La Pionera (The Pioneer) was a simple wooden box made with planks. Over the next 36 years, it grew: Casapueblo now contains 13 floors with terraces (perfect views of the sunset over the ocean), and a tribute to his son Carlos Miguel, one of the 16 survivors of flight 571 that crashed in the Andes in 1972, transfixing the world, and inspiring numerous books and films, including "Miracle in the Andes," and "Alive."
The main dome of Casapueblo houses a museum and workshop, and a sumptuous 20-room hotel. Every afternoon, a Sun Ceremony is held on a terrace, minutes before sunset; viewers gather to hear the artist's recorded voice read a poem to the sun and bid it adieu for the day.
Spend a day in Garzón…
If you can, spend a day in Garzón. It is a Bodega, but it is also a town. A very small one: population 200. But that's part of the charm. The former dusty outpost has transformed into a booming art destination, with galleries with contemporary Uruguayan art like Galeria Pueblo Garzon, Black Gallery and Piero Atchugarry Gallery, and an outdoor Sculpture Park, encompassing almost 400 acres of large-scale installations from art world juggernaut's like Alan Sonfist and Diego Santurio amid forests and trails.
Uruguay is utterly open–inspired by the Old World, but finding its own way in the New. Go forth and explore before everyone else discovers this under-the-radar gem.