Interview with Taylor Simpson of Good Harbor Vineyards & Aurora Cellars in Northern Michigan
I sipped my first Michigan wines at a wine conference, years go. A group of wineos and I needed to escape the chaos so we ducked into one of our hotel rooms and that's when the bottles started appearing – in brown bags. Being cork dorks we found it fun to identify the wines and the regions we were sipping. I was still early in my exploration of emerging wine regions in the United States. I was blown away to see Michigan revealed as the region when the brown bags were taken off the dry Riesling I had oohed and ahhed over, the Gewurztraminer I poured more of and the Cabernet Franc I wanted to sneak home. It was just one more of the steps that led me down the path of focusing on American wine regions.
"Many people stumble on our emerging wine regions here in Michigan and have a preconceived notion that it's going to be a gimmick. Then they taste the wines, and they are floored. They're like, "Wow!" These are real wines. And we're kind of like, yeah, we know."

– Taylor Simpson, Co-Owner Good Harbor Vineyards and Aurora Cellars in Michigan
Michigan wines are no gimmick. They are the real deal, award winning delicious wines. I had one of the most amazing and thoughtful conversations with Taylor Simpson at Good Harbor Vineyards and Aurora Cellars in Northern Michigan that I'd like to share in our Interview with a Winemaker series. Taylor isn't the winemaker, she and her brother, Sam Simpson are the owners of both Good Harbor and Aurora Cellars. She has grown up among the Michigan vines in the Leelanau Peninsula and has seen the ebbs and flows of this emerging wine region. Her insights and family story are one of the reasons I love to write about wine regions in the United States…
Interview with Taylor Simpson, Good Harbor Vineyards & Aurora Cellars
Let's start at the beginning… How did your family go from cherry farmers in Northern Michigan to winemakers?
It's been a long process. My family became established up here as farmers back in the 1950's. We actually started growing pears and plums for Gerber. And then in the 1970's my grandfather bought a lot of real estate in part to sell off for real estate. But he kept all of the good sites for farming. Cherries were growing really well here so he opened Harbor Hill Fruit Farms, which at the time was just growing, tarts and sweets.
My dad grew up working in the cherry farm. When he graduated from Michigan State with a degree in agriculture, my grandfather saw the need to diversify and suggested my dad go to UC Davis to study viticulture. And, he did.
He and my mom, moved back to Michigan and planted five acres of grapes. They slowly built the facility and started making wine. At that time, they didn't know what would grow or survive a Michigan winter. They started with hybrids but as more research was being done my dad started to – successfully – plant more Vitis vinifera. Good Harbor Vineyards was growing and doing well…
Our dad passed away unexpectedly when he was 55 years-old. At the time, I was working in Chicago, and my brother had graduated from Michigan State and was headed to work with General Mills.
Life had a different plan for us.
I quit my job. Sam gave up his job. We moved home because we knew our mom was most likely going to lose it. Thank goodness we figured out to run a winery. We have a really talented group of young, energetic people who have helped us grow and be successful along the way. The past 14 years has for sure been a ride.
You guys have two brands – Good Harbor Vineyards and Aurora Cellar, why? What's the background and story around this?
Good question. Good Harbor was started by my parents in 1980 and has always been an approachable, affordable wine. We have no intention of changing that. But the story there is really about our family heritage.
My brother and I met with some folks who ended up with the Aurora Cellars property and they didn't want to run a winery. We have a large vineyard management company so we started chatting with them. Aurora Cellars had a awesome cellar footprint; we needed more production space. And the land, well it was amazing…
The vineyards at Aurora Cellars have a thick clay cap on the entire property, which is not found in many places here. This stresses the vines so the quality of fruit is top notch. They already had reds planted, which made it an even more desirable piece of property for us.
So, we decided to take the opportunity.
The added production space and property were key selling points. But, it was also a chance for me and Sam to build something from scratch. We wanted to focus on dry, Vitis vinifera red wines, which is not something many people are putting their stamp on in Michigan. You can count on white wines and bubbles every year up here, but the reds are still a gamble.
We decided it's going to be our thing though. We're going to make Aurora Cellars big on red wines. We're still going to have a full portfolio of wines, but reds are our focus; they're all super boutique with the largest production four or five hundred cases of one item.
You all started your vineyards with hybrids and have evolved to produce Vitis vinifera – successfully. What are some of the varietals you see thriving in Michigan?
There's still a lot of testing and research being done on what can grow here and it's changing with the climate. Regardless, we're still a cool climate wine region. Right now, a few of our varietals include Sauvignon Blanc, Albarino, Riesling, Chardonnay, Pinot Grigio, Gruner Veltliner, Pinot Noir, Cabernet Franc and Zweigelt.
What we're growing is dramatically different from what's being produced in California and parts of Washington – even though it might be the same grape. They're totally different given the cool climate of Michigan and our overall terroir. We are a cool climate, growing region, so our reds are lower in alcohol, higher in acid and more fruit forward. They're slightly lighter in body and are perfect to pair with food.
I think more Michigan wineries are starting to get adventurous planting different grape varieties so there will be more changes in what is being successfully produced in the coming years. It's an exciting time to be a part of the Michigan wine industry.
Having been in Leelanau Peninsula for more than 40 years, your family has seen a lot of change and growth in the region. What are some of these changes and how is the region growing today?
It's an exciting time to be in the Michigan wine industry now. To see where it was, because we grew up in it and to understand the history on a very personal level.
Since Sam and I stepped in 14 years ago, I think everyone has and still is stepping up their game. The wine industry in the state is being taken much more seriously and we're seeing a lot of financial investment being plowed into this area. I think most people here would like to see farms and wineries stay locally owned so our growth is mostly coming from within. For now.
Our family and team is doing a lot to help others get into the local wine industry too. We have a total of 300 acres – we are the largest fruit growers up here. That said, we saw a need to help other local growers. We have the bandwidth and facilities to help our region be successful so we're trying to do just that.
We have a whole services wing to really help people get into the wine industry at any point that they need. For instance, we do a custom crush where we're making wine for seven wineries. We also have a mobile bottling service that goes around and offers different modeling capabilities to wineries around the Midwest.
Who are your winemakers?
We have the same winemaking team for both Good Harbor Vineyards and Aurora Cellars. Drew Perry is the head winemaker. He worked at Pine Ridge Vineyards in Napa Valley, then moved home to Michigan where he worked at Left Foot Charley, a winery Traverse City, for seven years. He started working with us in 2014 and has made immense improvements to our winemaking program. I think he is one of the most talented winemakers up here.
How do you explain to people who come into your tasting room what a wine like Zweigelt is, when they've likely never heard of it, and may not even be able to even pronounce it?
First off, it's pronounced, ZVY-gelt and is a lighter red wine that's similar to a Pinot Noir in body and structure..
I used to work in Chicago for Southern Wine & Spirits where I did a lot of on-premise wine training. I think that level of education is immeasurable so we hire a master sommelier to host six-week training segments with our staff every summer. She and I work together to create a focus on showcasing wines from our region with wines from different parts of the world to help our staff really grasp cool climate regions versus warmer ones. They can then use this education to help guests better understand not only our wines, but those within all of the Michigan wine regions.
We're really trying to educate people and give them an experience that teaches them about cool climate wine. Why it's different and what the expectations are. We hear it all the time from people, "oh it's wine from Michigan, it can't be good". We love to show them differently.
Tell me about your bubbles. Do you use the traditional Champenoise method?
Yes and no. We're putting some in bottles this year to do the Traditional Champenoise Method but we have been producing them in the Charmant Method.
All of our bubbly is single varietal because our winemaker really wants to express the fruit within that vintage. Even though it's fruit from the same year, we still don't put the year on the bottle mainly because historically, my dad never did.
What are some of the things you hear from people when they visit Michigan wine country?
I think a lot of people are surprised when they visit Michigan wine county. With the rolling hills, vines and then Lake Michigan, which looks like an ocean. People literally have told me feel like they're cruising in the hills of Italy. I've heard people say, "I can't believe this is Michigan. I feel like I'm in Europe."
That's what we're trying to do. That's the whole point. You don't have to go to Europe for a wine vacation. It's fun and you should if you can, but the U.S. has amazing emerging wine regions that are affordable and producing great wines. Michigan is one of them.
I tell friends in Chicago, you can pay $600 for a five-hour flight to Napa Valley. Or, you could drive four hours to Northern Michigan and have exquisite wines. When they actually do it, they're blown away by the experience.
When is the best time to visit the Michigan wine country?
All year but most people come in the summer and fall. Business here is definitely seasonal. We're staying open more in the winter – five days a week – because it's justified. There are people cruising around here all the time now. Way more than ever before. I think in part due to Covid and wanting to get out more now.
When people visit your wineries what should they expect?
The Leelanau Peninsula is a smaller Michigan wine region and can offer guests a less crowded, more personalized wine tasting experience. At our wineries we strive to provide a more personalized wine tasting experience. It's not grab a flight, and here you go. Our staff works to sit down and help educate guests about the wines and the overall region.
We have also started more unique wine tasting experiences for guests. For instance, in the winter we do a guided snow shoe trail around the vineyards at Aurora Cellars as well as a blind tasting in a heated igloo. And, in September, we launched an interactive vineyard tour where guests at Aurora Cellars can go through the vineyard, scan a QR code, and see a prerecorded video with our winemaker who is instructing them on the grapes they're seeing, the soil underneath and the wind flow. People have really enjoyed having more education and interaction during their tastings.
What are some other emerging wine regions in the United States you're excited about.
Personally, I'm super stoked about Texas. And, I'm excited to taste more Virginia wines. I haven't had a lot from Missouri, but I know they have an industry that I'd like to explore. My number one is probably Texas.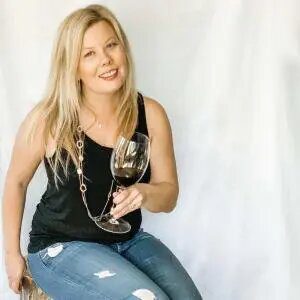 Elaine Schoch (pronounced the German way – Shock) is the editor and founder of Carpe Travel as well as an award-winning travel writer, wine judge, certified by the Wine & Spirit Education Trust (WSET) Level 2 and certified American Wine Expert. She is married to The Husband and has two kids, Princess One and Two – who's interest and knowledge in wine is quite extensive. Not to mention the stamps in their passports.