A Beginners Guide to Understanding Hybrid Grapes
Most of the wines we enjoy today – or rather are more familiar with – are wines produced from the European Vitis vinifera species. These include the noble grapes of Chardonnay, Cabernet Sauvignon, Pinot Noir, Sauvignon Blanc. But there's a new type of grape budding – French-American hybrids.
French-American hybrids are the crossing of the European Vitis vinifera species with one or more Native American Vitis species – Vitis rupestris, Vitis labrusca, Vitis lincecumii or Vitis riparia. Most of these grapes were grafted – spliced together – in France, thus earning the name. The goal was to combine the superior traits of both vines to produce grapes with excellent wine quality that have a higher resistance to diseases and pests.
For instance, Vitis riparia grapes can survive temperatures as low as -71 degrees F. This genetic trait is the key, when crossed with the French Vitis vinifera unlocks the possibility to cultivate grapes, for winemaking, in regions often dismissed as unviable for the production of quality wines.
The Native American Vitis species are hardy and have a high resistance to diseases and pests, but are not the most appealing to sip on their own. The flavors can be musky/foxy – think wet basement smell – with strong acidity. However, the European Vitis vinifera are wonderful to sip on their own, yet not the most tolerant to diseases and pests. By pairing the two together, you can create a delicious, disease resistant grape.
French-American hybrids aren't actually new.
Research began on grafting Vitis vinifera species to American rootstock in the 1860's to combat the phylloxera epidemic that nearly decimated wine regions around the world. Research continues today at the University of Minnesota and Cornell University in New York due to the rise in climate change.
Grapes are for sure feeling the impacts of climate change – just like all agricultural crops! Hybrids do have an advantage over Vitis vinifera given they require little to no pesticides, can thrive in tough growing environments – extreme heat / crazy cold – and do not need the levels of irrigation Vitis vinifera does. They are becoming a sustainable and environmentally friendly solution.
"The Champlain Valley of New York is still a new wine region and we are experimenting with the vines that will thrive. It used to be the wild, wild west up north when it comes to winemaking. We've found several French-American (albeit less French than American) hybrids we love working with – Marquette, Frontenac, La Crescent, Saint-Croix, to name a few," said Dan Faber, Rolling Hills Estate Winery
While hybrids are growing in popularity, according to Dr. José Vouillamoz, co-author of Wine Grapes and grape geneticist, there are less than 5 percent of vineyards produce hybrid grapes.
There are a variety of French-American hybrids growing throughout the United States. Until recently, hybrids were banned throughout most of Europe. Yet, in this world of climate change, things are a changing.
A few of the more popular French-American hybrids – so far – include…
White Wine Hybrids
Chardonel
This delicious wine white is a cross between Chardonnay and Seyval Blanc. It is rich in flavor yet has a perfect balance of acidity. You can find it in Missouri and throughout the midwest.
Cayuga
Cayuga is a cross of the Vitis labrusca hybrids Schuyler and Seyval Blanc.
Frontenac Gris (fron-ta-nac gree) is actually a very light-colored alteration of the (red) Frontenac grape, much like Pinot Grigio is to Pinot Noir. This French-American hybrid produces wines exhibiting balanced sweetness with higher acidity and fruit forward flavors of stone fruit, strawberry and kiwi combine for a silky, elegant big mouth feel.
Frontenac Gris wine pairings, recommended wines and where to find it.
La Crescent produces semi-sweet and off-dry wines that are balanced with some retained acidity. This aromatic white wine exhibits flavors of burnt sugar, caramel and green apple cider. First introduced in 2002, by the University of Minnesota, La Crescent has a diverse ancestry. It is a complex hybrid of Vitis vinifera, Vitis riparia, Vitis labrusca.
La Crescent wine pairings, recommended wines and where to find it.
Traminette (pronounced tra-men-et) is a cross between the European grape Gewürztraminer and French-American hybrid grape called Joannes Seyve. Traminette was created in 1965 at the University of Illinois to be cold-hearty grape that could and survive blustery winters. Initially created to be a table white wine, it became popular across the Midwest and eastern sectors of the United States because it was easy to grow and produced white wines that could range from bone dry to sparkling and even dessert wines.
More on Traminette wine pairings, recommended wines and where to find it.
Vidal Blanc
The wine produced from Vidal Blanc tends to be very fruity, with aroma notes of grapefruit and pineapple. Due to its high acidity and sugar potential, it is particularly suited to sweeter, dessert wines.
Red Wine Hybrids
Chambourcin
Chambourcin is one of the worlds most popular hybrids and can be found in France, Australia and throughout the Midwestern United States, especially Missouri, Michigan, Pennsylvania and Virginia. It produces a dark red wine with flavors of spice, plum and herbs.
Frontenac (fron-ta-nac) dates back to 1983, and is one of the oldest of cold climate cultivars. A cross between the French Vitis viniferia species, Landot Noir and the Native American Vitis riparia species. Frontenac produces a higher acidity, deeply colorful red wine with strawberry and cherry aromas. The skins of the Frontenac grape are rich in color and aromatics, with notes of berries and spice. It especially lends itself well to styles such as rosé and sparkling wine, that make wonderful use of its higher acidity.
Frontenac wine pairings, recommended wines and where to find it.
Marquette (maar-ket) was introduced in 2006, by the University of Minnesota. It is the combination of Vitis vinifera (pinot noir) and Vitis riparia (fontenac). Marquette produces medium to full-bodied, dry, red wine that is vibrantly aromatic – freshly picked pomegranate, currant, ripe cherry, with notes of chocolate and jam, it can also carry savory herbal tones. This grape variety can stylistically range from elegant and unoaked to heavier oaked versions.
Marquette wine pairings, recommended wines and where to find it.
Norton
Norton, also known as Cynthiana is found throughout the northeastern portion of the United States. It produces medium- to full-bodied red wines with dark red fruit flavors and a little pepper.
Petite Pearl was developed by the renowned Minnesota viticulturalist, Tom Plocher, in 1996. It was released to the public in 2010 and has quickly gained a reputation for pushing the envelope for cold climate winemaking potential. It has the ability to withstand temperatures down to -32°F. a near produces rich and complex red wines. Its deep garnet color brings a flavor profile that has hints of spice and cassis. The balance of soft tannins, acidity and alcohol delivers a long finish with every sip.
Petite Pearl wine pairings, recommended wines and where to find it.
Sabrevois (sah-bray-vway) is a French-American hybrid producing red wines with aromas of fresh violet and sour cherry and flavors of burgundy notes and cherry, this wine is bold in flavor. With higher acidity and tannins and fruit flavors, it is soft on the front palette with a robust acidic finish. Sabrevois is a cold climate cultivar named after a small town in the southern part of Quebec, Canada. It is cold-blooded by nature.
Sabrevois wine pairings, recommended wines and where to find it.
St. Croix (pronounced "Saint-Croy") is a French-American hybrid that produces medium-bodied red wines with flavors of dark berries and black current and aromas of wild-picked forest fruits, peppery spice and herbs. It has crisp acidity alongside good tannic structure which makes it a good stand-alone wine that is more robust than others.
St. Croix wine pairings, recommended wines and where to find it.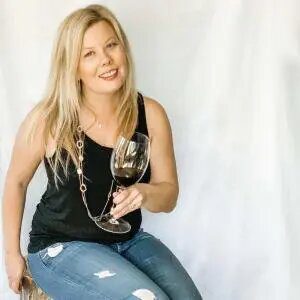 Elaine Schoch (pronounced the German way – Shock) is the editor and founder of Carpe Travel as well as an award-winning travel writer, wine judge, certified by the Wine & Spirit Education Trust (WSET) Level 2 and certified American Wine Expert. She is married to The Husband and has two kids, Princess One and Two – who's interest and knowledge in wine is quite extensive. Not to mention the stamps in their passports.
Sip in More Wine 101…