Pennsylvania wine country is everywhere in the state. No matter where you are, you're less an hours drive to a winery. Our Pennsylvania Wine Travel Guide shares a brief history of the state's wine country, terroir, where to sip, where to stay and things to do beyond the vines.
WHERE IS PA WINE COUNTRY?
The Lake Erie Grape Belt is the second largest grape growing region in the US and responsible for 72% of grape production in Pennsylvania. Towards the eastern shore you will find four additional, smaller wine regions.
BEST TIMES TO VISIT
The best time to visit Pennsylvania wineries is in the late spring/early summer when the vines are filling out and the weather isn't too hot or humid. Many wineries host outdoor events with live music and food trucks.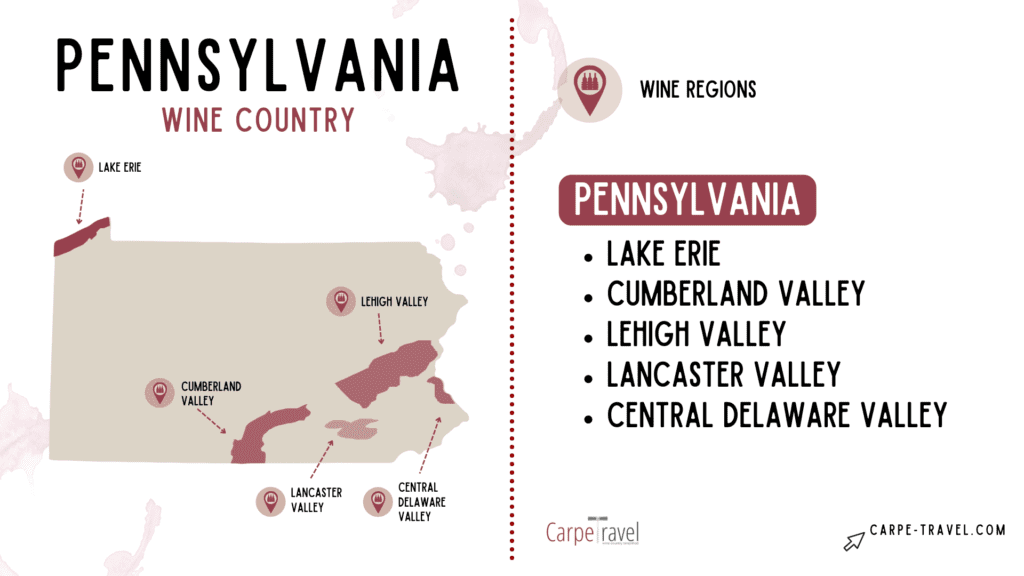 The known history of Pennsylvania wine begins with William Penn. Over 300 years ago, the state's founder planted cuttings of Bordeaux grapevines on land that is now part of Philadelphia's Fairmount Park. Like most vineyards planted in the country's early years, the vines didn't survive the native bugs and diseases of the new world.
From colonial times until the early 1900s, most of the grapes grown for wine in Pennsylvania were native varieties or hybrid grapes that were heartier than the European varieties, known as vinifera. It's not that winemakers didn't try to grow vinifera, but they had very little success with grapes such as Cabernet Sauvignon and Chardonnay. In 1920, Pennsylvania's wine industry came to a halt because of Prohibition. When Prohibition ended, Pennsylvania made making and selling wine almost impossible until it passed the Pennsylvania Limited Winery Act is 1968. Penn Shore Winery in Erie County was the state's first post-Prohibition licensed winery.
By 1976, Penn Shore was one of a dozen wineries open in Pennsylvania. Today, the state has almost 300 wineries that – through science, trial and error – have discovered which vinifera can grow in Pennsylvania and which native and hybrid varieties make good wine, too.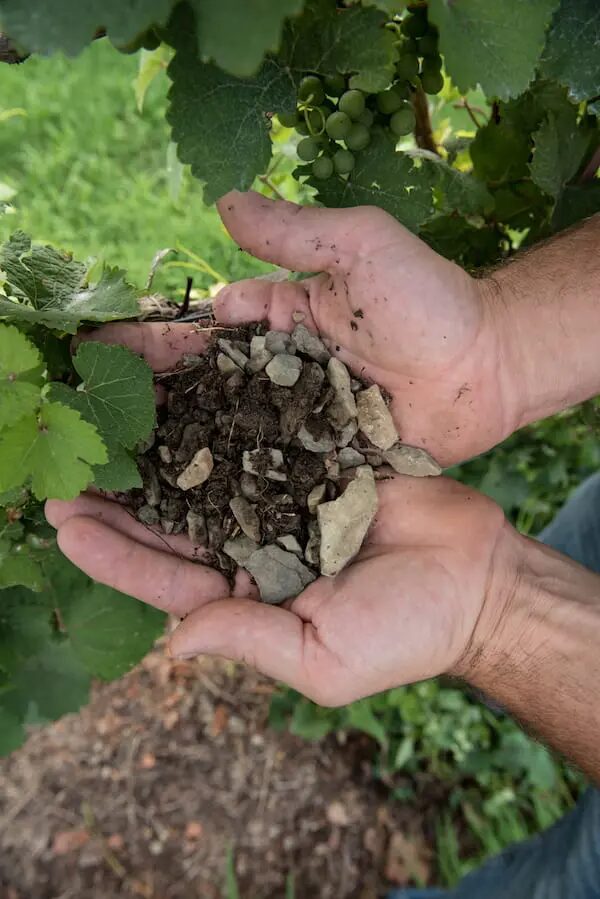 Pennsylvania is home to five designated American Viticultural Areas (AVAs – wine growing regions) and 300 wineries.
There is about 300 miles between Pennsylvania's Eastern and Western borders and 150 miles between its Northern and Southern borders. The Southeastern part of the state has maritime influences from the Atlantic Ocean with average summer temperatures of 74°F (although humidity often makes it seem much warmer). The Northwestern part of the state is influenced by Lake Erie with average summer temperatures of 68°F and lower humidity. In between there are many mountain ranges, valleys and rivers. All of this ends end up influencing Pennsylvania's terroir.
LAKE ERIE AVA
The Northwest region is home to the Lake Erie AVA. It's generally cooler around the Lake Erie shoreline than in the rest of the state. The 20-mile long swath of vineyards benefit from the lake's breezes and the consistent year-to-year weather conditions.
CUMBERLAND VALLEY AVA | LANCASTER VALLEY AVA
The warmer climate in the state begins in the South Central region. Vinifera that require warmer temperatures can be grown here so expect to see more wines made from European grapes as well hybrids and native grapes.
CENTRAL DELAWARE VALLEY AVA | LEHIGH VALLEY AVA
You'll find the longest growing season in the Southeast part of Pennsylvania. It's hilly, so many vineyards drain well, and various vinifera, hybrids and native varieties flourish in this region.
TOP GRAPES
Since the climate and soil varies greatly throughout the state, Pennsylvania can grow a considerable variety of grapes in its 14,000 plus (and growing) acres of planted grapevines.
WHITE WINE GRAPES
Cayuga
Seyval Blanc
Grüner Veltliner
Vidal Blanc
Niagara
RED WINE GRAPES
Chambourcin
Blaufränkisch (Lemberger)
Carmine
Teroldego
Seperavi
With 300 wineries, the Pennsylvania wine country has a lot to sip in. We've shared the best PA wine tasting itineraries for your grape escape.
Presque Isle
Wine Cellars
Franklin Hill
Vineyards
Heritage Wine
Cellars
PENNSYLVANIA WINE FESTIVALS
PLAN YOUR PENNSYLVANIA WINE VACATION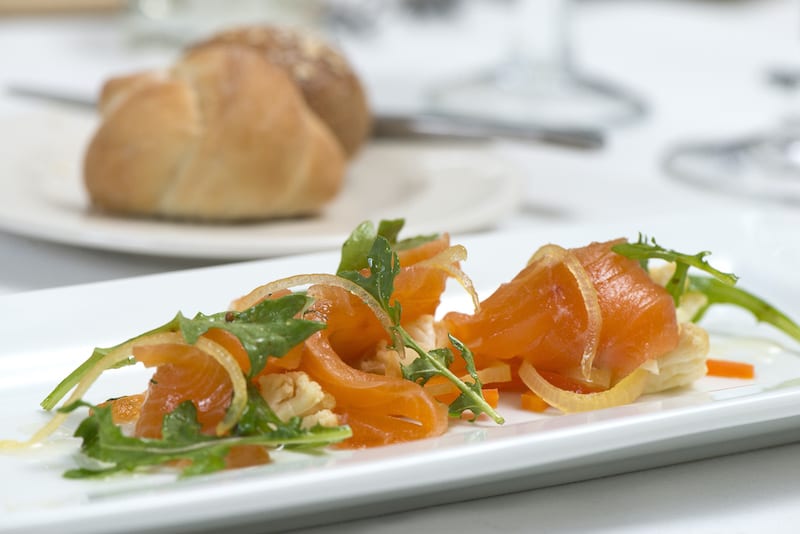 ITINERARIES
Sit back and sip in all that the PA wine country has to offer with these wine tasting itineraries.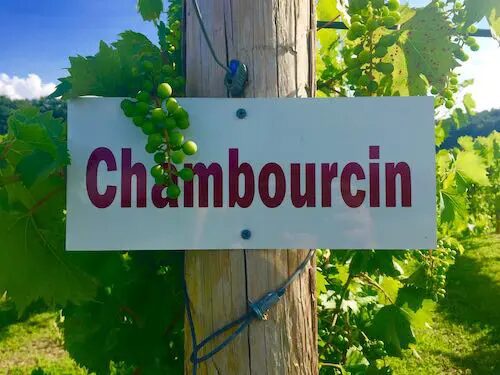 PENNSYLVANIA WINE TRAILS
Wine trails are designed to provide a unique experience and allow you to sample different growing regions within an area. With 200 wineries, Pennsylvania has more than 12 wine trails, meaning there are a lot of experiences to be had.
The five distinct wine regions in Pennsylvania are home to many fun activities, so if you're looking for things to do besides sipping in the 300 Pennsylvania wineries, we have A LOT OF IDEAS for kids, designated drivers and those enjoying the wines of the region.
Sip in a little cultural at one of the 30+ museums in Pittsburgh. You could spend a month exploring them. To narrow it down, try ToonSeum, Carnegie Science Center or the Carnegie Museum of Natural History.
Did you know that Pittsburgh hosted the first professional football game and the first World Series? Any season you can can a game – NFL's Steelers, the NHL's Penguins, and the MLB's Pirates.
There are six United States Mint locations in the country, but visitors can only tour two, one of which is in Philadelphia. Visitors of all ages will appreciate the lessons on currency and the chance to watch money being produced.
Sip in More Pennsylvania Wine Country