About the  Pennsylvania Wine Country
An interesting fact about the Pennsylvania wine country is it's everywhere in the state! No matter where you are, you're less an hours drive to a winery.
Winemaking in Pennsylvania began centuries ago when William Penn planted the first vineyard in Philadelphia in 1683. Since then the area thrived, only to come to a halt in the 1920's when Prohibition was enacted. After its repeal in the 1930's, it was a hard road toward recovery but today the Pennsylvania wine country is thriving once again.
There are more than 200 wineries in Pennsylvania, and more than a dozen wine trails making it a perfect wine country weekend getaway. Make sure to sips some local Pinot Noir and Riesling – two of the state's leading wine varietals.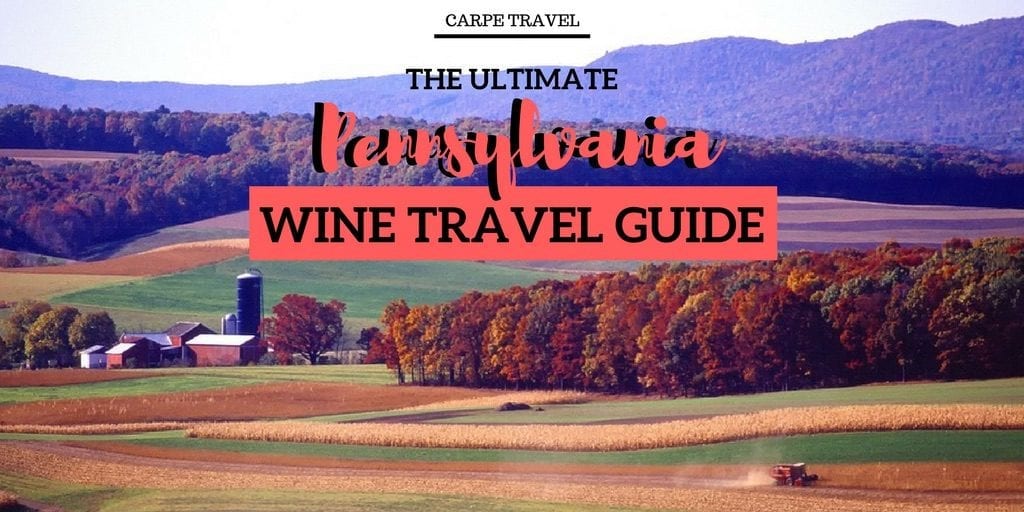 Pennsylvania Wine Country Resources
Pennsylvania Wine
Pennsylvania's climate – hot summers and cold winters – is more like Europe than California or Australia and presents the ideal terroir for emerging French-American hybrid grapes, and traditional wine varieties. The state is home to five designated American Viticultural Areas (AVA – wine growing regions), including…
Lehigh Valley AVA: Recognized for its unique microclimates and fertile land, the Lehigh Valley AVA is an ideal environment for red grapes such as Chambourcin and Cabernet Franc and white grapes, including Vidal and Riesling. Lehigh Valley is also home to the state's original Grüner Veltliner plantings.
Lancaster Valley AVA: The Lancaster Valley AVA rests on a deep limestone bed, which produces grapes that are rich and ripe, ideal for Cabernets, Chardonnays and Rieslings.
Lake Erie AVA: Historically known as the "Grape Belt of America," the lake region's cold climate is ideal for native grapes like Concord, Riesling, Niagara and Catawba, and emerging varieties like Noiret and Vidal Blanc.
Central Delaware Valley AVA: Located in southeastern part of the state, Pennsylvania shares the wine region with New Jersey, which  includes 96,000 acres surrounding the Delaware River north of Philadelphia.
Cumberland Valley AVA: Located in south-central Pennsylvania, this AVA is shared with Maryland. Only 100 acres of the 765,000 acres included in the wine region are planted to grapevines. Of those acres that are planted, they're predominantly on high terraces over the Potomac River and on the slopes of South Mountain – making for some amazing views!
Wine Trails in Pennsylvania Wine Country
Wine trails are designed to provide a unique experience and allow you to sample different growing regions within an area. With 200 wineries, Pennsylvania has more than 12 wine trails, meaning there are a lot of experiences you can have.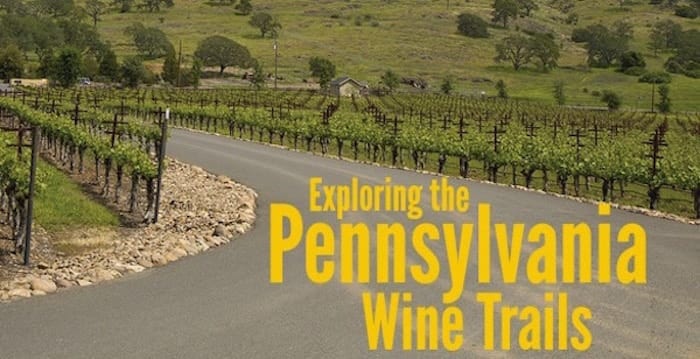 ---
 Pennsylvania Winemakers
This page is being updated. Stay tuned for more information on the Pennsylvania wine country. 
Beyond the Vines: Things to see and do besides sipping wine…
Was this Pennsylvania wine guide helpful? PIN it for later.