You can't hit all 30 Lehigh Valley wineries in one weekend, but this weekend wine tasting itinerary will get you on your way to discovering this Pennsylvania wine region.
Pennsylvania has 300 wineries, and about 30 of them are in the Lehigh Valley AVA. Located in the southeast part of the state where the growing season is longest in Pennsylvania and the summers are hot and humid, the Lehigh Valley wineries grow a variety of vinifera and hybrid grapes.
WHERE IS LEHIGH VALLEY WINE COUNTRY?
A short drive from Philadelphia – about an hour and a half northwest of the city – the valley is filled with gentle rolling hills, picturesque farmland, and small towns that surround the cities of Allentown and Bethlehem.
The "Jewel of the Valley" is Chambourcin, a versatile grape that works well as both a dry or sweet red, a sparkling wine, or a port-style dessert wine. Several European grapes thrive in the valley, too, and lauded bottles produced from grapes such as Riesling, Grüner Veltliner, and Cabernet Franc are found at many of the wineries.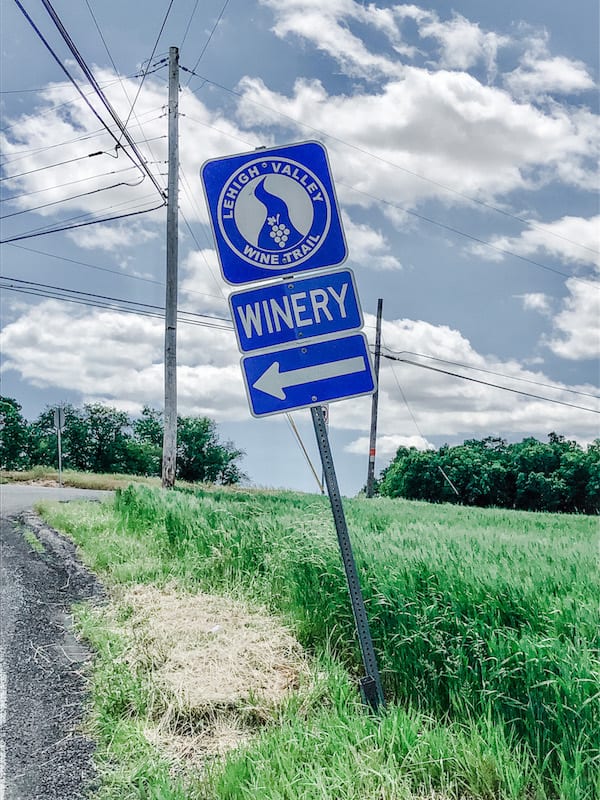 The Lehigh Valley Wineries
You can't hit all 30 Lehigh Valley wineries in one weekend, but this weekend wine tasting itinerary will get you on your way to discovering the wines of the Lehigh Valley.
On Saturday, start out at Stony Run Winery in Breinigsville. The beautiful patio and wrap around porch that overlook the vineyards are perfect for sipping on Stony Run's many wines. Enjoy the traditional champagne blend sparkling brut or Cabernet Franc during open air festivals in the spring and fall. Or grab a bottle of Flagship, a Bordeaux blend, and dance to big band music in the summer.
Next head to Breinigsville's Clover Hill Vineyards, one of the Lehigh Valley's founding wineries. Clover Hill conveniently indicates the sweetness level of their wines so it's easy to find the style you enjoy. Dry wine lovers can enjoy the Pinot Noir while sweet drinkers can chose the floral Clover Hill Rosé.
Finish your Breinigsville visit at Vynecrest Vineyards, another founding winery.
Discover the Traminette grape there – a Gewürztraminer-like dry white wine with a bit of spice. Vynecrest has live music every Saturday, often accompanied by a food truck.
Weathered Vineyards takes it cue from Bordeaux, France, and is next on the itinerary. The majority of their wines are produced from traditional Bordeaux grapes – Cabernet Sauvignon, Merlot, Cabernet Franc, Chardonnay… The French influence continues with a Méthode Champenoise brut. Bring your own picnic basket to Weathered and enjoy a late afternoon snack.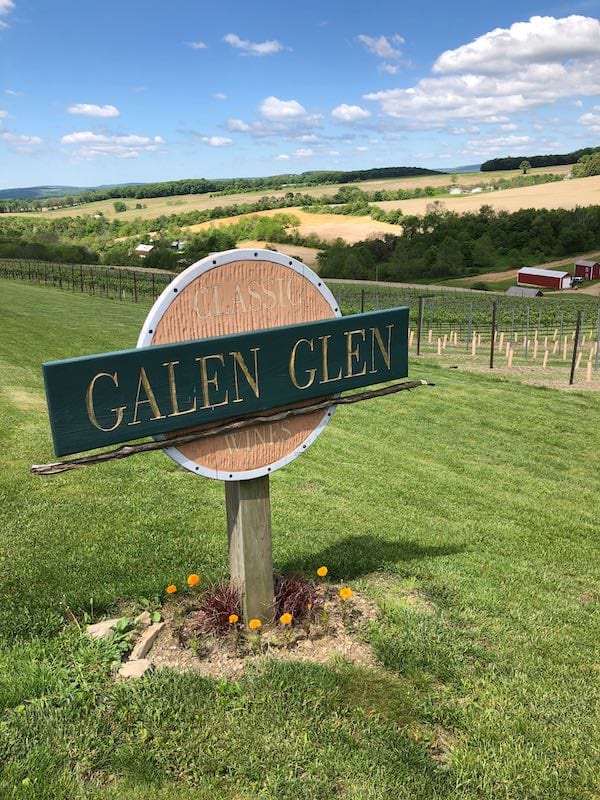 No trip to visit Lehigh Valley wineries would be complete without a visit to Galen Glen Winery in Andreas. Their Riesling and Grüner Veltliner are known nation-wide as some of the state's best wines. And while they're not to be missed, taste through as much of their wine as you can. Galen Glen is one of the Lehigh Valley wineries putting Pennsylvania on the wine map.
Head to your hotel to freshen up (see some great options below), head out for a good dinner, and then rest up for Sunday's winery visits.
Sunday's itinerary is less hectic. Start at Black River Farms in Bethlehem. This sustainable winery takes pride in its Chambourcin, with vintaged, dry bottlings that show how the grape responds to the terroir each year. They also bottle a slightly sweeter line of Chambourcin, Saki. If you want to dive into this grape, Black River is the place to do it.
Head to Franklin Hill Vineyards in Bangor. The valley's oldest winery, the first vines were planted in 1976. With about 20 wines, there's something for everyone, including their best selling Sir Walter's Red, a 100% Concord grape wine, Trio, a blend of Cabernet Sauvignon, Cabernet Franc, and Chambourcin, or the smooth port-style Breathless.
End your weekend at Tolino Vineyards not too far from Franklin Hill in Bangor. There's live music on Sundays and you can bring your food to enjoy with their Pinot Grigio, Cabernet Franc, or Fuzzy, a semi-sweet blend of Pinot Grigio, Vidal Blanc and peach wine.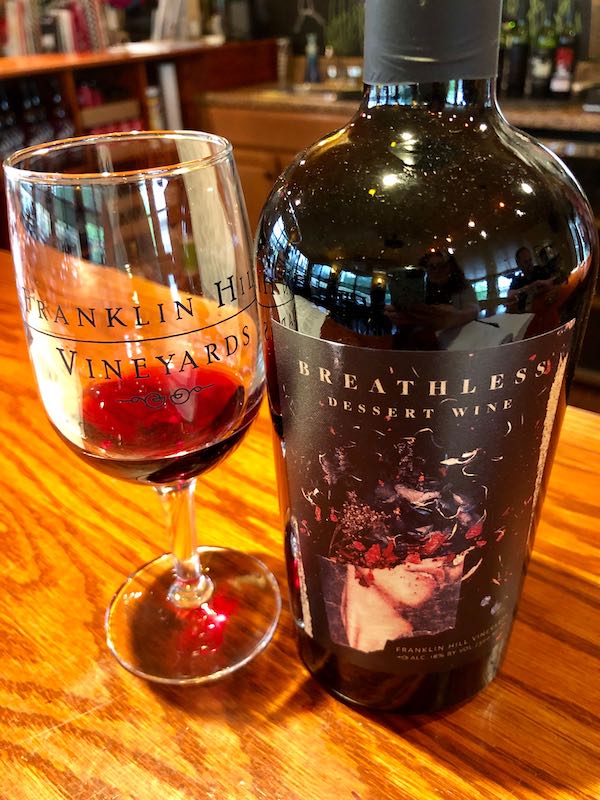 Where to Stay & Eat
In the Lehigh Valley Wine Country
After a day of tasting, there are many places to dine and rest your head in the Lehigh Valley on a weekend getaway.
For a little luxury, the Glasbern Inn in Fogelsville is located right in the heart of wine country near Breinigsville. This 21-and-up only inn on 15 acres has a spa, a pasture to plate restaurant and a pub. Breakfast is included and is a necessity before heading out to the nearby Lehigh Valley wineries for a day of tasting.
The Historic Bethlehem Hotel, located in the heart of Bethlehem's dining and shopping downtown, is convenient if you want to head out for the evening after visiting wineries all day. The Tap Room is right inside the hotel and there are several restaurants – like Tapas on Main with its specialty sangrias – in walking distance. The West End Theater District of the city is less than a 10-minute drive from the hotel.
---
Sip in More Pennsylvania Wine Country
---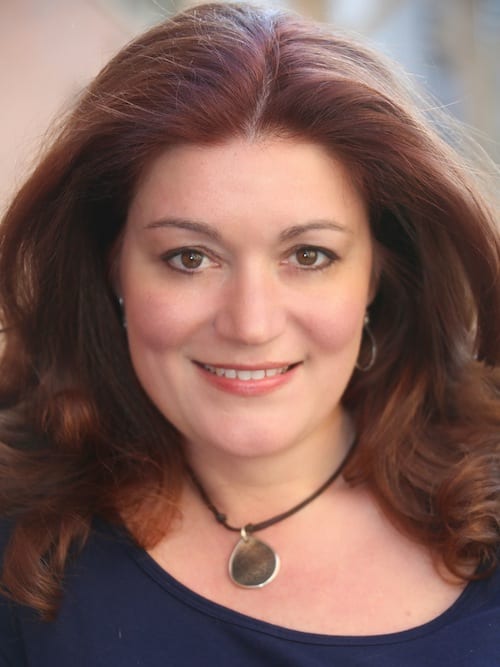 Robin Shreeves is a drinks journalist and lifestyle features writer. Her wine writing has appeared in dozens of print and online publications including Wine Enthusiast, VinePair, Courier Post, Spirited magazine, Edible Philly, Edible Jersey, USA Today, and Drink Philly. A champion of wines from the mid-Atlantic region, she co-hosts an East Coast Wine chat on the Clubhouse app Sunday nights at 7pm. Her writer's website Wine & Wonder has a weekly roundup of East Coast Wine News posted each Monday.