Traveling to wine country is more than just a destination; it's an experience.
And if you're like us, you want to ensure your experience is enriching and memorable.
You're dreaming of incredible wine tastings, gorgeous views, and unique experiences to enjoy your precious vacation days in total bliss. Yet, when you consider all the details involved in planning a wine vacation, it can seem more like work than fun.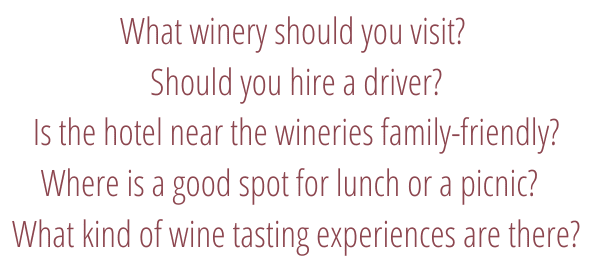 Planning a wine tasting vacation doesn't have to be stressful. We're here to create a fun and easy planning experience to build your sip trip with expertise and style.
Our Custom-Curated Wine Trips Provide…
Carpe Travel offers custom-curated wine vacations. We work with you to design a trip that is tailored to your interests and budget. Whether you want to visit several wineries in one day or spend a week exploring different regions, we can create an itinerary that meets your needs.
What's included…
An itinerary tailored exactly to your needs and interests. This also includes budget concerns, the type of wine you enjoy, and other important considerations, like family-friendly locations.
Recommendations on where to stay, non-wine-related activities and restaurants.
Insider tips and tricks on how to get the most out of your wine tastings.

Custom-Curated U.S. Wine Trips
For wine vacations within the United States, our editor and founder, Elaine Schoch, can help design your perfect travel program.
You will hold a 30-45 minute travel planning session with Elaine via phone call, Skype, or Zoom to discuss where you plan to visit, a potential itinerary and preliminary recommendations, answer any questions, and discuss logistics.
Following the call, you will receive more details, recommendations on where to sip, stay, and things to do, our step-by-step guide to follow, wine tasting tips, and a personalized Google map with the recommendations discussed.
At this time, this service does not include booking any reservations. We will, however, provide links, contact information, and resources for you to make the bookings yourself.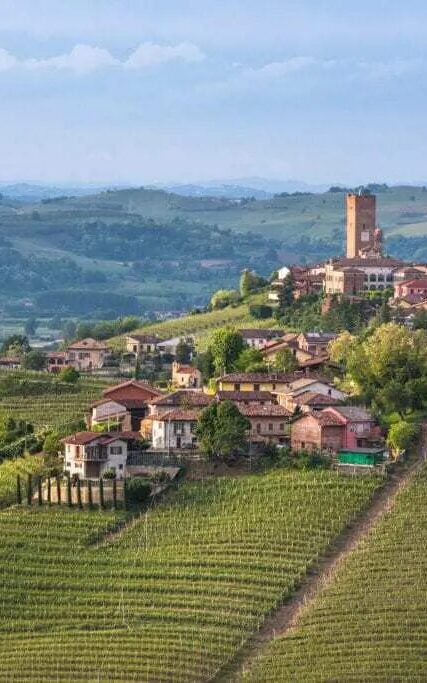 Carpe Travel Wine Trips to Italy
Carpe Travel is excited to partner with contributing writer, Valerie Quintanilla, to offer special travel programs in Italy for Carpe Travel readers. Our wine tasting vacations will focus on wine, food, and culture. Based in Barolo, Valerie has designed a custom travel program in Piedmont, Italy.
Fee: This will vary based on your needs.
The Wine+Art+Music Experience
Food and wine pairings aren't new but what about pairing wine WITH art and music for a complete multi-sensory immersion experience? (Did I just blow your brain?!?!)
Carpe Travel has teamed up with contributing writer, Simone FM Spinner to bring you The Wine+Art+Music Experience.
Simone, a certified sommelier and wine educator, creates immersive aesthetic experiences where she expertly pairs art and music with wine by analyzing the theoretical aesthetic elements of each genre and identifying intersections between the three mediums. She uses this research to select complementary groupings that enhance the sensory experience. More details on how the event works.