Ways You Can Become an Eco-Friendly Wine Lover
By thoughtfully selecting your choices in wine, you can go a long way in reducing your "wine footprint" and by becoming a conscious world citizen, you can affect change and the health of our planet. In other words, you can help save the planet with the wines you choose to sip. I am not suggesting you forego your favorite bottles. Exquisite vintage champagnes and luscious Bordeaux are special and should be treated as such. Collect them, worship them, and savor them when you sip. But, it's easy to do your part in helping the planet one wine at time. With April being Earth Month I've pulled together some easy ways you can become more of an eco-friendly wine lover.
Recycle More
By now we all know that recycling glass bottles helps the environment. So it goes without saying that recycling your wine bottles is an easy way to be a sustainable wine drinker. But, did you know you can also recycle your corks and screw caps?
Your screw caps and synthetic corks can go in your recycling bins at home. But the natural corks can be recycled in your compost bins – if you have one – or through a company that recycles the cork into another product, such as, ReCork, Cork Forest Conservation Alliance or CorkClub. Both ReCork and CorkClub allow you to mail in your corks for recycling. (Check on this as there may be restrictions per new safety concerns.)
If you'd rather get a little crafty, with your corks, try making a wreath, bird house trivet or corkboard. There a ton of wine cork crafts out there!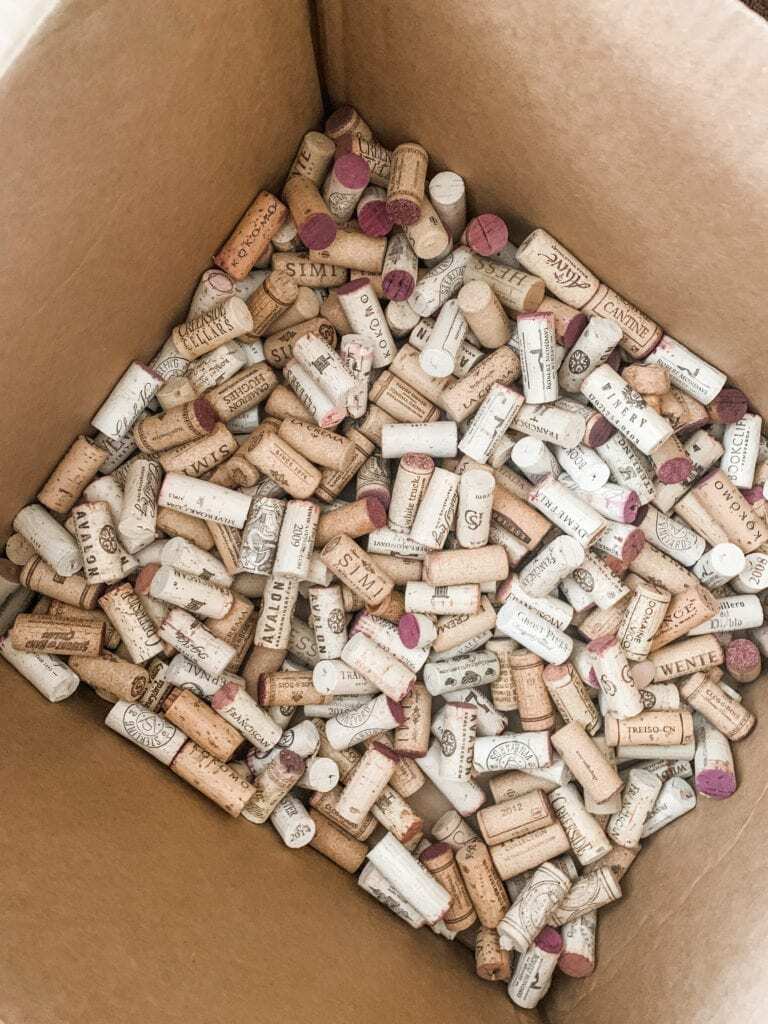 Buy Local Wines
Wine is expensive to produce and to distribute. Think about all the packaging, flights and trucks to get that case you ordered to your front porch… Thank goodness wine is produced on nearly every continent, in nearly every country and in every state in the United States. Embracing local and regional wines reduces the wineries carbon footprint and yours. Not everyone is lucky enough to live in Piedmont, Rioja, Burgundy or Champagne. But great wine can be found in your backyard, if you explore a little. (See all of Carpe Travel's Wine Travel Guides!)
Look for Eco-Friendly Wines
Did you know agriculture is responsible for at least 20% of the annual greenhouse gases? (This isn't just for wine but more modern cash-crops that displace native plants and upsets natural ecosystems.) Grapes are challenging to grow and often requires various pesticides, chemicals and technologies that extract natural nutrients from the soil, the land and leach into water supplies. When you buy wines that are marked as organic, bio-dynamic or sustainable you are contributing to agriculture done right since these wines have strict regulations around what can be used (and not used) during the growing process.
Visit Eco-Friendly Wineries
As I noted above, buying wines from wineries who are practicing responsible agricultural process – organic, bio-dynamic or sustainable – is a great way to be a sustainable wine drinker, but when you're in wine country make it a point to VISIT them too. If they offer a tour, take it as you'll learn more about their farming practices and how they differ. I have to say, when I visited Pence Vineyards in Santa Ynez I learned more than I thought I would about its organic farming processes.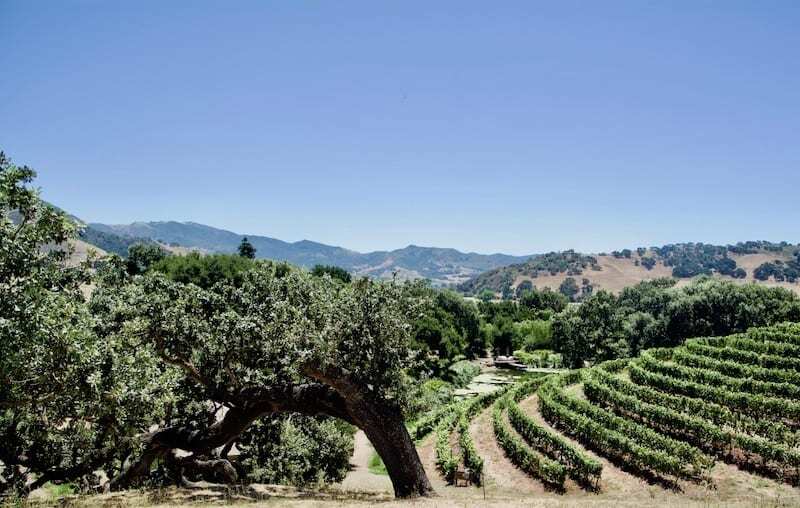 Did you know Napa Valley was designated America's first Agricultural Preserve in 1968? That means the rolling hills covered with rows of vineyards is set aside for growing — not building.
Book Eco-Friendly Hotels
Regardless of if you're traveling to wine country or not you should always consider staying at Eco-friendly hotels when you travel. One of my favorites is H2 Hotel in Sonoma Country. It's fully LEED Certified and completed with a beautiful rood top garden. Even if your hotel isn't technically an Eco-friendly hotel, you can be a little greener by skipping the daily cleaning services, not asking for new towels or having the sheets changed.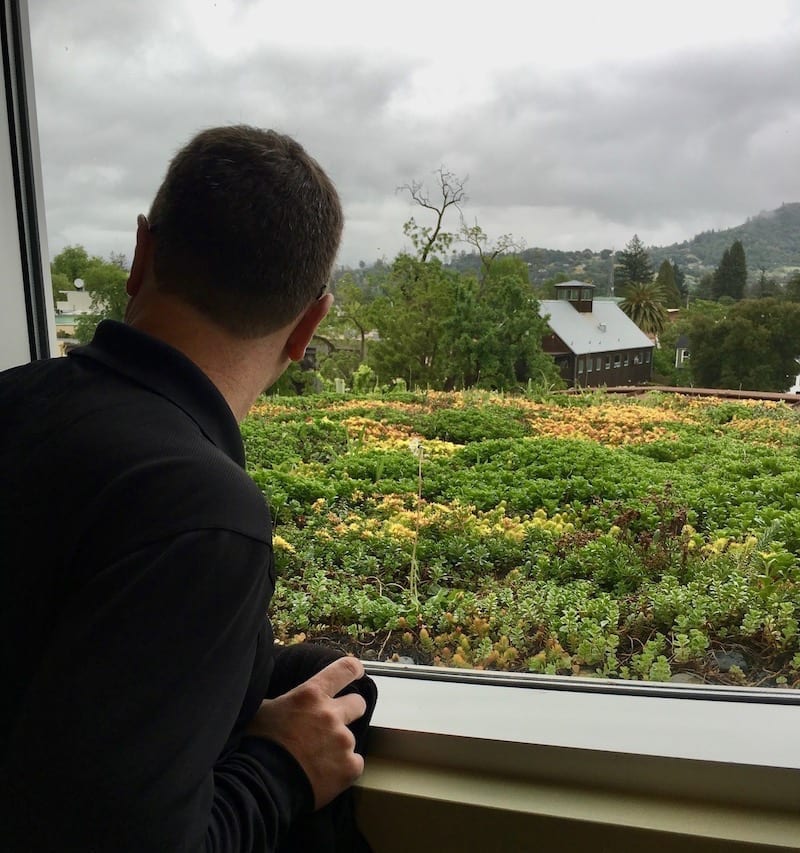 Ask About Shipping Materials
It drives me crazy when I order wine to have shipped and it arrives in stryofoam and//or insane amounts of plastic padding. Neither are green solutions. I do however, love wineries that are using nested trays (aka cardboard inserts) made from recycled paper. (Even the plastic inserts are OK since they can be recycled, but they're not ideal) The card board inserts stack nicely and can be crushed into my recycling bin or compost pile. When you order wine, it's ok to ask what is used for shipping materials. If stryophone is the only option consider buying elsewhere.am
Stay Hydrated with Reusable Water Bottles
Any successful wine vacation requires you to stay hydrated. An easy way to be a sustainable wine traveler is to pack and use your own reusable water bottle when visiting a winery. If you forgot yours, most tasting rooms sell them as a souvenir now. Pick one up to help support the winery and the planet.
(If you do pack one ahead of time, try getting an Alkaline water bottle for even more hydration. My go to is my Dyln Living Water Bottle, it's perfect for everyday Eco-friendly wine lovers.)
What are some other ways you try to be a sustainable wine lover?
Sip In More Sonoma…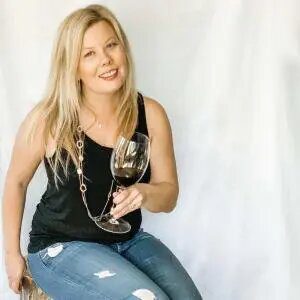 Elaine Schoch (pronounced the German way – Shock) is the editor and founder of Carpe Travel as well as an award-winning travel writer, wine judge, certified by the Wine & Spirit Education Trust (WSET) Level 2 and certified American Wine Expert. She is married to The Husband and has two kids, Princess One and Two – who's interest and knowledge in wine is quite extensive. Not to mention the stamps in their passports.