Pairing a Perfect Road Trip Through the Wisconsin Wine Country
By Nicole Haase, Contributing Writer
Whether you are road tripping through Wisconsin via the Great River Road – a National Scenic Byway that follows the mighty Mississippi River through 10 states and thousands of miles – or just out to explore the Wisconsin wine country, this itinerary is sure to please your palette. As part of the Carpe Travel Wisconsin Wine Country Travel Guide, we have poured into Wisconsin wineries and activities to sip in along the Great River Road.
Great River Road Wine Tasting Itinerary
Day One
Start your day in Pepin at the Homemade Cafe. Simple, hearty and delicious food with a constantly updated specials board, this is the perfect way to start your day.
(If you are coming from the north or have extra time, actually start your day in Ellsworth, about 25 miles north, at the Ellsworth Cooperative Creamery for the best cheese curds you've ever had. Bring a cooler. Stock up. You will not be disappointed with this detour.)
The first sipping spot on your Wisconsin wine country road trip is just north from there at Maiden Rock Cidery and Winery. This charming small apple orchard and winery was designed with visitors in mind. The orchard is made for easy picking and they sell anything you could need to try to make cider or wine at home. Belly up to the bar for some samples. They focus on English varieties of cider apples and have even created some cider care packages to combine local treats with their delicious ciders. They're the perfect gift or something for you to take with you to enjoy long after your trip.
If they're open as you're passing through, stop at Stockholm Pie & General Store for the most decadent, melt-in-your-mouth sweets you can imagine.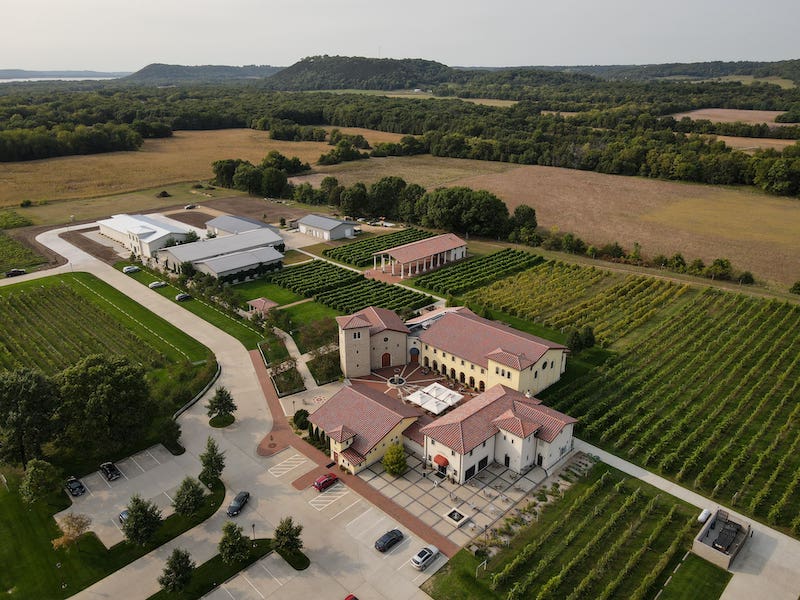 The next stop is the Mediterranean oasis at Villa Bellezza. It's hard to believe this gorgeous spot is in western Wisconsin. The sprawling complex and estate make for picture perfect events, but it's also a great place to stop by and sip. It's easy to lose a few hours here thanks to the beautiful views, delicious wines and delectable food. Plan on lunch in their Italian bistro and enjoy a glass of their award-winning Cotes Du Pepin.
Keep heading south to Alma, where you'll check out the largest natural balcony overlooking the Mississippi River in Buena Vista Park. You'll have sweeping views up and down the river. Take the time to do some birding – it's likely you'll see some bald eagles. A gorgeous spot that can't be captured on a screen, you'll still want to take a ton of pictures at this beautiful spot.
Further south is Danziger Vineyard. Enjoy views of the Mighty Mississippi from their patio while sipping estate wines – all their grape wines are grown, made and bottled on site. The Golden Sunrise is a semi-sweet white wine made with Frontenac Gris grapes. Compare it with the Rosevalley Rosé, made from the same grapes.
End the night in Fountain City. You're staying among the vines at Seven Hawks Vineyards. But first, dinner at Monarch Tavern, the oldest continuously serving tavern in all of Wisconsin. They've been serving it up since 1894. Folks come back for the traditional Irish fare and the atmosphere – Monarch serves up good craic.
Upper Mississippi River Valley AVA
This area of Wisconsin wine country calls the Upper Mississippi River Valley AVA home. At more than 29,000 square miles, the AVA – which covers parts of Wisconsin, Minnesota, Iowa and Illinois – is the country's largest AVA. All or parts of 23 Wisconsin counties are in the Upper Mississippi River Valley AVA.
This part of Wisconsin never experienced glaciation as part of the Wisconsin ice age. The grapes are planted on the hilly slopes to maximize sun exposure. The land does not feature sediment and materials left behind by the glaciers. Instead, it's a loose, loamy silt and clay sit atop limestone, all of which combine with the slopes to allow for great water drainage.
Many Wisconsin wineries in this region came about as farmers transitioned from growing tobacco in the 1990's and 2000's. The crops require similar care and the tobacco farmers had sold their product based on its unique flavor – the idea of terroir was one they understood.
Great River Road Wine Tasting Itinerary
Day Two
Spend some time exploring the gorgeous accommodations at Seven Hawks. Hopefully you unwound with a glass of their wine before bed. In the morning, head off to World Cup Coffee for a jolt of caffeine and breakfast.
If you're into roadside attractions, the Rock in the House is a quick stop. It's exactly what it claims to be and yet somehow, seeing the giant boulder lodged in a house is still worth the look.
Just south of town is Elmaro Vineyards. Another sprawling location with amazing views, this is the kind of place you can while away a day without even realizing it. They offer picnics out among the vines or you can take advantage of their patio and fire tables to ward off any chill. Try the Sweet Cheeks Rosé, a blend of St. Pepin, Marquette and La Crescent estate-grown grapes.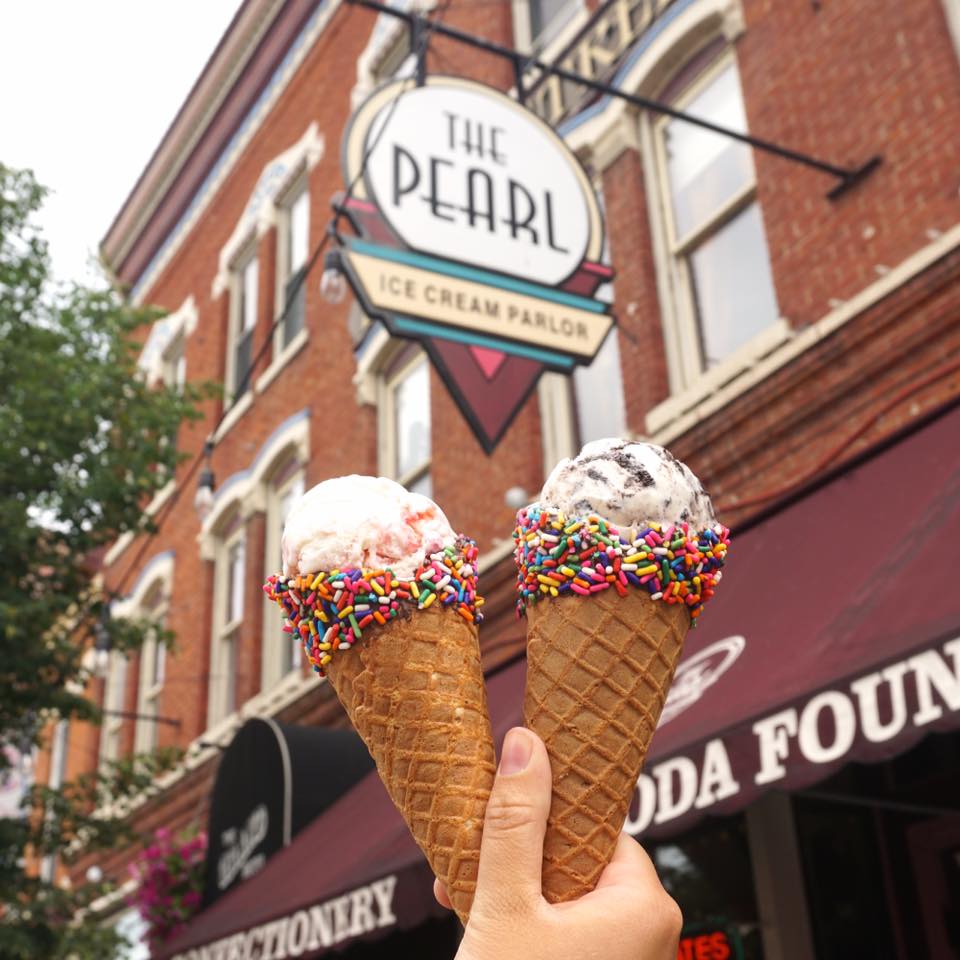 End your day in La Crosse. Stroll along the Riverfront and then get a sweet treat at The Pearl, a 1930's style soda fountain. Dive to the top of Grandad Bluff to get more sweeping views of the city, the river and beyond. Couples will love a cozy dinner at Lovechild followed by drinks on the rooftop of the Charmant Hotel. Families will love the old-school fun of Rudy's Drive-in.
On any wine country adventure, make sure to sip responsibly and have a designated driver.
Things to Do
Along The Great River Road
Even the most dedicated oenophiles don't focus on wine 24/7. Even when you pack your itinerary full of sipping, there are still a number of hours you'll have to fill. Friends, couples, families and groups will all find ways to keep busy no matter which Wisconsin AVA they decide to visit.
Fly like an eagle
Wisconsin has one of the five biggest bald eagle populations in the country. Milwaukee County is the only one in the whole state without a known eagle nest. In summer, the eagles nest and raise their young, but in winter, the Mississippi River and its tributaries provide a great place for wintering eagles to hunt for food. With all the bluffs and outlooks along the river, there are so many great places to keep an eye out for the majestic birds. Late fall, winter and early spring have bare trees, making it easier to spot them. Most communities along the river keep track of nests and have up-to-date information on where and how to spot the eagles on their websites.
Prairie Home
Laura Ingalls Wilder was born in Pepin and her birth site is now a museum that allows visitors to get a peek at what life on the prairie was like. There is also a reproduction of the log cabin she grew up in. It's a delightful little blast from the past.
Take a bike
Wisconsin has thousands of miles of bike trails and there are plenty of options along the river. The Great River Road Bikeway and Mississippi River Trail provide great options, but more hard-core cyclers will want to trek the 30 or so miles east of La Crosse to traverse the Elroy-Sparta Trail. It is considered the first rail-to-trail in the country.
Rollin' on the river
Hop on a replica turn of the century riverboat in La Crosse to take to the Mighty Mississippi like they would have done 100 years ago. One of the few left running in the country, the La Crosse Queen offers stellar views, delicious food and a throwback experience unlike any other.
Panoramic views
Whether you drive up to Grandad's Bluff in La Crosse, hike along the cliffs in Wyalusing or stop to see the views in Trempealeau, every small town along the river is a new chance to see far across the horizon. In the more southern part of the state, clear days offer views to Illinois, Iowa and Minnesota.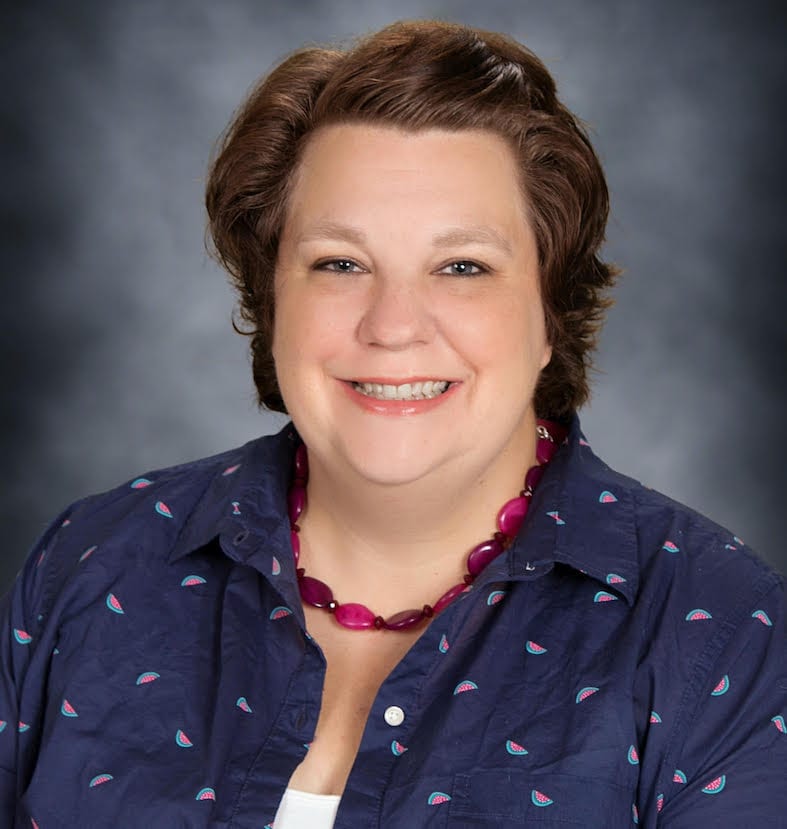 Nicole Haase
Nicole Haase is a freelance writer who lives in Milwaukee, Wisconsin with her husband and their basset hound. She writes about a wide variety of topics including women's sports (particularly hockey), food and drink and travel. Her bylines include Sports Illustrated, BBC, Modern Farmer, ESPNW, Milwaukee Journal-Sentinel, St. Paul Pioneer Press and The (Madison) Capital Times.