Cabernet Franc (kab-er-nay frank) is the parent grape of both Cabernet Sauvignon and Merlot. The grape originated in the Bordeaux region of France and is known for its award-winning blending partnership to the dominant Merlot and Cabernet Sauvignon. It is an excellent quality grape, and despite its long history and tradition, Cabernet Franc wine rarely gets the attention and recognition it deserves.
Cabernet Franc can be medium to full-bodied, with medium-high acidity, and the ability to retain high amounts of alcohol. The wine tends to be light in color saturation, well-structured and highly perfumed. Cabernet Franc wine has texture and very dominant flavors that can be experienced on the nose and the palate. Some of the more dominant flavors include strawberry, sour cherry, roasted peppers, chili peppers, gravel and violets.
Cabernet Franc thrives in cooler climates, with limestone, clay, or granite soil, and needs an extreme amount of water. The grapes are usually planted near a large water source.
WHERE TO FIND
Cabernet Franc
Cabernet Franc is not typically produced as a single varietal in large quantities, but rather it's used for blending. However, several regions are producing quality, sip-worthy single varietals. The well know regions for Cabernet Franc include Bordeaux, Loire Valley, Northern Italy, Virginia and California. (Colorado is starting to produce some excellent Cabernet Francs, stay tuned to this region…)
France is the largest producer of Cabernet Franc. The famous "Right Bank" Bordeaux blend features Cabernet Franc and Merlot. In Bordeaux, Cabernet Franc is most significant on the right bank, particularly in Saint-Émilion. Here, it is used as a blending component alongside the dominant Merlot grape. These wines are intended for early to medium-term drinking, and some of the best examples come from Anjou-Villages, Bourgueil, Chinon and Saumur-Champigny.
ITALY
Italy is the second-largest producer of Cabernet Franc. Much of it is made in Friuli-Venezia Giulia but the most famous Italian Cabernet Franc comes from Tuscany. Cabernet Franc is not native to Italy.
UNITED STATES
California produces Cabernet Franc in Napa, Sonoma, and Mendocino regions. With the colder regions of the Finger Lakes in New York, a nice Cabernet Franc is produced. And, Colorado is beginning to produce some outstanding Cabernet Francs.
WHEN IS THE RIGHT MOOD FOR CABERNET FRANC?
Cabernet Franc is for your Merlot, Sangiovese, and or Oregon Pinot Drinkers. Great for: Dinner Parties, Paint N Sip, Book Clubs, Holiday Wine.
Dinner
Parties
Paint
N Sip
CABERNET FRANC RECOMMENDATIONS
Looking for a good Cabernet Franc to sip? Here are a few we love…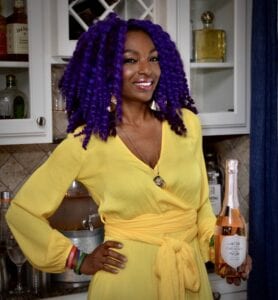 Carpe Travel collaborated with Maia Parish to compile the grape varietal overviews. Maia Parish is an award-winning events producer, sommelier, wine judge, and media consultant. She lives in Denver, Colorado and likes to eat copious amounts of food. You can find her here www.linktr.ee/thewinemistress.