Our Michigan Wine Travel Guide shares a brief history of the state's wine country, terroir, where to sip, where to stay and things to do beyond the vines.
Michigan is highly regarded for its unadulterated wilderness: The longest freshwater shoreline in the country, vast lakes, gleaming shorelines, a plenitude of agricultural products and unlimited outdoors activities. Not to mention the Thunder Bay National Marine Sanctuary in Lake Huron and of course there's Detroit, home to the world renowned Henry Ford Museum and Gilmore Car Museum, America's "Most prominent History Attraction". And with more than 150 wineries in Michigan, the state has a lot to sip in.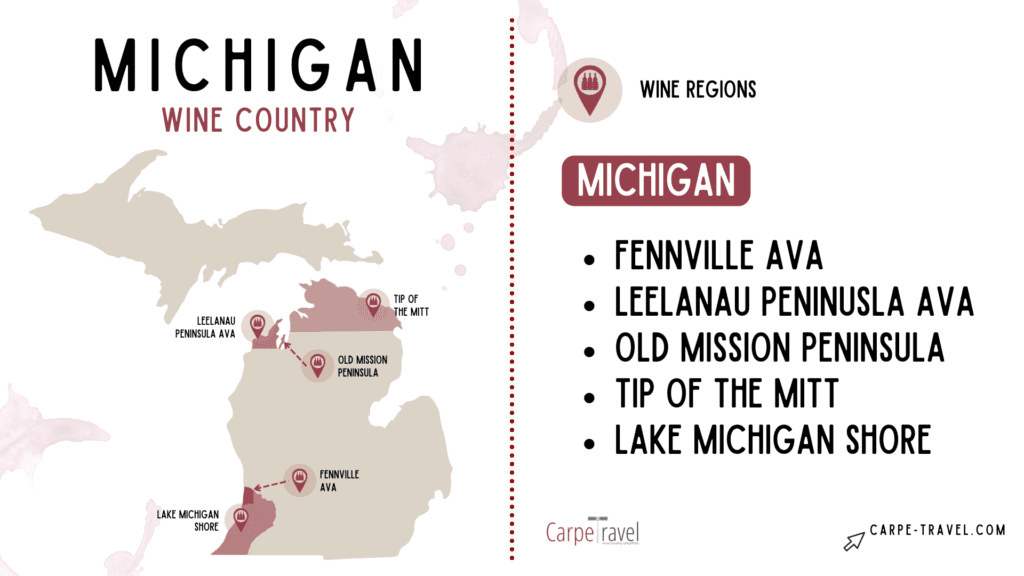 WHERE IS MICHIGAN WINE COUNTRY?
While every Michigan wine region offers opportunities for wine tasting, the peninsulas of Leelanau and Old Mission, which flank Traverse City, claim the most beautiful scenery and most developed wine trails. Combined they grow almost 55% of the state's fruit spread across 35+ Michigan wineries.
Best Times to Visit
Spring, summer and fall are all great seasons to visit Michigan wine country. You can still sip in the regions during the winter but your activities will be limited due to the colder winter months.
Michigan is home to five American Viticultural Areas (AVAs) and more than 150 wineries. The four Great Lakes that encircle the state have a massive impact on the wine growing regions while adding an abundance of outdoor activities for locals and visitors.
Michigan boasts five AVAs with three in the northwest and two in the southwest. Around Lake Michigan, Leelanau Peninsula occupies the northwest finger of the Lower Peninsula. Leelanau wineries specialize in bright Alsatian whites from Riesling, Pinot Blanc, Pinot Grigio and Gewürztraminer.
Extending into Grand Traverse Bay, Old Mission Peninsula sits east of the Leelanau Peninsula on the opposite side of Traverse City. Some of the state's oldest wineries started here, finding success with both red and white Vitis vinifera.
The newest AVA goes by the quirky but self-explanatory name Tip of the Mitt. Wineries hug the shores of Lake Huron and Lake Michigan and tend to focus on hybrids.
In the southwest, a traditional fruit farming area now boasts about 20 wineries which comprise the Lake Michigan Shore AVA. A longer growing season allows winemakers to ripen red varieties like Cabernet Sauvignon, Cabernet Franc, and Merlot with some hybrids mixed in.
Tiny Fennville is carved out of the Lake Michigan Shore AVA at its northern tip.
Wine grapes grow between 30 and 50 degrees latitude—any farther south and it is too warm, farther north and it is too cold. Wine regions are typically between 30 and 50 degrees latitude—any farther south, it is too warm, farther north, it is too cold. Michigan sits between the 41st and 47th parallels. Michigan wineries that fall along the 45th parallel share the distinction with notable winemaking regions, including France's Burgundy and Bordeaux, Italy's Piedmont and Oregon's Willamette Valley.
With 150+ Michigan wineries, there is a lot to sip in.
Black Star
Farms
Chateau Grand
Traverse
Must Sip Michigan Wine Festivals
Leland Wine & Food Festival
Wine & Harvest Festival
Plan Your Michigan Wine Vacation
WHERE TO STAY BY REGION
Lake Shore Michigan AVA / Fennville AVA
Leelanau Peninsula AVA
Old Mission Peninsula AVA
Rent a car and do it yourself? Hire a driver? Uber? How to determine your wine country transportation options.
Sip in More of Michigan