Home to 150+ wineries, there is a lot to sip in Michigan.
Lauren Mowery, Contributing Writer
Known for hard winters, the Wolverines, and cherry orchards, many wine drinkers as well as restaurant industry gatekeepers show skepticism towards Michigan wines—until they taste them. From a handful of pioneers in the 1970s, the number of Michigan wineries has expanded to nearly 100 and growing, with a few legacy producers now distributing in states beyond the Midwest. However, access remains limited. One might find a single Michigan Riesling in an intrepid retail shop in New York or Washington D.C. Otherwise, visiting remains the best way to get to know the cool-climate white and red grapes that thrive around the Lower Peninsula and even in the city of Detroit. Yep, that Detroit.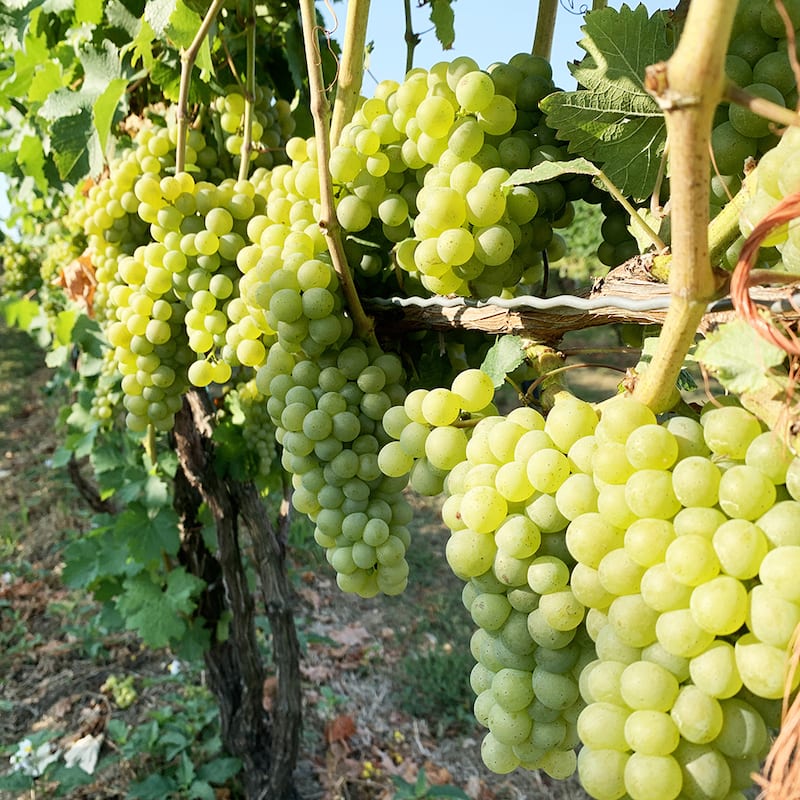 Michigan's AVAs
Michigan boasts five American Viticultural Areas (AVAs) with three in the northwest and two in the southwest. Around Lake Michigan, Leelanau Peninsula occupies the northwest finger of the Lower Peninsula. Leelanau wineries specialize in bright Alsatian whites from Riesling, Pinot Blanc, Pinot Grigio and Gewürztraminer.
Extending into Grand Traverse Bay, Old Mission Peninsula sits east of the Leelanau Peninsula on the opposite side of Traverse City. Some of the state's oldest wineries started here, finding success with both red and white Vitis vinifera.
The newest AVA goes by the quirky but self-explanatory name Tip of the Mitt. Wineries hug the shores of Lake Huron and Lake Michigan and tend to focus on hybrids.
In the southwest, a traditional fruit farming area now boasts about 20 wineries which comprise the Lake Michigan Shore AVA. A longer growing season allows winemakers to ripen red varieties like Cabernet Sauvignon, Cabernet Franc, and Merlot with some hybrids mixed in.
Tiny Fennville is carved out of the Lake Michigan Shore AVA at its northern tip.
While every Michigan wine region offers opportunities for wine tasting and touring, the peninsulas of Leelanau and Old Mission, which flank Traverse City, claim the most beautiful scenery and most developed wine trails. Combined they grow almost 55% of the state's fruit spread across 35 or so Michigan wineries.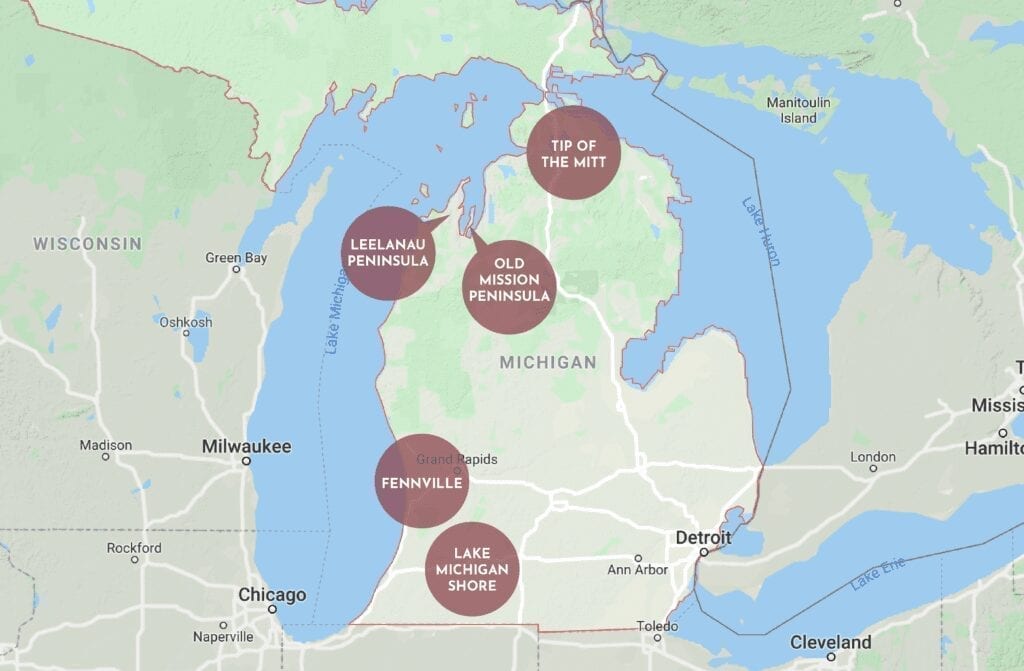 Leelanau Peninsula and Traverse City Wineries
Despite the inland location about five hours northwest of Detroit, Leelanau's vineyards enjoy a maritime climate thanks to the moderating influence of Lake Michigan. The peninsula, or the pinkie of the mitten, juts like a finger into the lake. Thirty miles long and around six miles wide, the peninsula holds three trails, home to some 30 Leelanau wineries, which will keep visitors busy tasting wine for a few days. If you arrive during June in 2022, catch the Leland wine festival which ran 35 years until cancellation due to Covid in 2020 and 2021.
Most visitors will use Traverse City as a base. In town, urban winery Left Foot Charley welcomes guests on its "wine garden" patio. In fact, Left Foot Charley is one of few Michigan wineries distributed on the East Coast due to its success with sparkling wine, cool-climate white grapes Kerner, Pinot Blanc and Grigio, and dry Rieslings. If you finish the line-up of whites, try a dry red from Austrian grape Blaufränkisch, sourced from Old Mission vineyards, or cider made from locally-grown European heritage apples.
If time is a constraint, hit Sleeping Bear Loop first for its proximity to Sleeping Bear Dunes National Lakeshore. The 450-foot high sand bluffs stretching to the water impress first time visitors, as does the stretch of fine sand that vies for the nation's best freshwater beach. On the trail, visit Cherry Republic Winery for its bright ruby-hued fruit wines from locally grown Balaton and Montmorency tart cherries, the region's most important crop.
Other Michigan Wineries to Visit on the Sleeping Bear Loop: Bel Lago Vineyard, Winery & Cidery
On the Grand Traverse Bay Loop, Black Star Farms in Sutton Bay stands out for farm-to-table food, an upscale 10-room Inn, hiking trails and equestrian center. The pastoral setting just 15 minutes from Traverse City, makes it popular for weddings and celebrations. Fortunately, the winery (complex, really) offers more than a pretty setting, having found success with its Arcturos range of Riesling and Chardonnay and eau-de-vies, or fruit-based brandies made with pears and cherries.

Another pleasant stop on the Grand Traverse Bay Loop, Shady Lane Cellars occupies a charming stone building surrounded by blooming hydrangeas. Vineyard views from the patio belie the property's proximity to Traverse City—it feels a world away just minutes from downtown. Winemaker Kasey Wierzba learned her trade in Napa Valley working at several esteemed properties including Far Niente, Rudd, and Frog's Leap, the latter informing the winery's commitment to sustainability through SIP Certification.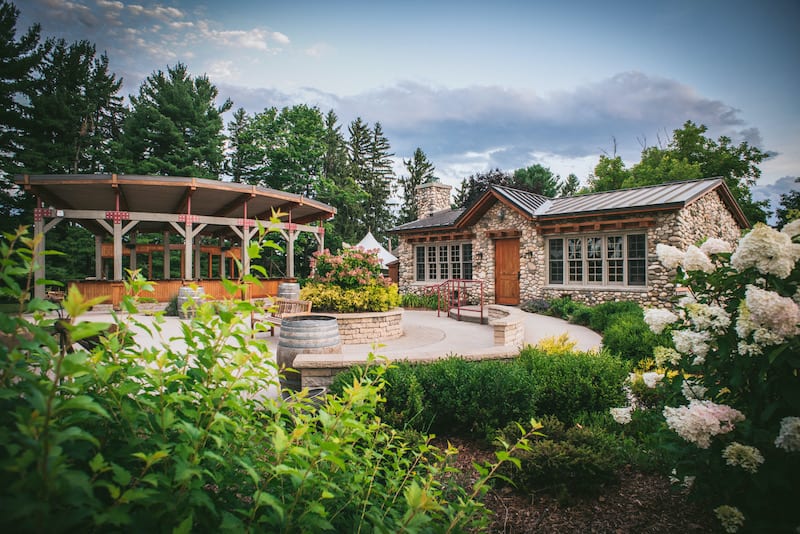 Other Michigan Wineries to Visit on the Grand Traverse Bay Loop: Mawby, Brengman Brothers
The Northern Loop has around a half dozen small wineries plus a cider house. Michigan wine drinkers love the dry white Pinot Blanc of Verterra Winery, a worthwhile stop to see the town of Leland where the tasting room operates. From there, catch a ferry to the Manitou Islands, whether to see lighthouses on the South Island or experience car-free living on North Manitou. Converted fishing shanties built in the 1900s now hold shops and a market.
Other Michigan Wineries to Visit on the Northern Loop: Aurora Cellars, Tandem Ciders
Old Mission Peninsula Wineries
To the east of Leelanau, the Old Mission Peninsula cuts Grand Traverse Bay in half. This smaller region dotted with orchards, farms, and lighthouses offers around 10 wineries to occupy a half or full day of wine tasting. Chardonnay, Pinot Noir, and Riesling were the first grapes planted back in 1974. These grapes remain popular, but now share soil with Cab Franc, Merlot, and Pinot Grigio. Producers experiment with dry, semi-dry, still, and sparkling as well as ice wine.
Because of the climate, Chateau Grand Traverse can make the kind of crisp, juicy whites and reds West Coast wineries envy. Founded in 1974, Chateau Grand Traverse sits 8 miles north of Traverse City and has led the peninsula in world-class winemaking and contemporary marketing with its fun, modern labels, and screwcap closures. The Gamay, Grüner Veltliner, and Riesling show proof of concept. Grab a patio seat, order a charcuterie board and settle in for an afternoon amid the splendor of verdant vineyards. Better yet, make a night of it and book a room at the Inn, bottle of wine, included.
Mari Vineyards evokes an Italian villa relocated to upper Michigan, and the Italian varieties like Nebbiolo and Sangiovese help sell the story. Mari Vineyards also claims the first underground cellar and barrel aging room in Northern Michigan which guests can experience on a tasting and tour by
Other Michigan Wineries to Visit on the Old Mission Peninsula: Chateau Chantal, 2 Lads, Brys Estate
Wineries in Detroit and Southeast Michigan
Michigan wine country offers the romantic allure of vineyards but don't overlook Detroit, around five hours south of Lake Michigan, as a wine tasting destination. The city's modern history recounts rising economic fortunes from turn-of-the-century car manufacturers, then a devastating economic slump. Yet, few know the land that gave way to this boom-bust-boom city, once supported the Iroquois Indians with its abundance of wilderness, and later the French fur traders, who arrived in 1701, with agriculture. In fact, Antoine de la Mothe Cadillac established a vineyard in Detroit in 1702. Denizens tending urban farms and yes, vineyards, have come full circle to the city's ag roots.
For a taste of the city's vinous future, visit Detroit Vineyards which produces local wine and mead inside an old Stroh's Ice Cream factory. Winemakers source grapes from across the state as well as small plots in the city.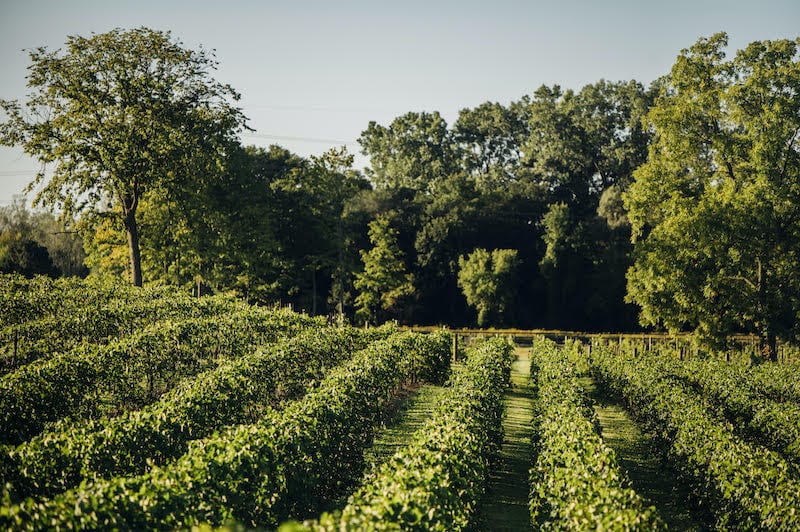 Just 20 minutes north of Detroit in Ray, Youngblood Vineyard makes estate wine with cold-hardy hybrids like white grape Frontenac Blanc and red grape Marquette. A bit further afield in Jackson, around 90 minutes due west from Detroit, lay the start of the Pioneer Wine Trail of Southeast Michigan. Retired Delta Airlines pilot Lorenzo Lizarralde founded Chateau Aeronautique Winery in an old airplane hangar. Lizarralde's tasting room has an apropos setting overlooking a grass runway.
Other Michigan Wineries to Visit on the Old Mission Peninsula: Chateau Chantal, 2 Lads, Brys Estate
---
Sip in More Michigan Wine Country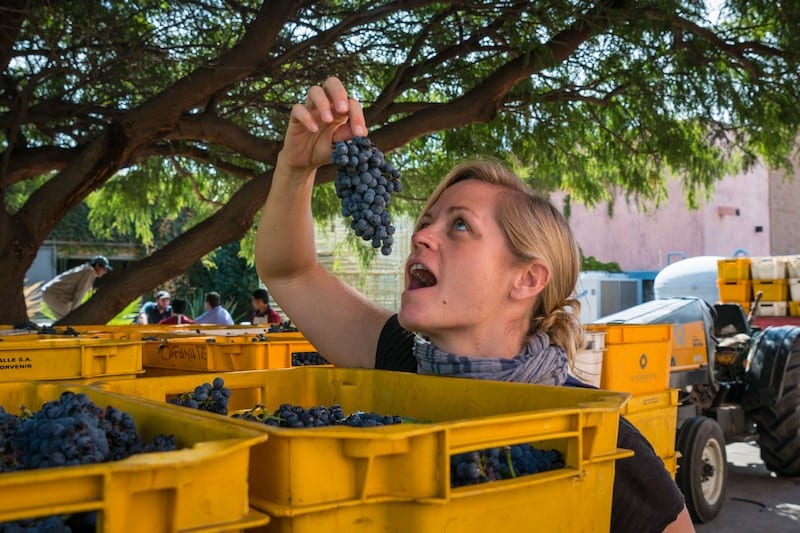 Lauren Mowery is a freelance writer, photographer, and contributing travel editor at Wine Enthusiast. She has covered coffee, wine, spirits, food, and travel for national publications including USA Today, Hemispheres, Forbes, Lonely Planet, AAA, Vinepair, Fodor's Guides, Saveur, Punch, and Eating Well, among others. Mowery is a graduate of the University of Virginia and Fordham Law School and is halfway towards earning the Master of Wine distinction held by only 416 people in the world. Her forthcoming book Chasing the Vine: Finding Wonder, Rebirth and Jet Lag on the World's Most Farflung Wine Trails debuts in 2022.