Discover Why Cape May is the Perfect East Coast Destinations for Wine Lovers
Written in Partnership with Hotels.com.
Along the shoreline in South Jersey you'll find the charming Victorian beach town of Cape May. While the beach might be the main draw, Cape May is also a fabulous location to experience New Jersey wines. (Yes, New Jersey wines!) With seven wineries in Cape May, one wine trail, gorgeous beach properties, delicious seafood and a slew of things to do with families, Cape May is definitely worth sipping in.
New Jersey is home to four federally recognized American Viticultural Areas (AVAs) and more than 50 wineries.
In May 2018 the Cape May Peninsula AVA became New Jersey's fourth official wine region. It is entirely contained within the larger Outer Coastal Plain AVA, but is distinguished from it primarily by a more moderate temperature, providing for a longer growing season. The root for this moderate temperature is due to the breezes from the Atlantic Ocean on its East and the Deleware Bay to its West, the combo allows Cape May wineries and vineyards to thrive. The Outer Coastal Plain AVA is home to three South Jersey wine trails. But, for you, my beach loving friends, we're focusing on the Cape May Wine Trail.
WHERE TO STAY IN CAPE MAY
There are countless places to stay in Cape May. If you're going for Cape May wineries, stay at the onsite cottages at Willow Creek Winery. If you're traveling with kids, The Grand Hotel of Cape May is a good option given its kid activities. It's also right on the reach. A few other favorites, Icona, The Southern Mansion, The Montreal Beach Resort and the Lokal Hotel Cape May. Given the state of the world and travel, book a hotel with free cancellation in case you need to change your plans at the last minute.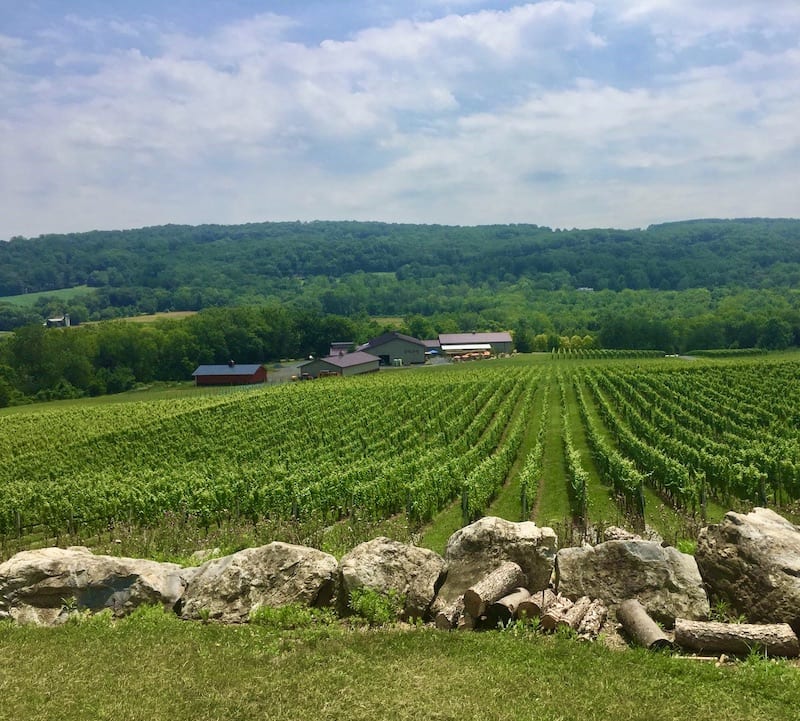 CAPE MAY WINERIES
The 19-mile Cape May Wine Trail cuts through some of the most scenic shoreline in South Jersey, from the beaches of the Atlantic Ocean to the freshwater Delaware Bay. The wine trail is home to seven Cape May wineries so you can easily get them all in over a long, three-day weekend. (Plan for 2-3 a day.) You will need to check ahead of time to see if any of these Cape May wineries are requiring reservations. The state requirements have been changing given the current state of the world.
Cape May Winery & Vineyard is home to the oldest planted vines in the Cape May Peninsula AVA. Stop in for a tour, tasting and tapas.
609-884-1169; 711 Townbank Road,Cape May, NJ 08204
G&W Winery is a small boutique winery that produces a variety of wines including Chardonnay, Pinot Grigio, Riesling, Cabernet Sauvignon, Cabernet Franc, Merlot, and Gemini. In addition to their tasting room, you can sip their wines at the West Cape May Farmer's Market every Thursday, June – August.
609-948-0595; 1034 Rt. 47 South, Rio Grande, NJ 08242
Hawk Haven Vineyards is one of the Cape May wineries not to miss, especially for bubble lovers who will adore sipping their Pét-Nat sparkling wines. If you're short on time, grab some of their canned wines and head to the beach.
609-846-7347; 600 South Railroad Ave,Rio Grande, NJ 08246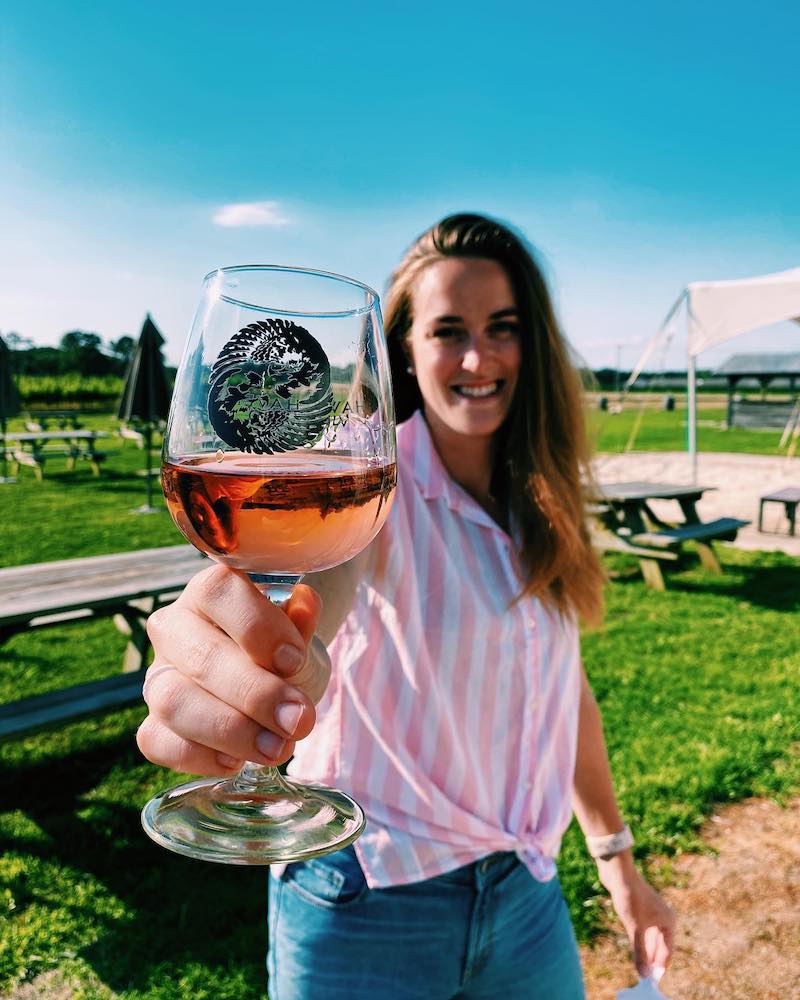 Jessie Creek Winery is a small producer of dry, semi-sweet, and sweet wines.
609-536-2092; 1 North Delsea Drive, Cape May Court House, NJ 08210
Natali Vineyards might be described as "Old World" style of wines, meaning everything is done by hand – from pruning the vines to harvesting the grapes, even the bottling. Grab a picnic lunch and head out to the vineyard for an afternoon of sipping their Viognier, Albarino, Moscato, Nebbiolo and Barbera wines. If you forgot your picnic lunch, they do offer wine flights with paired cheeses as well as wine pairing dinners on the weekends.
609-465-0075; 221 N. Delsea Dr., Cape May Court House, NJ 08210
Turdo Vineyards & Winery, if you like dry Italian wines this Cape May winery is for you. You will love sipping their Albariño, Barbera, Nebbiolo, Nero d'Avola, Pinot Noir and Sangiovese.
3911 Bayshore Road, North Cape May, NJ 08204
Willow Creek Winery produces fine wines from its unique varietals of vitus vininfera as well as award winning wine education programs. Plan your tasting around lunch or dinner where the chef will pair their wines with their farm-fresh grill menu. In addition to wine, Willow Creek Winery has eight rental cottages appropriate for couples, individuals and groups of adult friends.
609-770-8782; 168 Stevens Street, West Cape May, NJ 08204
The Outer Coastal Plain AVA is an AVA located in southeastern New Jersey. The recently expanded 2,250,000 acres (911,000 ha) wine appellation includes 32 wineries in all of Cumberland, Cape May, Atlantic, and Ocean counties and portions of Salem, Gloucester, Camden, Burlington, and Monmouth counties.
If you're looking for more to sip in outside of the Cape May wineries, the area is home to NINE breweries and THREE distilleries.
Cape May Breweries
7 Mile
Bucket Brigade
Cape May Brewing
Coho Brewing
Cold Spring
Gusto
Ludlum Island
Mudhen Brewing
Slack Tide Brewing
Cape May Distilleries
Cape May
Lazy Eye
Nauti Spirits
BEYOND THE VINES
Spend the day exploring the charming shops in Cape May then head to the beach. If you have time, head over to the Historic Cold Spring Village, an Early American open-air living history museum. Visitors can take part of experience life in the early colonial days.
Take a hike up the 199 step of the cast iron spiral stairway in the Cape May Lighthouse to sip in the view of the Delaware Bay and Atlantic Ocean. Afterwards, hike along the surrounding nature trails at the Cape May Point State Park and/or Cape May Point Borough.
Cape May Revolution Rail is a 4 mile out-and-back bicycle on rails tour that takes riders alongside the Garrett Family Preserve for a view of its expansive native wildflower meadows filled with butterflies, song birds and raptors for a day of sipping in nature.
MAP TO CAPE MAY WINERIES
---
Sip in More New Jersey Wine Country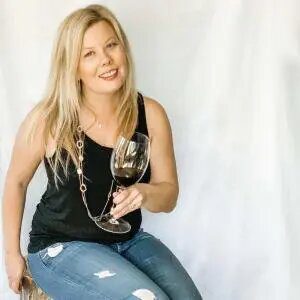 Elaine Schoch (pronounced the German way – Shock) is the editor and founder of Carpe Travel as well as an award-winning travel writer, wine judge, certified by the Wine & Spirit Education Trust (WSET) Level 2 and certified American Wine Expert. She is married to The Husband and has two kids, Princess One and Two – who's interest and knowledge in wine is quite extensive. Not to mention the stamps in their passports.