Gewurztraminer (ga-VERTZ-trah-mee-ner) is a white wine grape found primarily in the French region of Alsace, originating in the Germany region of Pfalz.
In addition to Alsace and Germany, Gewurz is also found in Austria, Australia, New Zealand, Hungary, and a surprisingly large amount from the United States.
Known for its distinct aromatics and near non-existent color, wine great Jancis Robinson hails it a 'beginner's grape' meaning these grapes make it easily recognized by sight and smell.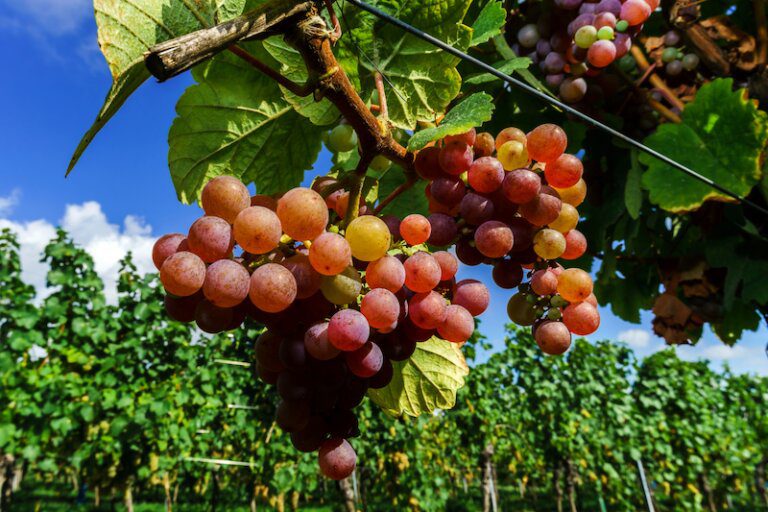 Fun Fact
Globally, Gewurztraminer styles range from dry to sweet with the most prominent being off-dry and a kiss of sweetness.
Pink-skinned (not pale green as most whites), remaining Gewurztraminer grape pigments give the wine a deep golden to copper hue.
Aromatics are high with intense notes of lychee, rose petals, and tropical fruits. Full to medium-bodied, it shows very low acidity with a taste profile of stone fruits like mango, peach, and apricot as well as spices of ginger and cinnamon.
As noted, most Gewurzs wines are off-dry to semi-dry. While that sweetness is generally attributed to high residual sugar, with Gewurztraminer it is generally a case of more pronounced aromatics coupled with low acidity, which gives dry expressions a seemingly sweeter taste.
WHERE TO FIND THE GEWURZTRAMINER GRAPE
A full one-quarter of the Gewurztraminer grown in the world comes from the region of Alsace. Though, it is worth noting that worldwide, only about 20,000 acres of Gewurztraminer can be found with approximately 7,000 in Alsace.
The second largest country of production is the USA. In California, you'll find Gewurztraminer grapes grown in cooler areas like Sonoma and Monterey, most notably in vineyards at higher elevation. In addition, New York and Washington states are gaining attention for their Gewurztraminer wine with the cooler climates yielding expressions with higher acidity.
FRANCE
Gewurztraminer is one of the four noble varieties coming from the Alsace region, alongside Riesling, Pinot Gris, and Muscat. These four grapes alone are used for Alsacian Grand Cru, Vendage Tardives (VT), and Sélection de Graines Nobles (SGN) wines.
GERMANY
In its country of origin, Gewurztraminer is produced in Pfalz and Baden with a total of about 2,000 acres of vine. From here you get lighter-bodied expressions that are generally consumed young, unlike their neighboring Alsacian counterparts.
UNITED STATES
Spread out throughout the country, the USA has the second largest amount of Gewurztraminer vines by country with some 3,200 acres.
WHEN IS THE RIGHT MOOD FOR GEWURZTRAMINER WINE?
First Course Wine
Cooking Wine
Wedding-friendly
After-yoga Sips
Vegan-friendly
Happy Hour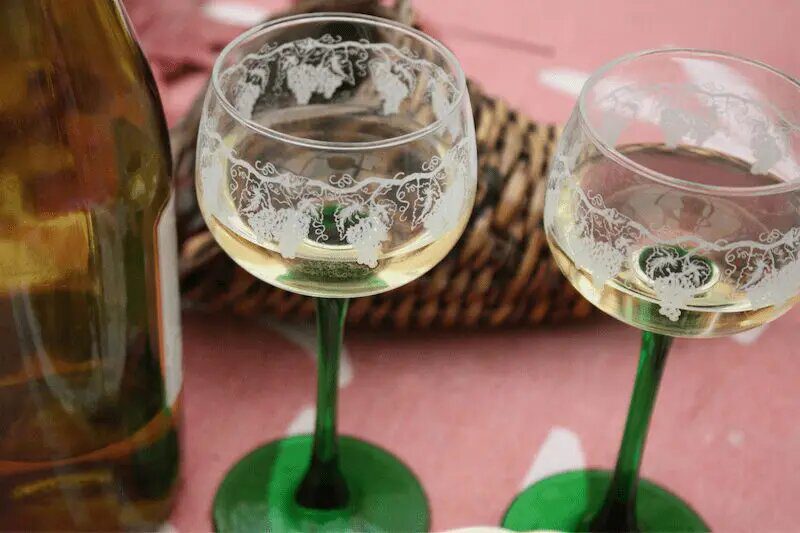 HOW TO ENJOY GEWURZTRAMINER WINE
GEWURZTRAMINER FOOD PAIRING
Vary your pairing by the level of sweetness of your Gewurztraminer wine. If your wine is more dry and / or with a hint of sweetness, it's a great match with spicy foods, particularly asian. For a more complex, sweet Gewurztraminer, try panna cotta or foods with cinnamon and honey. Go to cheeses for dry to sweet include Munster, blue cheeses like Stilton, and Gouda.
PRACTICAL TIPS FOR GEWURZTRAMINER WINE
Glassware: Drink out of a white wine glass.
Shelf life: For Beaujolais Nouveau, drink within a few months. Fine Gamay wines age up to 10 years.
GEWURZTRAMINER WINE RECOMMENDATIONS
Here are a few suggested sips.
J. Hofstätter Joseph Gewürztraminer (Alto Adige, Italy)
J. Riehl Gewurztraminer (Alsace, France)
Fetzer Shaly Loam Gewürztraminer (Monterey County, CA)
Carpe Travel collaborated with Valerie Quintanilla to compile the grape varietal overviews. Valerie and her son Il Ragazzino reside in Barolo, Piedmont, Italy, by way of Denver, Colo. She runs a custom Italian travel planning business while moonlighting as a marketing consultant for European wine and travel companies. She has been featured in Wine Enthusiast, Food & Wine Magazine, Open Skies (Emirate Airlines inflight magazine), and more. Follow her expat and wine chronicles here https://linktr.ee/valeriekq.