Our Sonoma Wine Travel Guide shares a brief history of the region, terroir, where to sip, where to stay and things to do beyond the vines.
Sonoma wine country is often touted as Napa Valley's little brother, but while the two wine regions are neighbors, they couldn't be more different.
For starters, while Napa Valley built its reputation on Bordeaux-inspired wines like Cabernet Sauvignon, Sonoma is most lauded for its Burgundy-style wines like Pinot Noir and Chardonnay. Sonoma is also double the size of Napa Valley and has much more potential for diversity — they grow more than 60 grape varieties — thanks to a wide spectrum of microclimates and its proximity to the Pacific Ocean.
Sonoma is also said to be more, in a word, chill. While there's no doubt it has solidified itself as one of the top wine-producing regions in not only the United States, but the world, there's less pomp and circumstance on Sonoma's side, though if you're looking for luxury, you can certainly find that too.
WHERE IS SONOMA WINE COUNTRY?
Sonoma is located in Northern California, about an hour's drive north of San Francisco (that is, if you don't hit traffic). It's just west of Napa Valley and while the two valley's run parallel to each other, Sonoma County stretches farther north and all the way to the coast.
Best Times to Visit
Sonoma is blessed with an (almost) always sunny, moderate climate year-round, which means there truly isn't a bad time of year to visit. The bulk of harvest takes place in September and October, and while this is traditionally the busiest season, high temperatures and wildfires in recent years have made these month's slightly less desirable to visitors.
You might instead consider February and March, during which you'll likely catch the mustard bloom. A stunning, bright yellow carpet of mustard flowers cloaks the valley floor for about a month and makes for some seriously stunning photos. It's also the off-season, so you'll find smaller crowds, less traffic, and lower prices on lodging.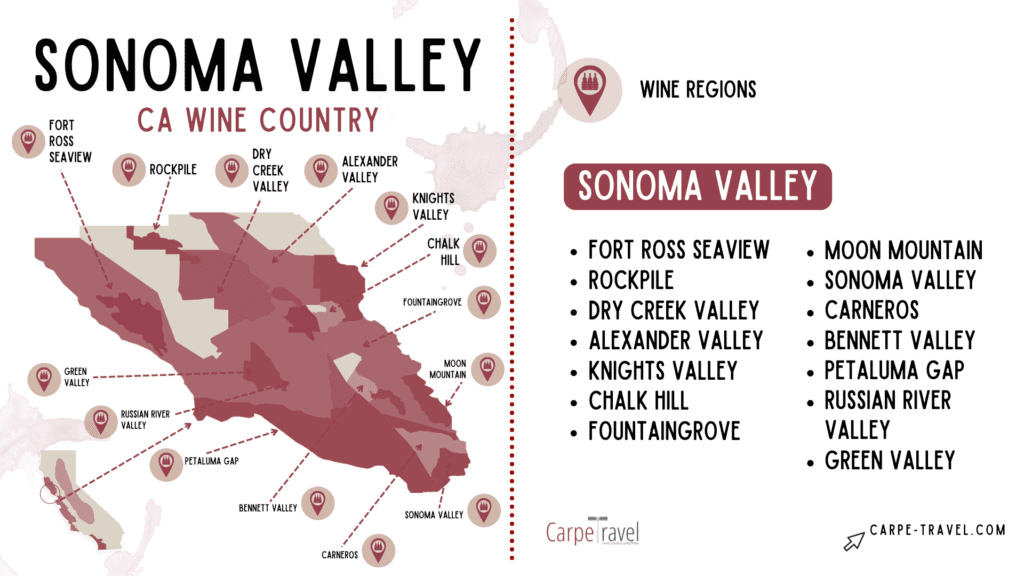 While grapes were planted by Russian colonists in Sonoma County's Fort Ross on the Sonoma Coast as early as 1821, Sonoma's wine history is more so rooted in the Mission San Francisco Solano, the final of the 13 California missions to be built in 1823 and located on what's known today at the Sonoma Plaza. There, thousands of vines were planted to make sacramental wine.
The mission was secularized after just 11 years and vine cuttings from the mission's vineyards were used to start new vineyards throughout Northern California. By 1855, California wine pioneer Count Agoston Haraszthy arrived from Hungary and purchased a vineyard in Sonoma Valley, naming it Buena Vista (which is still in operation today). This was the start of fine winemaking in Sonoma wine country and after going back to Europe to study viticulture, the Count returned with more than 100,000 cuttings of prized grape varietals from Europe's top wine producing regions.
By 1921, there were 256 wineries in Sonoma, but of course, Prohibition nearly wiped them all out. Less than 50 remained by the time it was repealed and Sonoma's second renaissance didn't get going until the 1970s following an American wine boom. Today, Sonoma has roughly double the wineries it did pre-Prohibition.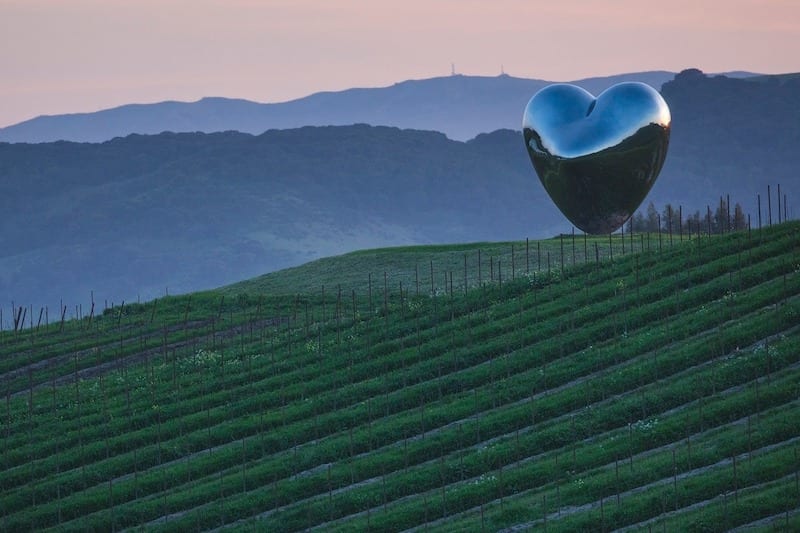 Sonoma wine country is extremely vast — more than double the size of Napa Valley.
It's home to just under 500 wineries, but also grassy rolling hills, dairies, and farms. There are over 62,000 acres of vines planted in Sonoma County throughout some extremely diverse microclimates, represented by 18 federally-recognized AVAs.
These AVAs range dramatically from the super foggy and cool Sonoma Coast (made for premium Pinot Noir and Chardonnay production) to the warm, sun-soaked Alexander Valley, where Bordeaux varieties like Cabernet thrive.
TOP GRAPE VARIETIES IN SONOMA
As the most diverse wine growing region in California, Sonoma County grows a whopping 66 grape varieties, but these are the most common.
White Wine GrapeS
Red Wine GrapeS
There are nearly 500 wineries to visit in Sonoma County, which makes narrowing down your choices extremely difficult. These are must-adds to your Sonoma itinerary.
Aperture
Cellars
Gary Farrell Vineyards
& Winery
Three
Sticks
Plan Your Sonoma Wine Vacation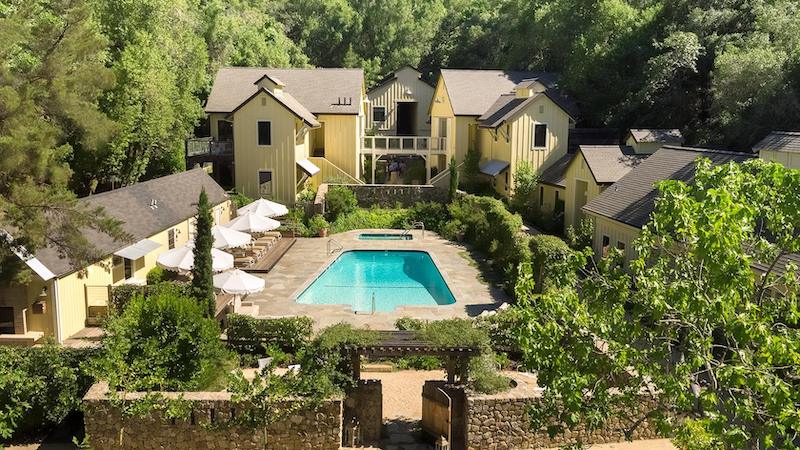 WHERE TO STAY IN SONOMA
Family Fun: Safari West
Golf Getaway: Fairmont Sonoma Mission Inn
Healdsburg: H2 Hotel, The Duchamp Healdsburg, Hotel Healdsburg

GETTING AROUND
Rent a car and do it yourself? Hire a driver? Uber? How to determine your wine country transportation options.
If you're looking for things to do besides sipping in the Sonoma wineries, we have A LOT OF IDEAS for things to do in Sonoma that go well beyond the vines.
Explore the Russian River. Rent a kayak, canoe, or SUP and cruise the Russian River, or in the summer, float down it in an inflatable, a favorite activity of locals. There are also plenty of little rocky beaches along the river for picnicking.
One of the best ways to experience the country backroads of Healdsburg's wine country is via bike. Book a bike and wine tour with Getaway Adventures or do a self-guided tour. (Rent an electric bike for assistance with the rolling hills.)
Healdsburg Plaza is definitely worth a stroll. You can stumble upon some unique shops and spots for Happy Hour drinks, too, like Spoonbar or Duke's. Noble Folk Ice Cream is a must on a hot summer day.
Sip in More of Sonoma Wine Country
Jess Lander
Jess Lander is a freelance wine, booze, food, and travel writer based in Napa Valley. She's a regular contributor to Wine Enthusiast, VinePair, Wine Business Monthly, 7×7, Eater SF, Sonoma Magazine, Napa Sonoma Magazine, and the Napa Valley Register. Her work has appeared in many other publications, including Decanter, AFAR, Lonely Planet, and the SF Chronicle. She is also the author of The Essential Napa Valley Cookbook.