CARPE TRAVEL WINE 101:
GET TO KNOW THE GRAPES
Merlot (murr-low) is a red wine grape variety with deep historical roots in Bordeaux and Southwest France.
Merlot wine, known for black cherry flavors, silky tannins, and smooth finish, is easily confused with Cabernet Sauvignon, its frequent blending partner and sibling grape. Both Merlot and Cab Sauv are offspring of the Cabernet Franc grape.
In the vineyards, the Merlot grape matures early and ripens fully even in slightly cooler climates. In recent decades, the grape's presence continues to increase due to its reliable ripening characteristics.
WHAT TO KNOW ABOUT THE MERLOT GRAPE
Indigenous to Bordeaux, the Merlot grape comes from the famed Right Bank regions of Saint Emilion and the Pomerol.
Merlot grows in the same climates as Cabernet Sauvignon, Cabernet Franc, Malbec, and Petit Verdot. An adaptable vine, it is popular in wine regions the world over, giving its fans endless styles and expressions to explore.
Fun Fact
Some fascinating 100% Merlot wines come from Tuscany's seaside region of Maremma.
WHERE TO FIND THE MERLOT GRAPE
Top expressions of Merlot wines come from Bordeaux, Tuscany, Veneto, Washington State, Sonoma, Napa Valley, South Australia, Western Australia, and South Africa.
Top producing countries include France, the USA, Spain, Italy, Romania, Bulgaria, Chile, and Australia.
Warm climate Merlot gives red fruits and softer, more round tannins. Because of its boldness, the wine is often aged in oak giving the wine vanilla, chocolate, and smoky cedar notes. Dominant flavors include raspberry, black cherry, plum, chocolate, cedar, coffee, vanilla, bay leaf, and sage.
Bordeaux
As noted, Merlot is indigenous to Bordeaux's Right Bank with recordings dating back to the first century AD. The grape is also widely grown throughout Southern France and often blended with grapes like Malbec to soften a wine, giving more juicy, round characteristics.
ITALY
In Italy, Tuscany is home to the country's top Merlot wines with its famed Super Tuscans. These Bordeaux blends of Merlot and Cabernet Sauvignon incorporate Tuscany's signature Sangiovese grape.
Chile
Chile's Central Valley produces fruity, easy drinking Merlot wines while the Maule Valley offers more structured expressions.
CALIFORNIA & WASHINGTON
In the United States, Merlot is best known growing alongside Cabernet Sauvignon in Napa Valley and Sonoma, the Central Coast, and Washington's Columbia Valley.
HOW TO ENJOY MERLOT WINE
Merlot food pairing
Merlot wine pairings include duck, turkey, lean beef (think flank steak), New York Strip, roasted vegetables, squash, rub or grilled meat, and tomatoes.
Practical Tips for Merlot Wine
Glassware: Oversized red wine glass with a large bowl.
Service Temperature: 60-65F / 15-18C.
Shelf Life: In general, shelf life for Merlot wine is about five years. A variety of factors support wines with extended aging potential.
Bottle Prices: Average cost runs up to $25 for regions like Bordeaux, Washington State, and Napa Valley.
When is the Right Mood for Merlot Wine?
Drama TV
Best Friend's
Party
Documentaries
;
Girlfriend
Conversations
Cold Weather
Wipping
Sports
Games
Cooking
Dinner
Movie
Night
MERLOT WINE RECOMMENDATIONS
Looking for recommendations on Merlot wines? Here are a few suggested sips.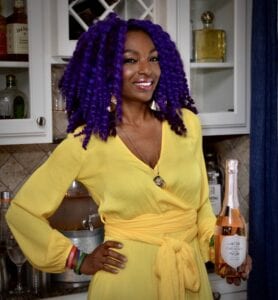 Carpe Travel collaborated with Maia Parish to compile the grape varietal overviews. Maia Parish is an award-winning events producer, sommelier, wine judge, and media consultant. She lives in Denver, Colorado and likes to eat copious amounts of food. You can find her here www.linktr.ee/thewinemistress.