Getting to know Malbec Wine
Malbec (mal-bek) is a full-bodied, inky dark red wine grape that originated in France. A softer, less tannic Malbec grape was planted in Argentina in 1868 where is has one of the most widely grown grape in the country.
Dominant Flavors: Green Apple, Yellow Apple, Melon, Pears, Lemon, Quince ( Cool Climate ) Starfruit, Pineapple, Mango (warm climates), Butter, Creme Fraiche (Malolactic fermentation ) Vanilla, Butterscotch, Caramel, Toast, Chalk, Gravel.
Where to Find Malbec
Well known regions for producing Malbec wines include Mendoza, Patagonia, Central Valley, Cohars, Bourdeaux, Western Cape, and Robertson. Some top producing countries are Argentina, France,
USA
, Chile and South Africa.
Argentina
Mendoza Uco Valley is a primary wine-growing region for Malbec. The high altitudes allow the grapes to produce the acidity they need which yields a better, more vivid, and elegant wine. San Juan is the second-largest wine region in Argentina. Salta produces a more robust and tannic version of Malbec.
United States
Malbec is produced in California, Washington and Oregon. Watch for more coming from the high-altitude regions in Colorado!
France
Malbec was originally grown in Cahors and Bordeaux. There are two main regions in South-East Bordeaux and the Loire Valley. Malbec is one of the six grapes allowed in the blend for Bordeaux wine.
Australia and New Zealand
Malbec mostly grows in South Australia and Victoria. In New Zealand it is mostly used in Bordeaux-style red blends. Gisborne and Hawkes Bay are the primary Malbec producing wine regions.

A high-quality bottle from Argentina can be heavy on tannins, which contributes to the drier mouthfeel, whereas a more affordable bottle made in the United States might have moderate tannins and appear to be smoother or softer on the palate. Malbec needs less oak than you might think. Malbec is so fruity and smooth, it often doesn't need as much oak-aging. Affordable Malbec wines may only get 4–6 months in oak whereas, top-shelf Malbec gets as much as 18–20 months in oak.
Malbec Wine Food Pairings
The best food to pair with Malbec wine are Any Cut Steak Ribeyes, and NYStrips, Lamb, BBQ, Grilled Meats, Portabella Mushroom, Thyme, Herbs, Coffee Rubbed, and Smoke.
This wine should be consumed in a red wine glass. The average shelf life is about 5 years. The average bottle should cost around $10 -$15. Serve at room temperature and decant for at least 20 minutes.
When is the Right Mood for Malbec Wine?
Drama Television, Best Friend's Party, Documentaries, Girlfriend Conversations, Cold Weather Option, Sports Games and Cooking Dinner.
Pin it for later!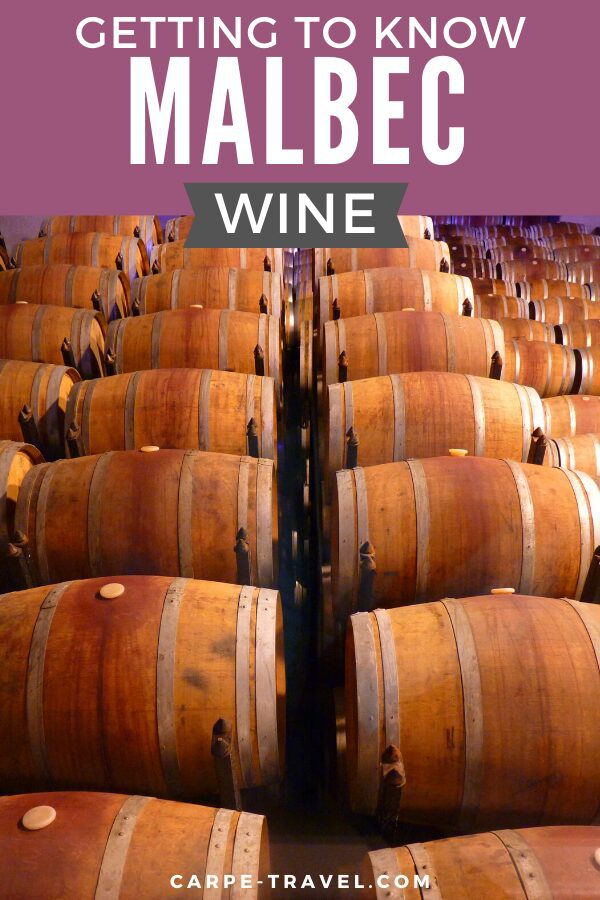 Carpe Travel collaborated with Maia Parish to compile the grape varietal overviews. Maia Parish is an award-winning events producer, sommelier, wine judge, and media consultant. She lives in Denver, Colorado and likes to eat copious amounts of food. You can find her here www.linktr.ee/thewinemistress.