By Brooke Herron, Contributing Writer
West Sonoma County, dubbed 'West County' by locals is one of the most unique and picturesque areas of Sonoma County. Entailing the area west of Santa Rosa and to the coast, this area encompasses the small, charmingly eclectic city-towns of Sebastopol, Guerneville, and Occidental as well as a handful of other petite hamlets such as Graton, Forestville, and Monte Rio. 
Tucked away into this uniquely idyllic corner of Sonoma County wine country, West Sonoma County has a completely different identity and feel. Visitors won't find looming wine castles, glamorous chateaus, or tour buses full of bachelorettes here. Low key is the name of the game in these parts, but that doesn't mean you won't find a wealth of amazing wine and gastronomic experiences.
From casual farm-to-table eateries and popular outdoor gourmet marketplaces to high-end restaurants where dishes are prepared by renowned Chefs and served up in a California-Coastal casual ambiance and roadside artisan cheese shops West Sonoma County is a foodie paradise. And the wineries and wine tasting experiences here are equally as impressive and diverse while blissfully unpretentious.
Get ready to be charmed by this thriving yet relaxed corner of wine country paradise. Pick and choose among the places on this two-day itinerary to craft your perfect 48 hours sipping in West Sonoma County wineries. (Sip in more with our full Sonoma Country Wine Travel Guide.)
Getting to Sonoma County
From San Francisco, the trip North to Sebastopol will take between 50 minutes to an hour and 15 or so minutes. You'll take Highway 101 the whole way except for a small portion on Highway 12 that will take you right into the center of Sebastopol.
Sipping in Sonoma County: Day 1
Wine Tasting
Start your day with a vineyard tour and tasting at the iconic, family-owned Dutton Estate Vineyard, situated in the countryside just a few miles from downtown Sebastopol off of the Gravenstein highway.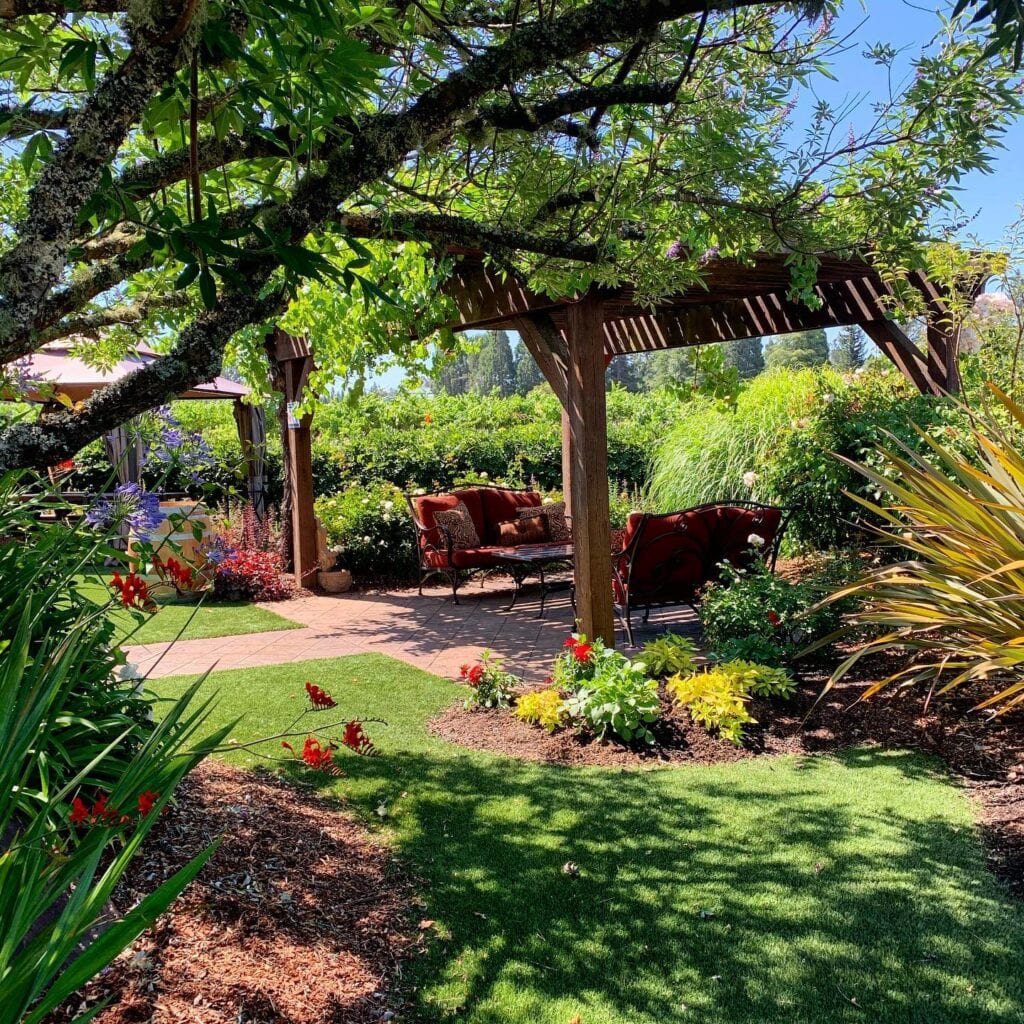 Lunch
For a casual lunch, head north to Pascaline's Patisserie for a French bistro-cafe style vibe or go South to visit Bohemian Creamery to enjoy freshly made paninis or a cheese and charcuterie plate on the Creamery's patio. It can't get more farm-to-table than eating cheese made right on-site at this tiny creamery from the milk of the sheep and goats owner-cheesemaker Lisa so lovingly tends.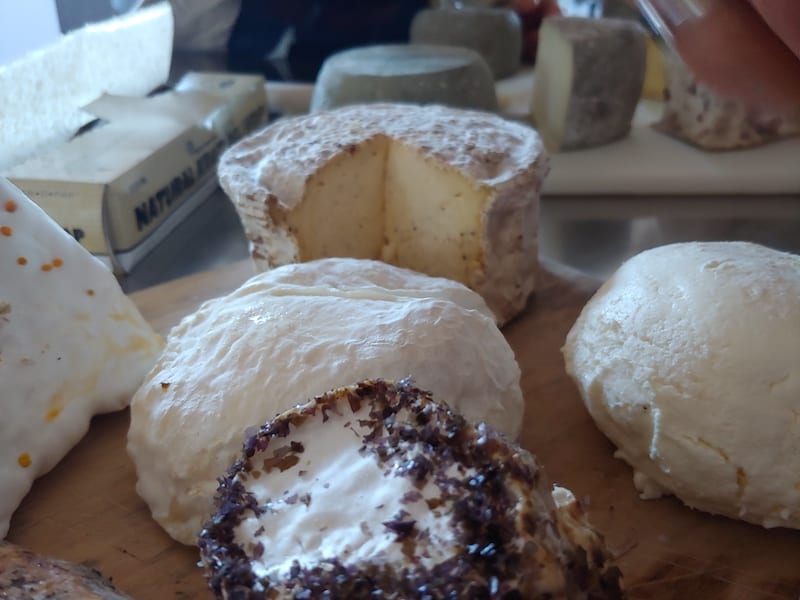 More Wine (and Cider) Tasting
After lunch head to nearby Horse and Plow Winery to enjoy a wine tasting from their organically farmed vineyards and orchards for their craft ciders. While Horse and Plow put tastings on hold during Covid (and were only serving full glasses to be enjoyed at their outdoor tables), they are starting tastings again in April 2021. Enjoy a wine or cider tasting by the glass at one of Horse and Plows' outdoor tables overlooking their beautiful farm property and sipping in the live music. If you're peckish, the winery offers cheese and charcuterie plates and there's also often a gourmet food truck there on weekends.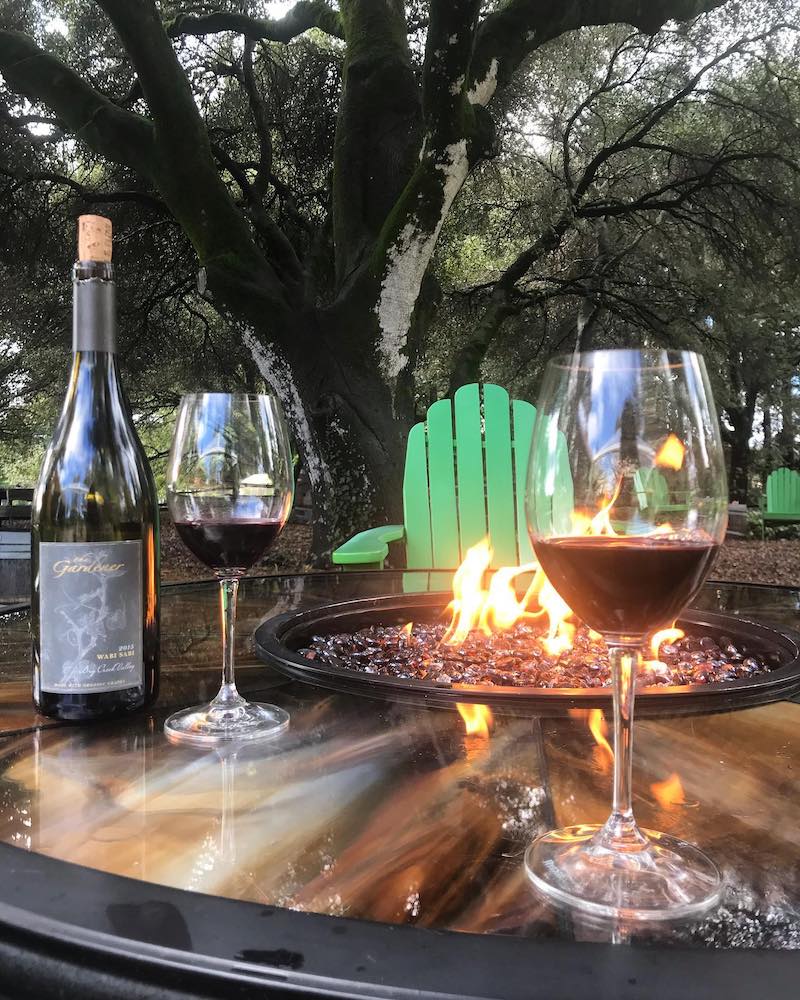 Dinner
For dinner, you cannot go wrong with a meal at The Barlow's newest restaurant addition, Blue Ridge Kitchen located within The Barlow's 12- acre outdoor marketplace just next to downtown Sebastopol.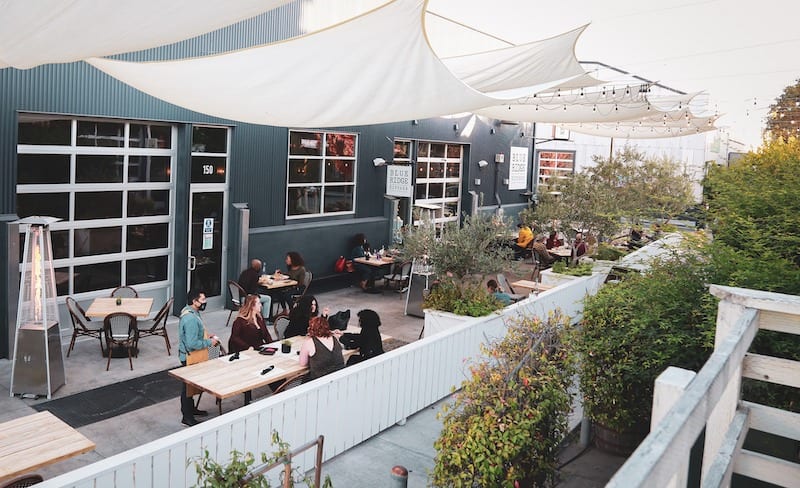 With mouth-wateringly delicious dishes such as their hickory smoked Mount Lassen trout salad and Blue Ridge Cioppino plus a rotating menu of nightly specials that include scaled up versions of dishes such as shrimp and grits and smoked prime rib Blue Ridge Kitchen's menu is anything but typical.
The ambiance here is elegant and polished while also maintaining a casual Sonoma County coastal vibe blended with a smidge of Southern charm.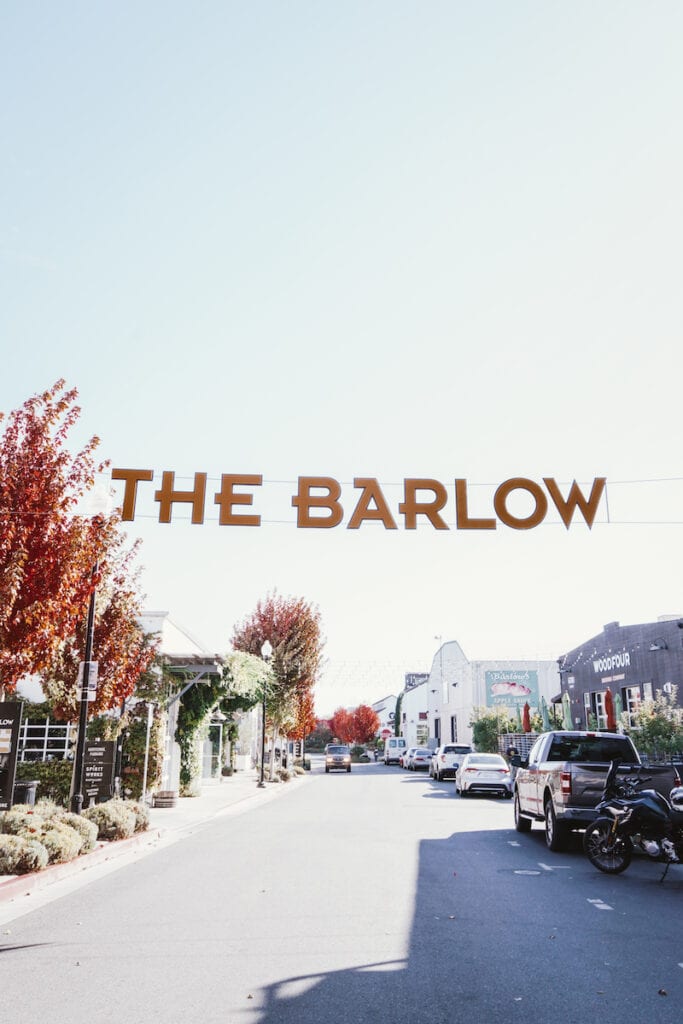 After Dinner
If you're not ready to end the day yet, Region wine bar, located just a block or so away from Blue Ridge Kitchen, is a fantastic place to do some more local wine tasting. With a list of 50+ wines from 25 different boutique Sonoma County wineries, Region boasts the largest selection of Sonoma County wines by the glass (or taste) anywhere in the state if not the country.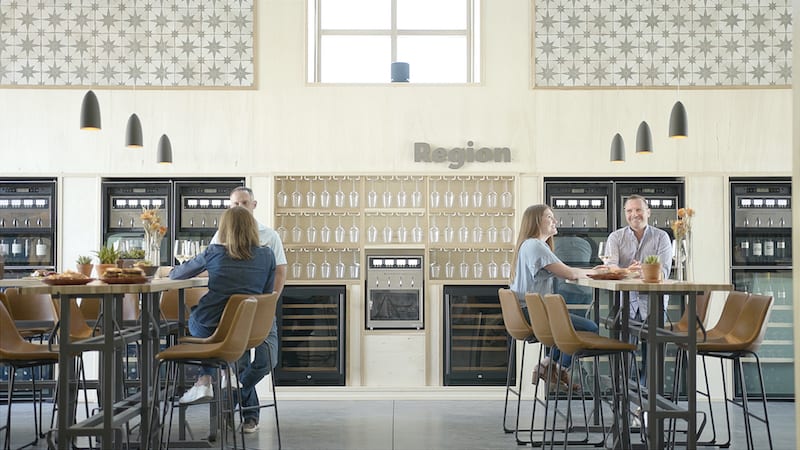 Beyond the sheer volume and variety of wines that originate from a single region Region's selection of wines is unique in that they are primarily from micro producers and brands that would be difficult if not impossible to taste anywhere else.
Sipping in West Sonoma County: Day 2
Start your Sunday morning by choosing between two mouth-watering options: brunch and cocktails at Fern Bar or a hearty, decadent farm-to-table breakfast at The Farmer's Wife.
If you visit the Fern Bar try their ridiculously delicious brunch plates that include dishes such as pork hash, New Mexico Breakfast (eggs, red chile, hash brown, and oaxaca cheese), and cinnamon sugar beignets with spiced blueberries.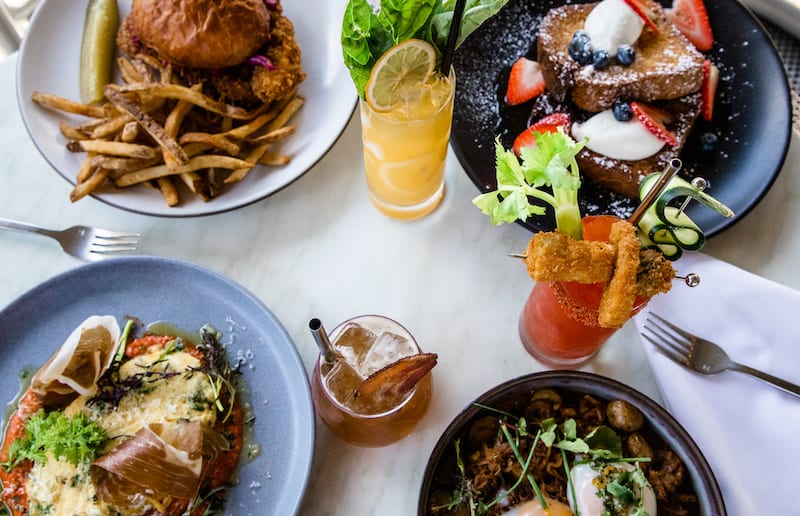 The Farmer's Wife lavender cured bacon is criminally delicious, so if you stop here for your morning meal, this is a must (for non vegetarians). They source all of their ingredients as locally as possible from their organic greens and veggies to their cured meats and cheeses. You'll be able to taste the Sonoma County goodness in every bite, while also supporting local farmers and purveyors.
Sonoma County Winery Experiences
For iconic California Pinot Noir lovers, a tasting at Merry Edwards Winery is a must while in the Russian River Valley. Book a seated tasting in advance and choose between the winery's three different tasting experience options (Appellation, Estate, or Vertical), based on your group's tastes and interests. Enjoy being led by one of the winery's incredibly knowledgeable wine educators through an extensive but relaxed tasting of these iconic and world renowned Russian River Valley wines.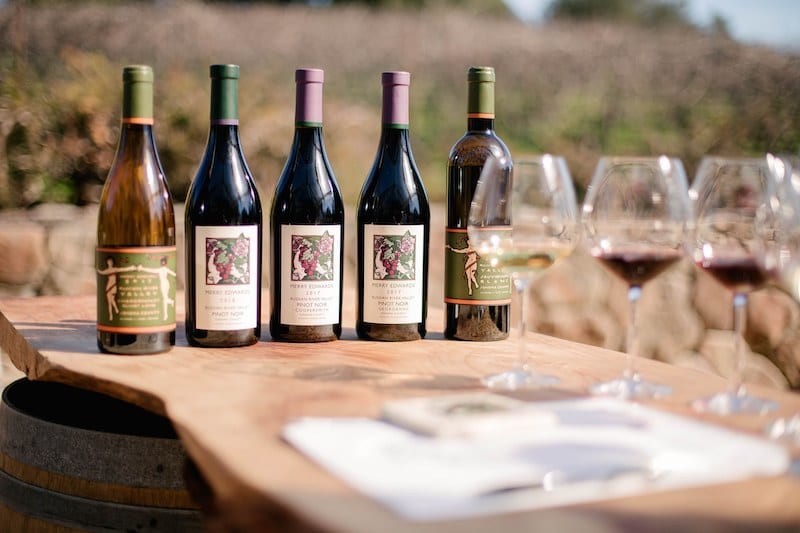 If you have more time, a visit to Emeritus Vineyards' Hallberg Ranch estate is one of my highly recommended Sonoma County wineries to sip in. Choose from their Estate wine tasting or Flight of the Clones Pinot Noir clonal tasting experiences and enjoy their Old World style wines in a bucolic setting.
Staying another night to sip in Sonoma County? Head out to Bodega Bay (a 20 minute drive) for clam chowder or fresh-from-the bay crab and wind-swept cliff-side trails with panoramic ocean views. Stop along the way back (with a tiny detour) for dinner or fresh oysters at Rocker Oysterfeller's.
Where to Stay
The Inn at Occidental, situated in the tiny, eclectic, and quintessentially 'West County' town of Occidental, nestled among the redwoods, is a luxuriously charming option for travelers who enjoy being surrounded by nature and feeling like they are a little bit off the beaten path. Just 18 minutes from downtown Sebastopol and 20 minutes from the coast, this Inn is also convenient. Enjoy the owners' collection of vintage antiques, luxurious and comfortable rooms, friendly innkeepers, and the proximity to 'downtown' Occidental (i.e. some eclectic shops, a good local coffee spot, and a couple of restaurants).
Have you sipped in West Sonoma County wineries? Which are your favorites and what are your "musts" for visiting West Sonoma County?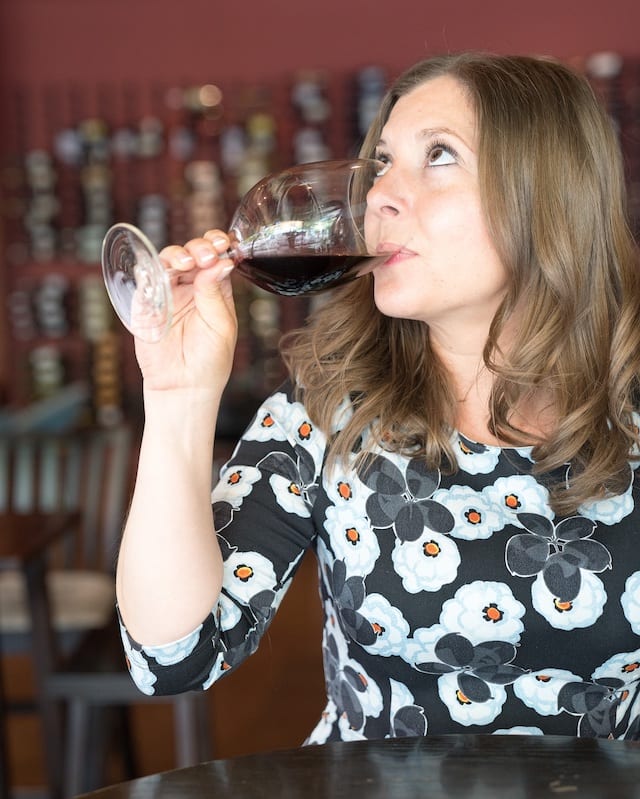 Brooke Herron
A 19-year wine industry veteran and marketing strategy consultant, Brooke returned home to Sonoma County in late 2019 after four years of living and working abroad. When she's not working on marketing projects for clients you can find Brooke hiking, enjoying a good glass of wine, or sitting somewhere with an ocean view.