Wineries with food aren't new but those offering gourmet culinary pairing experiences are next level tastings.
Charcuterie boards were THE gourmet offering at wineries with food experiences but in the last several years many wineries have taken on an entirely new and elevated approach by offering unique wine pairing lunches or dinners. These have become one of my favorite ways to experience wine country, but the opportunities are few and far between, especially post-Covid.
I've recently been reminded of this as I've been planning wine vacations and corporate events in Napa Valley and Sonoma. My goal is always to set up fun and unique experiences, and a wine pairing lunch (or dinner) tops my list.
"Wine is meant to be with food—that's the point of it."

– Julia Child
Wineries with food pairings – especially lunches and dinners – aren't just delicious but a fun way for groups to experience the winery, learn about the winemaking process and have an opportunity to ask their dedicated host a slew of questions while sipping. While many wineries offer nibbles to order during your tasting (remember that charcuterie board), finding wineries with food experiences such as a true wine pairing lunch or dinner isn't as easy.
Not all wineries are able to offer wine pairing lunches or dinners given they need to have a kitchen onsite so a chef can work their magic. Some wineries are working with catering crews to bring food in for pairings while others have brought in food trucks. (The food truck scene is so fun but it's not the type of sit-down wine pairing lunch I'm referring to.)
I've spent hours researching wineries with food in Napa Valley and Sonoma, and chatting with wineries regarding their lunch and dinner wine pairings so I wanted to help you traveling wine lovers out by sharing my findings. Keep in mind, this list is only for Napa Valley and Sonoma and may not include all the wineries hosting these types of experiences since many continue to update their tasting experiences each month post-Covid. All of the wineries with food experiences I mention here require a reservation. Plan ahead!
Feel free to email or leave a comment if you know of others that should be added to the list.
Sonoma Wineries with Food – Wine Pairing Lunches
Gloria Ferrer may just offer the most abundant in choices for wine and food pairing experiences in Sonoma. From sweet and savory weekend brunches on the terrace to a three-course lunch pairing to a full picnic lunch set among the vines or nibbles to pair with your flights, you will be in food and wine pairing heaven. I have personally done the three-course lunch at Gloria Ferrer, sipping bubbles on their terrace while dining one amazing food. It's an amazingly delicious experience.
Set amongst the vines at Lynmar Estate's Quail Hill Vineyard, you can enjoy a three-course lunch, individually plated, and paired to Lynmar's wines.
This Nationally acclaimed five-course fine dining experience highlights Sonoma County's diverse agricultural and culinary traditions. The wine pairing lunch takes place in their Estate dining room, where you will enjoy stunning vineyard views and engaging introductions presented by their wine educators.
The Bubble Room at J Vineyards & Winery brings together the J Culinary Team and Winemaker Nicole Hitchcock. With the bounty of Sonoma County at their fingertips, the J Culinary Team uses ingredients and techniques to create five courses of food and wine pairings to showcase Nicole's wines.
The tasting begins with a continental breakfast and a tasting of the Jordan Cuvée by Champagne AR Lenoble, where you'll learn about the history of Jordan and its iconic chateau. After breakfast, you will ride through the open spaces and sustainable vineyards of Jordan's 1,200-acre estate, stopping along the way you'll enjoy alfresco wine tastings of Jordan Russian River Valley Chardonnay and Jordan Alexander Valley Cabernet Sauvignon, along with a library vintage of each. Featured wines will be complemented by an array of food pairing delicacies from their chef, as well as a Jordan Estate Extra Virgin Olive Oil tasting and a light wine pairing lunch hosted at their highest hilltop, Vista Point.
The lunch wine pairings at Williamson Wines sample their various levels of wines with generous lunch portions from their winery kitchen. For an over-the-top experience book the Estate Lunch with the Winemaker, Bill Williamson. During the five-course lunch – created by the winery chefs and paired with Bill's special Reserve wines – you are sure to have an informative and entertaining few hours in this completely different and delicious wine country experience. (If you can't reserve one of the lunches, Willamson Wines also offers small plates for tastings. I've done the later and fell in love with not only the wines but the nibbles. I can only imagine how tasty the lunches would be!)
Other Sonoma Wineries with Food…
While not all wineries offer the full meal deal, many provide small bites and some even do chocolate pairing options. A few favorites wineries with food in Sonoma I suggest you explore…
Napa Valley Wineries with Food – Wine Pairing Lunches
Offering both a vineyard to table lunch wine pairing paired with Estate wines and a wine pairing dinner with Library wines, you are sure to be indulged. Having had a few clients attend the Robert Mondavi Winery vineyard to table lunch wine I can tell you it's amazing…and can highly recommend it.
This experience begins with a tour of our winery garden and olive grove, followed by a curated 4-course wine and food pairing featuring seasonal ingredients from the garden. Each course is carefully designed by our Estate Chef, Fernando Arias, to showcase the beauty of each wine.
There are two delicious culinary experiences at Joseph Phelps Vineyards. Bountiful Table is a semi-private wine and food experience that lasts three hours and pairs seasonal ingredients with the wines of Joseph Phelps Vineyards. The Chef's Tasting Menu includes a nine course semi-private wine and food adventure focused on seasonal dishes, along with the single-vineyard wines produced from their Sonoma Coast estate, and Napa Valley bottlings, including a library vintage of Insignia.
Th Cellarius Kitchen gourmet experience at Stag's Leap is hosted by Chef Travis or a member of the Stag's Leap culinary team who presents each plate, sharing the story behind the food pairing, and linking the dish to the wine, enhancing the narrative, and creating lasting memories.
This educational wine and food tasting, begins with a short tour of Dolores, Cakebread's ¾ acre vegetable garden. You will have the opportunity to taste four original recipes from the resident winery chefs—prepared with the freshest ingredients from their estate garden—and thoughtfully paired with a special selection of wines.
So it's not lunch but rather brunch. With a pairing of bubbles and caviar for brunch we had to add it to the list.
Other Napa Valley Wineries with Food…
While not all wineries offer the full meal deal, many provide small bites and some even do chocolate pairing options. A few favorites wineries with food in Napa Valley I suggest you explore…
Sip in More of California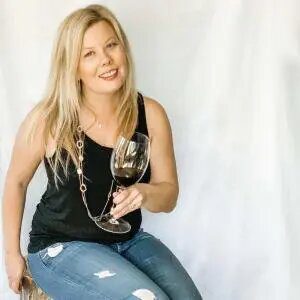 Elaine Schoch (pronounced the German way – Shock) is the editor and founder of Carpe Travel as well as an award-winning travel writer, wine judge, certified by the Wine & Spirit Education Trust (WSET) Level 2 and certified American Wine Expert. She is married to The Husband and has two kids, Princess One and Two – who's interest and knowledge in wine is quite extensive. Not to mention the stamps in their passports.