Who said you had to go to Europe to wine taste at a castle or luxurious château? You can bring out your inner royal with wine tasting experience at these six wine castles in Sonoma County.
To be completely candid, these wineries in Sonoma County might be dubbed as a château or castle, but they are not the same as Europe. After all the wine regions in the United States are only a few hundred years old – if even that – those of Europe are thousands of years old, as are their castles. But who cares! Especially in the age of Covid when traveling internationally is still pretty limited (and ever changing). Stay state-side and sip in tasting experiences at these six wine castles in Sonoma.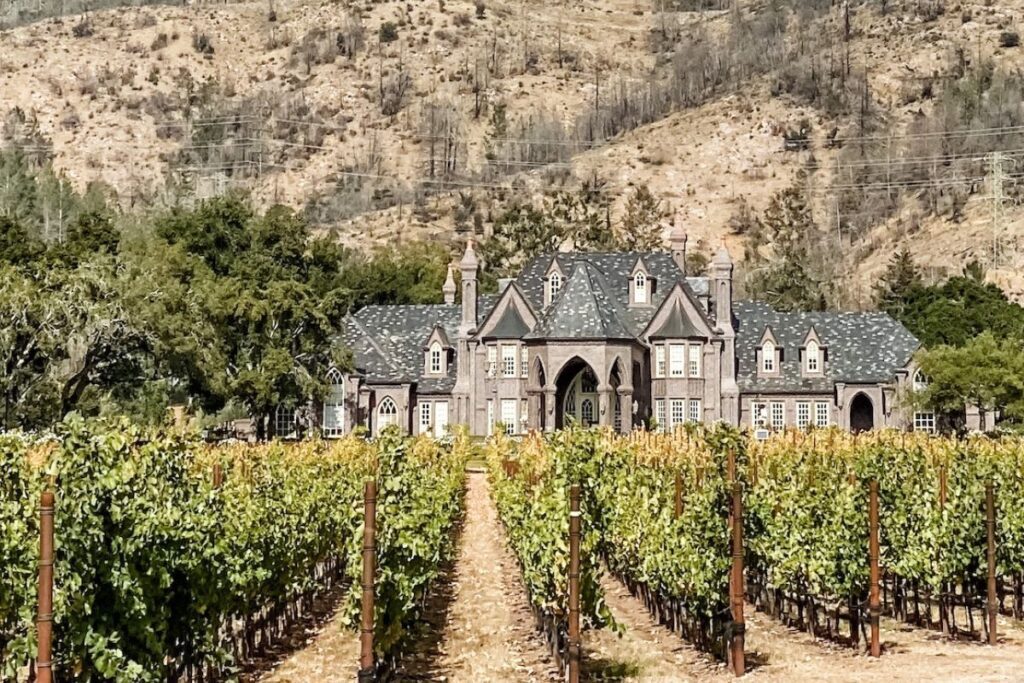 The Sonoma wine castle was initially built in the 1980s to be a family home. After the family garnered so much interest and attention from locals during the building process they realized they were creating what was deemed a wine castle. (It's said that people were climbing the fences to get a closer look!) So like any entrepreneurial American, they went with it. Today Ledson is truly one of the top one castles in Sonoma to sip in.
If you can sign up for one of the private outdoor tastings, do it. There are several picnic tables setup in the back garden with vineyard views. If you're open to sipping inside try for one of the private rooms that is decked out in luxurious mahogany wood for a posh, boujee experience. You'll immediately be put in the mood of sipping like a Lord or Lady.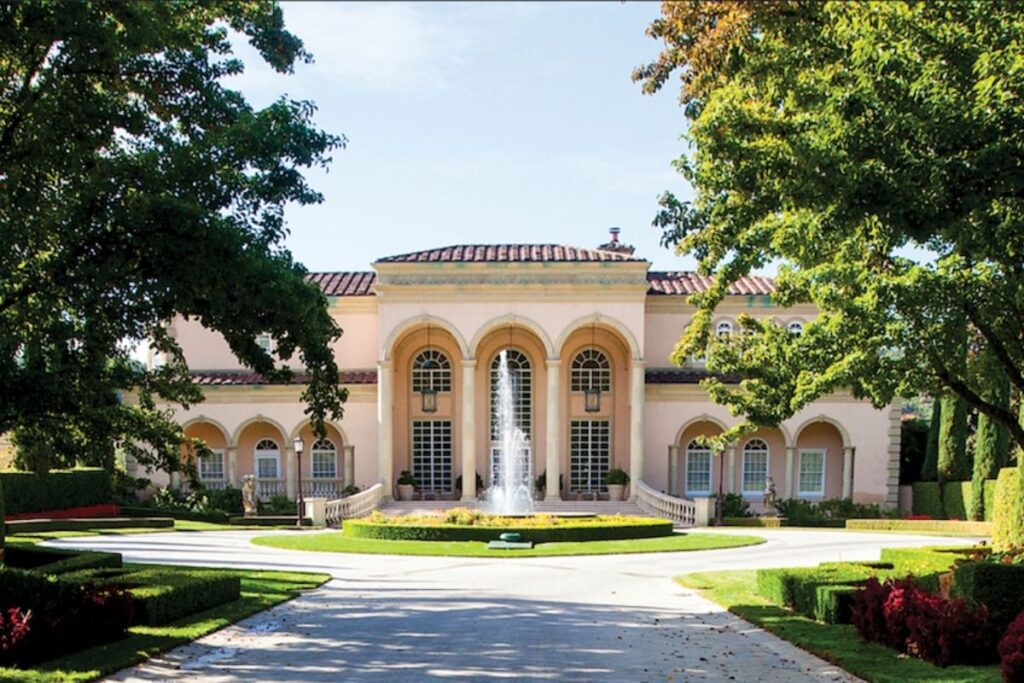 If you've sipped a Ferrari-Carano Chardonnay Reserve you may already know this winery is for the royal at heart. But getting into this Sonoma wine castle can be more frustrating than reading the royal drama in the tabloids. At least is was on my last visit to Sonoma. Plan waaaay ahead if you want to try for a wine tasting at Ferrari-Carano. I'm talking months… If you can reserve a spot, it will be worth it. The wines produced are outstanding. To find the next opening and experiences check its website, or my new favorite wine tasting reservation service, CellarPass.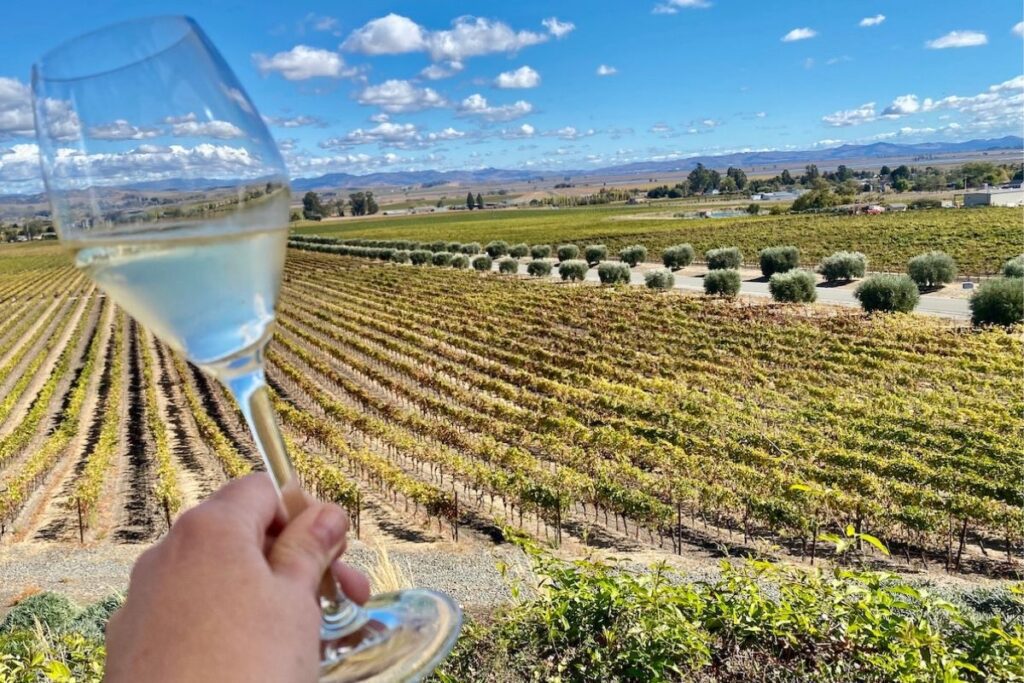 Gloria Ferrer, Sonoma
I would categorize Gloria Ferrer as more of a château vs a wine castle. However, sitting on the terrace overlooking fields of green and gold might make you feel differently. Especially with experiences like the wine and lunch pairing. Sipping sparkling wine paired perfectly with a three-course lunch is a true royal experience.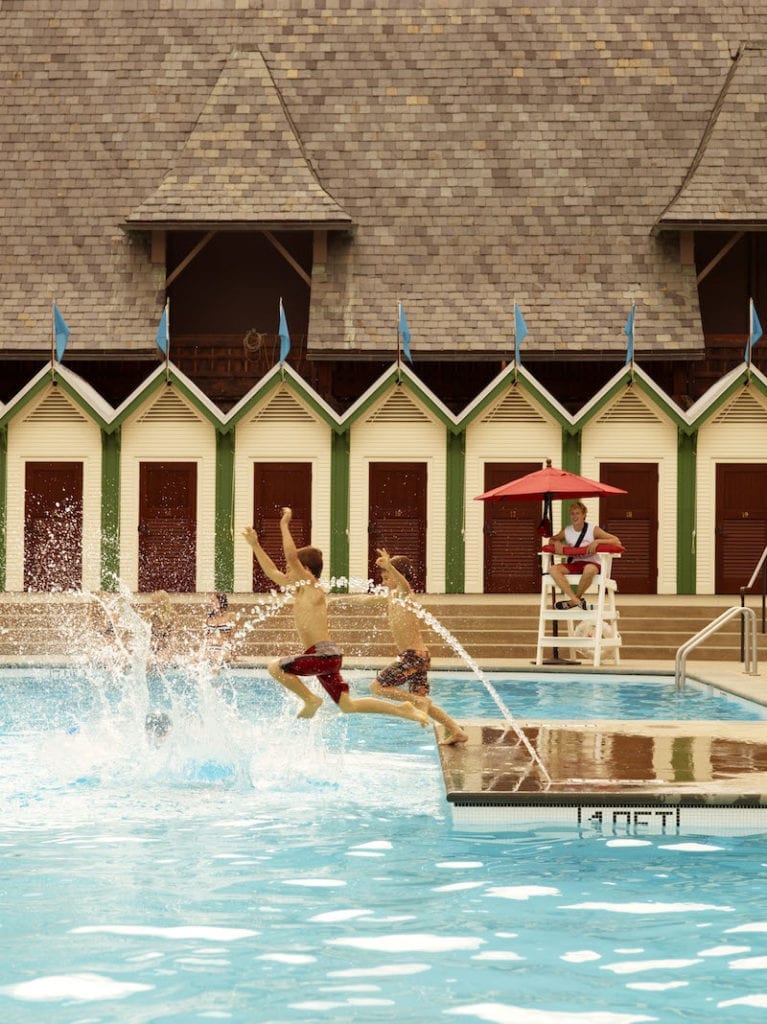 Movie mogul turned wine icon, Francis Ford Coppola in Sonoma epitomizes the word opulence. The Second French Empire-styled chateau was inspired by Copenhagen's famous Tivoli Gardens and like it, the winery is a destination. Not only is it home to a variety of wine tasting experiences but also beautiful gardens, music, dancing, dining, and two swimming pools with cabanas for families to enjoy, bocce ball court, a children's library and more. Go for the wine but stay for the day to play.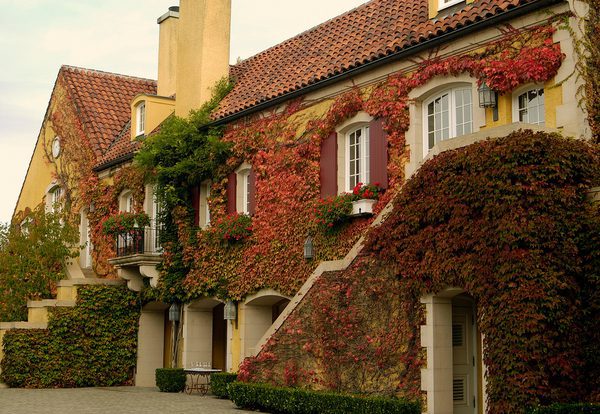 Tucked away in Alexander Valley you'll find Jordan Winery – a Bordeaux style chateau known for award winning wines. Although with 16 hillside acres of European olive tree you might feel more like you're in Tuscany. (There are castles in Italy too, so just go with your favorite.) I personally suggest you plan your visit to Jordan by reserving one of its culinary lunch experiences that pairs its chef's cuisine with elegant wines and picturesque views. What's more European than sipping wines while noshing on perfectly paired foods with a view.
What was once a vacation home built in the 1920s is now considered one of the most beautiful wine castles in Sonoma. It wasn't until the 1970's that the home became a winery. Its white stone walls, red tile roof is are reminiscent of an old European monastery. Grab a glass and head out to exploring its English turned Sonoma gardens to be transported to what feels like scenes of The Bridgerton's (fully clothed scenes, of course).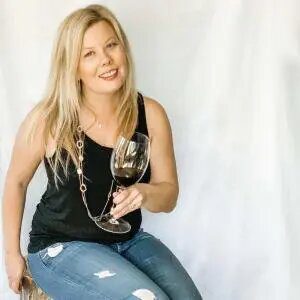 Elaine Schoch
Elaine Schoch (pronounced the German way – Shock) is an award-winning travel writer, wine judge, certified by the Wine & Spirit Education Trust (WSET) Level 2 and founder/editor at Carpe Travel. She is married to The Husband and has two kids, who's interest and knowledge in wine is quite extensive. Not to mention the stamps in their passports.