Let's discuss where to stay in Alba, Italy
(SPOILER ALERT: You may not stay in Alba at all!)
A question I get a lot from would-be Piedmont travelers is where to stay in the Piedmont wine region. There are a ton of options, but making the decision on where to stay needs some consideration because the area is quite rural.
So, when where to stay in Alba, Italy comes up, I tackle it by helping people consider three most factors: functionality, practicality, and geography.
My probe typically starts with: Do you want to stay in the countryside (quieter = more isolated), a village (a little more going on), or a city (more amenities and most everything is walkable)?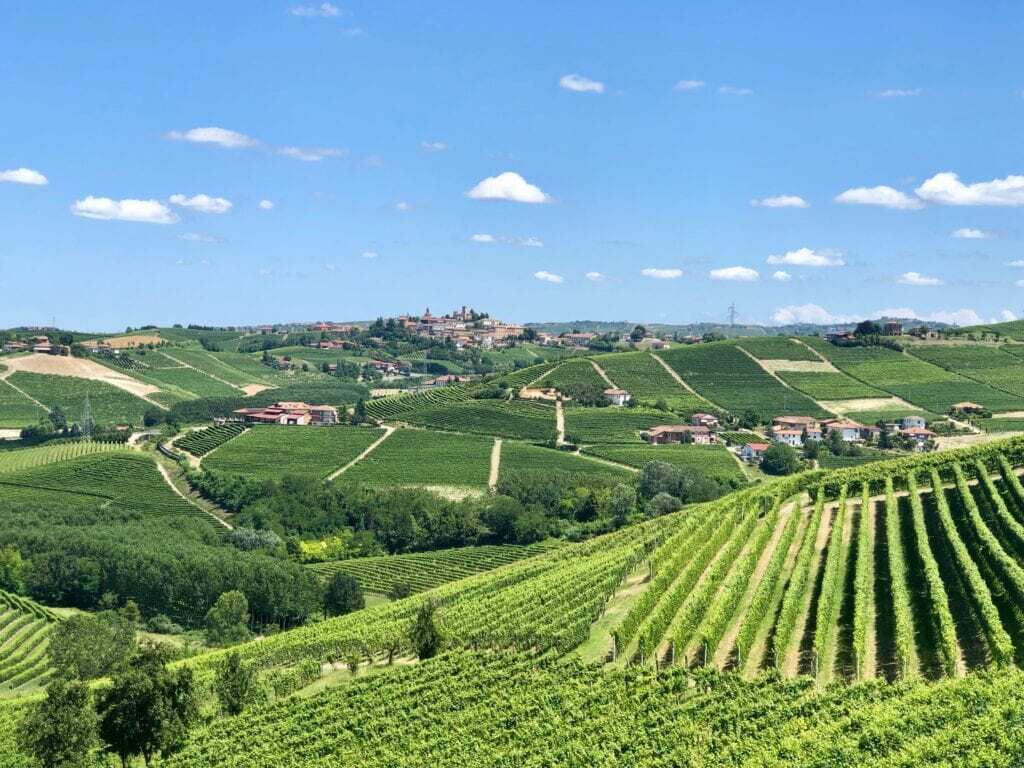 A break down the main considerations of where to stay in the Piedmont wine region:
Will you have a rental car? If yes:
You can stay pretty much anywhere because lodging will be easily accessible.
Do you plan to get your rental at the airport where you arrive, or pick it up on your trip? If the latter, note that in the Langhe, opening hours and locations are not always convenient. But, that being said, plan in advance for 1) transportation to the rental car location and 2) know the opening hours if you plan to get one while in the area. Remember: rental car places close during lunch.
If you won't be driving, note that public transportation into and around the area is limited, so if you want to stay in a small village or the countryside, that lends another set of considerations:
There is a train into Alba and Asti and a limited bus system. So, getting to the countryside or village accommodations may require a driver or a taxi service. Taxi services are easier to find at the train station in Asti, but not always immediately available in Alba.
You can schedule a driver service in advance; often your lodging can help with that – we often help with transfers for our Barolo wine tour clients.
Public transportation for visiting Barolo and Barbaresco proves challenging without wheels (or, good hiking boots!) Note that there are no ride sharing services like Uber or Lyft and taxis generally need to be booked in advance. So, make that a consideration if you plan to stay in more isolated location, like the countryside or a small village.
When visiting Barolo and Barbaresco, there are a few villages that are a bit bigger with enough going on that you will have a good selection of restaurants, wine bars, etc. I often recommend those as middle ground for folks who want something quieter, away from a city like Alba, but not in the country or a more isolated village. See more on those villages below.
Asti hotels and lodging are a popular choice, but note that the main city itself is about 25 to 30 minutes from Barbaresco and 40+ minutes from Barolo. There is a bus into Alba, but access to the Langhe and Roero villages are limited. That said, for those looking for convenience and accessibility, I recommend that you stay in Alba.
First Tip on Where to Stay in Alba: Map It!
Okay, let's start with some words on orientation because this part of the Piedmont wine region is quite rural. Seriously, Google Maps is your friend.
Note that when you ask about where to stay in Alba, Italy, you are talking about a city.
I can't stress it enough: When you decide where to stay in Alba, Italy do a Google Maps search to understand where the location is with respect to your plans for the trip. I say this as someone who works with lots of people visiting Barolo and the surrounding area.
I've had clients disappointed to realize they are staying well outside of the city of Alba and even further from the area's main popular destinations of Barolo and Barbaresco.
It can be that they are 5 to 10 km / 3 to 6 miles outside of Alba, so not walkable as they'd hoped. And, another thing that comes up is that many times Barolo wine tour clients tell me they are staying in Alba, but in fact, they are staying about 20 / 30 minutes away in a village or the countryside.
For wine tour pickups, that is not a big deal as the itinerary is done well in advance, so your driver will know. However, it's an important distinction if you hoped for easy access to the Alba dining, wine-ing, and shopping scene.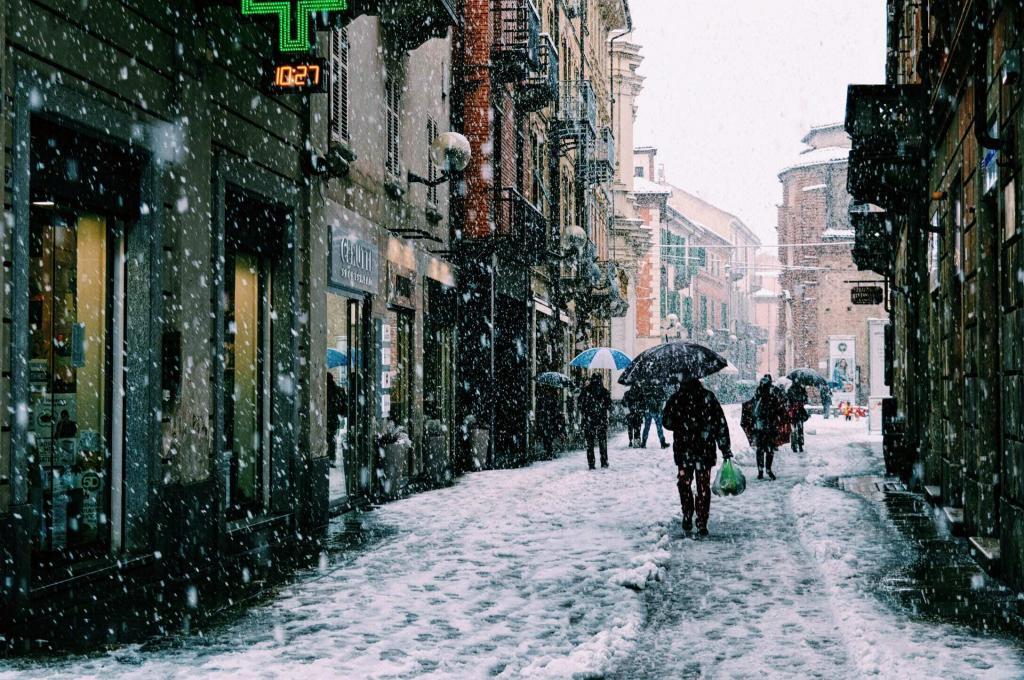 Where to Stay in Alba, Italy: The City
Alba is located about 50 km / 31 miles from Turin, the capital of the Piedmont region. The city itself is situated almost directly between Barolo and Barbaresco and near to the Roero.
With a population of about 32000, area visitors get access to plenty of amenities (think restaurants, shopping, grocery stores, Thursday / Saturday outdoor markets, post office, tourist office, etc). (Where to stay in Turin.)
There are a great many hotels and holiday rentals in Alba and the train station is less than a five-minute walk from Piazza Michele Ferrero.
So, for lodging in Alba, we suggest the historic center. It's small enough to give you that charming life-in-Italy vibe but you pretty much everything you need is in walking distance. 
Bonus: Alba is only about 15 / 20 minutes to Barolo or Barbaresco, making it a perfect central point for Langhe wine tours. 
EDITORS HOTEL RECOMMENDATIONS: Palazzo Finati, Hotel Calissano, Hotel Ristorante I Castelli
Okay, this was a lot of information to digest. So, let's take a little break.
Staying in Barolo and Barbaresco Villages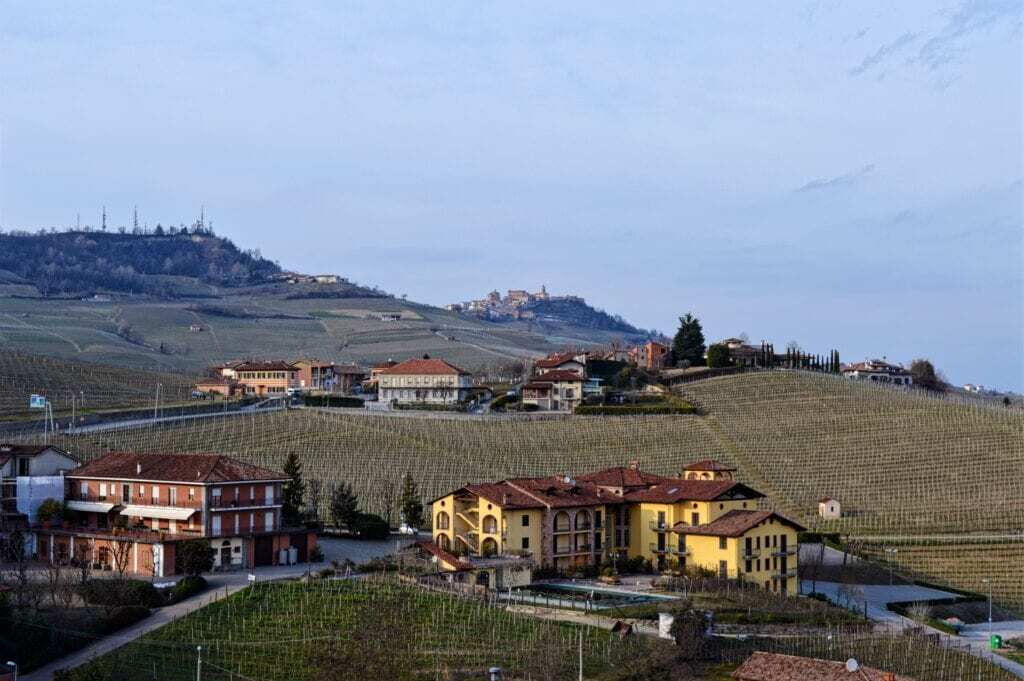 If your heart is set on staying in a village, but you don't want to hassle with a car, my suggestions are:
Barolo Villages:
Barolo: Barolo village has a pharmacy, restaurants, enotecas/wine shops, wineries, walk-in tasting rooms, and more. Don't miss Enoteca La Vita Turchese – often we organize specialty tasting during my Barolo wine tours.
EDITOR'S HOTEL RECOMMENDATIONS: Hotel Barolo, Easy Cosi, Vicolo del Pozzo di Gianni Marenco, Casa in Barolo
La Morra: The highest point in the Langhe with a gorgeous viewpoint of all the Barbaresco and Barolo villages as well as Alba. Great restaurants, bakeries, a tourist office, wine bars, and walk-in tasting rooms.
EDITOR'S HOTEL RECOMMENDATIONS: Corte Gondina Boutique Hotel, Rocche Costamagna Art Suites
Monforte: For me, probably the most charming Barolo village with captivating views and medieval architecture.
EDITOR'S HOTEL RECOMMENDATIONS: Hotel Villa Beccaris, La Ribezza Boutique Hotel
Novello: One of the lesser-known villages with great energy, plenty of restaurants, and a gas station in the village!
Verduno: I adore Verduno. It's a little more sleepy than the others listed but oozes character. Don't miss the fabulous, rustic Trattoria dei Bercau.
Castiglione Falletto: Also small, but bursting with fabulous authentic and fine dining options, as well as great lodging options. Visit Renza's for lunch with one of the Langhe's most amazing views.
Barbaresco Village
Neive: The historic center is beyond charming with one of my favorite wine bars, Cinciallegra. About a 15- to 20-minute walk from the village in the vineyards area are the Francone winery's holiday apartments.
If you stay in one of these villages, as noted, you'll just need to get transportation there from the train station or airport. Once you are there, you'll find a smattering of dining options, walk-in tasting rooms, and shopping.
These are good options for folks who plan to use a Barolo wine tour service and / or want to explore the area on foot or bike. There are a ton of vineyard hiking trails and pretty much every one of these villages has a bike rental location (traditional road or mountain OR electric bike, which is so nice for the hefty hills).
So, there you have it. Some considerations for where to stay in Alba, Italy…even if you find you are staying a bit outside of Alba!
EDITOR'S HOTEL RECOMMENDATIONS: Hotel Castello di Sinio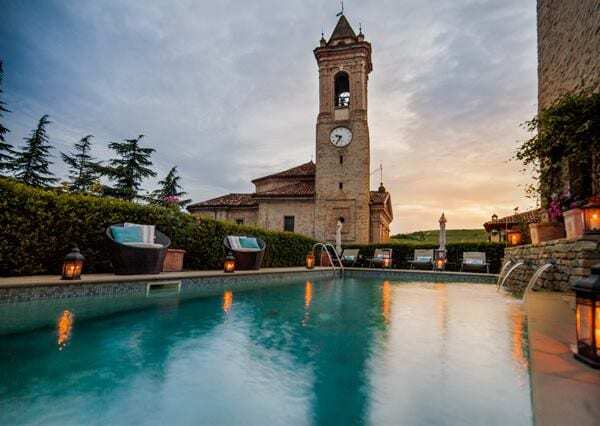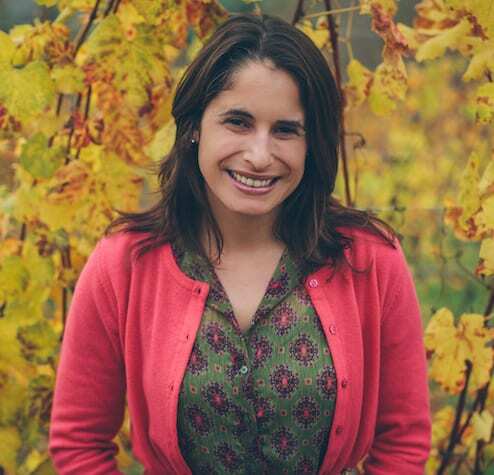 Valerie and her son Il Ragazzino reside in Barolo, Piedmont, Italy, by way of Denver, Colo. She runs a custom Italy travel planning business while moonlighting as a marketing consultant for European wine and travel companies. She has been featured in Wine Enthusiast, Food & Wine Magazine, Open Skies (Emirate Airlines inflight magazine), and more. Follow her expat and wine chronicles here https://linktr.ee/valeriekq.