Wondering where to stay in Piedmont wine country? Castello di Sinio FOR THE WIN(E).
As we continue our exploration of the Piedmont wine region, let's start talking lodging and accommodations. First up, Hotel Castello di Sinio situated perfectly between Barbaresco and Barolo, Piedmont.
The restored 12th-century castle is owned and operated by American expat Denise Pardini. Bonus: She's a rockstar chef with an onsite ristorante and a killer wine list. (It's not just me who thinks so. She was named Hotel Manager of the Year by Andrew Harper.)
The History of Castello di Sinio
Castello di Sinio was built in 1142 by Marchesi del Carretto. Today it stands as one of the oldest castles in Barolo, Piedmont. Denise began restoration on the castle in 2000; previous to this it was a private residence, serving as basically a rundown farm. After five years of tireless work, she opened the hotel in the fall of 2005. The Castello is the only medieval castle to be converted into a hotel. Denise worked to lovingly restore original materials, like stone walls, terra cotta tile floors, and many of the massive chestnut timbers, and ceilings.
I've had quite a few clients from my Piedmont wine tours stay with her and the reviews are beyond rave. Many have plans to dine at other locations during their stay but are so impressed with the dining experience that they simply stay onsite.
The resounding and positive feedback makes it ideal for where to stay in Piedmont wine country. As noted, location-wise it's right in between the primary wine areas of Barbaresco and Barolo. But, in the quiet village of Sinio, away from the tourist hustle and bustle during high season.
Denise and her staff take care of everything for their clients from Piedmont wine tours to transfers (airport, train station, etc.) to dining recommendations / reservations, artisan food producer visits, truffle hunts, onsite wine education, and more.
Denise's peaceful, central garden is reminiscent of the french countryside with brightly-colored flowers spilling out of every corner, a covered outdoor patio for aperitivo, breakfast, and / or dinner, a pool that overlooks the vineyards
That one time I got to stay at Castello di Sinio
I stayed as a guest with a group in November 2019. Talk about the suite life – seriously, I had a living room, two bathrooms as well as the bedroom!
Denise and I are quite friendly and as mentioned, she uses my guides for the Piedmont wine tours she organizes for her guests. That said, I was just excited for a night in that ginormous bed without a toddler waking me before 7 a.m. I wasn't expecting them to treat me…like a real guest.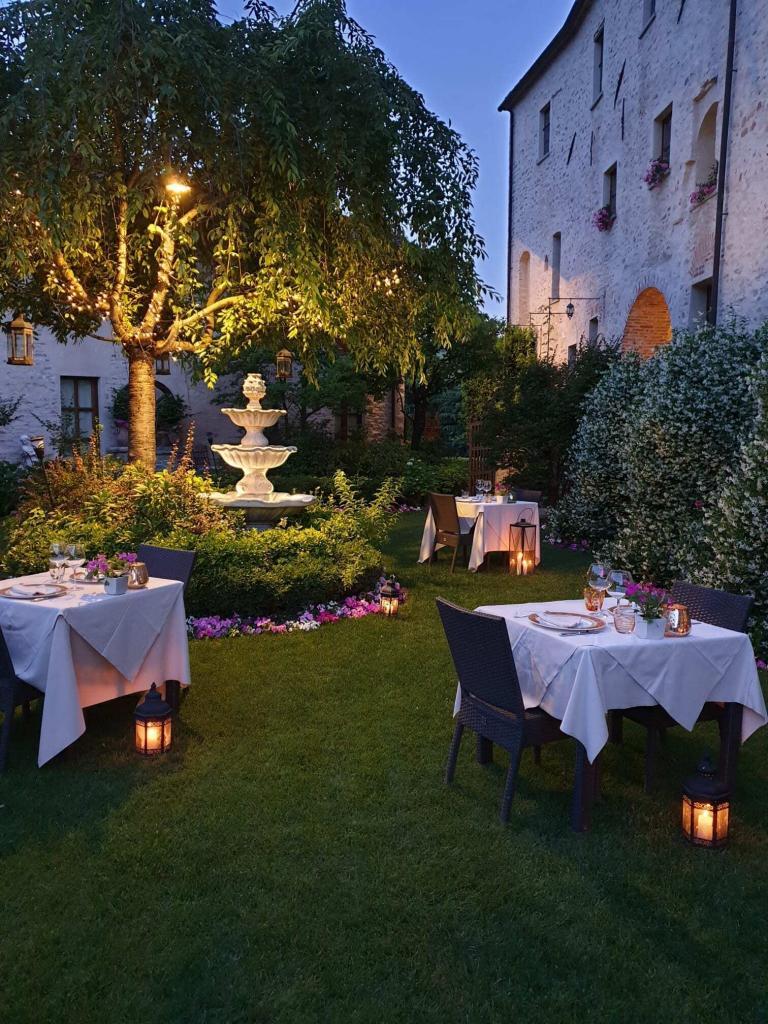 But, yep. I got the royal treatment. The turndown service on its own is something else. On returning from dinner at the ristorante both nights, the room was gently light, both nights stands had the next day's weather forecast, smile-inducing inspirational quote, and a little handwritten note. On the dresser and in the living room, water had been refreshed and the shutters closed.
When it was time for me to head home, I found a little thank you gift waiting on departure, my luggage was put into my car, the car was brought right up to the door AND turned around for me to easily drive away (as it happens, castle driveway's are a bit tight). And, OMG, my windshield was clean.
During that particular program, Denise and I worked together to develop a specialty pairing winemaker dinner with the effervescent Chiara Boschis of Barolo winery E.Pira and Figli. It was my group's last night and with such an important producer I wanted the dinner to be extra special with one final culture lesson.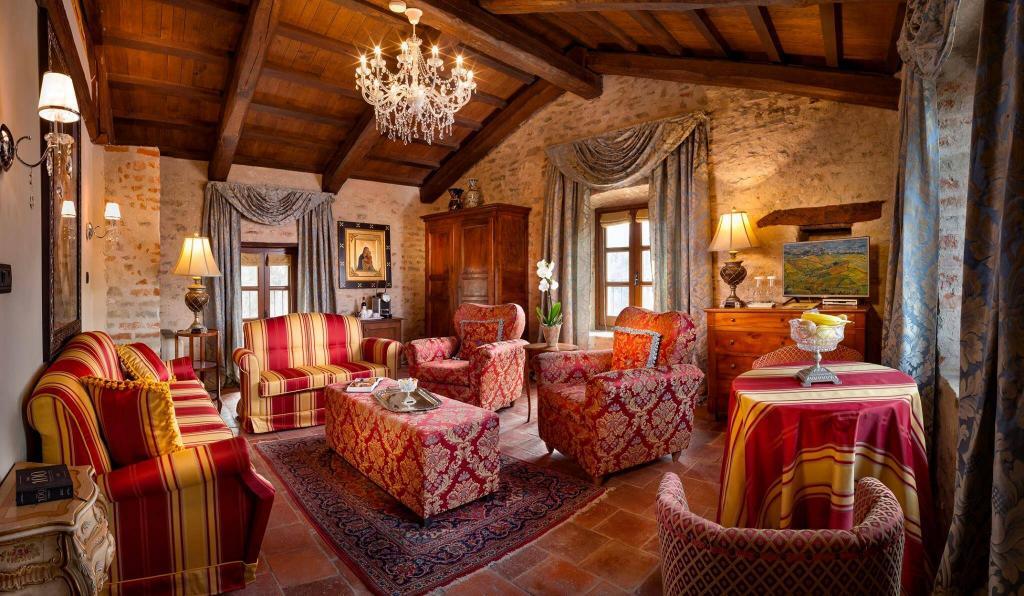 Chiara is part owner in a restored borgata in the high country of Castelmagno, about an hour and forty-five minutes from Barolo, Piedmont. If the name sounds familiar, it's because Castelmagno is also the name of one of Piedmont's more revered cheeses. Well, about a month before the program, Denise sat down with me to plan a most epic five-course menu, using Castelmagno cheese from Chiara's borgata in a unique dish for each course, especially paired with her Barolo wines.
You may wonder how many dishes one can make using a strong high country cheese and not bore the palate. From Dolcetto poached pear salad to poached egg with sauteed artichoke and cardoons with fonduta, roasted pumpkin flan with porcini mushrooms, open-faced truffle ravioli, and a Piemontese Beef Burgundy – yes, all with that strong, spicy, sharp Castelmagno cheese expertly incorporated into the dish.
Chiara explained a bit about the cheese, her little borgata and the production, and introduced her wines. The service, food, and overall experience were truly something special.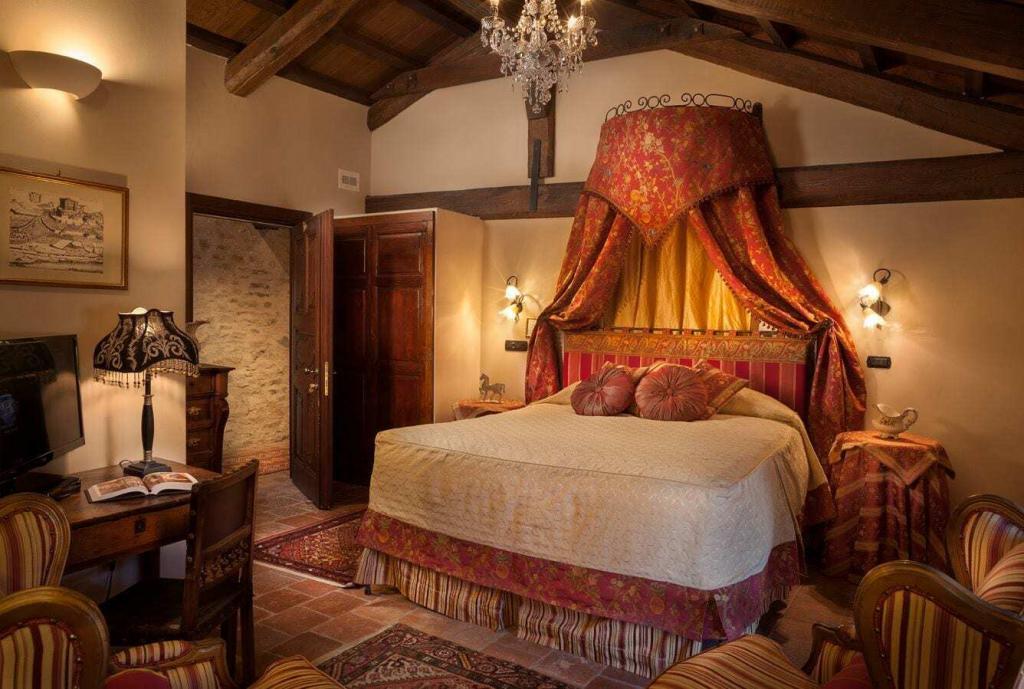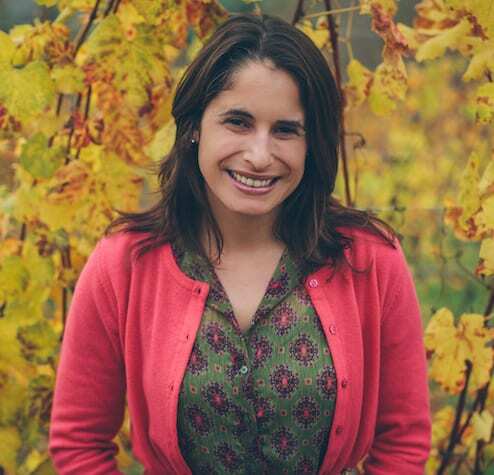 Valerie and her son Il Ragazzino reside in Barolo, Piedmont, Italy, by way of Denver, Colo. She runs a custom Italy travel planning business while moonlighting as a marketing consultant for European wine and travel companies. She has been featured in Wine Enthusiast, Food & Wine Magazine, Open Skies (Emirate Airlines inflight magazine), and more. Follow her expat and wine chronicles here https://linktr.ee/valeriekq.