Ready to learn about Barbaresco and Barolo wine pairings? Dig in!
Let's start with some food and wine pairing basics to get you started.
Consider pairing types – compare and contrast (opposite attracts) or enhancing the characteristics like flavor and texture.
From there, consider flavor elements, like acidity, sweetness, heat (higher alcohol), spice (heat in the food).
Use this Food and Wine Pairing Guide as a starter for your palate adventures
Barbaresco and Barolo Wine Pairing Tips
If you drink much Nebbiolo, you know it's a super tannic wine. But, it has a beautiful balance with its notable mouthwatering acidity.
For Barbaresco and Barolo wine pairing, in general, you want to consider the tannins and higher alcohol as both have minimums on the latter. In addition, younger wines show more pronounced and mouth-drying tannins.
Nebbiolo-based wines also have insanely intense aromatic as well as an often endless finish.
Many people default to steaks and game as well as strong, rich cheeses. Certainly, those are the traditional pairing, but you can dig a little deeper into these wine elements and get creative with pairings, still staying true to the basic food and wine pairing 'rules'.
What the Locals Say…
I asked some Barbaresco and Barolo wine producers their pairing thoughts, specifically with foods that are NOT traditional. Barolo and Barbaresco food pairing ideas you might not consider. Fatty fish came up more than once as well as the congruent Barolo wine pairing of chocolate.
All are highlighted below but don't forget to eat what you like, as Veronica Santero of the Barolo winery Palladino in Serralunga d'Alba shares:
Combine the wine with what you like! If your favorite food is pizza, have that with Barolo. If you don't eat meat or can't eat cheese does this mean you can't drink Barolo? No, of course not. The only rule to follow is to make sure it is a good pizza with good ingredients.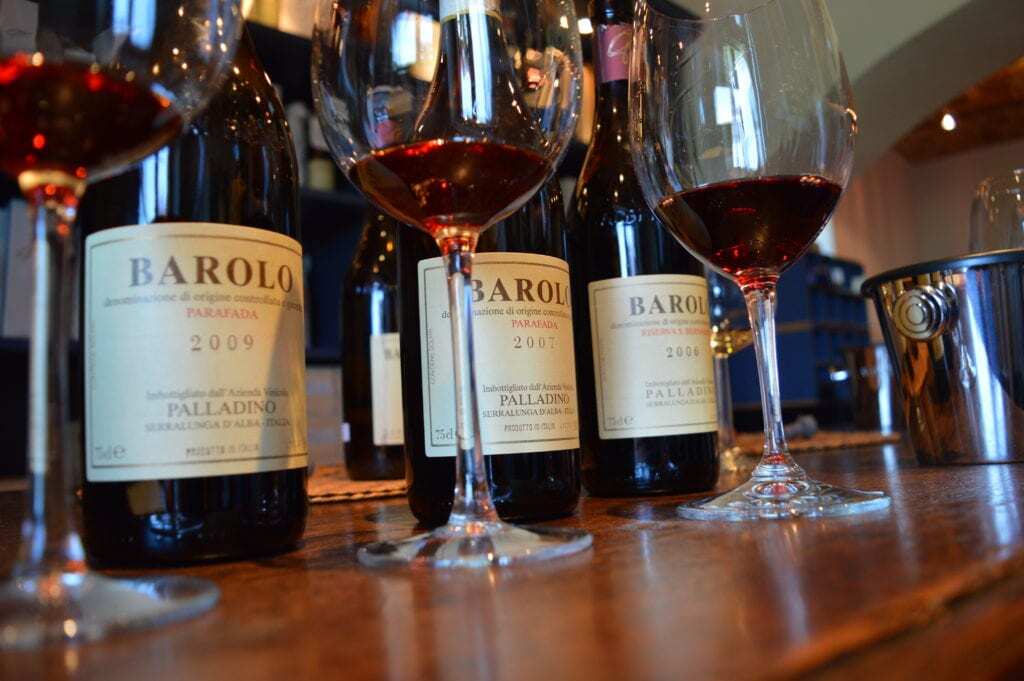 Let's Talk Barolo Wine Pairings
Bottle age is certainly going to be a factor. Younger Barolo wine has heftier tannins riper, fresh fruit – I always get tons raspberries.
As the wine ages, the tannins soften, introducing gorgeous tertiary flavors like tar, dried rose petals, truffle, as well as richer red, and black fruits.
Traditional Barolo Wine Pairing Ideas
Obviously, there are tons of great traditional options like Brasato al Barolo (braised veal, lamb, or wild boar), truffle dishes like tajarin with rich mountain butter, fonduta with strong cheeses, fried egg with a run yolk topped with rich earthy Alba white truffle.
Some Barolo cheese pairing ideas include strong cheeses like Piedmont's Castelmagno DOP or Gorgonzola (also made in the Piedmont hills).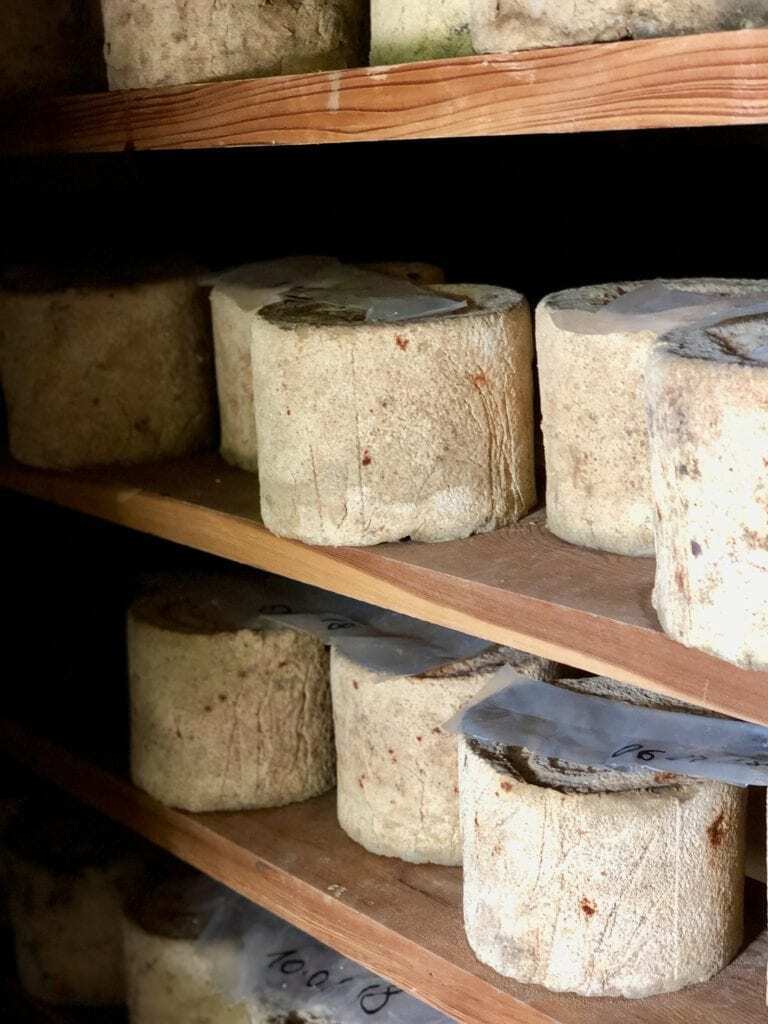 Creative Barolo Wine Pairing Ideas
Of course, if you don't live in the Piedmont region, some of these might be a bit hard to come by, so let's get creative.
Fatty meats and rich work beautifully with the rich, complex flavors and high tannin. Think veal, duck, pheasant, and lamb.
And, this is where you can start to think about salad and Barolo – yes, salad and Barolo!
The French call this a composed salad, whereby the ingredients are laid out instead of mixed together. For a Barolo-friendly composed salad, try ingredients like steak, strong cheese, egg, and nuts.
Denise Pardini of Castello di Sinio in Barolo also suggests using high-pectin fruits, like gooseberries and plums. She explains that this adds complexity and balance:
One of my favorite salads to pair with a special Barolo has gorgonzola and pears – meat isn't even necessary! You have the richness and fat of the cheese and complexity of the high pectin pears to beautifully complement the Barolo.
Consider foods with high tannins to complement Barolo's tannin structure. Moderately spiced Asian foods are high in tannin, so they work well to enhance the wine. In addition, the red fruit and tantalizing aromatics match beautifully with Asian dishes. But, don't forget that heat (high alcohol) and spice don't mix, so keep the temperature low to moderate.
In addition, a lot of people love chocolate for a Barolo wine pairing. Veronica of Palladino says she loves the dry / sweet contrast, "After I've had a nice meal with rich meats and Barolo, I like to save some in my glass for some dark chocolate. People may think I'm crazy, but I love the sensation in the mouth of sweet and dry.
Try These Recipes for Barolo Wine Pairing at Home…
While the Barbaresco and Barolo wine making areas are only about 25 km / 15.5 miles apart, the slight climate variances, factor into the profile of the wine.

While both areas are continental climate, Barbaresco is often noted as slightly maritime climate. Thus, the grapes ripen earlier, harvest happens sooner, and the wines tend to be more approachable younger.
Is it the Same for Barbaresco Food Pairing?
Since both wines are 100 percent Nebbiolo, that is a good question.
Certainly, there are general and traditional pairings that work for both. But, to grossly generalize, Barbaresco tends to be lighter, drinking earlier.
Let's talk Barbaresco Food Pairings
Without a doubt, Barbaresco is ageable, but tends to drink younger, though note that varies by vintage. More classical vintages that show hefty tannin need more time to lay down.
You can work with lighter options for Barbaresco food pairing, given the wine's elegance and finesse. Pasta with savory tomato-based sauces, cheesy gnocchi, risotto, and chicken dishes work well.
And, Barbaresco winemakers even suggest fish!
Traditional Barbaresco Food Pairing Ideas
Traditional dishes include Brasato al Barbaresco (braised veal, lamb, or try it wild boar), risotto, tajarin with ragu, use similar cheeses as listed to the Barolo cheese pairing as well as Fontina, and Pecorino.
Creative Barbaresco Food Pairing Ideas
Chicken works beautifully with elegant, delicate Barbaresco. Play around with tannic Asian dishes, as discussed above, with a chicken stirfry.
Roast chicken or chicken dishes with fruit brings the wine's elegance and red / black fruits.
And, have fun with fish!
Barbaresco won't overpower the fish, plus the natural oils of a fatty fish make it tantalizing with Barbaresco's tannic structure and complexity.
Claudia Cigliuti of the Barbaresco winery Cigluiti in Neive suggests tuna tartare with avocado for a young Barbaresco food pairing. The raw fatty tuna brings out the flavor and works well with the young tannins, not much different to tartrate of beef, as is commonplace here.
For an older Barbaresco, she recommends a stewed tomato barley soup with monkfish. The earthiness of the barely and stewed tomatoes brings out the depth of an older Barbaresco.
For a three to five-year Barbaresco, Federica Grasso of Ca' del Baio in Tresio says to try risotto with Castelmagno and hazelnuts – a very traditional Piemontese dish. For something a little different, she suggests the traditional Roman dish of Coda alla Vaccinara, braised oxtail with rich, earthy herbs and spices. She also recommends Eggpant Parmesan with Sicilian Ragusano cheese.
For a Barbaresco from the 90s and early 2000s, she says to go for a more classic pairing, oven-baked breaded New Zealand lamb chops with breadcrumbs, garlic, oil, mint, and lemon zest.
She also recommends monkfish, stuffed with dried cherry tomatoes, capers, and larded olives with prosciutto Cotto. The delicate, rich fish has the right depth to complement an aged Barbaresco.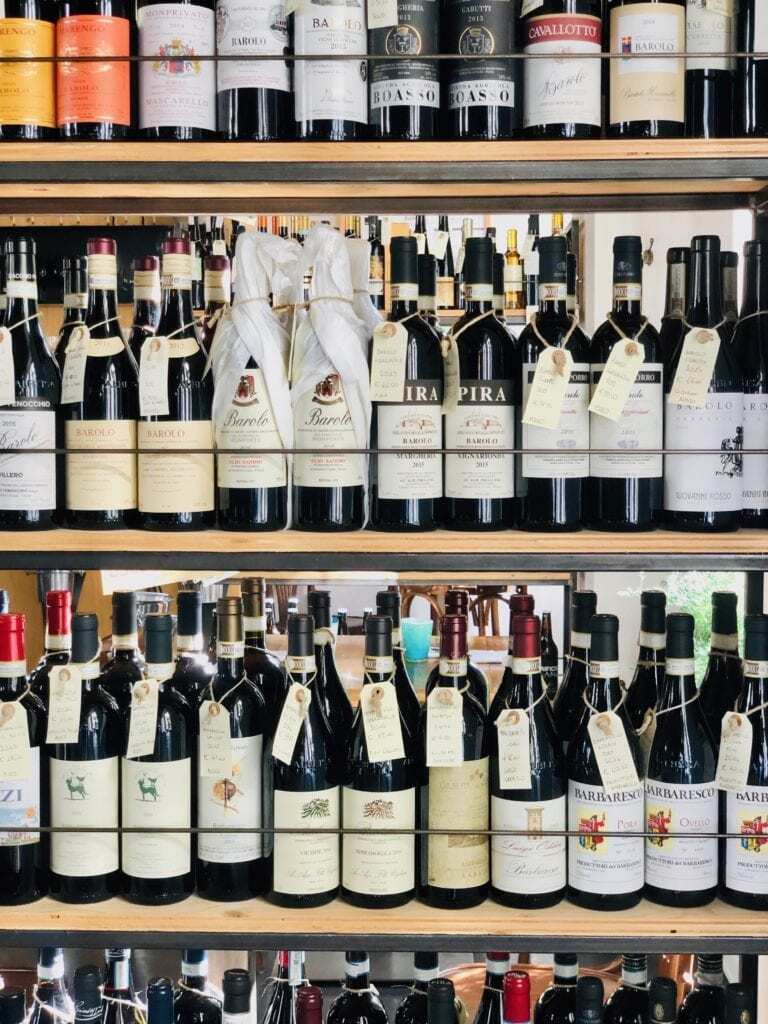 Barbaresco Wine Pairing Recipes…
Barbera Wine Pairings and Why it's the Best with BBQ
Drop a note with your favorite Barbaresco and Barolo wine pairing ideas – and, let us know your thoughts if you try our suggestions and recipes.

Discover Piedmont: A guide to drinking, eating and doing Piedmont.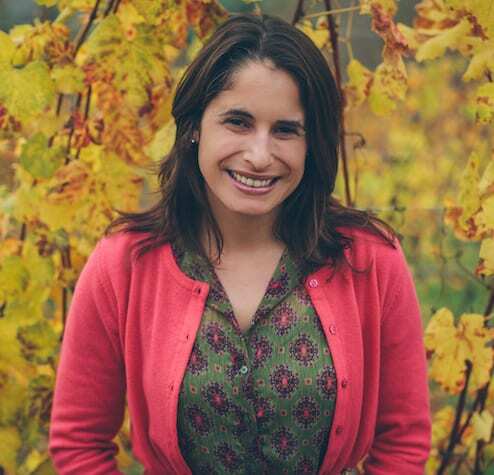 Valerie and her son Il Ragazzino reside in Barolo, Piedmont, Italy, by way of Denver, Colo. She runs a custom Italy travel planning business while moonlighting as a marketing consultant for European wine and travel companies. She has been featured in Wine Enthusiast, Food & Wine Magazine, Open Skies (Emirate Airlines inflight magazine), and more. Follow her expat and wine chronicles here https://linktr.ee/valeriekq.