Ready to learn about Piedmont wine?
After Sicily, the Piedmont region is Italy's second-largest, by geography and home to the most DOCGs and DOCs in Italy. Despite a plethora of grapes, wines, and the rich pedigree, the Piedmont wine region's main draw remains the Langhe. Collectively, the Barbaresco and Barolo winemaking areas make up the Langhe in Southwestern Piedmont.
With approximately 25,000 square kilometers under vine, the Piedmont wine region accounts for some 5 percent of Italy's overall wine production and 18 percent of the country's total wine export (source: daily.sevenfifty.com).
The two primary winemaking areas in Piedmont
Southwestern Piedmont, including the Langhe, Roero, and the Monferrato hills.
Northeast of Turin near Lake Maggiore and Lake Orta (Alto Piemonte). The best-known areas include Gattinara, Ghemme, and Boca.
Piedmont Wine: The Grapes
The primary grapes of the Piedmont wine region include:
Barbaresco and Barolo Wine
For most people, Barbaresco and Barolo wine are synonymous with Piedmont. However the region is far more than these two wines, but for educational purposes, it's a great starting point. Though, I do caution you on diving right into Nebbiolo wines if you are just starting out as a winelover. Holy tannin, batman.
DID YOU KNOW?
The country's famed Barolo and Barbaresco wines (100% Nebbiolo grapes) account for only about 3% of the Piedmont wine region's total wine production.
Nebbiolo is easily the noblest grape of the region, arguably the whole of Italy.
Nebbiolo is the grape for the haunting and beautiful Barbaresco and Barolo wines. If you didn't know that, don't feel bad, it is one that many winelovers do not realize.
DOCG requirements for Barbaresco and Barolo wine production are strict in terms of quantity by volume, aging requirements, and alcohol level. Further, to wear Barolo or Barbaresco on the label, the wine must 100 percent nebbiolo grapes made from and vinified from in the respective area of Barolo or Barbaresco.
DID YOU KNOW?
Barolo and Barbaresco DOCG requirements dictate that the wine must be made within the Barolo and Barbaresco zones. That means that if a producer from the Roero, Monferrato makes one of these wines, they have to wine has to be vinified and aged in the winemaking area of its vineyard origin. In addition, if a Barolo producer makes Barbaresco (or vice versus), they also must use a cellar in the respective zone. Many producers rent cellar space. However, there is one exception to this rule. If a producer from outside the zone was making Barolo or Barbaresco prior to the 1980 DOCG designation, they are grandfathered in and can make Barbaresco and / or Barolo wines in their home cellar outside the zone.
To generalize (for the purpose of simplifying in this intro), Barbaresco and Barolo wine tend to require longer aging due to the high tannin structure. Once time has softened them, you get incredible tertiary depth and complexity.
One of my favorite things to include in a Barolo wine tour program is a side-by-side tasting of a current vintage Barolo and one with at least 20 years of age. So many times they look at the glass and then me in awe, "Oh, now I get Barolo."
Langhe Nebbiolo and Nebbiolo d'Alba
Find younger drinking nebbiolo wine labeled Langhe Nebbiolo, Nebbiolo d'Alba, and Roero Rosso / Roero Riserva.
These wines tend to be just a few years old with less tannin and more ripe red fruits.
Langhe Nebbiolo comes from nebbiolo vineyards within the Langhe while Nebbiolo d'Alba is generally from vineyards beyond the Langhe borders. Though it is worth noting that typical of Italy, exceptions, and exclusions exist.
The Nebbiolo grapes for these wines are harvested earlier than nebbiolo for Barbaresco and Barolo wine; the extra time on the vines helps the tannins develop, which gives the complex flavors.
One other distinction in the two DOCs is that Langhe Nebbiolo can have 15 percent other red indigenous varieties (example: barbera or dolcetto). Nebbiolo d'Alba requires 100 percent nebbiolo grapes. However, most producers use 100 percent nebbiolo in their Langhe Nebbiolo.
Steel aging is another consideration for younger drinking nebbiolo wines. These no wood aging, drinking fresh with great fruit notes. For a refreshing summer red, I suggest a little extra chill for these wines – 30 minutes in the refrigerator before opening.
Expect to hold cellar young Barolo and Barbaresco, and drink Langhe Nebbiolo, Nebbiolo d'Alba, and Roero Nebbiolo wines earlier.
Nebbiolo from The Roero: Roero Rosso and Roero Riserva
Roero is a lesser-known part of Southwestern Piedmont that sits across from Barbaresco, separated by the River Tanaro.
The Roero was once covered completely by the sea so the soil remains rich in sand and fossils. This makes the nebbiolo-based wines more approachable early with elegance and finesse. For a nebbiolo-lover, you get all the quality at less the price.
Barbera d'Asti vs Barbera d'Asti
Barbera is the third most planted grape in the whole of Italy. In Piedmont, the vigorous grape is primarily found in the Langhe and Monferrato; and is indigenous to the latter.
The grape itself has high levels of acidity, but low tannins. Most people don't realize that barbera wine actually has great aging potential due to its high acidity.
It shows red fruits, bright, and robust but also can give gorgeous elegant notes. The range of barbera styles comes from production methods and geography.
Barbera d'Asti tends to be more feminine, silky, and elegant with more potential for complexity. In the Monferrato, barbera vines get the best sites, unlike the Langhe where the best plots go to nebbiolo.
Barbera d'Alba (the Langhe) is more fruit-forward and round, often showing sour cherry and tangy notes.
A Piedmont Workhorse Wine: Dolcetto
Dolcetto means 'little sweet one'. Not because the wine is sweet, but because of its sweet tannins.
A true workhorse wine of the region, dolcetto rarely sees oak with almost exclusive steel vinification. This easy-drinking Piedmont wine shows black fruits, violet, and licorice.
Find the best expressions of dolcetto in Dogliani, Diano d'Alba, and Ovada.
A Piedmont White Wine: Roero Arneis
Arneis is probably the best known white of the Piedmont region. It's been growing in the Roero since the 15th century, but only in the last few decades has it become a single variety wine.
In dialect, arneis means 'little rascal', given as this difficult grape grows almost like a weed in vineyards. Producers often planted as a distractor to birds to keep them away from the more profitable nebbiolo grape.
In addition, arneis was blended with nebbiolo in the Roero to soften the tannins. The wine itself is medium-bodied, low acidity, showing fruit, floral notes with stone fruits and citrus; when aged, it gives gorgeous caramelized, nutty notes.
Lesser-known Piedmont Wine Varieties
Other fun Piedmont wines that may be new to you include:
Red: Freisa, Pelaverga, and Ruché.
White: Nascetta and Timorasso.
Verduno Pelaverga
Pelaverga is exclusively produced in 18 hectares in the Barolo winemaking area of Verduno. Today 14 producers make about 180,000 bottles of Verduno Pelaverga annually.
This light red wine throws strawberry, rhubarb, and strawberry notes with hints of white pepper – a signature taste of wines from Verduno.
Great any time of year, but works well as a summer red with a little extra chill. I particularly like to serve Verduno Pelaverga with turkey on Thanksgiving.
Two more well-known, but probably less talked about white grapes are moscato and cortese.
In Piedmont, moscato is usually done as a frizzante wine, but it's not that sickly sweet sparkling that most westerners associate with moscato as a frizzante.
A well-made Moscato d'Asti shows sweet, crisp light fruit notes of apple and peach. It's low in alcohol and makes a great wine with aperitif and dessert.
The cortese grape makes the Piedmont wine labeled Gavi, from the area of the same name. It is fruity, floral wine with good acidity and minerality.
Piedmont Wine and Grapes: A Fascinating Journey
It's not often that you find Piedmont wine blends of different grapes. And, you don't find a great many international varieties either. The area's grapes stand on their own, and with the dense vineyard area, producers are careful with every bit of space.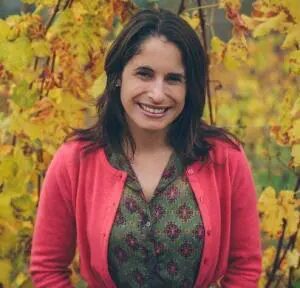 Carpe Travel collaborates with Valerie Quintanilla for our Piedmont wine region content. If you are traveling to Barolo wine country, hit her up. Valerie and her son reside in Barolo, Piedmont, Italy, by way of Denver, Colo. She runs a custom travel planning business with focus on Piemdont and Italy while moonlighting as a marketing consultant for US and European wine and travel companies. She has been featured in Wine Enthusiast, Food & Wine Magazine, Open Skies (Emirate Airlines inflight magazine), and more. Follow her expat and wine chronicles here https://linktr.ee/valeriekq.