This sweet Italian desert and wine pairing is the perfect summer treat!
Who wouldn't love to sit in the sun at an outdoor café in Italy sipping a chilled glass of wine and eating a delicious Italian dessert (Strawberry Tiramisu to be exact)? Unfortunately, we still can't travel to Italy thanks to C19, but that doesn't mean we can't bring a bit of Italy to our own homes.
Coleen Kirnan and Rhonda Vilardo, the owners, and hosts of Tuscan Women Cook, a unique and popular culinary vacation located in the heart of Tuscany, have shared a bit of dolci from Italy for our kitchens during this pandemic. (Thanks, ladies!)
Coffee lovers prepare yourself for this outrageous truth: Some people do not like coffee. Crazy as this may seem, many find the smell and taste off-putting and will even pass on a serving of tiramisu, one of Italy's most popular desserts, because espresso is a key ingredient. Tiramisu translates to "pick me up," due in no small part to the surge of caffeine that comes with every creamy bite.
Fear not, coffee refuters. No need to pass on Tuscan Women Cook's tiramisu recipe that replaces coffee with fresh strawberries and Alchermes, a bright crimson Italian liqueur which is still made today by the Santa Maria Novella pharmacy in Florence with the exact same recipe formulated back in 1743. It is infused with a variety of common spices, along with the most unusual ingredient, dried insects, which contributes to its vivid scarlet color. They promise this recipe will still be authentically delicious without the Alchermes. You can simply substitute Fragoli wild strawberry liqueur or Chambord.
Carpe Travel Suggested Wine Pairing
This Strawberry Tiramisu is both rich and creamy, not to mention sweet.There are a few wine ways you could go for this wine pairing.
Sauternes
Prosecco or Champagne
Port (a white Port wine could be amazing!)
Riesling
Fumé Blanc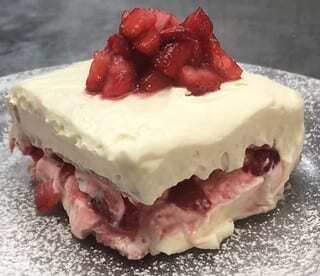 STRAWBERRY TIRAMISU
Guests of Tuscan Women Cook love this strawberry tiramisù served at Ristorante 13 Gobbi. It's become a house specialty as a result of a partnership Albo and Simonetta forged with an organic strawberry farmer near their restaurant in Montefollonico. Strawberries are in peak season right now. 
Ingredients
For the Cream
500g mascarpone cheese, room temperature

500ml heavy cream 

5 egg yolks 

3/4 cups granulated sugar 
For the Strawberries
2 1/2 cups ofstrawberries, chopped

1/3 cup Alchermesliqueur,* Fragfoli wild strawberry liqueur or Chambord

1 tablespoon sugar 

2-3 tablespoons rum 

1 cup orange juice 

1 box dryladyfingers (Pavesini brand preferred**)
Instructions
Put the strawberries, Alchermes liquor, sugar, rum, and orange juice in a bowl. Set aside. With a hand mixer or a KitchenAid standing mixer, beat the egg yolks, sugar, mascarpone, and heavy cream on medium speed for 5-10 minutes, until creamy. 

In a small bowl, strain the strawberries and keep the juice in a separate bowl. Dip the ladyfingers in the juice (a quick dip, you don't want them to be soggy), and arrange cookies on bottom of a baking dish. 

Cover with half the cream mixture, then cover with the chopped strawberries, repeat cookies for another layer, and cover with remaining cream mixture. 

Decorate it top with strawberries just before serving and dust with powdered sugar. Chill for 2-3 hours before serving. It can stay chilled for up to 2 days.

* Alchermes is a scarlet colored Italian liqueur made by infusing neutral spirits with sugar, cinnamon, cloves, nutmeg, and vanilla, and other herbs, and Kermes, a small parasitic insect.

** Pavesini ladyfingers may be difficult to find in stores. However, they are readily available online. Other brands may be substituted.
Notes
Simonetta from Ristorante 13 Gobbi in Montefollonico, shows you how to make this delicious Strawberry Tiramisu recipe.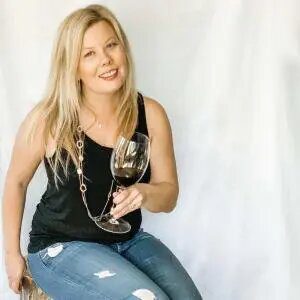 Elaine Schoch (pronounced the German way – Shock) is the editor and founder of Carpe Travel as well as an award-winning travel writer, wine judge, certified by the Wine & Spirit Education Trust (WSET) Level 2 and certified American Wine Expert. She is married to The Husband and has two kids, Princess One and Two – who's interest and knowledge in wine is quite extensive. Not to mention the stamps in their passports.