Considering some Northern Italy travel? Don't miss the Piedmont region for a bit of everything – beauty, top wine, amazing food, and fun cities. Let's start our discovery of the Piedmont region with the obvious questions. Where is Piedmont? Then we'll move onto more of what makes this region so amazing!
Where is Piedmont?
The Piedmont region is framed by the Mediterranean coast of Liguria and the Alps. The eastern core of the Po River valley is home to some of Italy's best farmlands.
The main cities in the Piedmont region include Turin, Alessandria, Asti, Cuneo, and Alba. These cities are a mix of the most populous and most important in terms of industry and culture.
Activities include gastronomy, outdoor sports of skiing, water sports, as well as hiking and cycling throughout the region.
Italian spelling: Piemonte, it translates to 'the foot of the mountains'.
English spelling: Piedmont
Main industries: Agriculture, textiles, and manufacturing. Notable: The Piedmont wine regions of Barolo, Barbaresco (collectively the Langhe), the Monferrato (barbera land), the Roero (home to the area's top white of arneis), and Alto Piemonte. In Alba, you find the headquarters of Ferrero (Nutella, Tic Tac, Ferrero Rocher, etc.), and the booming automobile industry (Fiat's headquarters are in Turin, Italy).
Geography: Piedmont sits in Italy's northwest corner at the foot of the Alps, bordering France and Switzerland.
Population: 4.356 million people (Source: 2019 Eurostat.)
Capital: Turin, Italy.
Piedmont, Italy: Turin
Turin, Italy is the capital city of the Piedmont region and Italy's fourth-largest city, Turin is also the capital of the Piedmont region. From 1861 to 1865 was the country's premier capital.
Turin remains one of the country's most important cultural and business centers with a metropolitan population of about 2.2 million. The booming city of Turin offers endless things to do. It is home vermouth, Fiat, and the Juventus football team. Popular cultural stops include the Egyptian Museum, the National Museum of Cinema, Vineria Royale, the 17th-century Royal Palace (the official residence of the House Savoy until 1865), The Shroud…the list goes on and on. While the city remains relatively under the radar compared to other Italian destinations, it's one of the best places to visit in northern Italy for culture and gastronomy.
Piedmont, Italy: Alba
Another city to highlight is Piedmont's gastronomic haven of Alba, Italy. With about 32,000 residents it's below the top 10 cities in the Piedmont region by population. But as a gastronomic and cultural destination, it's certainly one of the best places to visit in northern Italy. Alba sits almost perfectly between the Piedmont wine region's best-known areas or Barolo and Barbaresco. The city itself gets its acclaim from the fabled Alba white truffle and the annual fall festival of the same name.
Wines labeled Barolo and Barbaresco DOCG (100% nebbiolo) are the most well-known in the Piedmont region. But they only make up about 3% of the region's total wine production.
The ancient city of Alba predates Roman times with visible ruins throughout the historic center. Visitors can explore lost pieces of its 2000-year history some two meters below the city streets on an Underground Alba tour.
While Alba is best known for its place in the world's wine trade, it also gets notoriety as the headquarters of Ferrero, the maker of Nutella. The charming city offers a quaint pedestrian street with lots of shopping and dining options.
Alba, Italy is reachable by car, bus, and the city's central train station. Most connections come from the Torino Porta Susa or Torino Porta Nuova stations. Alba makes a good home base for exploring Barolo, Barbaresco, the Roero, and the Monferrato, particularly if you don't want to rent a car.
Without a car, use a Barolo wine tour guide for transportation, program planning, and education. The city offers plenty of amenities, dining, and lodging that are walkable.
Piedmont Region Lakes
While most people think of The Lake District of Como for Northern Italy travel, Piedmont's Orta and Maggiore lakes are not to be missed.
Gorgeous and serene with art, history, and plenty of lakeside activities, enjoy water sports, hiking and cycling, musical and cultural events, fine dining, and more.
Piedmont Region: Lake Maggiore
Maggiore's charming lakeside towns make Italy's second-largest lake a popular Northern Italy travel destination.
Explore the gardens and buildings of Borromeo Islands (Isola Bella, Isola Madera) as well as the botanical paradise of the Stresa hills overlooking the lake.
Lake Maggiore is about 2.5 hours by car from Turin and about 2.75 hours from Alba.
Piedmont Region: Lake Orta
A quieter, more tranquil Piedmont region lake, Orta is ideal for relaxation. By bike or on foot explore the Sacred Mount of Orta, a UNESCO World Heritage site since 2003 and one of Piedmont's most panoramic paths of faith.
The ancient old town of Orta features artisan shops and stairways to Baroque churches and towers.
Lake Orta is about 1.75 hours by car from Turin about 2.5 hours from Alba.
Piedmont Region: High Country
At the foot of the Alps, Piedmont's high country is vast. Hit the slopes in places like Bardonecchi, Sestriere, and Limone Piemonte.
Explore the Alta Langa as close as 45 minutes outside of Alba. The higher Langhe region is home to metodo classico sparkling wines, ancient cheese production, some of the region's best hazelnut production, as well as hiking, cycling, and peaceful nature scenes.
---
Sip In More of Piedmont, Italy…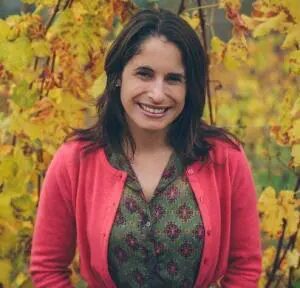 Carpe Travel collaborates with Valerie Quintanilla for our Piedmont wine region content. If you are traveling to Barolo wine country, hit her up. Valerie and her son reside in Barolo, Piedmont, Italy, by way of Denver, Colo. She runs a custom travel planning business with focus on Piemdont and Italy while moonlighting as a marketing consultant for US and European wine and travel companies. She has been featured in Wine Enthusiast, Food & Wine Magazine, Open Skies (Emirate Airlines inflight magazine), and more. Follow her expat and wine chronicles here https://linktr.ee/valeriekq.