Travel has and is changing given the impact C19. For a little inspiration, Carpe Travel has shared this – and more – to keep Italy in your daydreams. We will travel again, so keep daydreaming about where you want to go!
When to Visit Piedmont, Italy? Let's talk seasonality.
When travelers visit Piedmont there are endless options for activities and exploration. You've got the seaside and lakes, it's at the foot of the Alps, so plenty of hiking, cycling, and gorgeous panorama. And, the gastronomy and culture of the Piedmont area are beyond intoxicating, even senza vino!
Your visit to Piedmont all depends on what you want to do, see and experience as well as when you visit. So, let's get to it.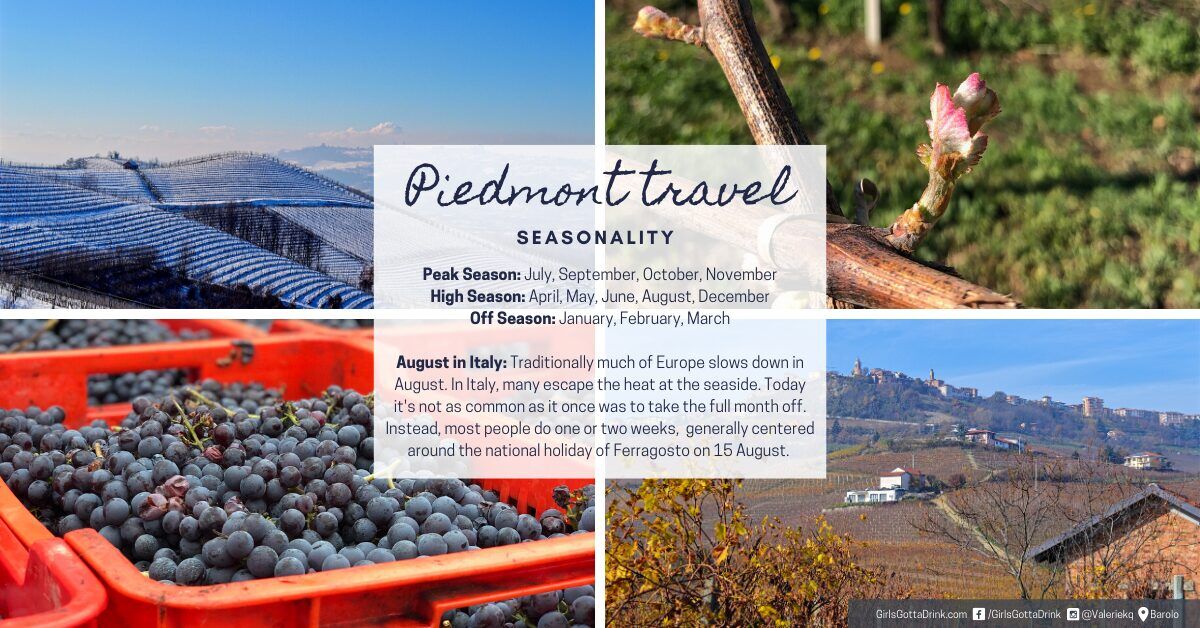 Piedmont Travel in the Fall
Most people are surprised to realize that the late fall is actually the height of tourist season is actually in late fall. While most travel destinations in Italy are starting to slow down in October, things are just getting started in the Piedmont region.
In Southwestern Piedmont, the Alba White Truffle Festival kicks off in early October, drawing visitors from all over the world.
Fall Piedmont Travel Tips:
Book lodging, dining, and activities early! Your best bet is going to be at least six months out, but if you start planning nine months to a year out, you get your pick of lodging and activity bookings!
Harvest usually finishes in early to mid-October, so keep that in mind for Barolo wine experiences. You may get to see aspects of harvest in action, but note that the producers can't accept help from tourists in the vineyards. And, small producers may be more limited with time when the grapes come in. Most don't have dedicated tasting staff as we're used to in New World wine regions.
Piedmont Travel in the Winter
Since the fall is the height of the season, I encourage people who want to experience the Alba white truffle but want fewer crowds to visit Piedmont in early to mid-December.
Since the Alba White Truffle Fair has finished by then, prices start to level out for just about everything – the truffles themselves, lodging, dining, activities. And, the bonus is that the truffles are generally better in December as they are best in colder temperatures.
Another consideration: fewer area visitors means that wine and artisan food producers have more time for you during a visit. And, restaurants aren't nearly as crowded.
In the months of January to March, the countryside tends to be quiet with fewer visitors. A lot of wine producers travel, but they also have more time to greet visitors.
Winter Piedmont Travel Tips:
Ski resorts are popular with locals and visitors alike – plan and book early!
From January to mid-March, many hotels and restaurants in the countryside close for the season. Lodging can easily be found in bigger cities like Turin, Asti, and Alba.
Expect cold, wet, and snowy weather when you visit Piedmont in the winter months. So pack warm clothes and sturdy shoes that can handle mud, snow, and slush.
Piedmont Travel in the Spring
In the countryside, hotels, and restaurants that shut for the winter generally reopen in mid-March.
The vineyards start to come back to life with bud break starting in early April.
Springtime ushers in breathtaking shades of green all over the countryside and regional festivals illuminate wine, food, and culture from the big cities to the villages.
Spring Piedmont Travel Tips:
Two of the world's biggest wine trade events take place in early spring: ProWein in Germany and Vinitaly in Verona. These events are largely attended by wine producers all over Italy, so it can be a difficult time to book tastings with smaller producers if you visit Piedmont during that time.
Some of the best wine festivals in Piedmont during the spring include

Vinum: Explore Piedmont wines in Alba, Italy, usually runs late April / early May, including Labor Day.
Barbaresco a Tavolo: A must for the nebbiolo-lover visiting Piedmont in the springtime. Local restaurants offer set menus of traditional fare that showcase the latest Barbaresco vintage. All blind! The program runs three consecutive Friday nights and features around 20 wines (60 new Barbarescos in total). Participants make notes on their tasting sheet, then the wines are revealed at the end of the night.

Spring storms can be quite intense, so pack a rainjacket and proper shoes.
Piedmont Travel in the Summer
It's just hot. Super hot. So, it's a good idea to incorporate some time at the seaside and / or the Lakes.
Summer Piedmont Travel Tips:
Pack walking shoes – specifically close-toed ones are a good idea if you expect to do vineyard walks or hikes.
The weather in Piedmont is quite humid, so be prepared if mosquitoes like you.
Music fans, don't miss Collisioni, Barolo, the region's big music festival i July featuring top international artists.
Italy Travel Planning: Dates to Know
For the whole of Italy, there are key dates that are state holidays, observed with school and business closures.
We suggest you consider these dates for your Italy travel plans as public transportation such as trains, buses, and waterways may be running on a holiday schedule.
You may also find that businesses and tourist activities are limited during these times.
Good Friday
Easter Sunday
Easter Monday
April 25, Liberation Day
1st Friday of May, Labor Day
June 2, Republic Day
August 15, Ferragosto
November 1, All Saints Day
December 8, Feast of the Immaculate Conception
December 25 and 26, Christmas Holidays
December 31, January 1, New Years Holidays
There is so much to see and do when you visit Piedmont!
About the Piedmont Guide & Writer
The Carpe Travel Piedmont region travel guide is written by Valerie Quintanilla, an American expat in Alba, Italy. Val was an original Carpe Travel contributor before packing her American life to chase her Italian dreams.
Today she runs a custom travel / tour planning business while moonlighting as a marketing consultant for wine and travel business in Europe. She has been featured in Wine Enthusiast, Food & Wine Magazine, Open Skies (Emirate Airlines inflight magazine) and more.
Valerie and her toddler il ragazzino reside in Alba, Italy in the Piedmont region, but she organizes travel and tour programs all over Italy. Stay tuned as she introduces us to more Italian wine regions!
Follow Valerie on her site Girl's Gotta Drink, on Instagram and Facebook.