Your guide to Understanding Ice Wine
What is Ice Wine? Is it really "The Nectar of the Gods?" Have you tried Ice Wine? Now is the time! By the way, it isn't just for dessert. A delicate dance between the perfect late harvest freeze and complete crop destruction makes ice wine a highly speculative, highly coveted, incredibly luscious dessert wine.
Ice Wine is also called Icewine, Eiswein (German) & Vin de Glacé (French)
What is Ice Wine?
Ice Wine is perhaps one of the most speculative creations in the world of wine and the rare liquid is as delicious as it is expensive. It is honey sweet and incredibly fresh, ripe with baked apple notes and racy lemon zest, at the same time. Its binary nature perplexes the palate but leaves you wanting more. As the name denotes, the wine is made from icy grapes in a method established in the northern climes of Europe centuries ago.
The beauty of Ice Wine is in the technique used to create it. Select grapes, most often white and aromatic varietals like Riesling and Gewürztraminer, are left on the vine long after other grapes have been harvested and pressed for still table wines or sparkling creations. These grapes, if they survive birds and other critters feasting on them and avoid fungal disease, are allowed to freeze on the vine. Ready winemakers dash madly into the vineyards, often in the predawn night, to hand harvest the delicate frozen fruit. They rush to quickly press the remaining essence out of the fruit leaving the ice shards behind.
The juice is highly concentrated with flavors, sugars, and acids. As a result, Ice Wine is a delightfully aromatic, golden amber hued, weighty wine with floral notes accompanying the baked stone fruit and perfumed spice. Ice Wines aren't fortified with brandy like Port wines and Sherry, so their alcohol levels are modest, rarely reaching above 13% abv., while maintaining their balance and acidity.
How Ice Wine Got Its Start
Pliny the Elder (AD 23-79, Rome), the world's first wine writer, lamented about his love and longing for a succulent yet tangy Ice Wine hailing from Chiomonte in Val di Susa, a region nestled at the base of the Alps between Grenoble and Turin near the modern French and Italian border. Modern Chiomonte is known for sporting and skiing. Chiomonte is one of the only regions in Italy still producing Ice Wine.
Ice wine next appeared in German historical annals in Franconia, Bavaria in 1794. Winemakers in Dromersheim near the Rheinhessen, released their first vintage in 1830. European wine producers already made late-harvest wines and botrytised wines; a dessert wine made from grapes that have shriveled due to a special fungus called botrytis cinerea that feeds on healthy grapes draining them of their water while concentrating their sugars and flavors. French Sauternes and Hungarian Tokaji are two, exquisite, botrytized styles of wines.
Schloss Johannisberg released their legendary Eiswein (German term) vintage in 1858, putting them forever on the map for Eiswein greatness. German winemakers perfected Eiswein production over the next century although only six vintages were crafted in the 19th century. It wasn't until the 1960's that German winemakers were able to stabilize Eiswein production to meet consumer demand. Just two decades later, Eiswein production became more difficult due to changing climates. Fast forward to 2020, and Germany is hard pressed to create Eiswein, driving the prices up as the production plummets.
What is an Eiswein lover to do??? Look to the new world…
Ice Wine in the New World
Canada is the top producer of Ice Wine in the world now due to its consistent winters and rapidly emerging wine regions. In 1972, German immigrant, Walter Hainle, created his first vintage of Ice Wine in the Okanagan Valley of British Columbia in an attempt to save his grape crop from an unexpected early freeze. Surprised by its quality, Hainle released the wine in 1978.
On the other side of the country, Austrians, Donald Ziraldo and Karl Kaiser, of Inniskillin Winery were growing grapes in and around Lake Ontario and Niagara. They, along with two other grape growers decided to make Ice Wine in 1983. The group took a gamble and left their grapes on the vine, only to lose the entire harvest to opportunistic birds and beasts all too happy to rid them of their efforts.
Karl Kaiser tried again and succeeded in making Ontario's first Ice Wine the following year, changing the trajectory of Inniskillin Winery. The Inniskillin vineyards were originally planted with Riesling, Chardonnay and Gamay, but the sturdy and fragrant Vidal hybrid grape soon took up a significant space in their plots.
Vidal grapes perform exceptionally well and produce Inniskillian's top class of ice wines. Inniskillin's Vidal Ice Wine, called "The Nectar of the Gods," won the Grand Prix d'Honneur top prize at the 1991 global VinExpo tradeshow and conference. This is perhaps the highest honor in international wine judging that a wine could attain.
By the year 2000, Canada outpaced Germany in Ice Wine production and has long since eclipsed them due to popularity and demand. Canada's Ice Wine production has continued to grow in Ontario, British Columbia, Quebec, and Nova Scotia. France, Switzerland, and Luxembourg all produce Vin de Glace (French term), with Scandinavian countries, Spain, Austria, Hungary, and other eastern European countries upping their ice wine production too.
Ice Wines are produced in the United States in various other cold climate wine regions, such as Great Western Winery in the Finger Lakes wine region of New York, Bonnydoon in Napa Valley, California. Furano Winery in Hokkaido, Japan uses red grape varietals for their Ice Wine. Most wineries stick to white grapes for the acidity and bright phenolic flavors.
Wine producers in Colorado, Idaho, Michigan, and Great Lakes wine regions are exploring Ice Wine too. Ice Wine producers are experimenting with nontraditional grapes such as Cabernet Franc, Merlot, Pinot Noir, Sevyal Blanc, Pinot Gris, Chenin Blanc, and Semillon, yet most Ice Wine and Eiswein is still produced from Riesling and Vidal.
German and Canadian ice wines remain the pinnacle of this expression of the grape.
How to Drink Icewine
Icewine should be sipped cold at a serving temperature between 40 and 50'F (4.5 and 10'C) for the best expression of aromas and flavors.
Serve ice wine in small cordial or sherry glasses or even small sparkling wine flutes.
What to Pair with Icewine
A lovely dessert wine, ice wine can be simple alone or served with an Almond Florentine or Amaretti cookie. It is wonderful with crème brûlée or drizzled over panna cotta. Ripe pear or chestnut sorbets pair well as do pastry cream and fresh berry tarts.
Sip ice wine with beautifully ripened blue veined, triple cream, goat cheese, washed rind cheeses, aged cheeses, and salty parmesan or pecorino cheeses.
Drink or Keep Icewine?
Ice wines are sold in 375 ml half bottles. Like most wines, not all ice wine is age worthy. Lay down only the best ice wines and be careful to check their corks and turn the bottles a quarter turn every few months.
Store cool, but not cold, away from light and vibration.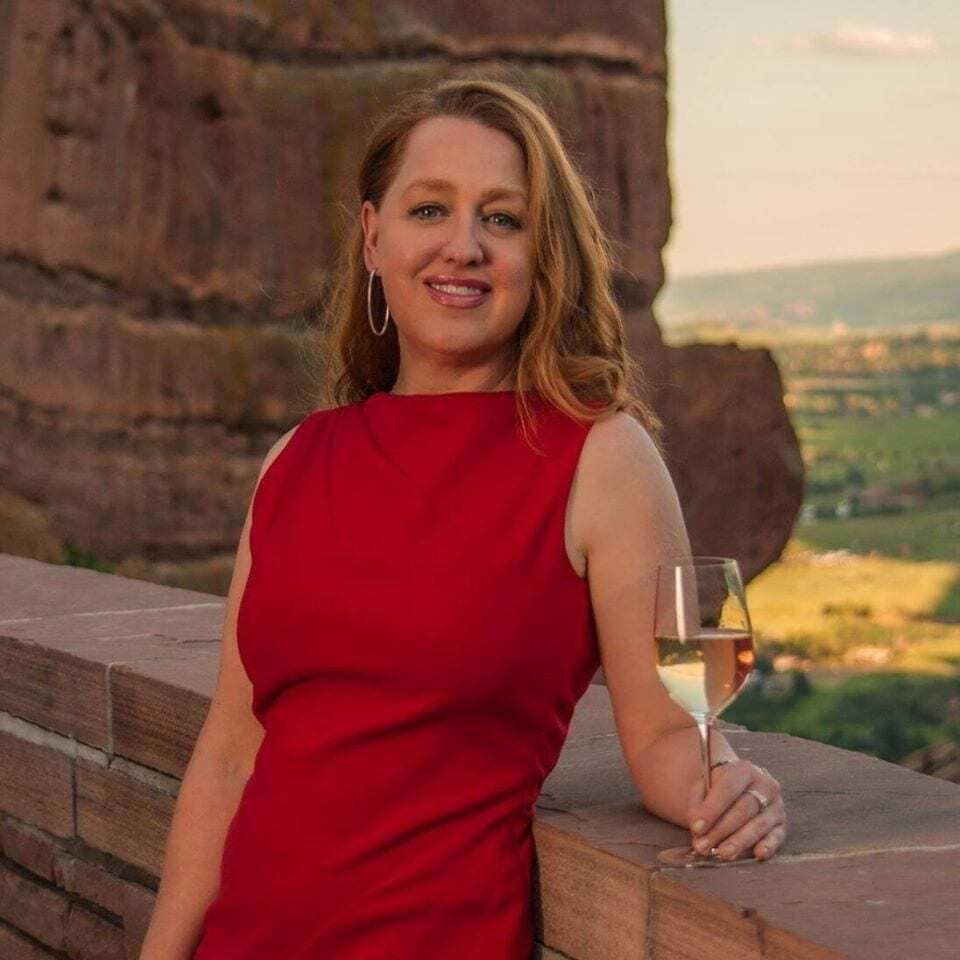 Simone FM Spinner is a wine writer, consultant, judge, speaker, and published author. She is a certified sommelier with 13 advanced wine certifications, a bachelor's and master's degree in wine studies, and is pursuing her doctorate researching wine, climate change, and legacy. She is the Women of the Vine & Spirits 2020 WSET Diploma scholar.