A Guide to Understanding and Sipping Port
Port is a sweet fortified wine made from grapes grown in the upper Douro in Portugal. It's typically enjoyed as a desert wine, but with the right pairings Port can be sipped before, during and after dinner.
Like Champagne, wine that is designated/named "Port" can only come from the Douro region Portugal. Yet, many Port-styled wines are created world-wide.
Port wasn't necessarily created by – and for – the Portuguese, but rather out of necessity for its British trade partner.
Up until recent years – due to climate change – Britain has not been suitable for growing grapes. It has traditionally imported wine from France but during the 17th and 18th centuries when the two were regularly at war, Britain boycotted French wine and turned to Portugal for its juice. However getting Portuguese wines to Britain was difficult given the long ocean voyage, resulting in spoiled wines. As any wine lover knows, this was totally unacceptable.
To preserve the wines, the Portuguese began adding grape brandy to the wine, the end product is what we know as Port. The fortified wine became popular when it was introduced in Britain and remains so to this day.
What is Port?
Port is a sweet fortified wine, which means additional alcohol is added to it.
Port is made from a blend of black grapes used for red wine varieties. Similar to traditional wine the grapes are pressed and allowed to begin fermenting with the skins which adds the color and tannins to the wine. But this process is much shorter since with Port you want to maintain the sugars in the wine. So early in the fermentation process a grapes-derived spirit – usually brandy – is added to the partly fermented grape juice. This kills the yeasts and stops fermentation. The result is a sweet wine that's high in alcohol.
The next step in Port production is the maturation process where the Port is aged in oak barrels before it's blended and bottled. The aging time has a lot to do in determining which style of Port will be produced.
Grapes used to produce Port are native to Portugal. The main varietals include Touriga Franca, Touriga Nacional, Tinta Roriz (aka Tempranillo), Tinta Barroca and Tinta Cão.
Styles of Port
There are a few different styles of Port, all are based on the quality of the fruit and how long the fortified wine is aged in oak.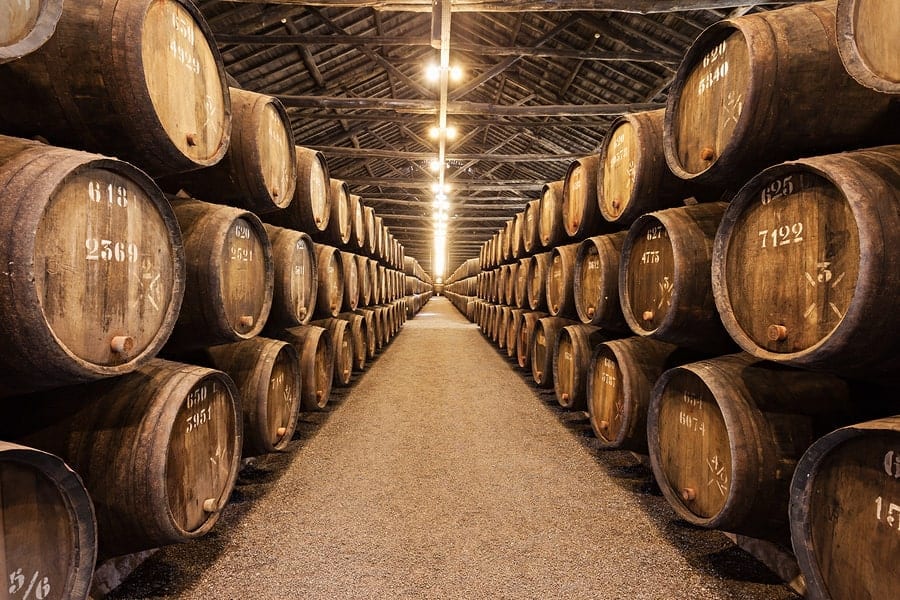 Ruby Style Ports
Ruby Ports are just that – ruby in color with a lot of sweet fruit flavors. They also spend the shortest amount of time in aging in Oak before they're bottled. However, Ruby Ports are bottled ready to drink.
There are three types of Ruby style ports. First you have the basic Ruby port, which is an inexpensive, sweet, non-vintage port. In other words it's made from blending a variety of vintages together to produce the port. That's why it's non-vintage since it comes from several different years.that is non-vintage and is typically aged less than three years before it's bottled.
Reserve Ruby Ports
Reserve Ruby Ports are more intense and aged for up to five years in the oak barrel. The aging helps to soften the fruit in the Port and integrate the alcohol into the wine. You will also taste more of the flavors that come from the barrel – oak, toast, vanilla.
Late Bottled Vintage Port (LBV)
Late Bottled Vintage port (LBV) is similar to reserve Ruby port but it comes from a single year's harvest. LBV ports are sweet high alcohol with medium tannins and medium to low acidity. They have flavors that are intense red and black fruit like cherry plum and blackberry and sometimes you'll get a hint of Sweet spice.
According to the Port Wine Guide, the Douro Valley in Portugal was the first established / designated wine region, or appellation, in the world according.
Vintage Style Ports
Unlike Ruby Style Ports, Vintage Ports benefit from aging in the bottle. They do spend time in oak barrels but only about two years. These Ports can age for decades in the bottle. This style of Port is not very common since it's only produced during good harvest years.
When a Vintage Style Port is young it has more of an intense spicy red and black fruit flavors. As the Port ages, the flavor becomes more of a cooked fruit with flavors such as prune, wet leaves, coffee and leather.
Tawney Style Port
Tawny Port is a lighter style of Port that's paler in color to Ruby Ports and they have more toffee and caramel flavors.
Reserve Tawny Ports are aged for at least six years in oak before being bottled. This length of time in the oak breaks down the intense fruit flavors and adds more of the coffee, chocolate and caramel flavors. It also changes the color from the vibrant ruby and purple color of other Ports to more tawny appearance, hence the name.
Some of the best Tawny Ports are labeled 10, 20, 30, and 40 which indicates how long they were aged in oak. The color of Tawny Ports will be more brown with richer flavors of coffee, chocolate and caramel.
How to Drink Port
Since Port is made from red wine – minus White Port – the rule of thumb is to serve it at a cool room temperature or slightly chilled (64-66 degrees).
You can sip your Port in traditional red wine glasses or special Port glasses. Port glasses are smaller and allow for a 3-4 ounce pour.
If you're sipping in traditional wine glasses, don't go heavy on the pour, shoot for about 4 ounces since Port is higher in alcohol and sweeter than other wines. Plan to sip slowly and savor.
Foods to Eat with Port
Cheese: The sweetness of the Port and the saltiness of cheese creates a great sweet and savory pairing. This pairing works for ALL styles of Port.
Chocolate: Pairing a Ruby Port and Tawny Port with chocolate is always a winner. Deserts such as German chocolate cake, Dark chocolate and chocolate mousse, chocolate truffles are winners.
Traditional Deserts: Another great pairing for Tawny Ports include more traditional deserts such as cheese cake, Crème Brûlée, bread pudding, pecan pie, pumpkin pie.
Salty Appetizers: Like cheese, pairing Port with salty appetizers such as salty olives, pickles, pretzels or Marcona almonds creates a delicious sweet and savory pairing.
How Long Will Port Last
A bottle of Port will last for a few weeks, if not two months after it's opened. You will need to re-corked the bottle and keep it refrigerated. This is assuming you don't sip all of it at once.
Recommended Ports to Sip
When selecting a Port Wine to sip, always look for "Porto" on the bottle's label. This means the wine is truly a Port.
Two great Ports I recommend are Taylor's Vintage Port and Graham's 20 Year Old Tawny Port.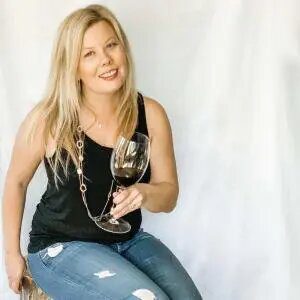 Elaine Schoch (pronounced the German way – Shock) is the editor and founder of Carpe Travel as well as an award-winning travel writer, wine judge, certified by the Wine & Spirit Education Trust (WSET) Level 2 and certified American Wine Expert. She is married to The Husband and has two kids, Princess One and Two – who's interest and knowledge in wine is quite extensive. Not to mention the stamps in their passports.