Idaho is growing a lot more than potatoes. With three official American Viticultural Areas (AVAs), 60+ wineries and more than 1,600 acres of grapes planted, Idaho's growth in the world of fine wines is booming…making it the perfect weekend wine country destination to sip in.
Our Idaho Wine Country Travel Guide shares a brief history of winemaking in Boise, Idaho, terroir, where to sip, where to stay, and things to do beyond the vines.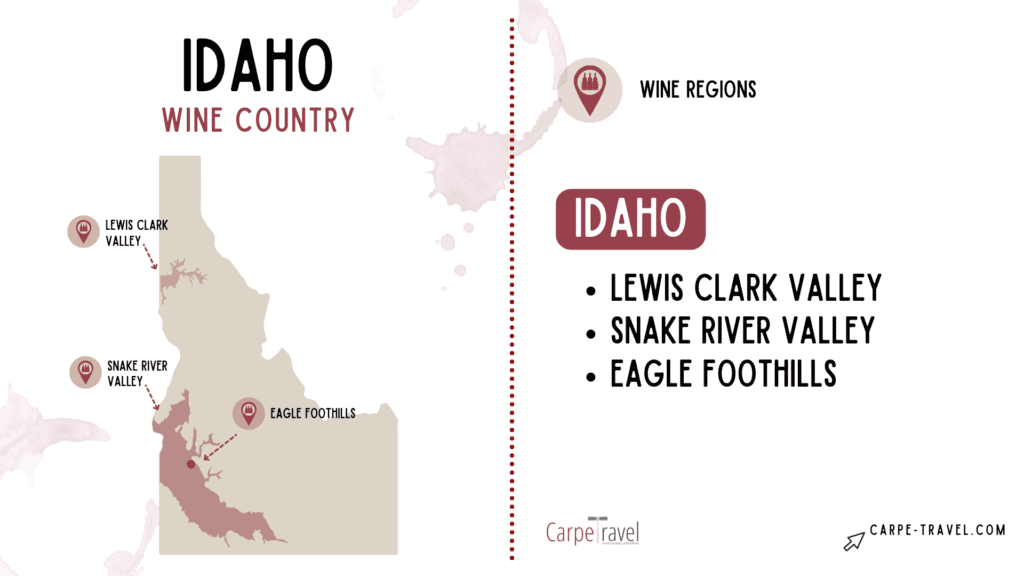 WHERE IS IDAHO WINE COUNTRY?
The Snake River Valley AVA is the main wine region in Idaho and is located in Boise. Here you will find 30 of the state's 60+ wineries within 35 miles of the city. Getting to Boise is easy given its central location. Fly direct into the Boise airport (BOI) and its a short drive into the downtown area.
BEST TIMES TO VISIT
The best time to visit Idaho wine country is late spring / early summer when the vines are filling out, blooms are bursting with color, and it is temperate enough to picnic outside and enjoy many Boise's outdoor activities. In the fall, harvest offers an added bonus that has the area buzzing. Note that fall in peak season, so prices may be higher than other times of the year. Summer and winter, with more extreme temperatures, keep some travelers away.
Two Frenchmen, Louis Desol and Robert Schleicher and one German, Jacob Schaefer were winning awards around the country before National Prohibition killed the industry and brought production to a halt. Idaho's State Prohibition began in 1916, followed by National Prohibition in 1920; it wasn't repealed until 1933.
In the 1970s, California sparked the revival of the American wine industry, which was felt throughout United States. In 1976, Ste. Chapelle Winery became the first post-Prohibition winery to open in Idaho. Today it remains Idaho's largest winery producing of 125,000 cases.
With more than 1,300 acres under vine, three federally recognized AVAs, 60+ wineries, Idaho wine country is growing into one of the U.S.'s most intriguing wine hot spots.
Today Idaho wine country is home to three official AVAs: Lewis-Clark, Eagle Foothills, a smaller AVA within the Snake River Valley AVA. With more than 60 wineries in the state – and 30 within 35 miles from Boise in the Snake River Valley – Boise is the where to stay for a taste of the Idaho wine country.
Snake River Valley's elevation ranges from 1,500 – 3,000 feet, which has been compared to the high mountain desert of the famed Rioja region in Spain. In comparison to other U.S. wine regions, the Snake River Valley AVA is home to some of the country's highest vineyard elevations. (Colorado is home to the highest elevation vineyards in the U.S. as well as the world.)
In terms of climate, the Snake River Valley AVA's intense summer growing season gets 16 hours of sunlight with temperatures reaching well over 90°F / 30°C and nighttime temps dropping to the 50s. This climate is a result of its raised elevation. The combination of intense sun, and cool, dry nights balances grape acidity and sugar. Think fruit-forward wine (due to the heat) with great balance and structured (thanks to the coolness).
TOP GRAPE VARIETIES
Idaho does not have a signature varietal…yet. A young wine region, producers continue to explore the grape varietals that will survive and thrive in the state's three AVAs. So far a few key ones that have taken root.
With 60+ wineries, Idaho wine country has plenty to sip. Here are our favorite Idaho wineries for your grape escape.
Ste.Chapelle
Winery
Telaya
Wine
Koenig
Vineyards
IDAHO WINE TASTING ITINERARIES
PLAN YOUR IDAHO WINE COUNTRY VACATION
Getting Around
FLYING: Boise is easy given its central location. Fly direct into the Boise airport (BOI) and its a short drive into the downtown area.
DRIVING: You will need a car to explore wine, unless you sip in the downtown tasting rooms. Even then, you will need an Uber or Lyft since not all are walk able. My recommendation is always to hire a driver.
WINE TOURS: Winery Seekers
Go truffle hunting! According to the Capital Press, "about 10,000 truffle-inoculated trees have been planted in the Snake River Valley and the area may have the largest concentration of truffle orchards in the country."
Outdoor enthusiasts love nearby Sun River for winter skiing and summer days on the water. Or, go for a hike in the Boise foothills on the Ridge to Rivers system. Need to stay closer to Boise, get out for a jog – or walk – along the Boise River Greenbelt.
Explore downtown Boise and sip in the local shops and restaurants. Take a tour of the Idaho State Capitol Building and visit the nearby Zoo Boise.
Sip in More Idaho Wine Country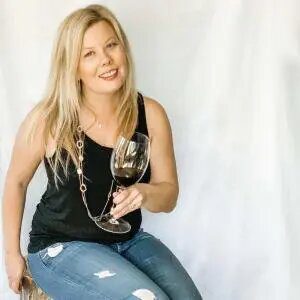 Elaine Schoch (pronounced the German way – Shock) is the editor and founder of Carpe Travel as well as an award-winning travel writer, wine judge, certified by the Wine & Spirit Education Trust (WSET) Level 2 and certified American Wine Expert. She is married to The Husband and has two kids, Princess One and Two – who's interest and knowledge in wine is quite extensive. Not to mention the stamps in their passports.