Getting to know Syrah Wine
Syrah (sear-ah) is a big, bold red wine with intense flavors. With a deep, ruby-red to purple hue Syrah wine is even darker than Cabernet Sauvignon and like Cab, it is capable of aging and improving over many decades.
I say Syrah, you say Shiraz...but it's all the same! In Australia, South Africa, and other New World wine regions, the grape is typically called Shiraz. Other names Syrah wine may go by include Sirac, Marsanne Noir, Entournerein, Serène, Hermitage, Crozes-Hermitage, Cornas, Côte-Rôti and St. Joseph.
The flavors in a Syrah wine are more intense when it is used as a stand-alone grape in the wine. But, in many regions it's used as a blending grape to bring bold flavors into the wines. Such as in Southern France where a lot of times the grape is used as a blending partner in the Rhone Regions to blend with Grenache and Mourvedre to form a GSM. (They're delish!)
A growing number of producers are highlighting the grape as a single varietal more and more given the versatility in its flavors based on the regions where its grown. For instance, in cooler regions, Syrah wine showcases flavors of plum, olive, leather and green pepperoni while in the warmer regions, the grape showcases flavors of blueberry and blackberry jam.
Dominant Flavors on the nose and the palate include, Blackberry, Plum, Tar, Leather, Anise, Rosemary, Black Pepper, Smoke, Chocolate, Lavender, Forest Floor, Earth, Dried Fruits, Smoked Meats. Syrah can be floral in its youth but once it matures you may experience more black pepper notes. With additional age, the wine can produce flavors of leather and smoked meats.
Syrah is grown and produced in many styles around the world. Some of the more well-known regions for producing Syrah wine includes the Rhone Valley in France, Australia, and Paso Robles in California.
France
Côtes du Rhône in France is one of the main regions for Syrah wines. This also includes, Cornas, Hermitage, St. Joseph, Côte-Rôtie.
Australia
There are several regions in Australia producing outstanding Syrah including, McLaren Vale, Barossa and Limestone Coast.
United States
There are several regions in California producing outstanding Syrah including, Paso Robles, Santa Barbara, Napa, Sonoma and in Washington state the Columbia Valley.
Syrah is a medium to full-bodied wine (it's big and bold) with a low to medium acidity and can be extremely high in alcohol. The wine should be consumed in a large red wine glass and has a long shelf life of about 10 years, however some may age 12-20 years. The average bottle costs about $20 but can be upwards of $100. I suggest you plan to decant your wine to smooth out those intense tannins.
When is the Right Mood for Syrah Wine?
Syrah wine is great for Network Television, Netflix, Cooking Companion, Conversational Wine, Cigar Worthy, Dinner Party, Holiday Wine, Fireplace Cozy Time.
Recommended Syrah Wine
Looking for a recommendation on Syrah wines to try? Here are few…
Pin it for later!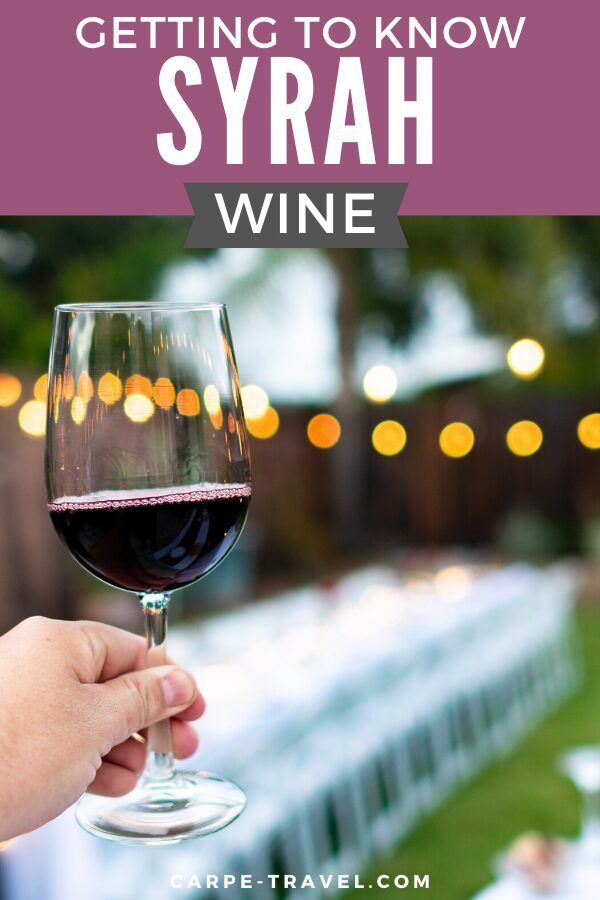 Carpe Travel collaborated with Maia Parish to compile the grape varietal overviews. Maia Parish is an award-winning events producer, sommelier, wine judge, and media consultant. She lives in Denver, Colorado and likes to eat copious amounts of food. You can find her here www.linktr.ee/thewinemistress.