Finger Lakes Wine Travel Guide
Named by Wine Enthusiast as one of the Top 10 Worldwide Wine Destination, along with numerous other accolades, the Finger Lakes wine country isn't just growing grapes. Today, it's growing in popularity as an affordable and beautiful wine country destination.
New York State is home to more than just Manhattan. From rolling hills and farmland to mountain ranges and waterfalls, there is so much to explore. One of the best examples of this would be the Finger Lakes region. Here you'll find a series of lakes created many moons ago by glaciers scraping across the land, much like fingers drawing in the sand. The Finger Lakes are also where you can find hundreds of wineries, breweries, and distilleries; majestic waterfalls; great shopping; and beautiful parks.
The hardest decision you'll have when visiting the Finger Lakes region is choosing which lake to visit first! They all have different perks, so read on to see what strikes your fancy the most.
What makes Finger Lakes wine so amazing? Read on to learn more about a region that wine lovers and those who simply like to sip their way through the weekend should not miss.
CLICK TO SEE TABLE OF CONTENTS
ABOUT THE FINGER LAKES WINE REGION
Almost all of the locations are dog-friendly. The Seneca Lake Wine Trail has even published a book about the winery dogs because so many of them have dogs owned by winemakers!
By far the largest of all the lakes and probably the most famous. Seneca Lake is home to over 100 wineries, breweries, and distilleries. Definitely the place where you can spend multiple days and still not see it all!
One of the most famous natural landmarks in New York State resides at the southern shore of Seneca Lake. Known for stunning waterfalls, hiking trails, camping, and even NASCAR, Watkins Glen is a place that you have to visit if you are in the Finger Lakes. (Please note that if you've brought your furry friend with you, he/she is not allowed into the gorge.)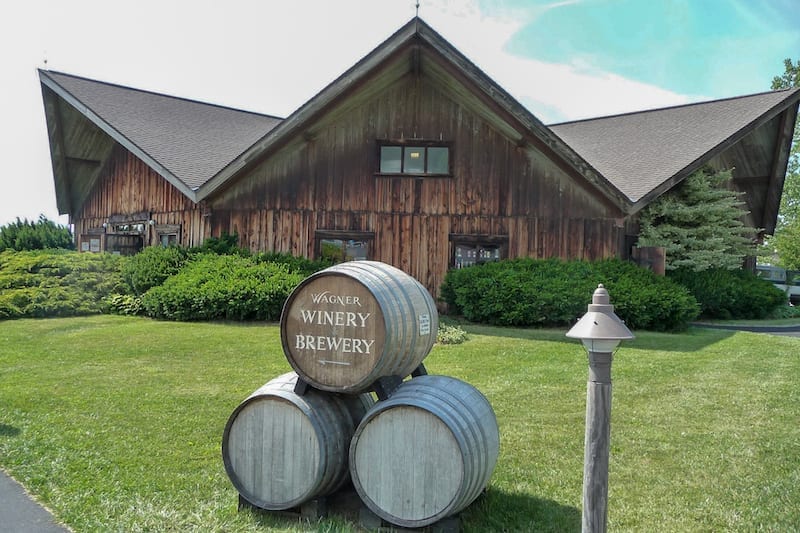 Home to the United States' first wine trail, Cayuga Lake can't be missed. The northern end of the lake is home to Seneca Falls, the inspiration for the town in "It's A Wonderful Life". And, yes, every year around Christmas they celebrate it. Seneca Falls is also the historic site of the women's suffrage movement. Women won the right to vote here! Take some time to wander through the town and check out the memorials along the river.
At the southern end of Cayuga Lake, you'll be in Ithaca, the 'hippie' village of New York. Besides being home to Ivy League Cornell University, Ithaca is known for its gorges and waterfalls. Several state parks are within a short drive from each other, and each offers amazing trails and scenic views.
Keuka Lake is set a little further south than the rest, and is home to more breweries than wineries. But, at the southern end of the lake you'll find Bully Hill Vineyards. Known for its sassy names and artwork, the winery produces a range of mid-to-sweet wines. It also has a restaurant attached with some incredible barbecue – definitely worth the trip.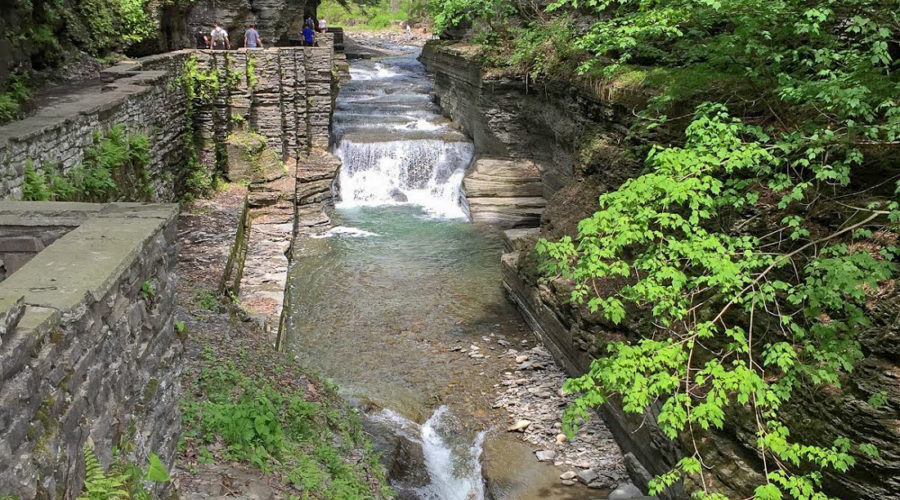 The town of Skaneateles is known as one of the more 'posh' areas in Central New York, and home to a slew cute shops, scrumptious bakeries, and great spots for dinner. As far as Finger Lakes wineries? Skaneateles is only home to one: Anyela's Vineyards.
Sad to say that Owasco isn't known for any wineries. It's claim to fame is the town of Auburn that sits at the northern point of the lake. Why should you know about Auburn? Well, it was the home of Harriet Tubman and an important stop on the Underground Railroad. Auburn recently opened a heritage center for visitors to learn about its unique history.
Seneca, Cayuga, and Keuka Lakes have organized wine trails and events that happen year-round. Most of the events require tickets to be purchased in advance, and the more popular ones really do sell out quickly!!
Every wine has a story, and it's so much more than what's in the bottle. Meet the makers of your favorite wines in the Finger Lakes, those shaping and creating today's wine regions. And, get their tips on what to see and do on your next wine getaway.
There are more than 130 wineries nestled among the 11 lakes of the Finger Lakes. This cool-climate wine region specializes in white wines, with Riesling being the star. In fact, according to the Finger Lakes Wine Alliance, the area is home to over 200 Riesling brands!
While New York's climate is typically too cold for red wine grapes to fully ripen, some seem to manage it just fine. Specifically, you will find quality Merlot, Cabernet Franc, Pinot Noir and hybrid Baco Noir wines coming out of the Finger Lakes.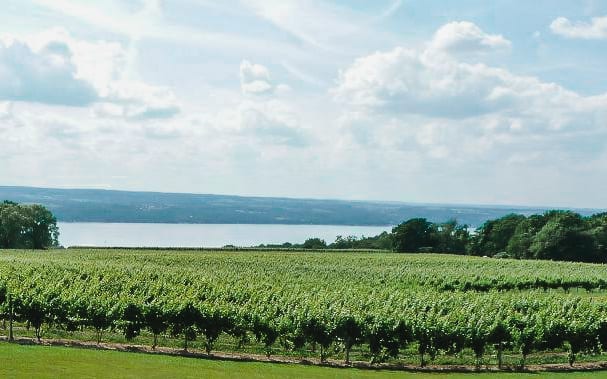 The Finger Lakes wine region a short drive - 3-5 hours - from most major cities in the Northeast including: Boston, Cleveland, New York, Philadelphia, Pittsburgh, and Toronto.
Read on to find Carpe Travel's first-hand travel tips and recommendations to help make your stay in Finger Lakes Wine Country a memorable one.
With more than 130 wineries to visit in the Finger Lakes wine country, narrowing it down can be a challenge. No need to stress, we're here to help.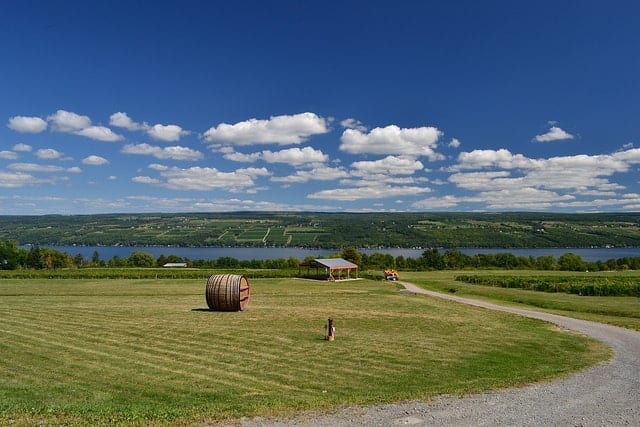 Among the Vines
Carpe Travel's Top Picks
Dr. Konstantin Frank's Vinifera Wine Cellars
Hermann J. Wiemer Winery
Sheldrake Point or Long Point (both on Cayuga Lake)
Fox Run, Heron Hill (on Keuka)
Anthony Road Winery (recent award winner)
Lamoreaux Landing
Head over to Seneca Lake or Keuka Lake, and follow the Finger Lakes wine trails along the lakes, stopping at as many of the the wineries as you dare for wine tasting, shopping for cases of wine, and tours.
Be sure to check out these Walla Walla Festivals and Events that are not to be missed!
July / Watkins Glen, NY
The Finger Lakes Wine Festival—named "Best Wine Festival in the USA" by USA Today readers—is held each July at Watkins Glen International in Watkins Glen, NY—also named "Best NASCAR Track" by readers of USA Today. The event fuses wine tasting with regional artisans, music, culinary classes, cooking demonstrations, and breweries and draws thousands of visitors each year. Camping, glamping, and pace car rides at Watkins Glen International are also available during the event.
September / Rhinebeck, NY
The Hudson Valley Wine and Food Fest is a celebration of the bounty of New York. The food and wine festival features hundreds of wines from Hudson Valley wineries, NY distilled spirits, craft beers and gourmet specialty foods from all over the country. Visitors can learn more about wine through the festivals educational seminars and brush up on their culinary skills with cooking demonstrations from regional celebrity chefs throughout the weekend.
February
This unique winter festival, hosted by Casa Larga Vineyards, celebrates the sweet dessert wines produced from grapes that have been left to freeze naturally on the vine. The festival offers visitors ice wine samples from a variety of New York wineries, an ice wine infused menu, horse-drawn wagon rides through the vineyard, ice wine tours, seminars, chef cook-offs, and more.
October / New York, NY
Hosted by Wine Spectator, the event includes sit-down seminars, and a VIP Critic's Choice Grand Tasting, a two-night event featuring 250+ wines from the world's best wine-growing regions. Guests will also enjoy wine pairing lunches and a grand award banquet featuring the wining wines from the Grand Tasting.
October / New York, NY
The NYC Wine & Food Festival is considered the largest food and wine festival in New York City. With more than 100 events, it is widely recognized for its tastings in celebration of America's favorite foods, intimate dinners with world-renowned chefs, late night parties, hands-on classes, educational seminars, coveted wine tastings and more. Headed into its 11th year, guests return year after year to sip, swirl and savor world-class cuisine, wine and spirits served up by the industry's finest and America's most beloved television chefs all in support of the fight to end hunger. To date, the festival has raised$11.5 million to help fight hunger, with 100 percent of the net proceeds benefiting the No Kid Hungry® campaign and Food Bank For New York City.
February to March
Entering its 11th year, Winterfest is a must-experience wine festival this season. The festival takes place on Long Island's East End on the famed North and South forks home to dozens of vineyards, charming B&B's and pristine beaches. From February to March, the four-week long Winterfest combines locally-made wine selections with live music, dance and theater performances and farm-to-table culinary delights. Featured events include private tastings with winemakers, VIP tours, exclusive specials and yoga/wine activities all paired with transportation and luxurious hotel accommodations.
More Resources for Exploring the Finger Lakes and New York
This page is being updated. Stay tuned for more information on the Finger Lakes wine country.