Named by Wine Enthusiast as one of the Top 10 Worldwide Wine Destination, along with numerous other accolades, the Finger Lakes wine country in New York state isn't just growing grapes. Today, it's growing in popularity as an affordable and beautiful wine country destination.
New York state is home to more than just Manhattan. From rolling hills and farmland to mountain ranges and waterfalls, there is so much to explore. One of the best examples of this would be the Finger Lakes region. Here you'll find a series of lakes created many moons ago by glaciers scraping across the land, much like fingers drawing in the sand. The Finger Lakes are also where you can find hundreds of wineries, breweries, and distilleries; majestic waterfalls; great shopping; and beautiful parks. The hardest decision you'll have when visiting the Finger Lakes region is choosing which lake to visit first! They all have different perks, so read on to see what most strikes your fancy.
Our Finger Lakes Wine Country Travel Guide shares a brief history of the region, terroir, where to sip, where to stay and things to do beyond the vines.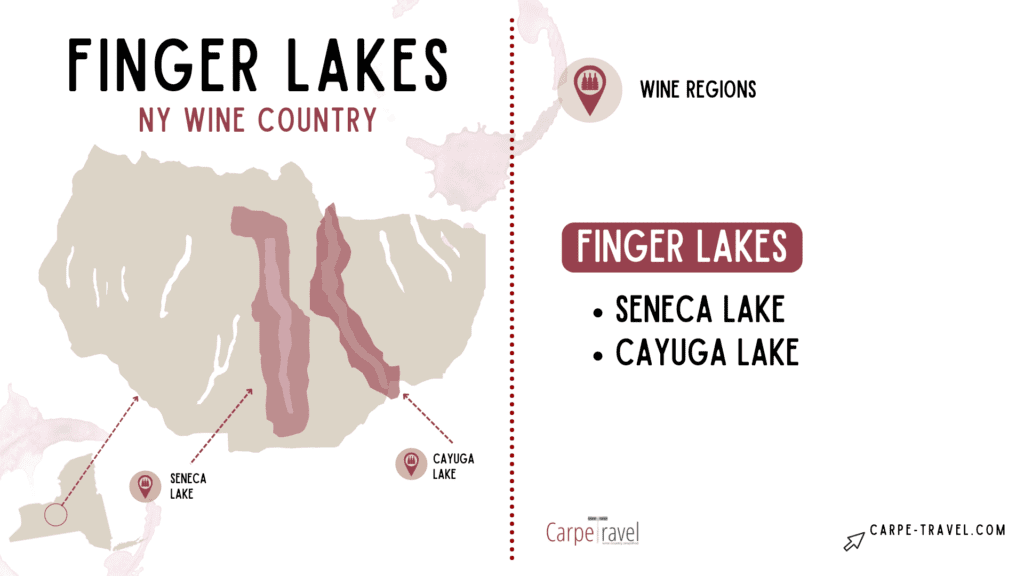 WHERE IS FINGER LAKES WINE COUNTRY?
The Finger Lakes wine region is a short drive – 3 to 5 hours – from most major cities in the Northeast including: Boston, Cleveland, New York, Philadelphia, and Pittsburgh. The closest airports are Rochester International Airport (about 45 minutes drive) and Hancock International Airport in Syracuse (about 1 hour drive).
BEST TIMES TO VISIT
The busiest time of year for winery visits in the area is summer and fall, but worth it for the upbeat energy and activities. Off-season runs winter and spring, the slower pace means a more personal and low-key tasting experience.
Grape growing began in the Finger Lakes dating back to 1829 with Catawba and Isabella varieties.
The Finger Lakes Tourism Alliance shares that area grape growing dates back to 1829 when Catawba and Isabella grapes were first planted by Reverend William Bostwick in his Hammondsport rectory garden.
But things didn't really get serious until the passage of the 1976 New York Farm Winery Act allowing grape growers to sell wine commercially. Cool fact: the region is home to the first bonded winery in the United States—U.S. Bonded Winery No. 1; Hammondsport-based Pleasant Valley Wine Company.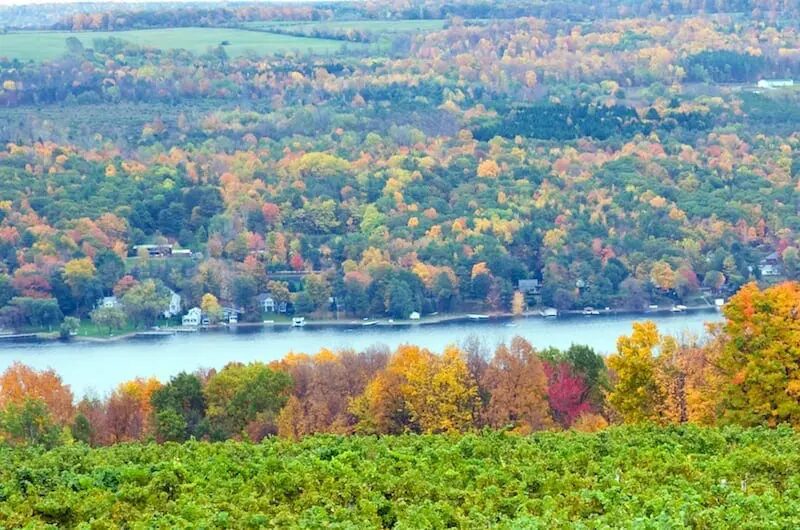 More than 130 wineries are nestled among the 11 lakes of the Finger Lakes.
This cool-climate wine region specializes in white wines, with Riesling being the star. In fact, according to the Finger Lakes Wine Alliance, the area is home to over 200 Riesling brands!
While New York's climate is typically too cold for red wine grapes to fully ripen, some seem to manage it just fine. Find quality Merlot, Cabernet Franc, Pinot Noir, and hybrid Baco Noir wines coming out of the Finger Lakes.
The Five Main Finger Lakes
Seneca Lake: By far the largest of all the lakes and probably the most famous. Seneca Lake is home to over 100 wineries, breweries, and distilleries. Definitely the place where you can spend multiple days and still not see it all!
One of the most famous natural landmarks in New York State resides at the southern shore of Seneca Lake. Known for stunning waterfalls, hiking trails, camping, Watkins Glen and even NASCAR.
Skaneateles Lake: The town of Skaneateles is known as one of the more 'posh' areas in Central New York, and home to a slew cute shops, scrumptious bakeries, and great spots for dinner. As far as Finger Lakes wineries it's currently home to online one – Anyela's Vineyards.
Owasco Lake: Sad to say that Owasco isn't known for any wineries. It's claim to fame is the town of Auburn – the home of Harriet Tubman and an important stop on the Underground Railroad. Auburn recently opened a heritage center for visitors to learn about its unique history.
Cayuga Lake: Home to the United States' first wine trail, Cayuga Lake can't be missed. The northern end of the lake is home to Seneca Falls, the inspiration for the town in "It's A Wonderful Life". And, yes, every year around Christmas they celebrate it. Seneca Falls is also the historic site of the women's suffrage movement. Women won the right to vote here! Take some time to wander through the town and check out the memorials along the river.
At the southern end of Cayuga Lake, you'll be in Ithaca, the 'hippie' village of New York. Besides being home to Ivy League Cornell University, Ithaca is known for its gorges and waterfalls. Several state parks are within a short drive from each other, and each offers amazing trails and scenic views.
Keuka Lake: Keuka Lake is set a little further south than the rest, and is home to more breweries than wineries. But, at the southern end of the lake you'll find Bully Hill Vineyards. Known for its sassy names and artwork, the winery produces a range of mid-to-sweet wines. It also has a restaurant attached with some incredible barbecue – definitely worth the trip.
With 130 wineries among the five lakes, there is a lot to sip in.
We've shared the best Finger Lakes wineries for your grape escape.
Dr. Konstantin Frank's Vinifera Wine Cellars
Hermann J. Wiemer
Winery
Anthony Road
Winery
Plan Your Visit to the Finger Lakes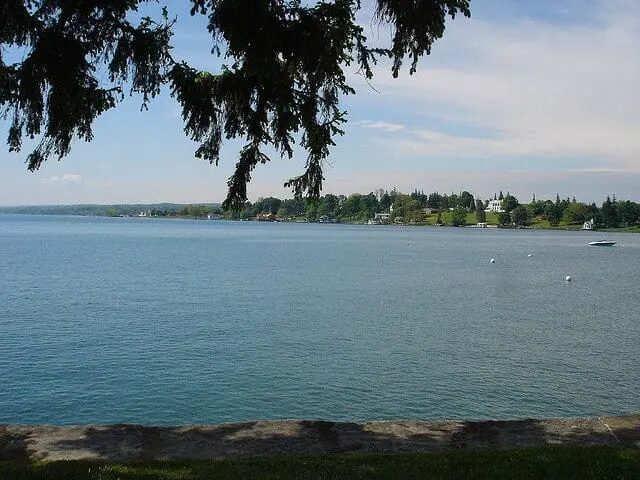 Must Sip Wine Festivals in the Finger Lakes
Finger Lakes Wine Festival, Named "Best Wine Festival in the USA" by USA Today readers—is held each July at Watkins Glen International in Watkins Glen, NY—also named "Best NASCAR Track" by readers of USA Today. The event fuses wine tasting with regional artisans, music, culinary classes, cooking demonstrations, and breweries and draws thousands of visitors each year. Camping, glamping, and race car rides at Watkins Glen International are also available at the event.
Don't miss all the amazing activities in and around the Finger Lakes wine country. Here are some of our favorites.
Sip in More New York and Finger Lakes Wine Country