Did you know New York ranks third in wine production in the United States and first among the states east of the Rockies? The Finger Lakes is the states largest – and tastiest – wine region. Get to know the region and the Finger Lakes wineries with our short overview.
By Danielle Benjamin, Contributing Writer
@wanderlustbdgt
New York State is home to more than just Manhattan. From rolling hills and farmland to mountain ranges and waterfalls, there is so much to explore. One of the best examples of this would be the Finger Lakes region. Here you'll find a series of lakes created many moons ago by glaciers scraping across the land, much like fingers drawing in the sand. The Finger Lakes are also where you can find hundreds of wineries, breweries, and distilleries; majestic waterfalls; great shopping; and beautiful parks.
The hardest decision you'll have when visiting the Finger Lakes region is choosing which lake to visit first! They all have different perks, so read on to see what strikes your fancy the most.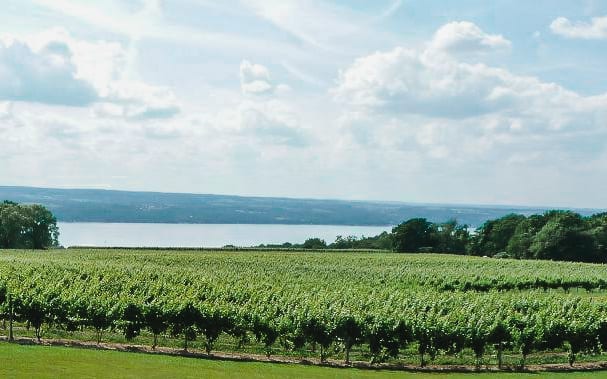 The Wine
---
Because of the climate and the nutrients of the soil, the Finger Lakes specialize in white wines – particularly rieslings. Of course you'll still find wines of almost every variety at the wineries, because they have each developed their own grapes and creative methods to make wines that appeal to all tastes! I happen to be a big fan of the sweeter wines like moscato – yum!
The Finger Lakes Wineries
---
I wasn't kidding when I said there were hundreds of wineries in the Finger Lakes. Seneca Lake alone has well over 100 now and that's just one of the big five Finger Lakes. Add the breweries and distilleries to that, and you'll be busy for quite a while. You better have a DD! In case you don't, there are plenty of tour companies that offer limos and buses for rent to drive you around the lakes.
Fun fact: Almost all of the locations are dog-friendly. The Seneca Lake Wine Trail has even published a book about the winery dogs because so many of them have dogs owned by winemakers!
Finger Lakes Wine Trails & Events
---
Seneca, Cayuga, and Keuka Lakes have organized wine trails and events that happen year-round. Most of the events require tickets to be purchased in advance, and the more popular ones really do sell out quickly! (I'm looking at you, Deck the Halls…). Also, sometimes when you purchase your tickets, you'll be asked to choose a starting winery. This helps them control the crowds so everyone isn't at the same wineries at the same time! Please note that not all of the wineries on the given trail participate in the events, but your ticket will tell you which ones to visit!
Not a drinker? That's okay! Most of the events offer DD tickets as well at a significant discount. You still get the food and the goodies, just not the wine. Drive safe!
The Main Five Finger Lakes
---
Seneca Lake
By far the largest of all the lakes and probably the most famous. Seneca Lake is home to over 100 wineries, breweries, and distilleries. Definitely the place where you can spend multiple days and still not see it all!
One of the most famous natural landmarks in New York State resides at the southern shore of Seneca Lake. Known for stunning waterfalls, hiking trails, camping, and even NASCAR, Watkins Glen is a place that you have to visit if you are in the Finger Lakes. (Please note that if you've brought your furry friend with you, he/she is not allowed into the gorge.)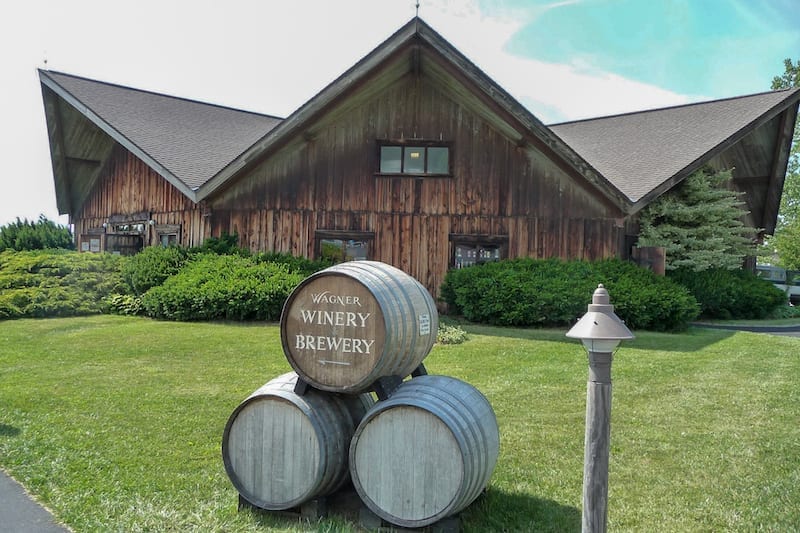 Seneca Lake Wine Trail Events
Polar Passport – January
A small number of the wineries are open to the public during the winter. The polar passport allows you to visit those at a discounted rate.
Bargain Bash – January
One of my favorite events! The bargain bash doesn't require tickets – it is just the week of 'spring cleaning' for the inventory at the wineries. You can get great deals on bottles and cases of wine. (I managed to pick up a few cases of wine for my wedding for only $60 per case. Believe it; it's true.)
Chocolate & Wine – February
Exactly what you're thinking! All of the wineries involved offer samples of wine paired with bites of chocolate-themed dishes.
Pasta & Wine Weekend – March
Samples of wine paired with pasta dishes. What more could you want?
Spring Wine & Cheese Weekend – April
The classic – wine & cheese pairings at all participating wineries.
Seneca Lake Wine & Food Festival – May
Located at Watkins Glen (not the wineries themselves), this event brings several of the lake's wineries together with food samples in one location.
Smokin' Summer Kickoff – June
Participating wineries offer wine samples paired with your favorite smoked and barbecued summer food.
Deck the Halls – November & December
By far the most popular winery event in the Finger Lakes, Deck the Halls gets everyone in the Christmas spirit. You pick up your wreath at the first winery you visit, then you get wine samples and an ornament to decorate the wreath at each of the participating wineries.
Cayuga Lake
Home to the United States' first wine trail, Cayuga Lake can't be missed. The northern end of the lake is home to Seneca Falls, the inspiration for the town in "It's A Wonderful Life". Yes, every year around Christmas they celebrate it! Seneca Falls is also the historic site of the women's suffrage movement. Women won the right to vote here! You can wander through the town and check out the memorials along the river.
At the southern end of Cayuga Lake, you'll be in Ithaca, the 'hippie' village of New York. Besides being home to Ivy League Cornell University, Ithaca is known for its gorges and waterfalls. Several state parks are within a short drive from each other, and each offers amazing trails and scenic views. That's why we always say "Ithaca is gorges!" My favorite in the area is Robert H. Treman State Park because of the walkways and staircases built out of stone along the gorge with multiple waterfalls along the way. Bonus? They are all dog-friendly, so feel free to bring your pup with you!
Cayuga Lake Wine Trail Events
Mardi Gras – February
Sample wine and food at each winery and collect your Mardi Grad beads!
Bacon on the Lakein – March
Each winery offers four wine samples along with a taste of a dish made with bacon. In other words, perfection.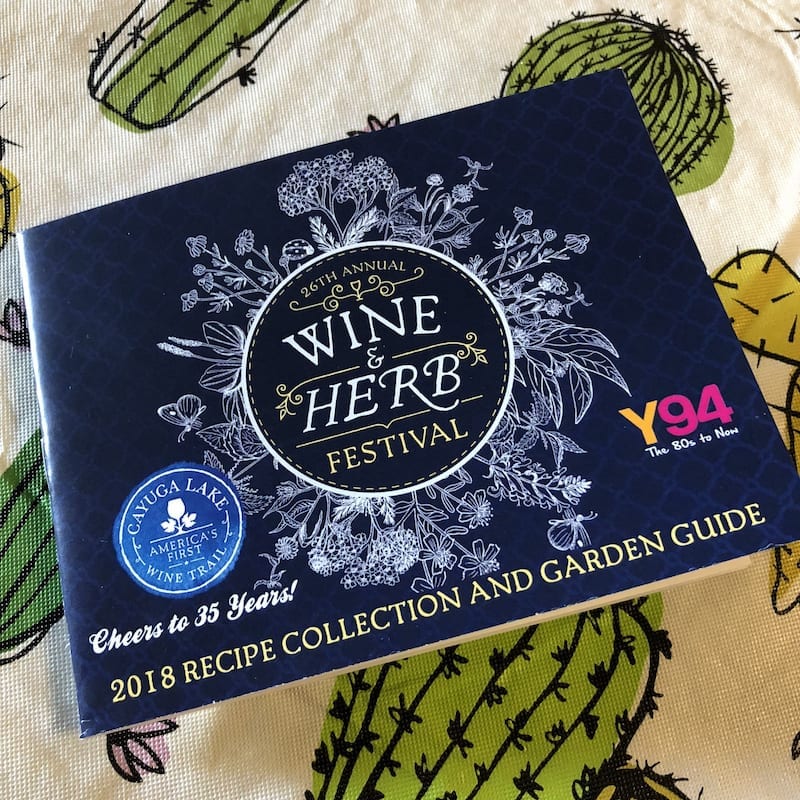 Wine & Herb Festival – May
One of my favorites! Each participating winery offers you a wine sample (or a few), a seedling of an herb or vegetable, and a bite of a dish they've created using that herb. So delicious and a great way to get your summer herb garden started! Even better, you can get the recipe book so you can recreate the recipes at home once your plants grow! Check out how I spent my 30th birthday at Cayuga Lake's Wine & Herb Fest!
Holiday Shopping Spree – November
Just like Seneca's Deck the Halls, you'll get a grapevine wreath and souvenir wine glass to start. Each winery you visit will offer you wine samples, food, and an ornament to take home.
Keuka Lake
I always think of Keuka Lake as the lake that is shaped like a slingshot! It's set a little further south than the rest, and is home to more breweries than wineries. But, at the southern end of the lake you'll find one of my favorite of the Finger Lakes wineries – Bully Hill Vineyards. Known for their sassy names and artwork, they have quite a range of mid-to-sweet wines. They also have a restaurant attached with some incredible barbecue! Definitely worth the trip.
Keuka Lake Wine Trail
The smallest of the Finger Lakes wine trails, Keuka Lake only officially includes five wineries. They offer events similar to the others – a wine & herb festival in the spring, a summer BBQ weekend, a fall harvest celebration, and a winter holiday event.
Skaneateles Lake
The town of Skaneateles is known as one of the more 'posh' areas in Central New York, being home to some of the wealthiest people around. Derek Jeter even owned a house on the lake for a few years.
There are boat tours along the lake to get water views of the mansions surrounding the shore. A walk through town will show you some very cute shops, scrumptious bakeries, and great spots for dinner. As far as Finger Lakes wineries? Skaneateles is only home to one: Anyela's Vineyards, but they have a gorgeous venue and even better views of the rolling hills it sits on!
Owasco Lake
Sad to say that Owasco isn't known for any wineries. It's claim to fame is the town of Auburn that sits at the northern point of the lake. Why should you know about Auburn? Well, it was the home of Harriet Tubman and an important stop on the Underground Railroad. Auburn recently opened a heritage center for visitors to learn about its unique history.
That's Not All…
---
I've covered just the biggest five Finger Lakes, there are several smaller ones. No matter what you choose to do in the Finger Lakes, you're sure to have a good time. So the only question is, which winery will you visit first?
Interested in learning more about New Yorks wine regions? The Finger Lakes and its wineries, click over to Carpe Travel's New York Wine Travel Guide.
About the Contributing Writer: Danielle Benjamin is the brains behind the Wanderlust on a Budget blog.  You can find her there as well as on Facebook,  Twitter and Instagram.