Danielle Benjamin, Contributing Writer
With well over a hundred wineries in the Finger Lakes, it seems impossible to narrow them down to ones you can visit in a single trip. Luckily, we've done the research for you. Not that we minded! Wine tasting throughout the Finger Lakes is a job we'll take any day. So here are our recommendations for the top 10 wineries in the Finger Lakes. They've been chosen based on the quality of their wines and their unique histories. Follow the order for a perfect weekend of wine tasting in Upstate New York.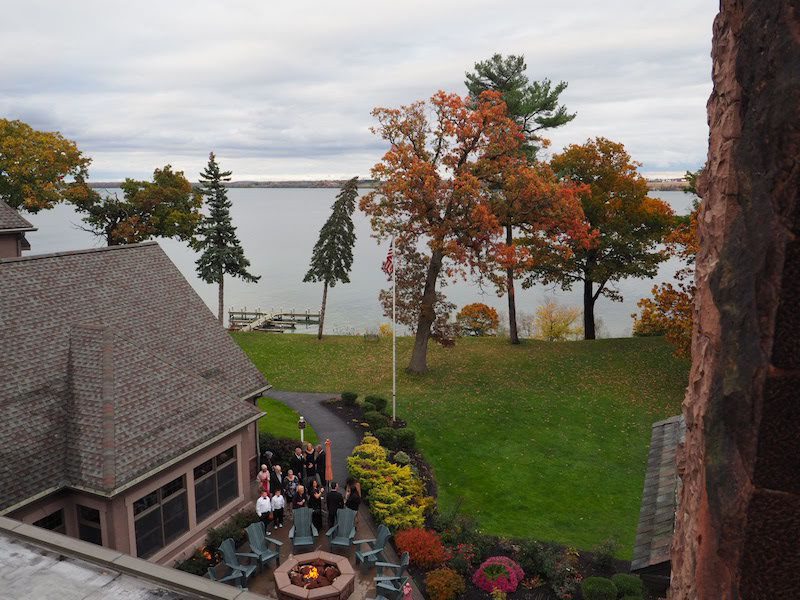 Belhurst Castle & Winery – Geneva, NY
Belhurst Castle is easily one of the most famous and most recognizable wineries in the Finger Lakes. Not to mention the most haunted! The castle and winery sit at the top of Seneca Lake in the city of Geneva. The beautiful property has been named to several top 10 lists, often for best wine hotel. And for good reason! The castle and nearby properties include three hotels, two restaurants, a spa, a salon, craft beer and wine tasting, and some amazing lake views.
Goose Watch Winery – Romulus, NY
When you visit Goose Watch Winery, grab a glass of wine and head to the top deck. There is no better way to spend an afternoon than sipping award-winning wine and enjoying the view of Cayuga Lake. Wines from Goose Watch are consistently awarded for their quality. They were also among the first in the Finger Lakes to create a pink Moscato.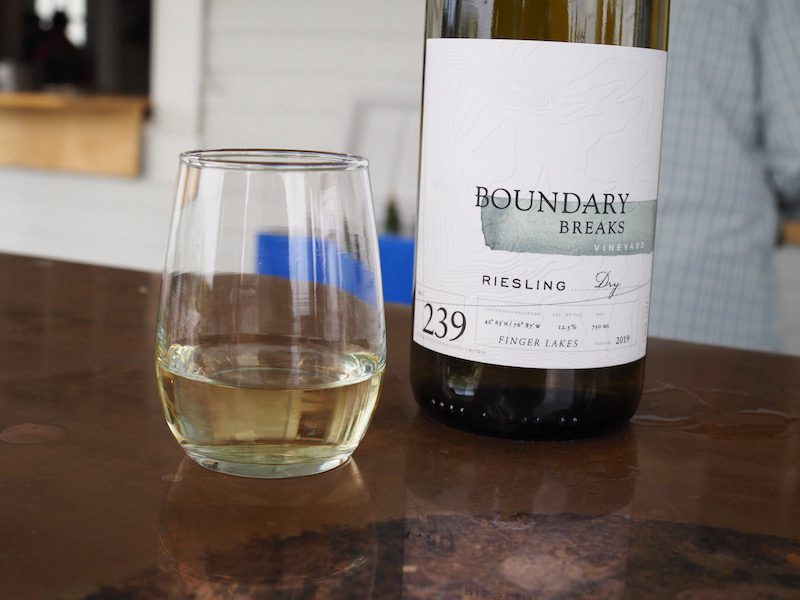 Boundary Breaks Vineyard – Lodi, NY
If Riesling is your style of choice, Boundary Breaks Vineyard is a must-visit. They are proud to claim that Riesling is their first love, and they share that love with their customers. They create Rieslings that range in sweetness, acidity, and flavor. And they are all incredible. But if whites aren't your first choice, there are a handful of red wines available that are just as good. No matter what you choose, you can't go wrong. So grab a glass and a cheese board, find an Adirondack chair on the patio, and enjoy one of the best views on Seneca Lake.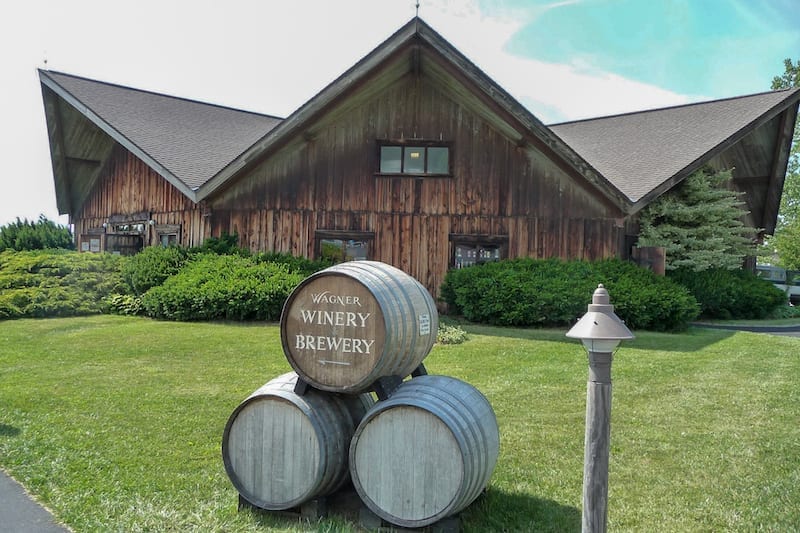 Wagner Vineyard Estate Winery – Lodi, NY
Looking to please everyone in your party? Wagner Vineyard has you covered with the true trifecta: wine, craft beer, and food. The estate winery has 225 acres of grape vines, allowing them to produce about 30 different wines from grapes grown exclusively on their property. Whites, blushes, reds, sweet, dry – there really is something for everyone.
It's also interesting to note that Wagner recently installed enough solar panels to produce more than ⅔ of the energy they use on the estate!
Glenora Wine Cellars – Dundee, NY
If you want to visit the oldest winery on Seneca Lake, you have to go to Glenora Wine Cellars. The winery resort opened in 1977 and has become well-loved since. Glenora produces every variety of wine from white to red to fruit, dry to sweet, though they have a special fondness for Rieslings. Animal lovers will also enjoy the SpokesPup series of wines. Named in honor of different rescue dogs, a portion of each purchase goes to animal shelters.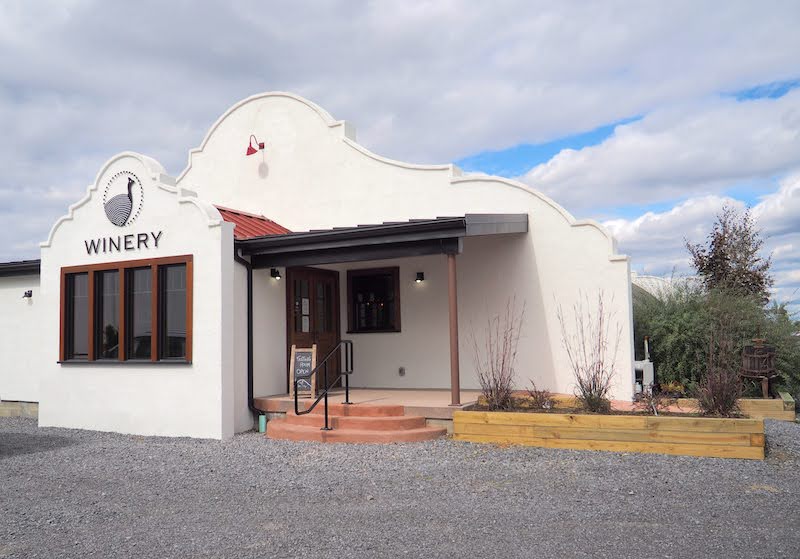 Tabora Farm & Winery – Dundee, NY
Tabora Winery is strikingly different from many of the other wineries in the Finger Lakes. That's because both the name and Cape Dutch style of their buildings come from Cape Town. Owner Jane Eatheron was born in South Africa and wanted to bring her heritage to their business.
The winery sits on their 250-acre farm alongside their café. Make sure that you bring an appetite when you visit Tabora. Their sandwiches, baked goods, and other menu items are all incredible. Seriously. It's the perfect spot to grab a bite to eat while visiting the wineries. The wines are available in styles to match anyone's taste, from dry to sweet in whites and reds.
Miles Wine Cellars – Himrod, NY
Miles Wine Cellars is known for two main things: their wine and their spirits. And we aren't talking about alcohol. Ghosts. Several generations of the Miles family have had experiences in the Greek Revival Mansion that houses the winery. If their award-winning wine and wine slushies aren't enough to entice your visit, perhaps the spirits will. You can even spend a night in one of the rooms at the inn.
Dr. Konstantin Frank Winery – Hammondsport, NY
Located on the western side of Keuka Lake, Dr. Konstantin Frank Winery is home to some of the oldest vineyards in the country. The winery was created by Dr. Frank himself, who emigrated from Ukraine in search of a new life in the US. Since that time, Dr. Frank Winery has been producing some of the best wines in the Finger Lakes region, regularly earning awards for their excellence.
Pleasant Valley Wine Company – Hammondsport, NY
Pleasant Valley Wine Company is the oldest winery in the Finger Lakes. That's right. The winery was established in 1860 and its 8 historic buildings are listed on the National Register of Historic Places. Of course this makes this winery a true treasure to visit.
They specialize in sweeter wines in addition to their Champagne, Ports, and Sherries. Because of their long history, the winery has changed owners and names several times. Now you can find their wines with the following brands: Autumn Frost, Brickstone Cellars, Gold Seal, Great Western, Pleasant Valley, and Widmer. Their Great Western Champagne has become a local favorite. It's the official Champagne of both the National Women's Hall of Fame and the Watkins Glen International Race Track.
Arbor Hill Grapery & Winery – Naples, NY
A trip over to Canandaigua Lake brings you to Arbor Hill Grapery & Winery. Their love for grapes extends beyond their wine, to jams, jellies, and the local favorite grape pie – a Naples tradition! The wide variety of wine includes more on the sweet side than dry, and the restaurant onsite also features local craft beer. Truly something for everyone!
Sip in More New York and Finger Lakes Wine Country