Over the years I've interviewed a number of winemakers and have found a few trends when it comes to how people step into this career. Some were farmers who made the transition to vines. Others were generational. But even more were doctors who went rogue, or artists who found the convergence of science and art in a bottle of wine. The latter is where Dan Faber at Rolling Hills Estate Winery in New York comes into play.
I've had the pleasure to chat and work with Dan Faber and Rolling Hills Estate Winery to learn about New York's newest – and coldest – American Viticultural Area (AVA), the Champlain Valley of New York AVA. The two are instrumental in shaping the future of winemaking here and possibly the future of winemaking in today's world of climate change.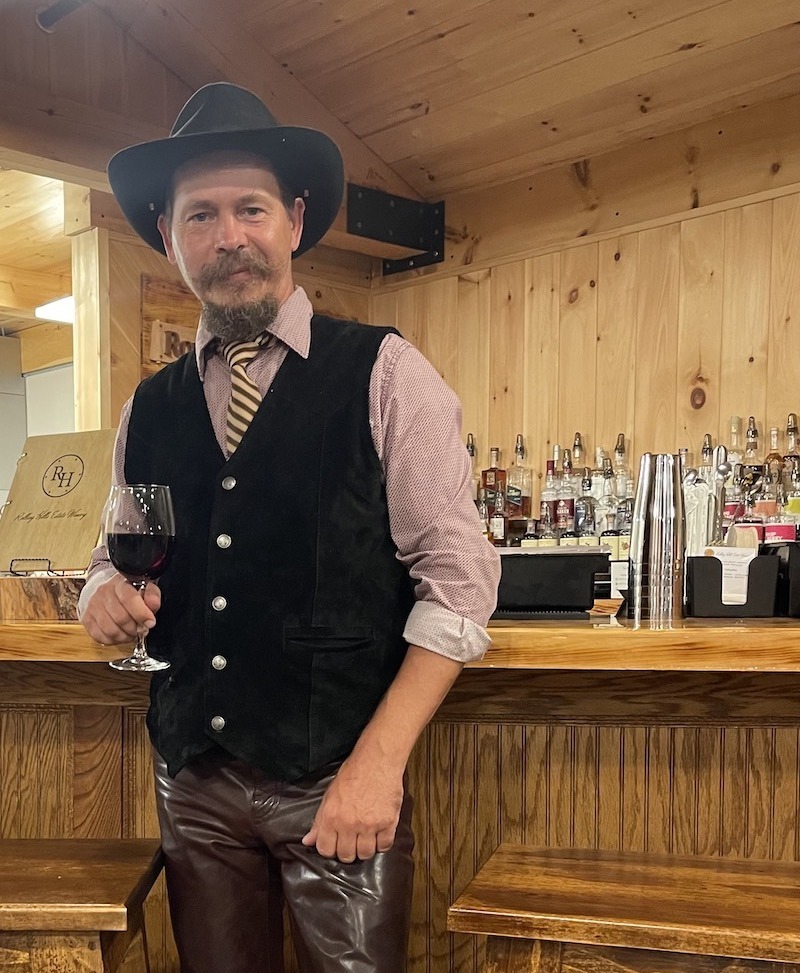 Interview with Dan Faber, Rolling Hills Estate Winery
"Winemaking is the perfect blend of art and science. It's where they converge."
How did you get into winemaking?
After September 11, 2001, Dan left his job as a music engineer in New York City to go to "the most beautiful, peaceful place on earth," Lake Champlain. Having grown up playing hockey in the Lake Champlain area he knew exactly where he needed to be to write his next chapter…and career as a winemaker.
"I was always attracted to fermenting in college – the art and science behind it. Back then it was beer and dandelion wine. Over the years, I've found that winemaking is the perfect blend of art and science. That's where they converge. The journey to wine and the intricacies of making wine felt natural and became my destiny," said Dan Faber, head winemaker at Rolling Hills Estate Winery.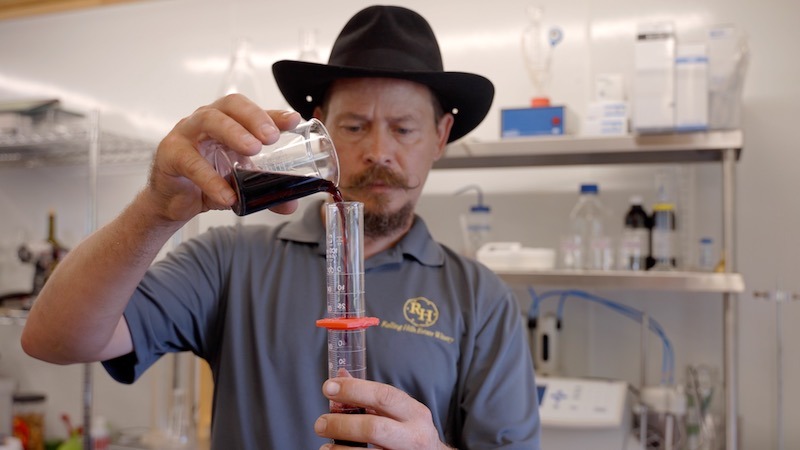 It was in the Champlain Valley where Dan really began making wine, first on his own with small batches he would share with friends and then more seriously. He was given the opportunity to begin working on Rolling Hills Farm and be a part of the team that set forth on the mission to discover the possibilities of winemaking in Westport, NY. The opportunity led him deeper into farming and ultimately working with Rolling Hills Estate Winery where he is now the head winemaker in "the most beautiful, safe place on earth."
What makes Champlain Valley of New York AVA, an interesting wine growing region?
The Champlain Valley of New York is a cold wine region – with a short growing season – that is tucked in between the majestic Adirondack Mountains and historic Lake Champlain. It's not an area that has traditionally been conducive to growing grapes. But with climate change, and the work done regionally in enology at Cornell University and the University of Minnesota there have been breakthroughs on French-American hybrids which can withstand -34°F. a.k.a. the winters in the Champlain Valley, also producing outstanding wines.
"Champlain Valley of New York is still a new wine region and we are experimenting with the vines that will thrive. It used to be the wild, wild west up north when it comes to winemaking. We've found several French-American (albeit less French than American) hybrids we love working with – Marquette, Frontenac, La Crescent, St. Croix, to name a few. It is a great time to be in this valley – to be a part of shaping the region and its wine production," said Faber.
Rolling Hills Estate Winery is focused on producing wines with French-American hybrids. Can you explain what these are and why you're working with them?
French-American hybrids are the crossing of the European Vitis vinifera species with one or more Native American Vitis species – Vitis labrusca and Vitis riparia combined with select vinifera. The goal is to combine the superior traits of all vines to produce grapes with excellent wine quality that have a higher resistance to diseases, pests and environmental impacts such as heat, humidity and cold. In today's world of climate change, these cultivars are becoming more widely grown and researched through programs at the University of Minnesota and Cornell University. (Learn more about French-American hybrids.)
In the Champlain Valley of New York, Vitis vinifera will not grow, it's just too cold. When Cornell University in New York first started to research these cold climate cultivars, they had land in the valley to grow their vines. The property at Rolling Hills was part of that research process. The team at Rolling Hills learned the hybrids that would thrive and the types of wines that could be produced. They saw an opportunity to leverage their knowledge and create unique wines that showcased the terroir of their valley.
"Working with cold climate cultivars offers a huge opportunity for exploration. We've been able to discover which grapes make the best wines and how they should be produced; should this varietal be used to make sparkling wine, Rosé or standalone red and white still wines? As a winemaker, working with these cultivars provides an opportunity to express your own style of art in your wine," said Faber.
The exploration of cold climate cultivars at Rolling Hills Estate Winery will continue as the winery has plans to expand its vineyards to include new varietals. The most recent planting of Crimson Pearl is already exciting Dan and his winemaking team.
"Newly planted in 2022 and with characteristics similar to that of Petite Pearl, we are excited for this latest offering developed by the renowned Minnesota viticulturalist, Tom Plocher. Vineyard trials have produced lower acidity wines with extracted tannins that allows this varietal to pair wonderfully with farm fresh offerings," said Faber.
Tell us a little about Rolling Hills Estate Winery.
The story of Rolling Hills Estate Winery goes beyond the 21 acres of vines located on the 1,300-acre property in the heart of the Adirondacks in the hamlet of Westport, NY. It's steeped in history…
In 1903 Joseph and Susan Ord purchased the land located on what is now Rolling Hills Farm. Their daughter, Susan Vanderpoel Ord, served in the Red Cross in England during WWII, where she met Brigadier General John W.F. Treadwell, a colleague of Winston Churchill. Susan and the Brigadier fell in love, married, lived in London and started a family. In 1946 they moved with their two sons, Thomas and Alexander "Sandy", to Manhattan.
In 1972 Sandy and his wife, Elizabeth, built the stone guest house on the land that is now Rolling Hills Estate Winery. They spent summers raising their boys there and enjoying the cool, clean air of the Adirondacks. It was Sandy who first saw the opportunity to plant vines on the land, working with the research team at Cornell University.
The full-service working farm has evolved to include a winery and vineyard lodging options – 16 beautiful new five-bedroom, 3.5 bathroom townhomes set between the vineyards and majestic lake where families can lease their home away from home. Rolling Hills Estate Winery, a private, gated property, is the perfect place to unwind and reconnect with family and friends. (Take a peek at the lodging options, use the password – 'redwine' – to get behind the curtain.)
Spend your days in a region like no other – unspoiled by crowds, noise and unobstructed views. The comfort and size of each townhome and dynamic property offers a special multi-generational family experience.
The atmosphere affords the utmost privacy. Those who stay there quickly realize they are part of a truly special community. This hidden gem offers a tranquil and unforgettable experience for all ages.
The team has worked to create a food and wine community with a focus on the experience – tranquility, simplicity, serenity, farm-fresh food, chef dinners, winemaker tastings and vineyard tours and so much more. When guests stay on property, not only can they sip the Rolling Hills Estate wines but also get their hands dirty – if they want – working on the farm gathering eggs, feeding the livestock, and lending a hand milking cows, or simply visit the draft horses, who love to be fed the apples from the orchards onsite.
Click over to learn more about Rolling Hills Estate Winery and some of the fantastic benefits of staying on property.
Sip in More of New York…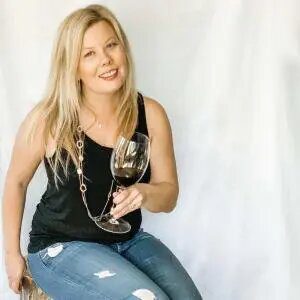 Elaine Schoch (pronounced the German way – Shock) is the editor and founder of Carpe Travel as well as an award-winning travel writer, wine judge, certified by the Wine & Spirit Education Trust (WSET) Level 2 and certified American Wine Expert. She is married to The Husband and has two kids, Princess One and Two – who's interest and knowledge in wine is quite extensive. Not to mention the stamps in their passports.