New York is home to 10 official wine regions, with its coldest region established in 2016, the Champlain Valley of New York AVA. It is home to cold-hardy grapes that produce award-winning wines.
While the wine might be a newer draw to the Champlain Valley, the area has been attracting visitors since the 1940's, due to the breathtaking Adirondack Mountains, historic Lake Champlain and the pairings they offer outdoor lovers.
Our guide to sipping and exploring the Champlain Valley of New York AVA is designed to help you understand the wine region, the wines and the truly dynamic people shaping the valley. You will find valuable information on where to sip, stay and things to do so you can curate your own grape escape. (If you need help with planning it, let us know!)
WHERE IS THE CHAMPLAIN VALLEY
OF NEW YORK
Let's start with a little geographic context…go back to your fifth-grade geography class. Do you recall a HUGE lake in upstate New York called Lake Champlain? It's okay if you don't, but to understand the Champlain Valley of New York AVA means understanding where Lake Champlain is located.
Lake Champlain is a freshwater glacial lake tucked in-between the Adirondack Mountains of New York and the Green Mountains of Vermont. That said, it is located in both New York and Vermont and extends 125 miles north into the Canadian province of Quebec. The lake covers two states and two countries!
Now on to the wine region – The Champlain Valley of New York AVA. This wine region in upstate New York is about 82-miles long and is nestled between the Adirondack Mountains and the iconic Lake Champlain. With sprawling vistas, acres upon acres of wooded trails, waterfalls, hidden gems and stunning mountain views, the geography of the western shoreline of this AVA is diverse and cinematic. The AVA covers about 500 square miles in Clinton and Essex Counties, New York.
GETTING THERE
The heart of the Champlain Valley of New York is about a four-hour drive from New York City. You can, however, fly into Plattsburgh, NY or Burlington, VT.
There is also a grass landing strip (called the Westport Airport) right across the street from Rolling Hills Estate Winery, but only smaller propeller planes can fly in here.
WHEN TO VISIT
The Champlain Valley awakes to all its glory by Memorial Day, making the end of May through October the prime time to visit if you are looking for warmer days and crisper evenings. By September/October, you will be amazed at the watercolor fall foliage show that occurs. Those in the Adirondacks call leaf peeping season, the "Season of Flaming Leaves." If you're into skiing, the winter months offer both sipping and skiing at Lake Placid and Whiteface Mountain Ski Resort. Every season gives visitors unique and new opportunities to explore and enjoy this spectacular mountain meets lake region.
QUICK FACTS

The distinguishing feature of the Champlain Valley of New York AVA is its cold winter weather and short growing season; 140 days! This paired with the clay and limestone soil is conducive to growing cold-hardy French-American hybrid grape varieties. Leading varietals include…
TOP GRAPE VARIETIES
White Wine Grapes
RED Wine Grapes
HISTORY
Grapes were first documented growing along the St. Lawrence River in 1535 by French explorer, Jacques Cartier. These native North American grapes were a species now known as Vitis riparia, which thrive from Montana to New York and even as far north as Québec and are capable of surviving temperatures as low as -71° F.
Fast forward about 75 years to 1609, when another French explorer, Samuel de Champlain's exploration of the Richelieu River led him to the river between modern day New York and Vermont. Both the lake and surrounding valley were named after him.
Champlain – like many French settlers – attempted to grow native European Vitis vinifera grapevines for making wine in the early 1600's. Given the bitter, cold winters, the vines didn't stand a chance. As a result, settlers opted to import their wines from France…until 1763. With the end of the French and Indian War in the United States, Great Britain gained control over Quebec and wine imports turned into spirit imports of whisky, rum and gin.
Wine production didn't come back to the Champlain Valley until the 1990's when researchers at Cornell University in New York made some serious breakthroughs in enology (the study of grape growing/winemaking) marking the beginning of the era of French-American hybrids. (What are French-American hybrids?)
Remember how we said the native North American Vitis riparia grapes can survive temperatures as low as -71°F? This genetic trait is the key, when crossed with the French Vitis vinifera – creating French-American hybrids – and unlocking the possibility to cultivate grapes, for winemaking in regions often dismissed as unviable for the production of quality wines. (And, to continue to produce wine in today's world of climate change.)
When Cornell University first started to research French-American hybrids, it needed land in the valley to grow vines. Rolling Hills Farm allowed a portion of its property to be included in the research process. The team at Rolling Hills learned which hybrid grapes would thrive and the types of wines that could be produced. They saw an opportunity to leverage this knowledge to plant more vineyards on what is now Rolling Hills Estate Winery, the largest winery in the valley.
In 2013, Colin Read of North Star Vineyard, on behalf of the Lake Champlain Growers Association, submitted the Champlain Valley of New York to the Alcohol and Tobacco Tax and Trade Bureau (TTB) for consideration of being named an AVA. The New York wine region was officially established in September 2016.
Today the Champlain Valley of New York is home to three large wineries and five smaller wineries (eight total) covering a total of approximately 50 acres of vineyards.
What is an AVA & Why Should You Care?
The short answer is that an American Viticultural Area (AVA) is a federally designated wine region in the United States. The longer answer is that the TTB defines and approves AVAs in the U.S. based on specific geographic or climatic features that distinguish the area from the surrounding regions which affect how grapes are grown. Unlike Europe, AVAs are not based on political geographical boundaries and do not have regulations as to what grapes can be produced and aging requirements.
Why does it matter? There are a lot of reasons but the main one is to protect the consumer – all you wine sippers – so they know the wine they are buying is really from where it says it is. More on what AVAs are and why they matter.
WHERE TO SIP
The Champlain Valley of New York is still growing, as are the number of wineries. The largest and our favorites include…
Four Maples, Champlain, NY
Highlands Vineyard, Keeseville, NY
In the world of post-Covid, making a reservation is essential for wine tasting (anywhere in the country). In addition to wine tastings, Rolling Hills Estate Winery hosts five-course farm-to-table wine pairing dinners for their guests who lease a home on property as well as other RSVP private events for those in the area or passing through. Make sure to check out upcoming events on their calendar.
Vermont is not yet a dedicated AVA or a part of the Champlain Valley of New York AVA, but it is right across the lake, so if you're looking for more sipping opportunities, hop on the ferry and head that way.
WHERE TO STAY
The majority of places to stay in the area are private vacation homes found on VRBO and AirBNB. Hotels and B&B's are few and far between. The main location we recommend staying in the Champlain Valley of New York is Rolling Hills Estate Winery. Here you can immerse yourself in wine country – and luxury country living in one of the 16 new private townhomes set among the vines.
Rolling Hills Estate Winery
Sleeping Among the Vines…and Views
In addition to being a winery, Rolling Hills Estate Winery is also a working farm – guests get to reap the bounty and it's all included in their stay. Fresh produce, USDA hormone-free cuts of beef, pork and lamb, eggs, maple syrup (right from their trees), milk and so much more. Guests can partake in wine tastings, wine tours with the winemakers and other wine enthusiast activities at the winery and private Tasting Barn. They can also partake in farm-to-table world-class chef-prepared five-course masterpieces and spend days on the large, private beach and evenings around the fire pit outside of the Tasting Barn while star-gazing.
MEET THOSE SHAPING
THE CHAMPLAIN VALLEY OF NEW YORK
BEYOND THE VINES
Upstate New York has a lot to offer with the Adirondacks taking center stage.
"Get out and get in it. Don't be afraid to come during all the seasons. We have skiing, water sports and great little towns with friendly people, myself included, which showcase the terroir as much as the wine does." – Dan, Head Winemaker at Rolling Hills Estate Winery
Get up close and personal biking the 350-mile Lake Champlain Bikeway, which loops around the lake with adjacent trails totaling over 1,600 miles.
Go fishing! Lake Champlain has over 90 species of fish and is considered one of the best bass fishing lakes in the Northeast.
Explore the Ausable Chasm, aka "The Grand Canyon of the Adirondacks" where you can hike, raft, tube, kayak and rock climb through the Adirondacks.
Sip in More of New York Wine Country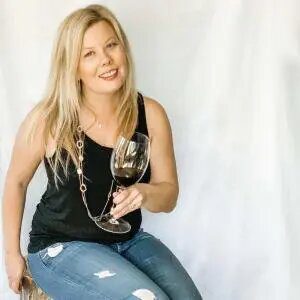 Elaine Schoch (pronounced the German way – Shock) is the editor and founder of Carpe Travel as well as an award-winning travel writer, wine judge, certified by the Wine & Spirit Education Trust (WSET) Level 2 and certified American Wine Expert. She is married to The Husband and has two kids, Princess One and Two – who's interest and knowledge in wine is quite extensive. Not to mention the stamps in their passports.