Summer is synonymous with being poolside, at the beach, camping and all types of outdoor fun. All pair well with a cold beverage by your side. Be it an ice cold beer, fruity umbrella cocktail, or my go to – wine. However, to drink wine at the beach comes with a few issues. One, most beaches in the United States have made drinking at the beach – any alcohol – illegal. Don't even get me started on the awesome liqueur laws we have in this country… But, there are some states that do allow drinking at the beach and for those of you who want to take your chances, keep reading.
The second cavot when it comes to drinking wine at the beach is that wine is persnickety. It has never been the most conducive beverage for outdoor activities given it comes in glass and doesn't love the heat. Most pools and beaches don't allow glass…broken bottles and bare feet never pair well.
There are several ways now to sip on your favorite wine at the beach, poolside, camping or at the park. Here are a few I've personally tested. Cheers to your summer sipping!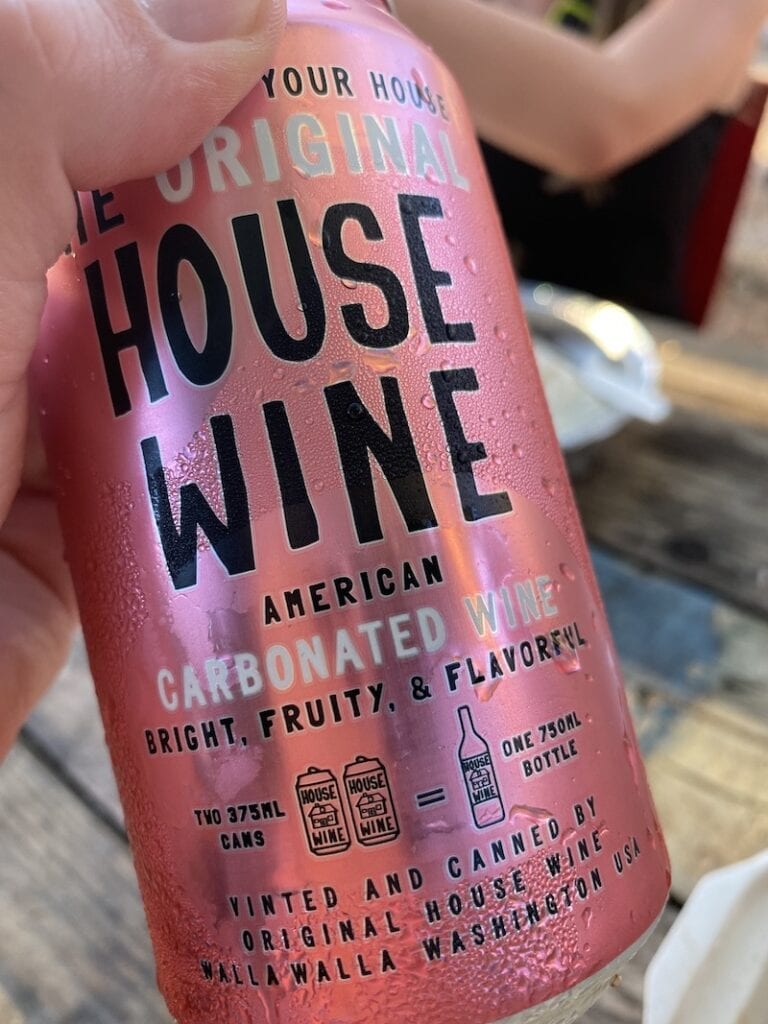 Canned Wine
Canned wine can no longer be overlooked. Not only has the quality of canned wines improved but the technology with the aluminum has as well. Since most beaches and pools don't allow glass, canned wine a great alternative to a glass bottle.
Today there are some amazing wines coming out of cans. What's even better is a lot of times you can buy canned wine as individual cans versus a four or six pack. So you can have bubbles, Riesling, Chardonnay, Sauv Blanc, or my favorite summer wine – Rosé. Keep in mind that two cans of wine is usually equivalent to a full bottle.
Carpe Travel's Top Canned Wines
Canterris Red Wine | Canterris White Wine | NV Underwood Pinot Noir | House Wine Rosé | On y Va Sauvignon Blanc | Underwood Rosé Bubbles | MANCAN Red Blend | West + Wilder Rosé
Boxed Wines
Keeping with the whole "no glass" rule, boxed wines are perfect for drinking at the beach, park or camping. If you're short on cooler space or just want to recycle at home, remove the inserted bag the wine is in and place it in your cooler.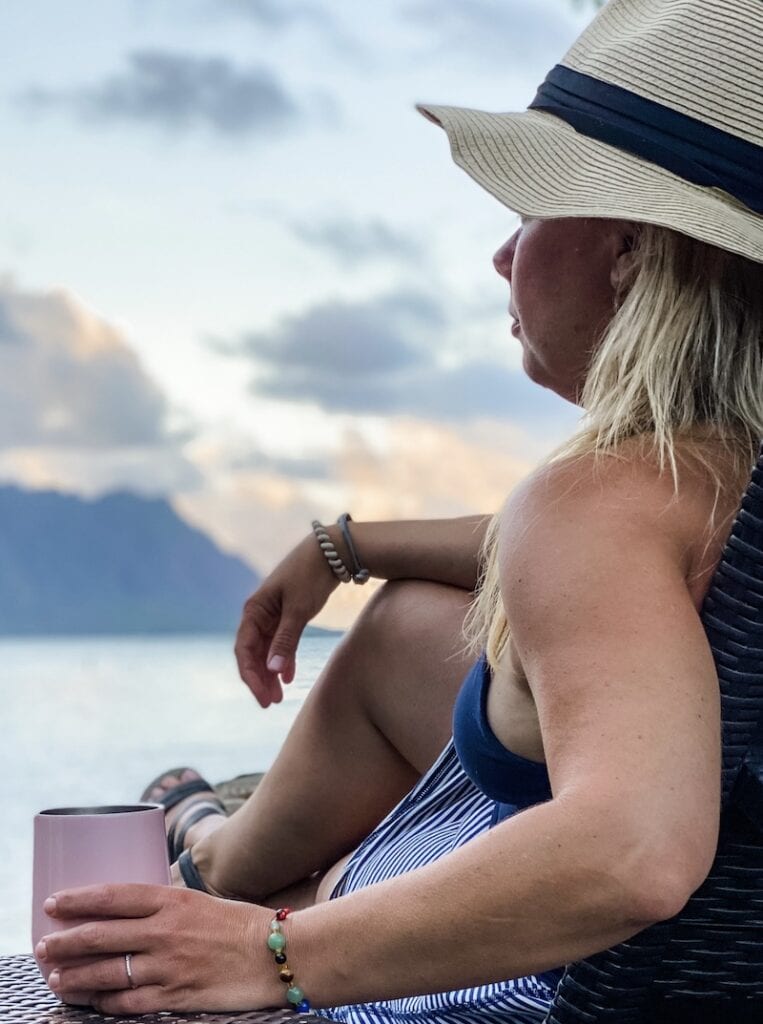 Insulated Stainless Steel Water Bottles
If you have a favorite wine that is not in a can that doesn't mean you can't drink it at the beach. Enter the insulated stainless steel water bottle. My go to is the Corkcicle. The 25 oz Corkcicle will hold nearly an entire bottle of wine. (A full bottle is 750 ml or 25.4 ounces of wine.) For those of you who need to be sneaky with your wine at the beach, it comes in multiple colors so the wine is not visible. (Not judging. Remember, I've tested ALL of these recommendations for drinking wine at the beach.)
My only request is that you don't drink from a plastic cups. Not only is plastic is bad for the environment but wine never tastes right in plastic cups. Definitely grab a Yeti or similar metal wine tumbler with a lid to keep the sand and bugs out of your wine.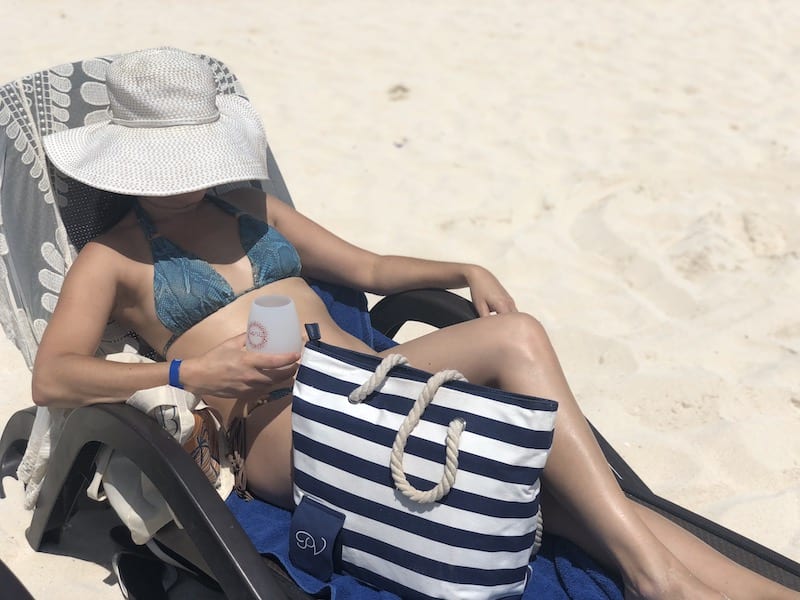 Wine Bags
Another option for sipping your favorite wine at the beach is to use a wine bag or wine purse. These discreetly hide your wine while keeping it chilled. My favorite is the PortoVino wine purse. Not only are they cute and come in a variety of styles but the wine bag discreetly holds two bottles of wine (or 1.5L of your favorite beverage) from a removable, easy to use, bpa-free beverage pouch.
Each PortoVino has a unique, patent-pending, secret, zippered, insulated pocket that keeps your pouch chilled for hours. These wine bags are great for the beach, outdoor picnics, festivals, or outdoor music venues.
Screwcap Wine
This is my least favorite option for sipping wine at the beach, but it works. Screw capped wines eliminates the need for a corkscrew to open your wine and allows you to easily seal the wine and throw it in your cooler. However you're still dealing with the glass issue, unless you're sipping from canned, screw capped wine.
Sip in more…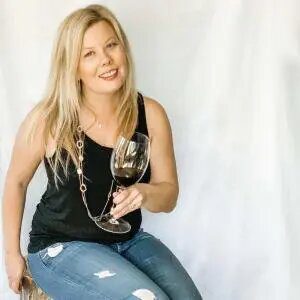 Elaine Schoch (pronounced the German way – Shock) is the editor and founder of Carpe Travel as well as an award-winning travel writer, wine judge, certified by the Wine & Spirit Education Trust (WSET) Level 2 and certified American Wine Expert. She is married to The Husband and has two kids, Princess One and Two – who's interest and knowledge in wine is quite extensive. Not to mention the stamps in their passports.