The Missouri wine country is one worth sipping in. Our Missouri Wine Country Travel Guide shares a brief history of the state's wine country, terroir, where to sip, where to stay and things to do beyond the vines.
The Missouri River Valley, aka the Missouri Rhine Valley, was the second largest wine producing state in the United States, prior to the 18th Amendment, which enacted National Prohibition in 1920 – the ban of alcoholic beverages. (Ohio was the first!) When the 21st Amendment took effect in 1933 doing away with that nonsense, the country could finally sip wine again (legally), but it forever changed the wine industry in the U.S. and those states that had initially lead the way.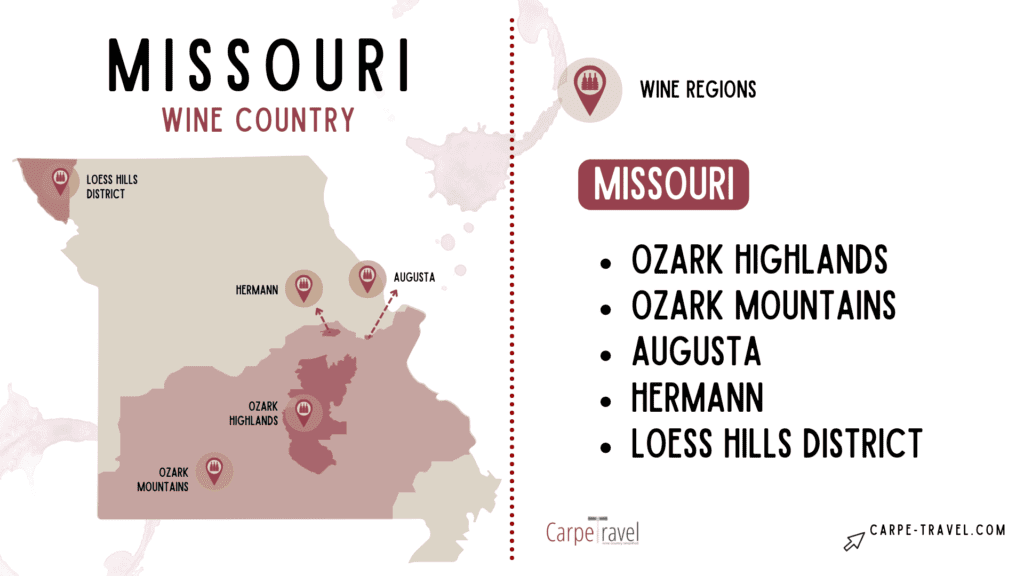 WHERE IS MISSOURI WINE COUNTRY?
The main Missouri wine regions to visit are Hermann and Augusta, they are neighbors making it easy to visit both. Each is about a 1.5 hour drive from St. Louis.
BEST TIMES TO VISIT WINE COUNTRY
Spring and fall are ideal times to visit the Missouri wine country. Summer months are perfect for ripening the grapes, but can be sweltering for visitors.
Missouri is home to five federally recognized AVAs, more than 130 wineries and 11 wine trails.
Missouri named the Norton grape as the official state grape. It is one of the most disease-resistant grape varieties with some resistance even to black rot. The grape produces rich, full-bodied red wines with distinctive fragrant and fresh flavors. Sip in more Missouri wine 101.
TOP GRAPES IN MISSOURI
WHITE WINE GRAPES
Cyuga White
Chardonel
Seyval Blanc
Traminette
Vidal Blanc
RED WINE GRAPES
Catawba
Chambourcin
Concord
Norton/Cynthiana
St. Vincent
On February 27, 1981 the town of Augusta, Missouri became the FIRST designated AVA in the United States, due to its long history as one of America's oldest and foremost grape and wine districts.
German settlers brought their love of wine and the Rhine to the Missouri River Valley. The first wine was produced in the town of Hermann in 1846 at Stone Hill Winery, still in existence today.
With more than 130 wineries, there is a lot to choose from. We've pulled out a few of our favorite Missouri wineries for you to sip into.
Stone Hill
Winery
Montelle
Winery

Noboleis
Vineyards
WHERE TO STAY
The town of Hermann has more B&B's per capita than any town in the country. There are a lot of options to please any palate
Herman Hill Vineyard and Inn
Hermann Crown Suites
The Cottage
MORE: Where to Stay in Hermann, Where to Stay in Augusta
WHERE TO EAT
Many of the wineries in Missouri also have restaurants. A few favs include…
CAN'T MISS MISSOURI WINE FESTIVALS
Independence Uncorked
Hermann Wine & Jazz Festival
You will miss out on a lot of things to do in Missouri wine country if you don't go beyond the vines.
Don't miss getting to know the historic downtown of Hermann and Augusta. Their resemblance to the Rhine Valley is what attracted German settlers to the area and keeps people coming back.
Downtown Hermann is home to several art galleries and museums. Not to mention some great little boutiques for shopping.
Augusta has one of the trailheads on the 240-mile long Katy Trail State Park, the longest developed rail-to-trail conversion in the country. Rent a bike or plan for a hike in-between wine tastings.
Things to do in… Hermann & Augusta
Sip in More of Missouri Wine Country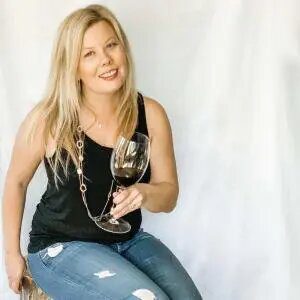 Elaine Schoch (pronounced the German way – Shock) is the editor and founder of Carpe Travel as well as an award-winning travel writer, wine judge, certified by the Wine & Spirit Education Trust (WSET) Level 2 and certified American Wine Expert. She is married to The Husband and has two kids, Princess One and Two – who's interest and knowledge in wine is quite extensive. Not to mention the stamps in their passports.