THE Luxury Stay in the Heart of Missouri's Wine Country
A hotel is a hotel, is a hotel, except for those that aren't. More and more hotels are trying to create a unique user experiences for their guests however, few follow through. One recent exception I've found is the Hermann Hill Vineyard Inn and Spa in heart of Missouri's wine country.
Located on top of a hill overlooking the quaint, historic town of Hermann in Missouri, Hermann Hill Vineyard and Inn offers an exquisite view of not only the little town of Herman, but of the Missouri River and the surrounding vineyards, including those on its own property.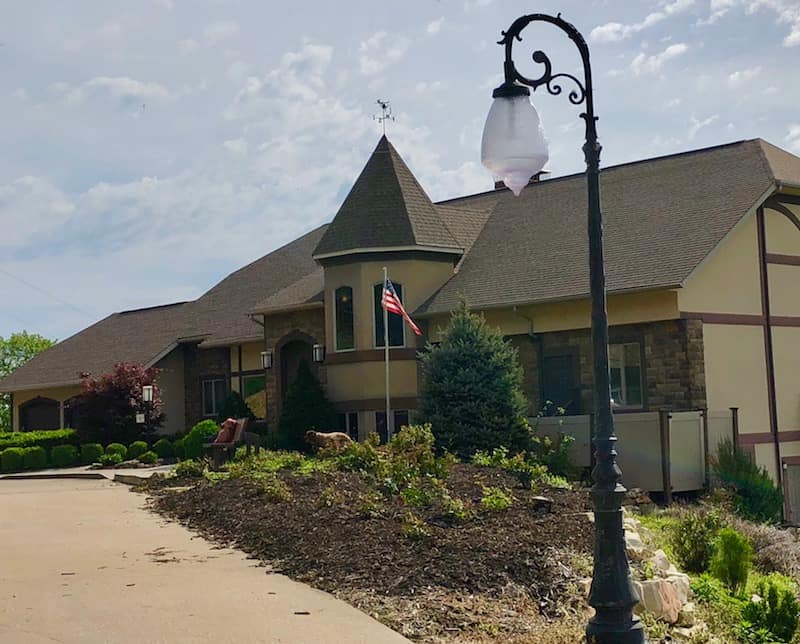 When I arrived at Hermann Hill Vineyard Inn and Spa it was about 9 pm, much later than most check-ins given I had been invited to tour a few local wineries with the Missouri Wine Association. I was greeted at the front desk with an easy check-in process and an offer to show me to my room to do a quick walk-through. I don't typically take people up on that offer since most hotel rooms are self-explanatory. However, on this occasion I'm glad I didn't refuse since I came to find out the room needed a little direction. Not on how to find the room, but rather how to operate the hot tub and steam shower. Yes, I said hot tub and steam shower. It was like my dream come true…
I was staying in the Vignoles Suite, which is one of the Inn's Luxury Vineyard Inn Suites. Like many others at Hermann Hill Vineyard Inn and Spa, my suite included a full-size working hot tub that is separate from the bedroom itself. The room where the hot tub is located has sliding glass doors that open to the patio so you can feel as if you're outside while enjoying the vineyard view. This was definitely a highlight. But, I think the most beautiful highlight came at sunrise. I didn't mean to wake up at sunrise the first morning during my stay, but oh boy I'm glad I did. The colors were stunning! The next evening I purposely slept with the blinds open so I could wake up to the sun rising over the Missouri river and waking up the vines.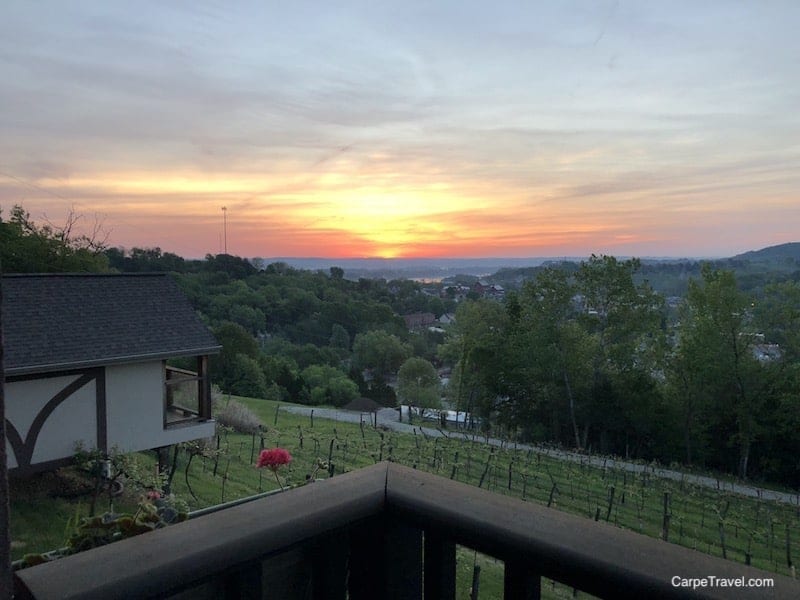 As for the steam shower, I came to the conclusion that all hotel rooms in wine country – no matter what wine country – should have a steam shower or steam room. I'll admit, I steamed at least twice a day during my stay…my skin never felt so good! Every room at Hermann Hill Vineyard Inn and Spa either has a steam room or steam shower. BOOK YOUR STAY NOW!
Here is a quick tour of the suite…
The room itself is decorated beautifully, totally updated with new furniture, plush linens, a fireplace and a cute little sitting area for you to watch the sunrise or simply sip some local wine. There is also a nice patio where I frequently sat and sipped my coffee each morning. As I mentioned, the bathroom has a steam shower along with a jet tub. (A hot tub and a jet bathtub!!!)
This is truly set up as a romantic getaway for couples. Since I was traveling solo, I didn't really get to enjoy it that way, BUT can say that if The Husband had joined, I'm not sure we would have left the Inn all to often…
One of the more personalized things I loved about the Inn was the 9 o'clock cookie delivery. Every evening the owner of the Inn delivered fresh baked cookies to each room, along with a scoop of ice cream topped with a bit of local Missouri port wine. It's a delicious way to end the evening.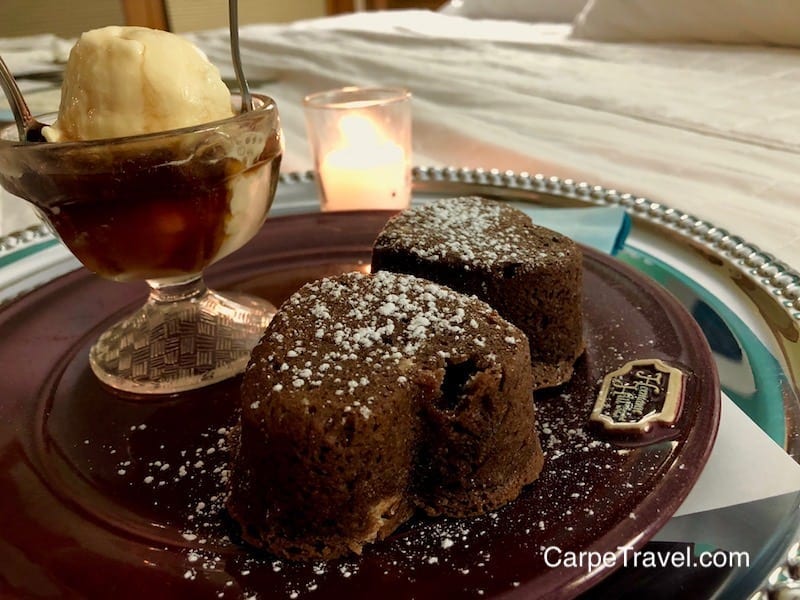 Every morning the Inn provides a homemade breakfast for its guests. You have a choice of pancakes, French toast, omelettes and a few other items you select on the room menu the evening before. The food is amazing! You can choose to have your food delivered to your room, or dine inside at the main dining table or outside at the patio. I suggest the latter, the view is beautiful.
And, you may be lucky enough to also get a recipe card with a sample of one of the dishes. I received a "Be a Pineapple" card with four recipes and that included pineapples. For my sampling I had a chicken pineapple salad ,which my friends was amazing! I came home and made it the following week it pairs perfectly with a Rose wine. (Check out other recipes the Inn features on its website.)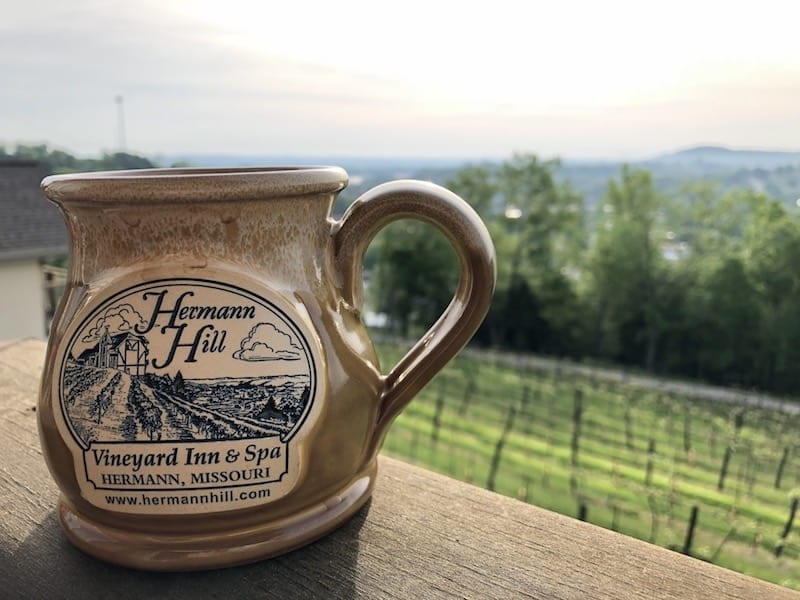 The 3 Mile Walk
Given the location of Inn you're about an mile into town it's an easy walk down into town but not as easy as walking back up however, I did it twice and had no issues. It's a nice way to start the morning. Hermann Hill Vineyard Inn and Spa has created what they call "The 3 Mile Walk Challenge". Starting and ending at the Vineyard Inn & Spa, the 3 Mile Walk is a self-guided and narrated tour beginning with about 300 feet of gravel path through the woods. The rest of the walk is on streets and alleys. While some guests complete the walk in one hour, others take several hours and include a winery tour, lunch, shopping, and perhaps a stop at one of the fine museums or other historic venues along the way. No matter how long you decide to take during your walk be sure to come by the gift shop to receive your free "I conquered the Hermann Hill 3 Mile Walk" t-shirt.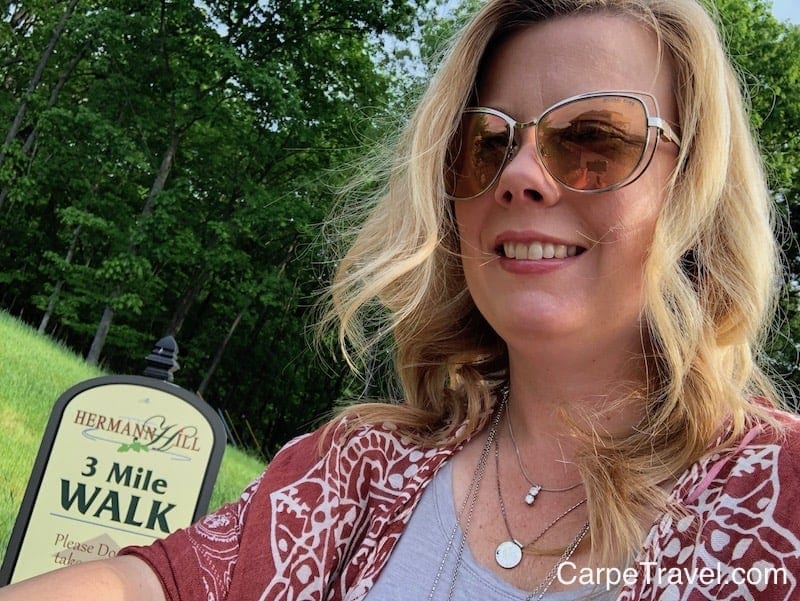 Forest of Gongs
Guests have been enjoying the Forest of Gongs at Hermann Hill for more than 15 years. The Forest of Gongs is an array of gongs each painted green and representing a word the best describes a couple's relationship. The words are romance, unconditional, strength, passion, soul mates, magic, and excitement. Couples choose which gong represents their relationship and hit the gong with a rubber mallet for each year they were married sending the echoes of the gongs over the valley and town of Hermann.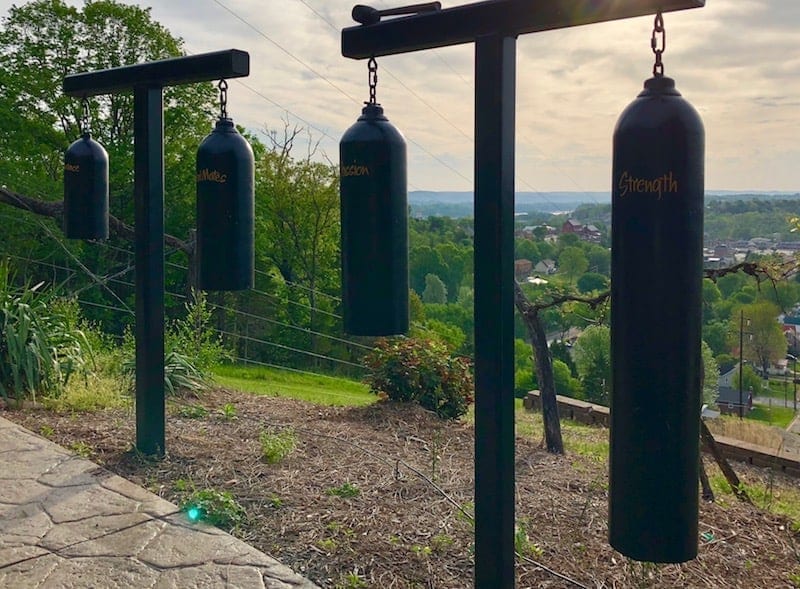 Rates at Hermann Hill Vineyard Inn and Spa

The rates at Inn will vary depending on the time of year but you should expect to pay $400-900 for one of the luxury suites. The Inn does offer larger cottages at its River Bluff Cottage Suites location, at the base of the Missouri River. These accommodations are perfect for two couples or a family of four. Prices range from $700-$900. BOOK YOUR STAY NOW!

THE BOTTOM LINE

Hermann Hill Vineyard Inn and Spa is the perfect getaway for your wine country stay in Hermann, Missouri. Especially for couples looking for a little romantic stay. This is one of my favorite places I've stayed, and I've been to around… Definitely a must if you're visiting Hermann, Missouri. BOOK YOUR STAY NOW!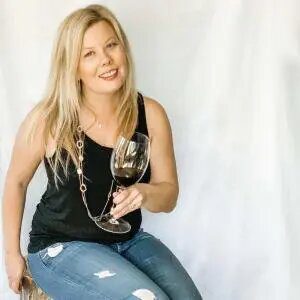 Elaine Schoch (pronounced the German way – Shock) is the editor and founder of Carpe Travel as well as an award-winning travel writer, wine judge, certified by the Wine & Spirit Education Trust (WSET) Level 2 and certified American Wine Expert. She is married to The Husband and has two kids, Princess One and Two – who's interest and knowledge in wine is quite extensive. Not to mention the stamps in their passports.