By Barbara Gibbs Ostmann
Where is the first American Viticultural Area (AVA) in the United States? If you guessed Napa Valley, guess again. The first AVA was tiny Augusta, Missouri, which received the recognition on June 20, 1980. Seven California districts and one in Oregon had filed applications with the Bureau of Alcohol, Tobacco and Firearms; however, the title went to the 15-square-mile area surrounding Augusta. The bureau cited the unique soil, climate and local grape varietals, as well as Augusta's long history as one of America's oldest grape and wine districts.
Today this historic river town, founded in 1836, is a great getaway destination, whether you're driving from nearby or flying in from far away. If you're a local, chances are you haven't played "tourist" in awhile and don't realize how much there is to do and see right here in your own backyard.
---
WHERE IS AUGUSTA?
If you're a visitor, St. Louis is the nearest airport; from there you can rent a car for the short hop (about an hour) to visit the Augusta wineries in the heart of Missouri Wine Country.
---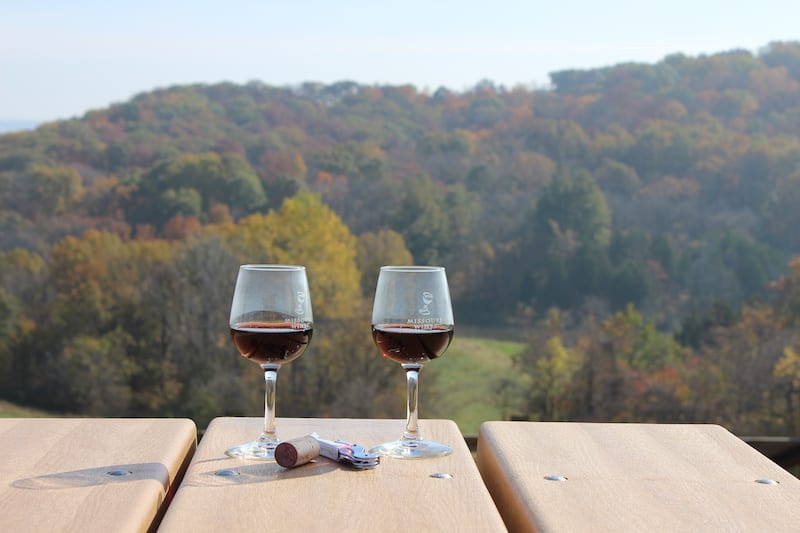 WHERE TO SIP
IN AUGUSTA WINE COUNTRY
---
With five Augusta wineries, three more in neighboring Defiance, one in nearby Dutzow, and 10 in Hermann there are plenty of choices of where to sip for a weekend wine vacation.
For the most spectacular view, head east of Augusta on Highway 94 to Montelle Winery. First stop is the tasting room, where you can sample local varietals and find the ones you like best. Select some picnic fare from the refrigerator case or order hot food at the Klondike Café, the onsite restaurant.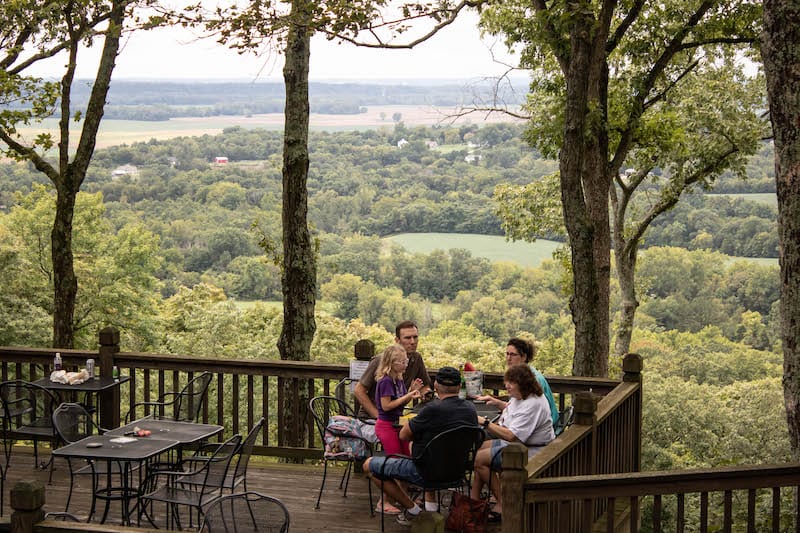 Head outside to the spacious, multi-level deck and stake your claim to a table with a stunning view of the rolling countryside and the Missouri River in the distance.
You might go there for lunch, but end up spending the entire afternoon soaking up the ambience.
Heading back into town, you'll find a beautiful view of the Missouri River bottoms from the terrace at Mount Pleasant Estates. Founded in 1859, Mount Pleasant is the oldest winery in Augusta. The original hand-dug cellar and 1880 water tower offer a glimpse of yesteryear. Taste the wines to select your favorites, then order something to eat at the Appellation Café. Enjoy your food and wine pairing on the terrace while soaking up the sun and the view.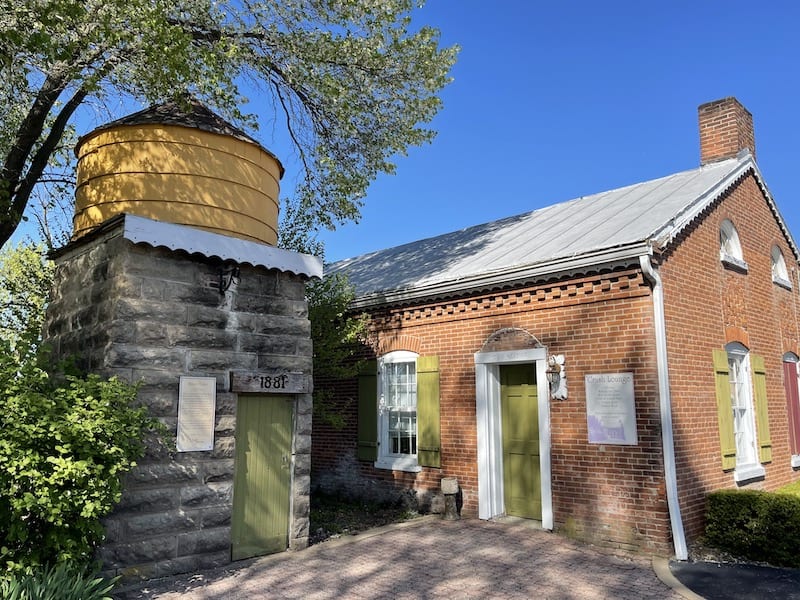 Also downtown, Augusta Winery offers a shady wine and beer garden where you are welcome to bring your own picnic basket of food, but no outside beverages. After all, you're there to sample the wines of Augusta Winery. The tasting room and gift shop are in the building adjacent to the wine garden.
A few miles west of town on rolling Highway 94, stop by Noboleis Vineyards or Balducci Vineyards to soak up the beautiful country settings, sample the wines, and nosh on food from each winery's menu. If you're going on a weekend, check their events calendar as you might luck out with a live music performance.
WHERE TO STAY
IN AUGUSTA WINE COUNTRY
---
With about two dozen B&Bs, inns and cabins in Augusta and the surrounding area, there's a variety of lodging options. Check the Augusta Chamber of Commerce website for a current listing.
If the great outdoors is more your style, head a couple of miles east on Highway 94 to 250-acre Klondike Park, where you can stay in a rustic cabin or pitch a tent under the stars. Allow time to enjoy the park itself. You can hike or bike on the more than four miles of trails, or launch your kayak or canoe on the Missouri River.
THINGS TO DO
IN AUGUSTA WINE COUNTRY
---
As delightful as sipping in the Augusta wineries is, you really can't do that all day, so we recommend alternating tastings with sightseeing, shopping or physical activity.
Augusta has one of the trailheads on the 240-mile long Katy Trail State Park, the longest developed rail-to-trail conversion in the country. If you didn't bring your bike, you can rent one at the Katy Bike Rental in nearby Defiance. Don't miss the opportunity to experience a section of this linear park, whether on foot or bicycle.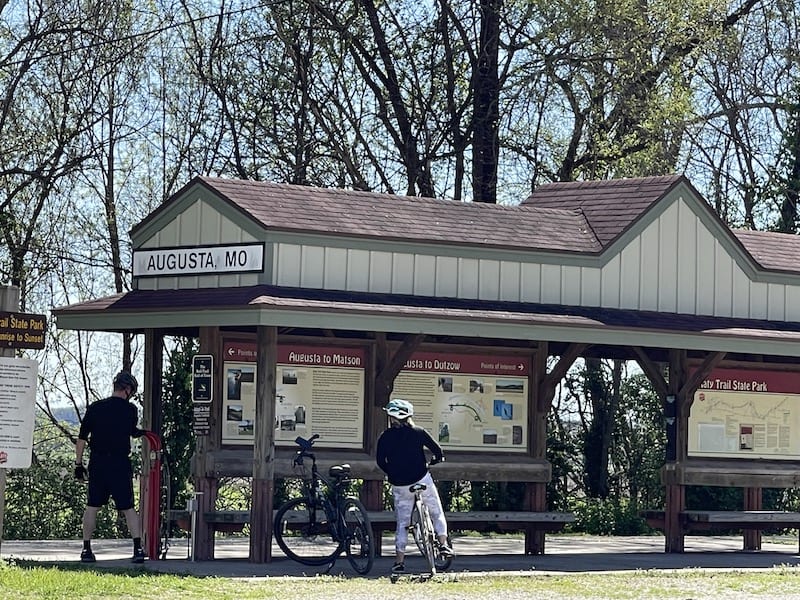 History buffs will enjoy a tour of the Historic Daniel Boone Home and Heritage Center, near Defiance. The limestone Georgian-style mansion was built by Daniel Boone's son, Nathan Boone. Today the 300-acre complex includes the Boonefield Village, with more than a dozen 19th-century structures. Visitors can roam the grounds for free; there is a fee for guided tours of the Daniel Boone Home.
A little retail therapy is part of any outing, and there is plenty to choose from. Each of the wineries in Augusta has a gift shop, and the downtown area is home to several boutiques, antique stores, a glass-blowing workshop and a wood-working shop.
The playground in the city park in the center of town is popular with youngsters. The park is also the starting point for horse-drawn carriage and wagon rides.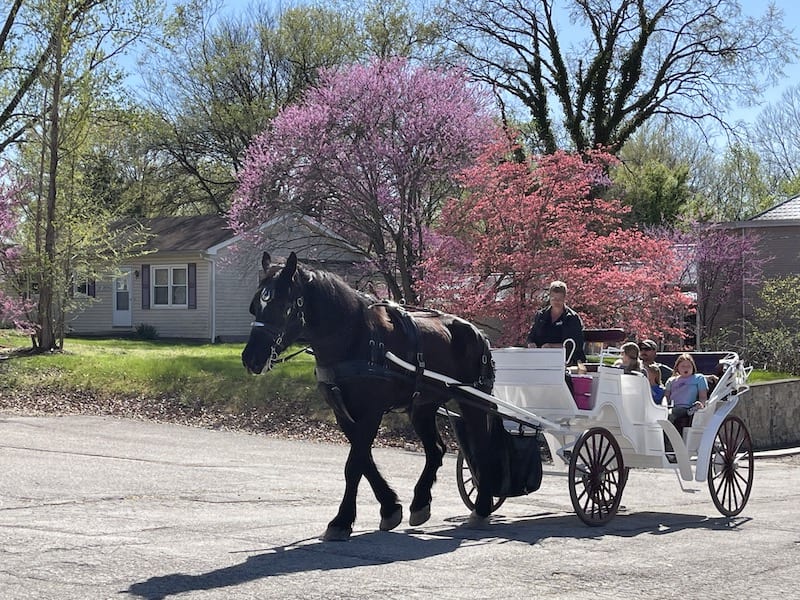 David and Jerri Hoffmann, Florida-based real estate developers who are natives of nearby Washington, Mo., are in the process of buying wineries, vineyards and buildings in the Augusta area for the purpose of creating a 700-acre world-class wine destination that they predict will rival Napa Valley. They have already purchased six Augusta wineries and vineyards plus about 15 downtown buildings.
The Hoffmann Family of Companies plans to add a 12-hole golf course, a 50- to 90-room hotel, an upscale restaurant, bicycle shop, gas station and other amenities. All told, the Hoffmann's plan to invest more than $100 million in the project.
Signs of change are already evident around town, where buildings are being renovated, shiny restored vintage Chevrolet pick-up trucks are parked at various venues, and a free trolley runs regularly between the wineries.
---
Sip in More Missouri Wine Country
---
Barbara Gibbs Ostmann
Barbara Gibbs Ostmann has been tasting and writing about Missouri wines since 1975. She has served on the Missouri Wine and Grape Board for more than 20 years (a governor-appointed, senate-confirmed, volunteer position).  "Reporting on the growth of the industry over the years has been nothing short of amazing," she says. Barb has been Food Editor of the St. Louis Post-Dispatch, syndicated columnist for the New York Times Regional Newspaper Group, and an associate professor and director of the Agricultural Journalism program at the University of Missouri. She is co-author of "The Recipe Writer's Handbook" and 12 cookbooks. She writes about wine, food, travel and the outdoors for print and online publications.  Connect with her on Facebook.