Sit back and sip in these wineries in Virginia Beach.
TRAVEL NOTICE: If you plan to visit Virginia Beach, please check the status of where you plan to go. Given the current climate, some destinations may have restrictions. Stay safe and wear a mask.
Written in Partnership with Hotels.com.
It's nearly summer and that means hitting the beach! After all, it's a great outside, socially distanced activity. Since I'm always looking to tie in a little wine tasting with any trip – even those beach vacations – I wanted to share a few wineries in Virginia Beach to sip if you're heading that way…along with a few favorite things to do beyond wine.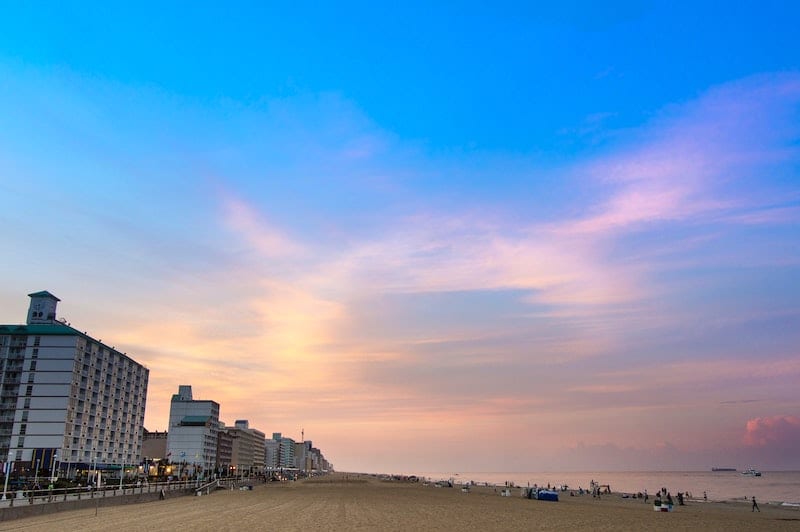 Wineries in Virginia Beach
Virginia Beach falls in the Hampton Roads wine region. This region is home to 12 local wineries with a few in right in Virginia Beach. Making your vacation to Virginia Beach a great time to sample local, Virginia wines.
Mermaid Winery
Mermaid Winery has two locations, its flagship location is in Norfolk while its second tasting room is located on Shore Drive in Virginia Beach. This Virginia Beach winery sources its grapes from vineyards in both Virginia and California. Both locations have an onsite restaurant so you can sit back and relax for a while.
4401 Shore Drive, Virginia Beach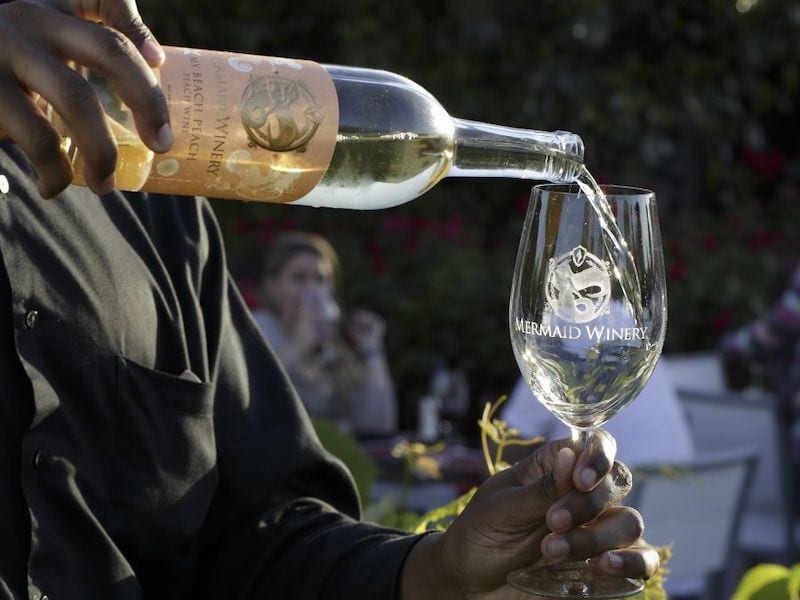 The Williamsburg Winery Wine Bar
While The Williamsburg Winery Wine Bar not only features Williamsburg Winery wines but cider and sparkling wine from other Virginia producers. Virginia cheeses and charcuterie are also featured throughout the menu.
1860 Laskin Rd, Suite 122, Virginia Beach
Virginia Wine Country
Over 4,000 acres of grapes span the state of Virginia, and more than 28 types of grapes are grown across the 10 regions and 7 American Viticultural Areas (AVAs). In other words, Virginia has a lot to sip in in!
Pungo Ridge Winery
Pungo Ridge Winery specializes in hand-crafted wines and mead made from Pungo berries, fruits and honey.
1665 Princess Anne Road, Virginia Beach
Virginia Beach Winery
Virginia Beach Winery produces fruit wines as well as vitas vinifera wines. While its wines are made in Virginia Beach, the winery does source most grapes from California. Regardless, it's a fun way to sip in a little something different. Go expand your palate!
152 N. Newtown Rd. #108, Virginia Beach
Smithfield Winery and SummerWind Vineyard are about an hour west from Virginia Beach if you want to sip in more Virginia wines.
Zoës Steak & Seafood
Yes, I know Zoës is NOT a winery in Virginia Beach but rather a restaurant. I've included it on this list since visiting a restaurant featuring local wines is a great way to work in your wine tasting wishes without dragging your family to and from wineries…to the point that they are totally annoyed with you. (That's never happened to me…) Named in America's 100 Best Wine Restaurants by the Wine Enthusiast Magazine 2019, Zoës serves 40+ different wines by the glass, and more that 600 by the bottle. Of these wines bottles about 20 are from Virginia.
713 19th Street, Virginia Beach
Things to do in Virginia Beach, besides sipping wine…
You will miss out on a lot of things to do in Virginia Beach if you don't go beyond the vines. I mean, after all you're at the beach!
Named one of the top five boardwalks in the U.S., stroll or bike ride down the Virginia Beach Boardwalk is a must.
The Legends Walk is a free, self-guided tour dedicated to great Virginians who impacted the country – Edgar Allen Poe, Pocahontas, etc.
---
Sip in More Virginia Wine Country
As travel today remains uncertain, please keep your safety and the safety of others in mind at all times. If you are comfortable with traveling, please travel responsibly and within regulation as any travel is at your own risk.
If you do decide to travel at this time, here are our recommendations:
Wear a face mask.
Bring hand sanitizer and wash your hands on a regular basis.
Check official websites before your trip for the latest updates on policies, closures and status of local businesses.
Book a hotel with free cancellation in case you need to change your plans at the last minute.