A weekend getaway to the Missouri Rhine Valley – the heart of Missouri wine country – is a budget friendly and sip worthy escape.
Following the Missouri River west, about an hour from St. Louis, you'll find the little towns of Herman and Augusta, the two largest areas in Missouri wine country that are well worth sipping in. With more than 130 wineries, there is a lot of choose from. We've pulled out a few of our favorite Missouri wineries for you to sip into.
If you're planning a wine country vacation to Missouri, take a look at our full Missouri Wine Travel Guide and suggested itineraries.
Stone Hill Winery
After visiting Stone Hill Winery I had to include it in my list of Missouri wineries to sip in. (Stay at the Hermann Hill Vineyard and Inn and you can walk to the winery!) The winery specializes in local grape varietals, two of my favorites are its award winning Norton and Chardonal Reserve.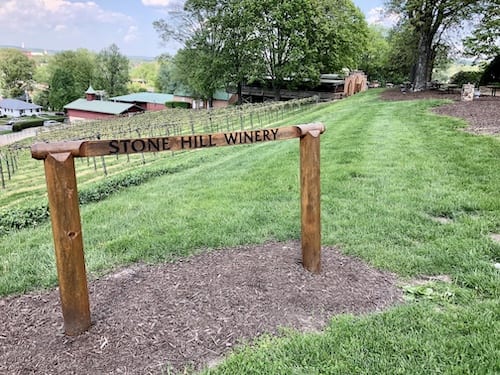 While you're there, sip in a little of their history by taking a tour of the winery. Stone Hill Winery was established in 1847, and well before there was a Napa Valley wine industry, and grew to be the second largest winery in the United States. Its wines were world renowned, winning gold medals in eight world's fairs, including Vienna in 1873 and Philadelphia in 1876. By the 1870's, the winery was shipping 1,250,000 gallons of wine per year. And then, it all stopped in 1920…until 1965.
Plan to schedule your tasting so you can either have lunch or dinner at the Vintage Restaurant, the winery's former carriage house and horse barn that has been converted into a delicious restaurant. It's a great spot to pair their wines with local cuisine.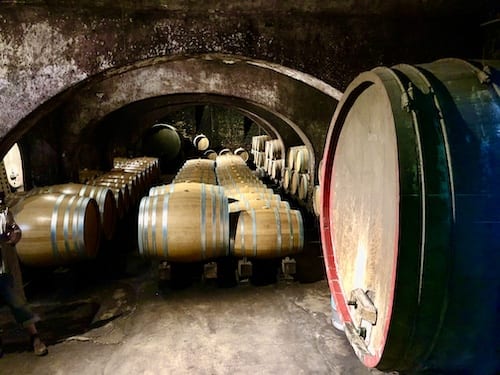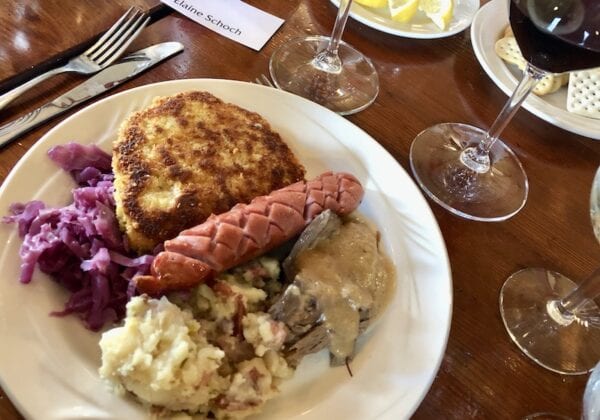 Hermannhof Vineyards
Hermannhof is home to 10 magnificent stone cellars and charming brick superstructure that have been placed on the National Register of Historic Places. The historic wine cellars are a site to see. During your visit, make sure you get down for a tour.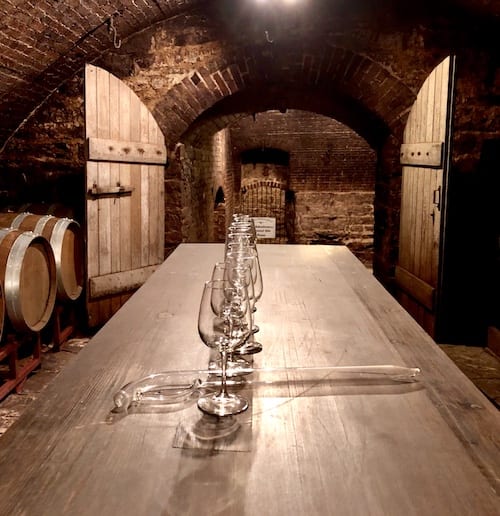 Like the rest of the country 1919 (National Prohibition) forced the closure of Hermannhof. The stone cellars began being used for trash storage. What a waste! (Pun intended.) It was in 1974 when the Dierberg family purchased Hermannhof Cellars that the renewal of the Hermann wine region was beginning. Hermannhof Vineyards was reopened and the cellars are back to storing wine (after they cleaned out all the trash!). In addition to the tasting room, there is a deli and an Inn onsite. It's a perfect spot to grab a picnic lunch and then go sit underneath the giant shade trees outside the winery.
I wanted to note that the Dierberg family also owns a winery in the Santa Ynez Valley in California – Dierberg Vineyard and Star Lane. You can taste these wines at the Hemann tasting room. You guys, they're sooo good! And it's fun to taste different wines in a line up, especially the Chardonnay and the Chardonel. The quality of all their wines is superb.
Adam Puchta Winery
This is one of the wineries in Hermann not to miss, not only for its wines but rich history. The winery opened in 1855 by Adam Puchta, who had emigrated from Bavaria to Hermann in 1839. The winery was one of the most successful in the area until National Prohibition hit in 1919. Even though the 21st amendment was passed in 1933 allowing the making and selling of alchol again, laws were kept in place in Missouri forbidding winemaking for another 30 years. In 1989, Tim Puchta, Adam's great grandson got the family back to its roots of winemaking by replanting the vines and reopening Adam Puchta Winery.
Today, Adam Puchta Winery is a destination for wine and history lovers alike. Set in the original stone home Adam Puchta himself built, nestled in the woods about two miles from town Hermann you'll can sample the 20+ wines they make onsite. I love the Chardonel, Dry Vignoles, the Estate Norton and the 1855.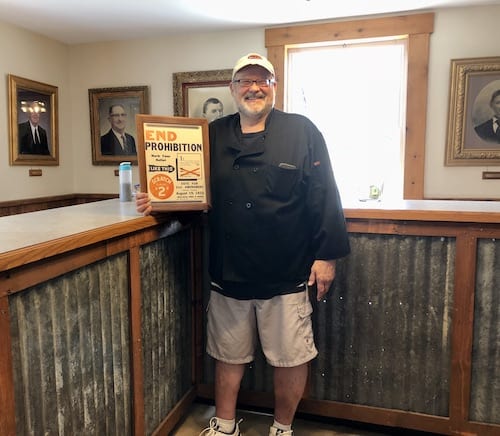 If you want to skip driving you can travel by train on Amtrak's Missouri River Runner. The Missouri River Runner travels daily between St. Louis and Kansas City. Along the way the train stops in many charming communities including Hermann. But, you will need a car – or a driver – to get around to all the Missouri wineries we've mentioned her.
It was on June 20, 1980 when the United States designated the country's first American Viticultural Area – AVA. It wasn't in Cali but Augusta, Missouri. With that said, sipping in Augusta wineries isn't only delicious but a bit of a history lesson too. A few we love include…
Established in 1970 by Clayton Byers, the Montelle Winery is one and a half miles east of Augusta on the top of Osage Ridge. The winery is an ideal location for meetings, corporate events, weddings and, of course, as a destination for wine lovers who want to sip in Missouri's best wines. Yet, a visit to the tasting room gives you the opportunity to do more than just taste wine. See our interview with owner and winemaker, Tony Kooyumjianof.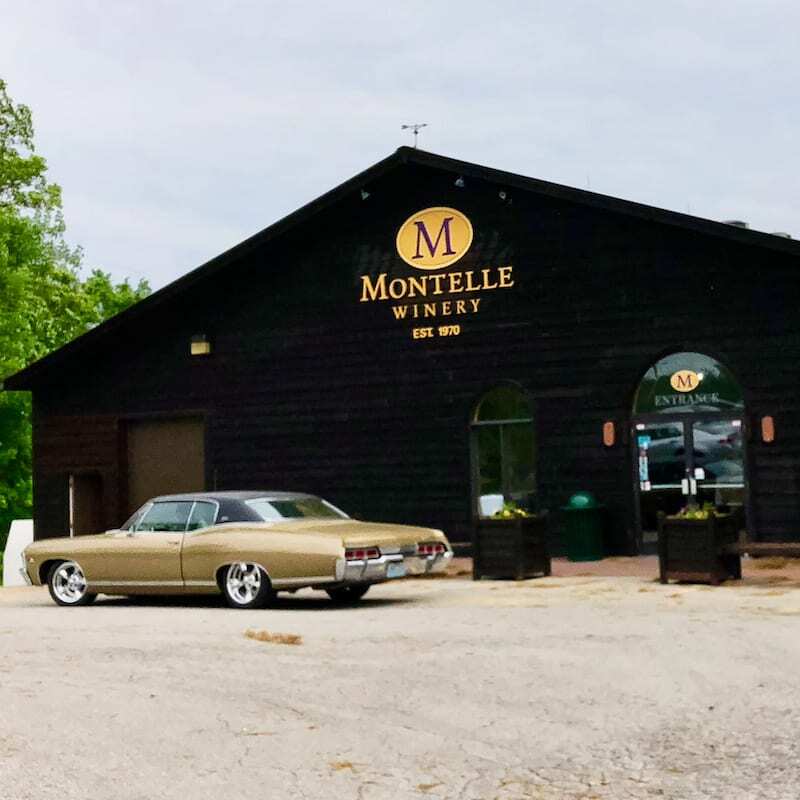 In the Klondike Café onsite, the chefs have created seasonal menus that offer a great selection of dishes. From freshly baked pizzas and made-to-order gourmet sandwiches, crazy good chicken nachos, wraps and salads, all dishes contain fresh ingredients. It's the perfect place to drink wine, eat lunch and enjoy stunning views over the magnificent Missouri River Valley from the vast deck.
Known as Missouri's most scenic winery, Montelle was the first winery in Missouri to also open a distillery. In addition to their wine, Montelle produces fortified wines, port and four kinds of brandy: grape (grappa), peach, cherry and apple.
Noboleis Vineyards is more of a destination wine tasting in Augusta. With live music on the weekends and a selection of shareable small plates and pizza it's pretty easy to spend the day at Noboleis Vineyards. This is especially true when the weather is nice and you can grab a table outside and sip in the panoramic views of the rolling vineyard. The family owned and operated vineyard began in 2005, growing four varieties of Missouri grapes; Chambourcin, Traminette, Norton and Vignoles. Today, they have more than 30 wines in their portfolio.
With more than 130 wineries in Missouri, finding one to sip in won't be a problem. To help narrow it down, we've mapped out the Missouri wineries throughout the regions for your next wine country vacation.
Carpe Travel worked with the Missouri Wine & Grape Board in creating the Missouri Wine Travel Guide and related content. All recommendations and opinions are our own.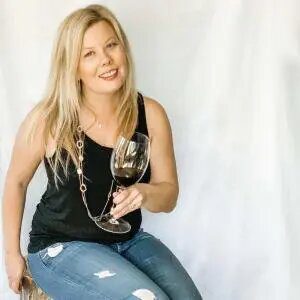 Elaine Schoch (pronounced the German way – Shock) is the editor and founder of Carpe Travel as well as an award-winning travel writer, wine judge, certified by the Wine & Spirit Education Trust (WSET) Level 2 and certified American Wine Expert. She is married to The Husband and has two kids, Princess One and Two – who's interest and knowledge in wine is quite extensive. Not to mention the stamps in their passports.