Our Texas Wine Travel Guide shares a brief history of the state's wine country, terroir, where to sip, where to stay, and things to do beyond the vines.
Everything is bigger in Texas, including the wine. With more than 300 wineries in the state and eight official AVAs (American Viticultural Areas – wine growing regions), Texas has become the fifth largest wine-producing state in the U.S. But most of Texas wine is sold within the state's borders. In other words, getting your hands on bottles outside the Lone Star State is not easy. Want a taste? Plan a visit! Use our Texas Wine Guide to get on your way.
WHERE IS TX WINE COUNTRY?
With more than 300 Texas wineries, finding a spot to sip isn't a problem. But note that 90% of the fruit used to produce Texas wine grows in the High Plains of Texas, aka Lubbock. BUT the Texas Hill Country – outside of Austin – is where most people consider the Texas Wine Country to be.
BEST TIMES TO VISIT
The best time to visit Texas wineries is in the early spring and the fall when the temperatures are more manageable. Note that April is a popular time for Texa wine festivals, so get more for our money with a visit to one.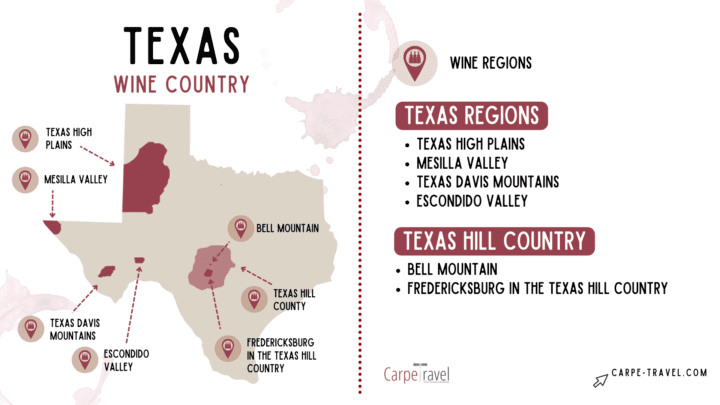 Texas wine country boasts 4,000+ acres of vineyards planted in the eight established AVAs.
The state of Texas is roughly the size of France. Given its size, climate and soil compositions vary, resulting in a multitude of fruit produced in the 4,000+ acres of vineyards in its eight established AVAs.
Being a young wine region, Texas is still establishing the grape varieties that grow well. So far, winemakers find Rhône varieties such as Mourvèdre, Grenache, Syrah, and Tannat to do well in the Texas sun. In addition, Italian and Spanish grape varieties such as Carignan, Cinsault, Tempranillo, and Sangiovese also do well. These grapes can withstand Texas heatwaves… (Always try a Texas Tempranillo. They're typically amazing!) If you prefer more white wines, Texas is producing some excellent Viognier, Roussanne, Vermentino, and Chenin Blanc.
TOP GRAPE VARIETIES
RED Wine Grapes
Granache
Tannat
Sangiovese
Tempranillo
Carignan
Cinsault
Syrah
With 300+ wineries, Texas wine country has a lot to sip in.
We've shared the best Texas wineries, itineraries, and festivals for your grape escape.
Kuhlman
Cellars
Becker
Vineyards
William Chris
Vineyards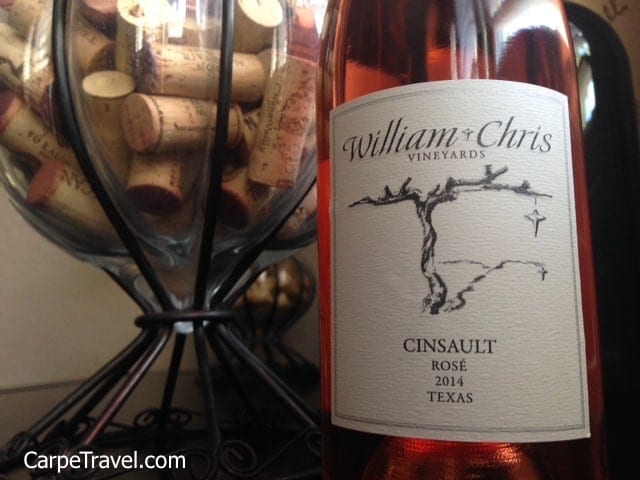 WHERE TO STAY IN TX WINE COUNTRY
TEXAS WINE TRAILS
Texas is home to eight AVAs – wine growing regions – and each region has its own wine trail, if not several. While the number of Texas wine trails continues to grow, these are two of the more popular and established.
Wine Road 290
The most extensive wine trail in Texas is in the Texas Hill Country AVA, Wine Road 290. This AVA has been listed as one of "the 10 best wine travel destinations in the world," and is the second most visited wine region in the United States, only behind Napa.
The Texas Hill Country AVA is home to at least 70 wineries, with more opening each month. With this number of wineries the the Texas Hill Country AVA has a few official wine trails with Wine Road 290 being the largest. More than 30 wineries sit along US Highway 290 from Fredericksburg on to Johnson City, the home to the highest concentration of wineries in the state of Texas, also known as Wine Road 290.
Grapevine's Urban Wine Trail
While not in the Texas Hill Country, the town of Grapevine has become one of the wine destinations in TX. It is home to the Texas Wine and Grape Growers Association and GrapeFest, the largest wine festival in the Southwest, held annually in September.
Given its deep wine roots, the town is also home to an Urban Wine Trail with nine winery tasting rooms, most of which are within a few blocks of each other on the historic Main St. Two Texas wineries not to miss on the Urban Wine Trail – Messina Hof Grapevine Winery and Umbra Winery.
TEXAS WINE EVENTS
Austin Food + Wine Festival is sponsored by FOOD & WINE, brings taste, talent and culinary entertainment to the Capital City while helping to support nonprofit Austin Food & Wine Alliance. The three-day weekend is the epitome of high spirits, with a packed schedule of hands-on grilling demos, up-close tastings with top chefs and sommeliers, and a Grand Tasting event like few others.
Root Stock is located in the picturesque Indian Spring Park. Rootstock features 16 of Texas' best when it comes to wines grown and produced in the Lone Star State. The festival also features a half-dozen local chefs and restaurants competing to create the best small bite to pair with Texas Tempranillo – visitors get to vote for the winner!
GrapeFest, is a true Texas wine experience. Attendees enjoy wines from Texas as well as the Finger Lakes region of New York and Niagara-on-the-Lake region of Canada. (This is also located in my hometown! I grew up attending every year and my parents did a lot of volunteering at the wine booths…I promise, it's A LOT OF FUN!)
Texas offers endless activities besides sipping in the wine country. And, since Texas is my home state, we visit a lot, so find tons of ideas for kids and more!
Find everything cowboy in Fort Take in the unique culture and energizing San Antonio River Walk – one of the things that at makes San Antonio one of the top places to visit in Texas.
Bike the iconic Willow City Loop with picturesque Texas bluebonnets and other wildflowers in the spring and rolling hills offering scenic views all year long.
Find everything cowboy in Fort Worth! Once home to cowhands, cattlemen and outlaws, today it has a more urban vibe with museums like the Amon Carter Museum of American Art and the Kimbell Art Museum.
Additional Resources to Plan the Perfect Texas Wine Country Stay
Sip in More Texas Wine Country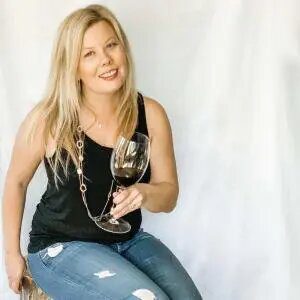 Elaine Schoch (pronounced the German way – Shock) is the editor and founder of Carpe Travel as well as an award-winning travel writer, wine judge, certified by the Wine & Spirit Education Trust (WSET) Level 2 and certified American Wine Expert. She is married to The Husband and has two kids, Princess One and Two – who's interest and knowledge in wine is quite extensive. Not to mention the stamps in their passports.