Written in Partnership with Hotels.com.
When was the last time you explored your city, town or even the state you live in? I mean, REALLY explored…like it was your first time visiting? Until last March when travel came to a screeching halt, I really hadn't sipped in everything there is to do in my hometown of Denver. Which, got me to thinking about the other places I've lived and the things I did and didn't do while living there. Which brings me to Dallas, TX.
I grew up outside of Dallas but until I left I didn't have a good appreciation for all the things to do in Dallas. Being a local, it's easy to take things for granted. When Hotels.com asked me to share my thoughts on some of the top sites to see and things to do in Dallas I was excited to go down memory lane. Not only are some of these things I did back in the day but fun activities I've done with my kids over the last several years. It's been fun to become a "tourist" in the city you grew up in.
From classic tourist activities such as a visit to the Reunion Tower and the Perot Museum of Nature and Science to a trip to Texas wineries outside the city, there really is no shortage of things to do in Dallas…be it if you're a local trying to explore more or a first-time visitor.
If you're trying to stay outside – aka more socially distanced – right now, I've noted the things to do outside for easy scrolling.
13 Seriously Fun Things to do in Dallas, TX
Take a History Lesson at the Sixth Floor Museum at Dealey Plaza
Formerly the Texas School Book Depository, this building has earned its place in the history books as a museum dedicated to the memory of one of the nation's most tragic and defining moments. Located on the intersection of Houston and Elm Street, the museum documents the last days of President Kennedy's life and his trip to Dallas in November 1963.
The spot where Oswald took the fatal shot has been recreated and exhibits detailing the aftermath of the shooting give us a sense of what it was like to have lived through this time. The guided audio tour ensures that you don't miss a single detail of the tragic events and the days that followed.
You can escape to White Rock Lake, which is only five miles northeast of downtown Dallas. It's a popular outdoor spot so make sure to check any restrictions or closures before heading out. Assuming everything is open, you can cycle the 100mile paved trail, explore the Audubon Society bird watching area, wetlands, White Rock Lake Museum or the Dallas Arboretum. My favorite though, grab a Kayak or paddle board and head out on the water. (You can rent equipment at White Rock Paddle.)
The Dallas Arboretum and Botanical Gardens is located a few minutes from downtown Dallas and it is an oasis of calm in a busy city. Situated along the southeast shore of White Rock Lake, its 66 acres are filled with stunning displays of trees, ornamental shrubs, plants and seasonal flowers together with sculptures and fountains.
Throughout the year a program of concerts, outdoor festivals, art shows and educational programs are held here.
(outside/inside) Visit the Home of the Dallas Cowboys
The world's largest domed structure, aka AT&T Stadium, the home of the Dallas Cowboys isn't actually in downtown Dallas but rather in Arlington. Still…if you're in Dallas it's a cool place to visit and worth the 20-minute drive.
There are a variety of small group tours of the stadium, the field and even an art gallery. If you can get tickets to a game, make it happen! Even if the Cowboys aren't your team – or if they're not having a great season – being in AT&T Stadium is rush.
Staying at a hotel nearby the locations you plan to visit is one thing not to overlook if you're visiting Dallas. Renting a car is another. Everything is bigger in Texas, including the distance between places. If you're a local to Dallas, why not pretend to be a tourist and do a little city staycation to explore more of your own backyard.
(outside) Mountain Biking in Dallas at the Big Cedar Wilderness DORBA Trail
I know, there aren't mountains in Dallas, at least not like I have at home in Colorado. But, that doesn't mean you can't mountain bike. Big Cedar Wilderness DORBA Trail is an eight-mile trail system made up of 10+ loops ranging from beginner to advanced. The trials wind through cedar and hardwood forest. There's also two picnic areas, playgrounds and stocked fishing pond if you want to mix up your activities.
A must-see-place for adults and children alike, the Perot Museum of Nature and Science is housed in a huge building that was designed by architect Thom Mayne with sustainability in mind. (It's actually a ton of fun for all ages – promise!!)
Divided into thematic areas, the museum is filled with interactive displays, games and educational stations based around engineering, innovation, energy, earth sciences and evolution. There's also a 3D Theater and the Moody Family Children's Museum and playground is sure to provide hours of fun for the little ones.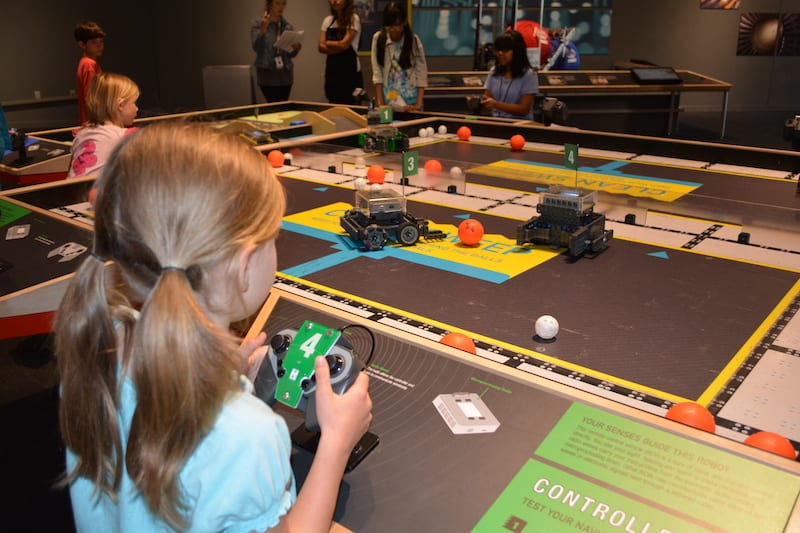 Although it may not be the tallest building in the city, the Reunion Tower is easily the most recognizable. The tower is topped by a ball set on five cylindrical poles which reach 560 feet into the sky and is lit up at night to shine like a beacon on the skyline.
Originally completed in 1978, the building was renovated in 2011 to include a revolving restaurant with 360-degree birds-eye views over the city. It's definitely a must-see!
Find a hotel near Reunion Tower
Since its inaugural opening in 1903, the Dallas Museum of Art has been a popular attraction in the city. With over 24,000 national and international pieces on display, it's one of the ten largest museums in the U.S.
A visit here will introduce you to artworks ranging from artefacts from Ancient Egypt, Rome and Greece to impressionist paintings from Claude Monet and pieces of contemporary art from the likes of Jackson Pollock.

Located on Griffin Street just a short walk from the historic downtown area of Dallas, the Dallas World Aquarium is a great place to visit if you are looking for things to do in Dallas with kids.
Over 87,000 gallons of saltwater cover a natural reef to provide a home for a multitude of sea dwellers from sharks, stingrays and jellyfish to giant groupers, sea turtles and sea dragons. However, it's not all about sea life; the aquarium also houses birds such as toucans and tree sloths in its Orinoco Rainforest, where you'll also meet poison dart frogs and Orinoco crocodiles.
(outside) Take a Safari at Dallas Zoo
Covering an area of 106 acres and housing over 2000 exotic animals, the Dallas Zoo is a great place to visit with or without kids. Located just three miles outside of the city, it's been attracting visitors to see the 406 different species of animals since 1888, which makes it one of the longest standing zoos in the United States.
Inside you'll find two major regions – the Wilds of Africa and ZooNorth and be able to explore exhibits such as the Wildlife Amphitheater, the Otter Outpost, the Giants of the Savanna and the Endangered Tiger Habitat.
There's also a monorail in the Wilds of Africa region that will take you on a safari through the Great Rift Valley together with a fun theme park – Zero Gravity Thrill Amusement Park – where you'll find out what it's like to leave your stomach behind as you tackle free-falling rides and bungee jumps.
If you want to discover more about the history of sculpture, a visit to the Nasher Culture Center in the heart of the Dallas Arts District is a must.
The center opened its doors in 2003 and now houses a collection of modern and contemporary sculpture both indoors and outdoors in the tree-lined grounds. Expect to see pieces from notable artists such as Pablo Picasso, Henri Matisse and Edgar Degas.
(outside/inside) Enjoy the Wine at the Local Wineries
Although Dallas may not spring to mind when you think of wine-growing country, in recent years there have been wineries springing up all over the area which host wine tasting events and celebrations.
Located between Dallas and Fort Worth, the aptly named city of Grapevine has become the HQ of the Texas Wine Industry and its many excellent wineries certainly deserve a visit. (See my guide for sipping through Grapevine wineries.)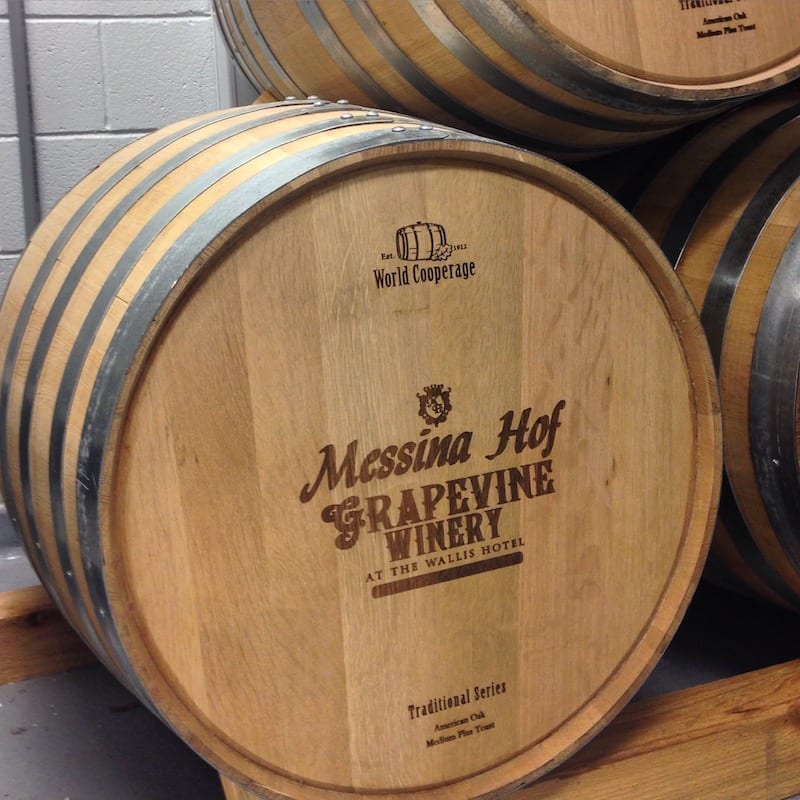 These include the Delaney Vineyards with its 8,000 square feet winery and 10 acres of grapevines which have been established in Grapevine for over 20 years; the Cross Timbers Winery and the Messina Hof Winery. You'll also find an upscale winery and tasting room, the Times Ten Cellars, on Prospect Avenue in Dallas itself, where you can relax in their Wine Lounge or on the outside patio and sip many excellent wines.
See my full write-up on wine tasting in Grapevine.
(outside/inside) Go Back to the '80s at Southfork Ranch
If you're a fan of the blockbuster soap opera of the 80s, Dallas, which followed the family fortunes of the Ewing family, a visit to the location where the series was set will be a highlight of your stay.
Located approximately 25 miles north of Dallas, Southfork Ranch offers guided tours of the mansion and there's an authentic chuckwagon diner on the grounds for an unforgettable Texan food experience.
FYI – It's waaaay smaller than you might remember on the TV show.
There are so many sites to see, places to go and things to do in Dallas that you may need to extend your stay. Let me know what you enjoyed and what you think we should add to our list when we head back to the Lone Star State.
TRAVELER NOTICE
As travel today remains uncertain, please keep your safety and the safety of others in mind at all times. If you are comfortable with traveling, please travel responsibly and within regulation as any travel is at your own risk.
If you do decide to travel at this time, here are a few recommendations:
Wear a face mask.
Bring hand sanitizer and wash your hands on a regular basis.
Check official websites before your trip for the latest updates on policies, closures and status of local businesses.
Book a hotel with free cancellation in case you need to change your plans at the last minute.
Sip In More of Texas
Subscribe to Sip in More of the World