Pairing wine with chocolate can be a sweet taste testing experience.
Pairing food and wine is always somewhat of a personal preference. When it comes to paring wine with chocolate it's pretty much the same. The main thing for any food and wine pairing is to try and balance the sweet, salty, sour and bitterness in the food and wine. With that said, there are some things to think about when you're putting a chocolate and wine pairing together to enhance the flavors and bring out the little subtle notes in each.
It's not always a given that any type of red wine and any kind of chocolate will pair well. What?!?! Yes, it's totally true and a lesson I have learned on multiple occasions. I always silently laugh to myself when my husband opens a new bottle of wine and goes through three different pieces of chocolate to get his palate right. Only then to turn to cheese. Perhaps he might read this and learn something… Let's get back to the point about how to what wines to pair with chocolate…
Both chocolate and wine contain flavanols (antioxidants) aka tannins. This chemical compound affects the taste, color and mouthfeel of wine and the bitterness in chocolate. Think about it this way, it's what makes your mouth feel dry after eating a square of 70 percent cocoa dark chocolate or after sipping a freshly opened Zinfandel. It's that kinda puckering feeling you get in your mouth.
Red wines have a more flavonols than white wines since it has more contact with the grapes skins during the wine making process.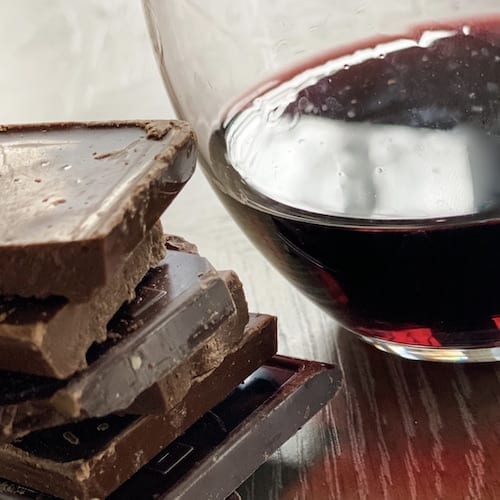 Pairing Wine with Chocolate
Dark Chocolate and Wine
Dark chocolate wine pairings can be a bit tricky since the chocolate itself contains a lot of natural flavanols – tannins – that give it a bitter taste. The key is finding a red wine that's sweeter than the chocolate, or in wine terms has more residual sugar. I personally don't think you can ever go wrong with a Port. (What is Port Wine?)
Dark Chocolate Wine Pairings: Rich full bodied wines.
Suggested Wines: Port, Malbec, Bordeaux Blends, Zinfandel, Syrah.
Carpe Travel's Recommendations: Cantena Malbec, Seghesio Sonoma Zinfandel, Taylor's Vintage Port
Milk Chocolate and Wine
Milk chocolate is usually easier to pair because it's light and creamy texture on the pallet puts it somewhere in the middle of white chocolate and dark chocolate. On other words, you can go red or white with a milk chocolate wine pairing.
Milk Chocolate and Wine Pairings: Lighter bodied reds or full bodied whites.
Suggested Wines: Pinot Noir, Merlot, Chianti, Ruby Port, Lambruscos, Beaujolais.
Carpe Travel's Recommendations: Duckhorn Merlot, Grahams Fine Ruby Port.
Carpe Travel's Recommendations: Erath, Le Crema, Decoy,
White Chocolate and Wine
Given its color you might conclude that white chocolate pairs well with white wine, and you'd be right. BUT, white chocolate can also pair nicely with lighter red wines like a Pinot Noir and Beaujolais.
White Chocolate and Wine Pairing: Full bodied white wines or lighter styled red wines.
Suggested Wines: Gewurtztraminer, Chardonnay, Riesling, Sparkling Wine, Sauternes, Ice Wine, Moscato, Sherry
Carpe Travel's Recommendations: Inniskillin Vidal Gold Ice Wine Ice Wine, Veuve Clicquot Brut Yellow Label Champagne
---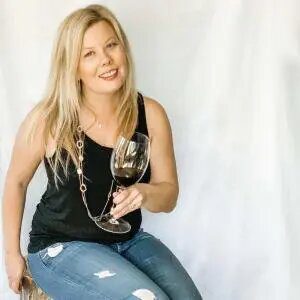 Elaine Schoch (pronounced the German way – Shock) is the editor and founder of Carpe Travel as well as an award-winning travel writer, wine judge, certified by the Wine & Spirit Education Trust (WSET) Level 2 and certified American Wine Expert. She is married to The Husband and has two kids, Princess One and Two – who's interest and knowledge in wine is quite extensive. Not to mention the stamps in their passports.