By Contributing Writer, Rachelle Willgren with Mama Writes Reviews
Fredericksburg, Texas lies in the Texas Hill Country, a little more than 60 miles from Austin and about that far from San Antonio. While Fredericksburg is well-known for its wine, there are lots of other things to do in Fredericksburg as a family "beyond the vine" in this town.
Things to do in Fredericksburg With Kids
Enchanted Rock State Park
Enchanted Rock State Park is just outside of town. The State Park offers hiking, picnicking, sightseeing, camping, and more. Enchanted Rock is a large pink granite peak with about 11 miles of light to moderate hiking in the area. (note, there's no swimming or biking permitted) There's even primitive campsite options available for the really adventurous.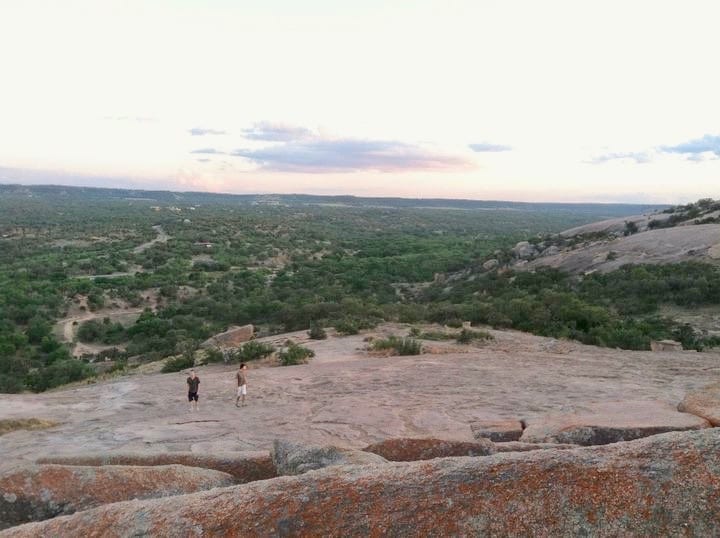 Lyndon B. Johnson State Park & Historic Site
A cousin to Enchanted Rock State Park, Lyndon B. Johnson State Park & Historic Site is right down the road from Fredericksburg in Stonewall. Stop at the Visitor's Center and pick up a CD for a self-guided automobile tour of the LBJ Ranch. Along the tour are sites such as the one-room schoolhouse and the Texas Whitehouse.Sauer-Beckmann Living History Farm
Adjacent to the LBJ State Park is the Sauer-Beckmann Living History Farm. This is a perfect stop for kids as they can observe and sometimes even help with the daily chores. There are animals and houses to care for as well. Basically, the entire farm features interpreters wearing period clothing, and doing the farm and household chores as they were done at that time.
National Museum of the Pacific War
Back in town is the National Museum of the Pacific War. This museum was formerly known as the Nimitz Museum. It is now the only museum in the Continental US centered on World War II's Pacific campaign.
Related to this Museum is the Admiral Nimitz State Historic Site. It is included with the admission to the National Museum of the Pacific War. Admiral Nimitz served in WWII and was born in Fredericksburg, and this Site pays tribute to him.
Main Street
One of the main features of Fredericksburg is Main Street. Here is where most of the shops and restaurants belong. There's a shop or two for practically everyone as well as a restaurant for every taste. There's candy stores and toy stores as well as apparel, art, furniture, home decor, and more. There are even a few places where you can sample 100s of different kinds of sauces, salsas, and more, so don't eat *too* much wherever you decide to dine.
Wildseed Farms is also just outside of Fredericksburg City Limits. It is a shopping center and garden all in one. It is encouraged to bring cameras to photograph the various flowers and plants growing on site (there's over 200 acres of wildflowers!) It's definitely worth a stop for nature lovers.
Right on Main Street is the Pioneer Museum Complex, which is spread out over 4 acres, and includes a general store, barn, and blacksmith shop among other 19th-century styled exhibits.
Lady Bird Johnson Municipal Park
According to their website, the Lady Bird Johnson Municipal Park is "The crown jewel of Fredericksburg's recreational parks." It's an ideal place to relax for a bit while taking in nature and having fun. There are five pavilions available as well as baseball/softball fields, sand volleyball courts, basketball courts, and more. There are lots of picnic tables and playgrounds and even a swimming pool!
Don't forget about those furry family members! Over on Lady Bird Drive and open every day from dawn to dusk is a city dog park (it's located inside the LBJ Municipal Park). It offers shade, water, seating, and lots of space for those friendly fidos to run around and socialize. Open daily dawn until dusk.
Shopping
The third weekend of every month is home to Fredericksburg Trade Days. There are over 350 vendors here and more shopping imaginable. There's everything from trinkets and treasures to furniture and plants and more. This is just east of town on US Highway 290.
If antiquing is on the agenda, there are a handful of good antique shops in Fredericksburg. Red Baron Antique Mall has a large selection of things to shop for. Larry Jackson Fine Art & Antiques is another good one right off of Main Street. Lone Star Antiques is also located right on Main Street.
Down in Marktplatz, the Fredericksburg Farmers Market takes place weekly for 7 months out of the year. It is a celebration of locally grown food, and it is all just DELICIOUS!
Speaking of Marktplatz, there is an AWESOME playground there that is just perfect for kiddos to run off some energy. There's plenty of seating for parents to take a break too. It's a family-friendly corner of the town.
Fredericksburg Ghost Tours
More fun can be had in Fredericksburg after the sun goes down. Fredericksburg Ghost Tours are 90-minute, one-mile, walking tours of historic and haunted Main Street. Tours start at the Admiral Nimitz statue at the corner of Main and N. Washington every Friday-Sunday (and a handful of Thursdays). Spooky! All ages are invited; however, they do permit BYOB.
Trolley Tours
Don't forget about the trolley tours… yes, there are trolley tours in Fredericksburg! They feature vintage trolleys and even Cadillacs, as well as luxury shuttles of the area. It's a unique way to experience the beauty, history, architecture, and more of Fredericksburg. They even offer private charters for special events. Public tours start at the Fredericksburg Visitor Center, located at 302 East Austin Street.
Eat Peaches!
Gillespie County, the county Fredericksburg is located in, produces 40% of all the peaches grown in the State of Texas. Roadside stands line many of the roads leading into Fredericksburg during peach season, where peaches are available for purchase. The peach season normally runs from mid-May through the first week of August but depends on the weather. Several orchards even offer pick-your-own peach orchards. The Hill Country Fruit Council produces a listing of its members in a brochure entitled Fredericksburg-Stonewall Peaches, which is normally available at the Fredericksburg Visitor Information Center.
Wheels Up!
Skateboarders or Bladers in the family? Kids will enjoy this free, outdoor, concrete riding surface which is located at Old Fair Park off of E. Ufer Street (behind the Boys and Girls Club and next door to the HEB). It is open to the public and lighted at night.
Check Out the Festivals in Fredericksburg
Perhaps the most fun thing about Fredericksburg is the various events and festivals throughout the year. The full list is found festivals in Fredericksburg here but here are some of the highlights:
April: Annual Hill Country Film Festival
This is a celebration of independent film. The HCFF screens over 90 independent films each year (short and feature length) and also has Q&A sessions, filmmaker panel discussions, and festival parties each night.
May: Annual Lavender Festival at Becker Vineyards
This is a festival all about lavender… Lavender cooking, Lavender presentations, Lavender vendors, Lavender food, Lavender drinks, and music, wine tasting, and more!
July: July 4th Community Parade, Patriotic Program, and Fireworks Display
The parade begins promptly at 10 am each year and ends east on Main Street to the Nimitz Museum. From there, it makes a U turn and goes west on Main all the way down to Bowie Street. Don't forget to bring chairs or tailgate. After the parade is a free patriotic program on the Marktplatz.
The annual fireworks display takes place at the golf course at LBJ Municipal Park each year. Best places to view the fireworks are inside the park or at the Gillespie County Airport or other surrounding locations. Bring chairs, snacks, drinks for the 15-20 minute free fireworks show.
August: Annual Gillespie County Fair
This is the oldest continuous County Fair in the state. It's four days long and has all of the carnival stand-bys: games, rides, livestock judging, food, exhibits, arts, crafts, tractor shows, music, and more! There's even a parade on the Friday of the fair.
October: Annual Oktoberfest
Fredericksburg has deep German roots, and they celebrate it each year in October with food, drink, dancing, music, and more. The weekend is packed full of activities for everyone to love.
October: Annual Food & Wine Fest
Being in the heart of the Hill Country Wine Area, this is a huge event every year. Food is celebrated as well with local chefs demonstrating their talent. There are silent auctions and live music and entertainment.
December: Light the Night Christmas Parade and Afterglow Market
Main Street on Fredericksburg gets all lit up in a holiday parade at night! If that's not enough, local foods, wine, shopping, and vendors will be there also, as well as a special guest from the North Pole who LOVES taking free photos with any and all visitors.
Family-Friendly Restaurants in Fredericksburg
Some of the more family-friendly restaurants in town are the Brewing Company, Mr. Gatti's Pizza (it's an arcade too), Hondo's on Main, West End Pizza Company, Clear River Pecan Bakery Sandwiches and Ice Cream, Pasta Bella, Mamacita's, and Sozial Haus. All of these places have ample seating and do allow strollers to various extents. There is a variety of food that even the pickiest eaters can choose from, and the staff is friendly and accommodating.
This is just a sampling of all the things to do in Fredericksburg, Texas. It's fun enough for a day trip, but there's also enough to do for several days and nights with family. Fredericksburg is a friendly Texas town with a friendly Texas attitude!
Have you visited Fredericksburg? What are your favorite things to do in Fredericksburg? Let us know in the comments.
Make sure to check out Carpe Travel's Texas Wine Travel Guide for more ideas on things to do among and beyond the vines.