Getting to know Tannat Wine
Tannat (tahn-naht) is a full-bodied red wine grape, historically grown in South West France of the Madiran AOC and is now the national grape of Uruguay. The name Tannat means "tanned" referencing the dark coloring of the grape and the wine.
Tannat wine is powerfully rustic with bramble red fruit flavors. The grape has the claim of being the healthiest grape within red wine given it has the highest levels of antioxidants (Resveratrol) that can be found in ANY red grape.
Dominant flavors include Black Plum, Blackberry, Black Cherry, Licorice, Anise, Mocha, Dark Chocolate, Cardamon, Star Anise, Smoke and Espresso.
Where to Find Tannat
Winemakers consider the Tannat grape a bit of a chameleon because it shines differently depending on where it is grown. It's one they love to experiment with!
France
Traditionally, Madiran Tannat is a powerful wine, with outrageous tannins and searing acidity. The wine is deep in color and ages well. In this climate, the wine showcases stewed red fruit and tar. It is often blended with Cabernet Sauvignon or Cabernet Franc to ease biting acidity. French law requires a minimum of 60% Tannat on wines labeled "Madiran AOC." However, many regional winemakers maintain 100% because it is a great wine. Modern French Tannat maintains its firm tannins, deep color, and high alcohol.
Uruguay
In Southern Uruguay, Tannat has less power and is more balanced. Intentionally blended with a variety of grapes to soften up its aggressive structure. Uruguay's Tannat can be blended with Pinot Noir, Merlot, or Syrah in the bottle, to soften, fruit flavors and help tame Tannat's high amount of tannins. Over time the wine has been engineered to cater to the fruit-forward consumers. There are many different styles of Tannat in Uruguay. The wine can range from aromatic, to unoaked, to tannic rich, to light red fruit flavors.
Alternate names for the Tannat wine include, Maidiran, Harriague, Moustrou and Bordeleza Beltza.
Tannat Wine Food Pairings
Tannat wine pairs best with dishes like Cassuloet, Tuscana Soup, Peking Duck, Pho, Bu Bun Hue, Beef Sausage, Steak, Duck Confit, Roquefort Cheese, Con Au Vin.
The wine should be consumed in a large red wine glass and has a long shelf life of up to 10 years. The average bottle costs about $20 and wine needs a lot of decanting support to smooth out those intense tannins.
When is the Right Mood for Tannat Wine?
Dramatic Television, Best Friend's Party, Documentaries, Girlfriend Conversations about a Break-ups, Cold Weather Wine, Sports Games, Dinner with In-Laws, Blogging
Tannat Wine Recommendations
Looking to try a Tannat wine? Here are a few recommendations.
Pin it for later!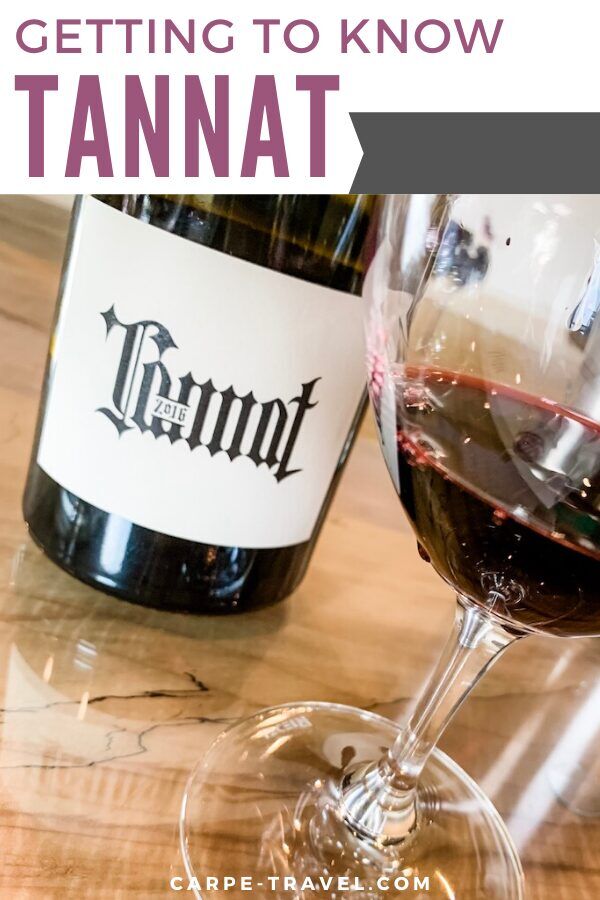 Carpe Travel collaborated with Maia Parish to compile the grape varietal overviews. Maia Parish is an award-winning events producer, sommelier, wine judge, and media consultant. She lives in Denver, Colorado and likes to eat copious amounts of food. You can find her here www.linktr.ee/thewinemistress.