The Texas Hill Country has become the second most visited wine region in the United States, only behind Napa and and was named one of the 10 wine destinations by Wine Enthusiast Magazine. For good reason… The wine is excellent and there is so much to see and do in the area. With nearly 80 wineries in the Texas Hill Country AVA – official wine growing region – narrowing down which Texas wineries to visit can be a chore.
At Carpe Travel we've rounded up our list of the best wineries in Texas Hill Country to visit for your next wine country getaway. For more tips on doing the Texas Hill Country wine scene, check out our Texas Wine Travel Guide.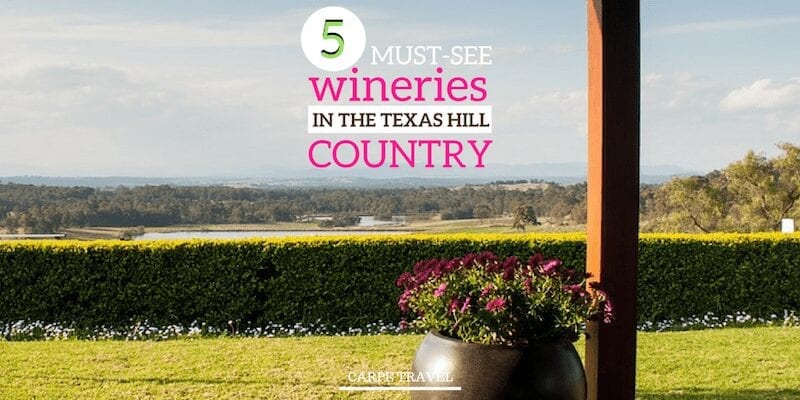 Texas Hills Vineyard
I loved visiting Texas Hills Vineyard. Not only were the grounds and tasting room welcoming, but the wines were excellent. Texas Hills Vineyard produces 100 percent Texas wines, which can't be said for all wineries in the Texas Hill Country.
In fact, Texas Hills Vineyard is the largest Texas producer that uses 100 percent Texas fruit. The wines Texas Hills Vineyard produces have an Italian influence, make sure to try the Sangiovese.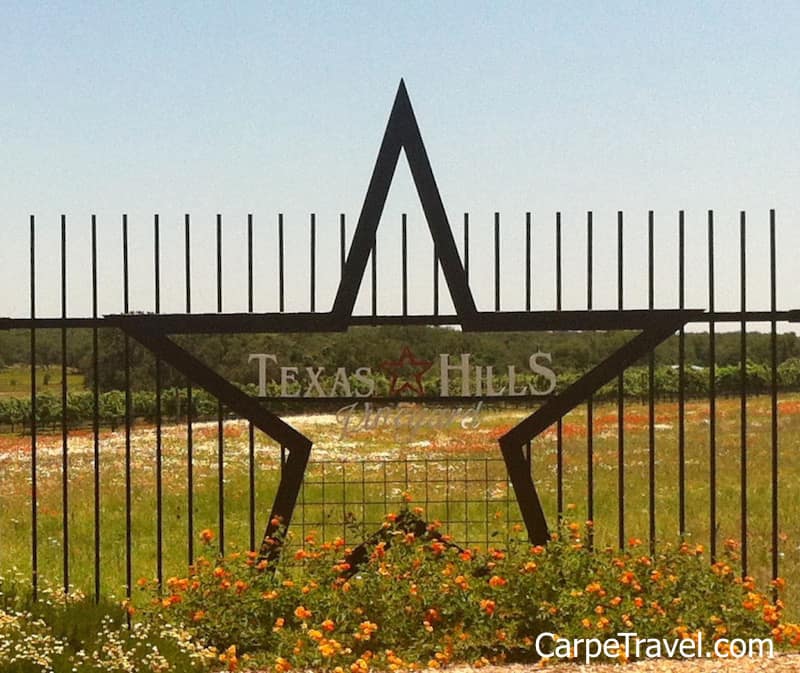 Things to Know When Visiting Texas Hills Vineyard
The staff in the tasting room was extremely knowledgeable and made sure you got a good overview of the vineyard's background. Now, we did go on a Friday so it was slower making for a more personalized experience. If you can make that work into your calendar go during the week. The weekends can be a bit hectic with live music in their outdoor seating area. Although, doing a wine tasting and purchasing a bottle to enjoy with your picnic lunch with the band playing in the background can be pretty nice too.
Given we visited on Friday, the vineyard was very friendly and accepting of our kids being with us. However, I wouldn't suggest taking the kids on the weekend.
Location: Texas Hills Vineyard is located one mile east of Johnson City on Ranch Road 2766, the road to Pedernales Falls State Park.
William Chris Vineyards
William Chris Vineyards is a family owned, super premium, boutique winery that specializes in 100 percent Texas wines. It's also my absolute favorite Texas Hill Country winery (so far). The wines they produce are some of the best 100 percent Texas wine I've had…
While the wine are the main reason it's been included in Carpe Travels round-up of the best wineries in Texas Hill Country, the tasting experience and destination add even more flavor.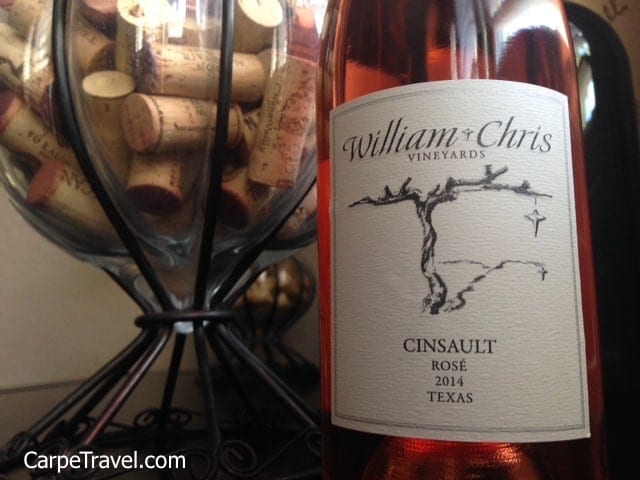 Owners and winemakers, Bill Blackmon and Chris Brundrett both grew grapes and made wine for other companies until 2008 when they broke out and started William Chris Vineyards.
The onsite tasting room was previously a small barn but has since been converted to a new, open tasting room with amazing views overlooking the outside seating area and vineyard. On weekends, expect to see live music.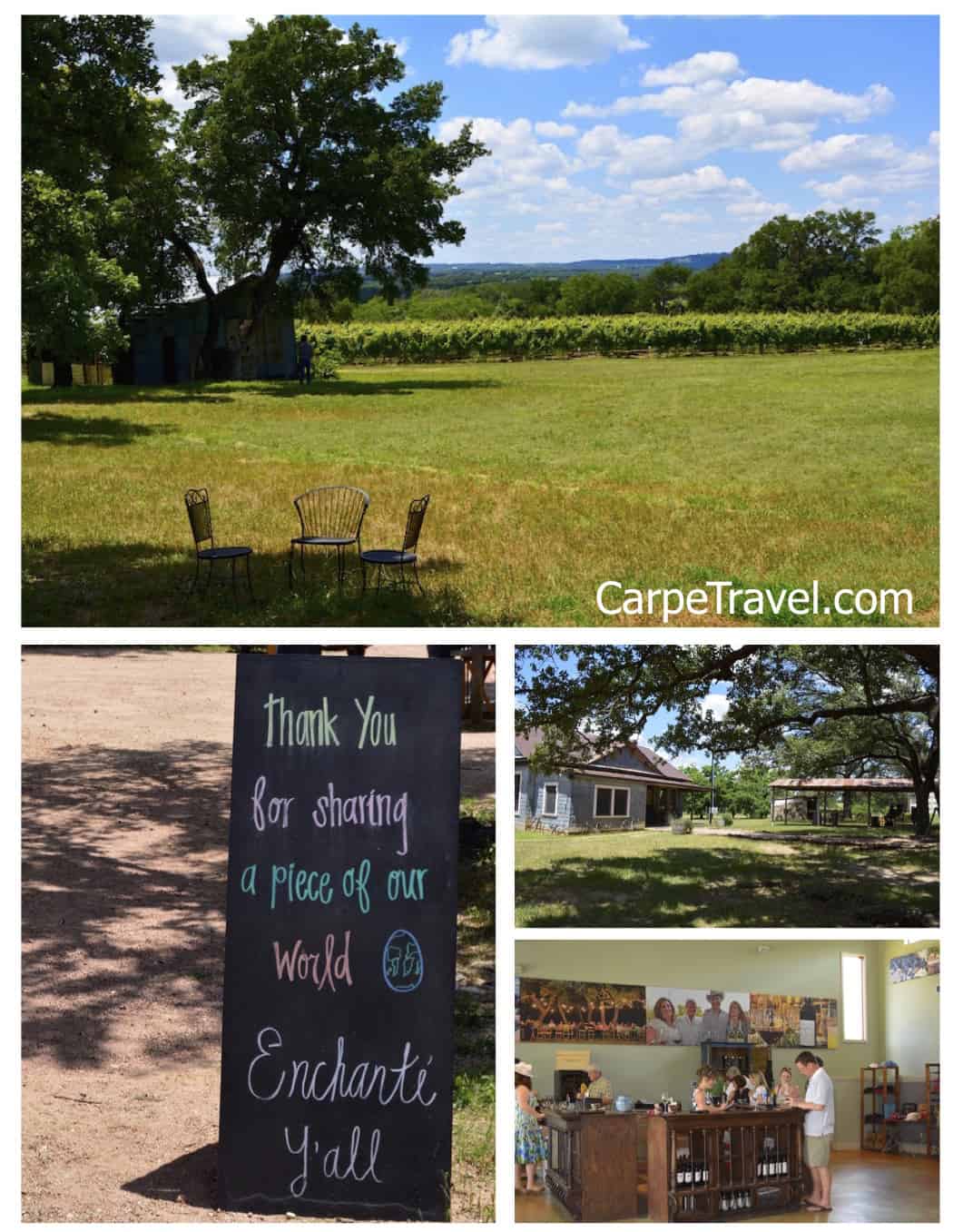 Things to Know When Visiting William Chris Vineyards
The tasting area is fairly small, albeit new and quite lovely inside. They have arranged an attendant outside the tasting area who welcomes you as you leave the parking lot and works to space people out at the tasting bar to prevent overcrowding inside. While this may seem annoying it does allow for a much better experience once inside. If you don't want to wait plan ahead and make a reservation.
Location: 10352 U.S. Highway 290 Hye, TX 78635
Insider Tip: Make sure to ask "Who Let the Dogs Out". You might just like what they pour next.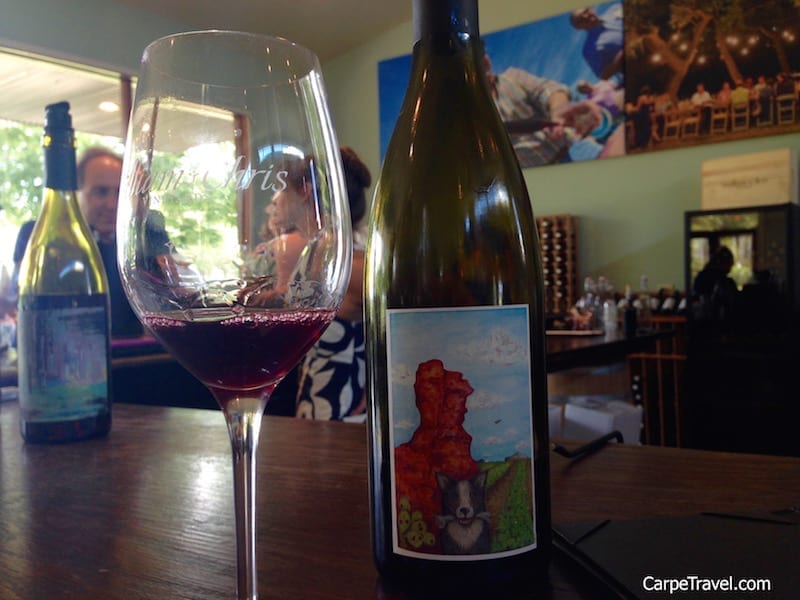 Pedernales Cellars
At Pedernales Cellars you can expect a formal presentation and overview of the wines during the tasting. The boutique winery produces 100 percent Texas wines and offers two tasting options. The first tasting includes its general wines and the second is the reserve wines.
With the reserve tasting you have the opportunity to taste wines which were exclusively available to wine club members – library wines, estate blends, and older vintages. (I highly recommend it!)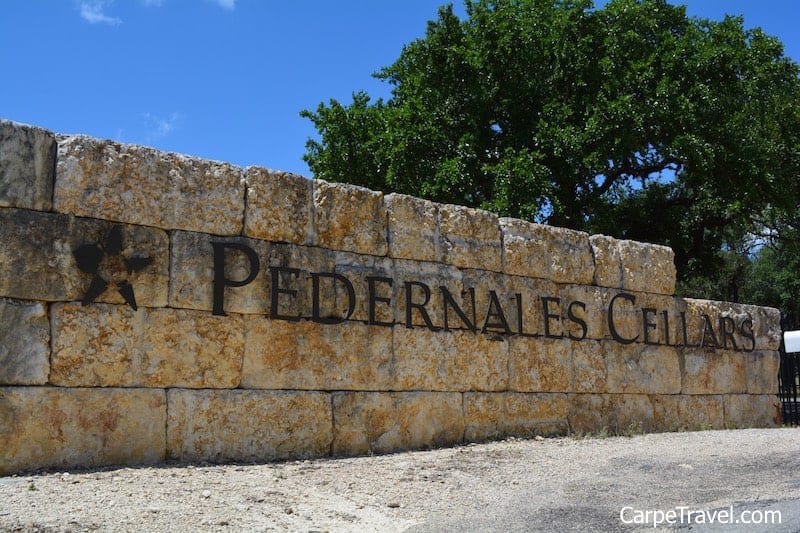 We did both tastings and while the wines were good in the first, the reserve provided a completely new view on the wines Pedernales Cellars produces. Simply put, age the red wines you purchase – even if they are not reserves – and drink them in three to five years. They will be completely different wines – smooth, layered, absolutely wonderful.
Things to Know When Visiting Pedernales Cellars:
You can tour the geothermal barrel cellar on Saturdays and Sundays for free.
Pedernales Cellars has a huge, lovely tree-covered deck with breathtaking views of the Pedernales River valley.
Purchase a glass of wine (or a bottle) and kick back to enjoy the view after your tasting.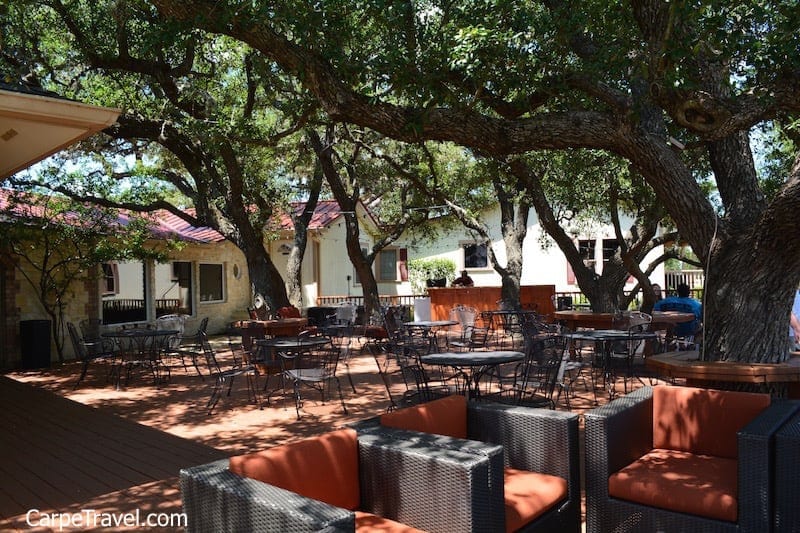 Location: 2916 Upper Albert Road, Stonewall, TX 78671
Becker Vineyards
What started as a husband and wife hoping to – maybe – create a 1500-case winery in the Texas Hill Country when they planted their first vines in 1993 has become a 100,000-case per year winery. Not only has Becker Vineyards grown in production but it has received numerous awards for its wines.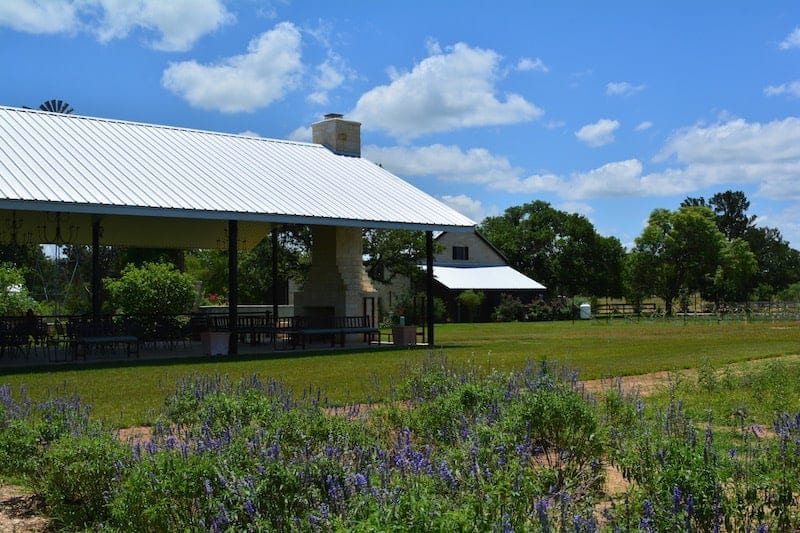 Things to Know When Visiting Becker Vineyards:
Becker Vineyards is popular and can be standing room only if visiting on a weekend. They have done a great job in utilizing the large indoor and outdoor space to provide numerous tasting stations.
There is an onsite restaurant and multiple tables and covered seating area throughout the grounds. It's almost a destination in itself…you can easily spend the day here if you simply want to be outside with friends soaking up the endless views of vines and lavender fields while sipping good wine.
If you do visit Becker Vineyards look into doing the "Reserve Wine Library" tasting. The library sessions are $60 for the general public and $50 for Wine Club Members.
Location: 464 Becker Farms Road, Stonewall, Texas 78671
Messina Hof
Messina Hof wines have received numerous accolades, so many in fact that it is the most Awarded Winery in the Southwest. Messina Hof currently makes its wine from 28 vineyards 1,050 acres and produces more than 85 wines from 27 varietals.
There's a lot of wine to sample…don't feel bad or compelled to do them all.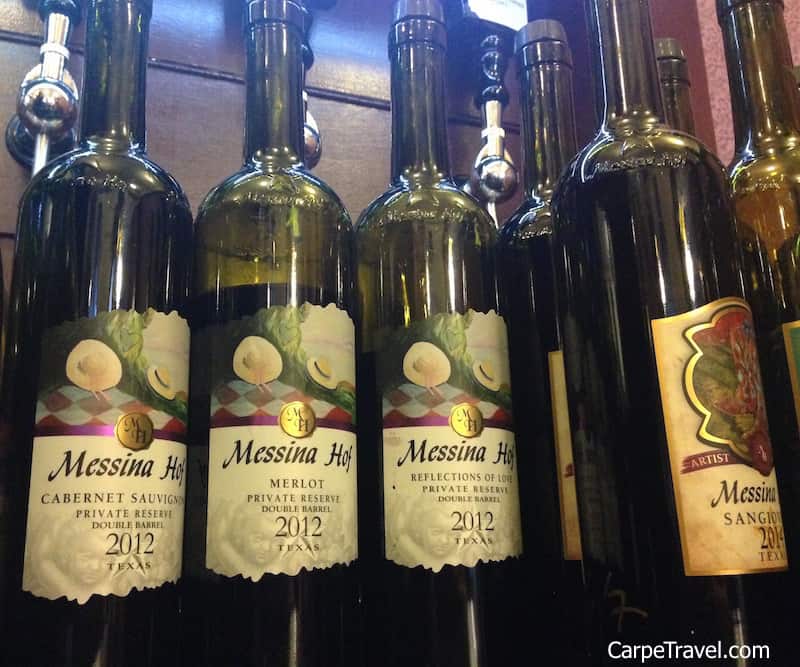 Messina Hof has been family owned and operated since Paul Bonarrigo and his wife, Merrill produced their first vintage in 1983. Paul is the first-born son in the Bonarrigo Family who has been making wine outside of Messina, Sicily since 1800.
A first generation Italian-American, he went on to study and practice physical therapy but wine was always in his blood. When he moved his practice to Bryan, TX he teamed up with Ron Perry and planted 13 vineyards all over Texas with 50 varietals to see where certain varietals should be grown.
The rest is history…you can also read more about Messina Hof in my interview with Paul.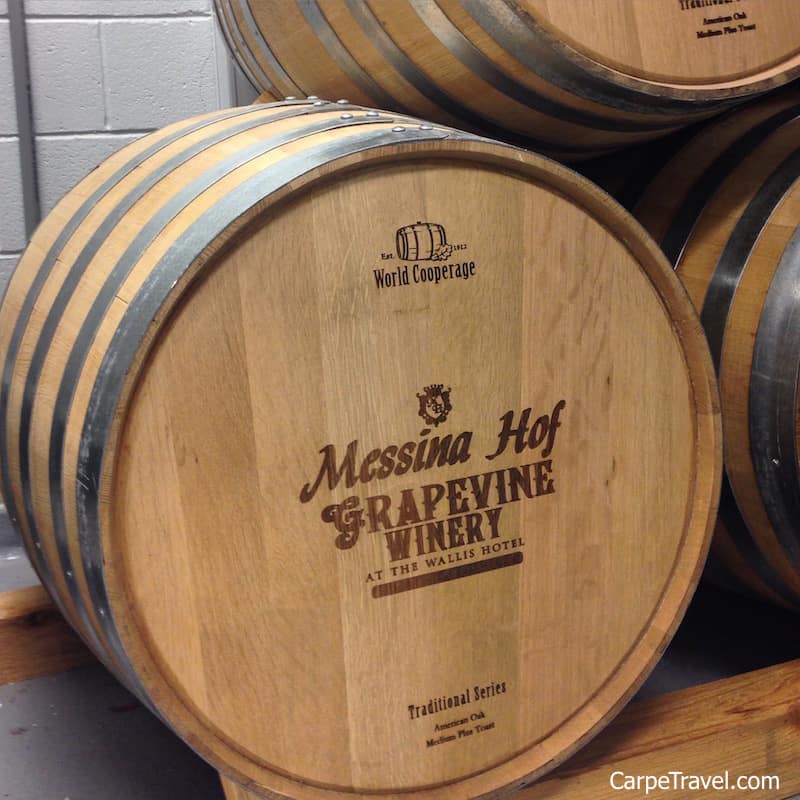 Things to Know When Visiting Messina Hof:
Messina Hof has three locations in Texas – Grapevine, Bryan and Fredericksburg. The later location has been named to our best wineries in Texas Hill Country. This location is home to a tasting room, restaurant and the Manor Haus B&B.
Location: 9996 US Hwy 290 East, Fredericksburg, TX 78625
For more on where to sip and stay in the Texas Hill Country see our Texas Wine Travel Guide. (Our friends over at also have some great recommendations on more wineries in Fredericksburg to sip in.)