Oregon is a world-class wine region with 18 AVAs, more than 700 wineries, and 1,000 vineyards growing 72 grape varieties.
Oregon is home to four distinct and unique wine regions, which make up 18 American Viticultural Areas (AVAs – official wine growing regions). The state is one of the few places in the world outside of Burgundy, France known for producing world-renowned Pinot Noir.
Our Oregon Wine Country Travel Guide shares a brief history of the state's wine country, terroir, where to sip, where to stay and things to do beyond the vines.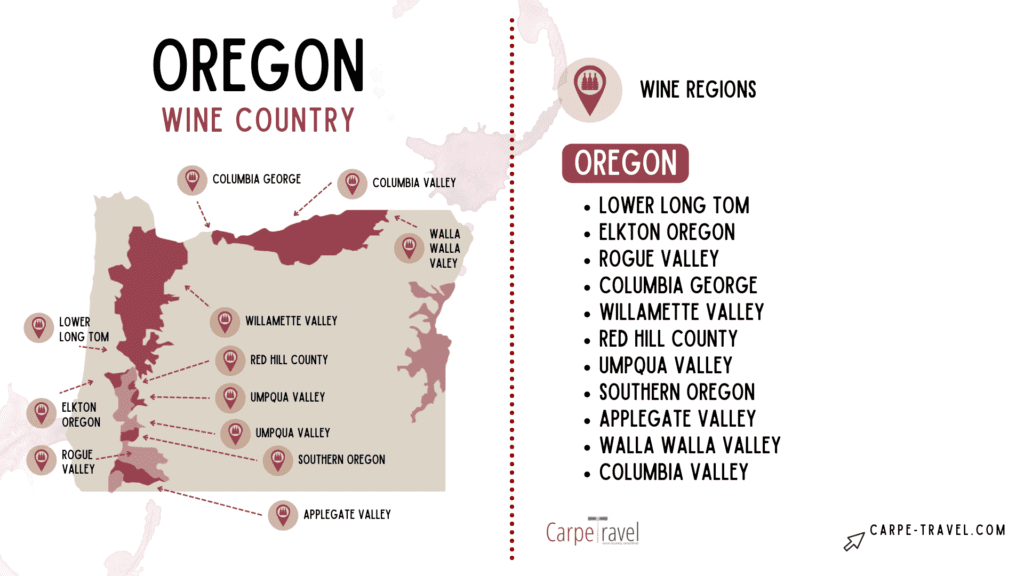 WHERE IS OR WINE COUNTRY?
Oregon wine country AVAs are in three primary sections, the northwest, the southern, and the eastern parts of the state with the Willamette Valley frequently receiving the most fanfare for its Burgundy-like conditions and stellar wine production. It's also easily accessible from the Portland International Airport (PDX), about 30 miles / 50 km away.
For a more involved Oregon wine county road trip, west to east, take Interstate 84 along Columbia River. On this route, you can hit the Columbia Gorge wine region in both Oregon and Washington states. When you get east, explore wineries in Bend, Mt Vernon, and Le Grande.
BEST TIMES TO VISIT
For a trip to the more popular western part of the Oregon wine region, just be weary of the wet. Pack a raincoat and umbrella and you'll be just fine year-round. In the summer, you'll likely get more sunshine days in July and August with warm, humid temperatures (don't forget the mosquito spray!) Harvest is a great time to visit, but your rain jacket is a must. In the eastern part of the state, its much warmer in summer and outdoor activities are endless.
In Oregon, Prohibition started in 1916 – a full FOUR years before it took effect nationally creating a dramatic effect on that small, but growing part of the state's agriculture.
When Prohibition started, most vines were torn out and replaced with fruit trees and potatoes. Mind you, the wine industry in Oregon was still a small one, but this killed it completely.
In 1933, shortly after the U.S. Congress repealed Prohibition – the Eighteenth Amendment – John Wood and Ron Honeyman received bonded winery status for Honeywood Winery in Salem. Today, this is Oregon's oldest, continuously operating winery. But it wasn't until 1961 that Oregon's wine industry was truly born when Richard Sommer planted Riesling and a few other grape varietals at what is now Hillcrest Vineyard in the Umpqua Valley. Four years later the state's official grape – Pinot Noir – was introduced by David Lett of Eyrie Vineyards who planted the first vines in what is now the Dundee Hills AVA located in the Willamette Valley. With that, Oregon's modern day wine industry was born.
It wasn't until Lett entered his 1975 Reserve Pinot Noir in the 1979 Gault-Millau French Wine Olympiad and placed in the top 10 in a blind tasting among the finest Burgundies that the world started to take notice of Oregon as a serious winemaking region. Today, the state is recognized as one of the premier wine producing regions in the world.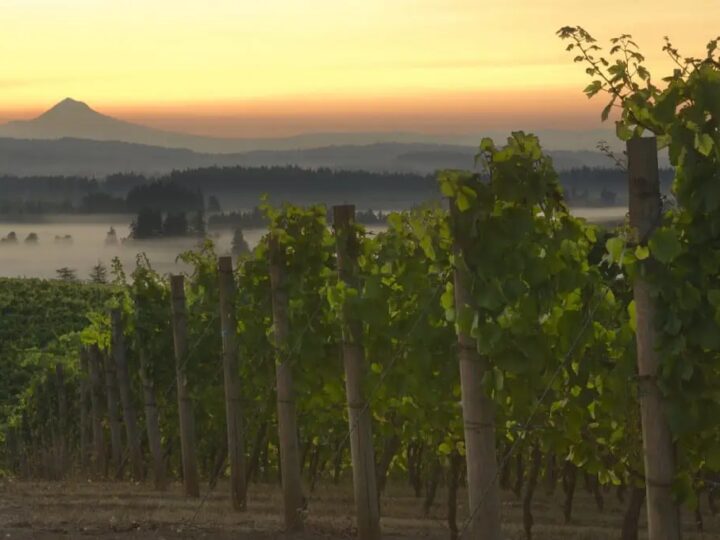 Oregon is home to four distinct and unique wine regions, which make up 18 AVAs.
The state is one of the few places in the world outside of Burgundy, France known for producing world-renowned Pinot Noir. However, given its diverse climate everything from Arneis to Zinfandel is produced in Oregon with the top varietals being Pinot Noir, Pinot Gris, Riesling, and Chardonnay, Syrah, Cabernet Sauvignon, and Merlot.
TOP GRAPE VARIETIES IN OREGON
WHITE WINE GRAPES
RED WINE GRAPES
With 900+ wineries, Oregon wine country has a lot to sip.
A few of our favorite Oregon wineries are…
Stoller Family
Estate
Adelsheim
Vineyard
Argyle
Winery
WHERE TO STAY IN OREGON WINE COUNTRY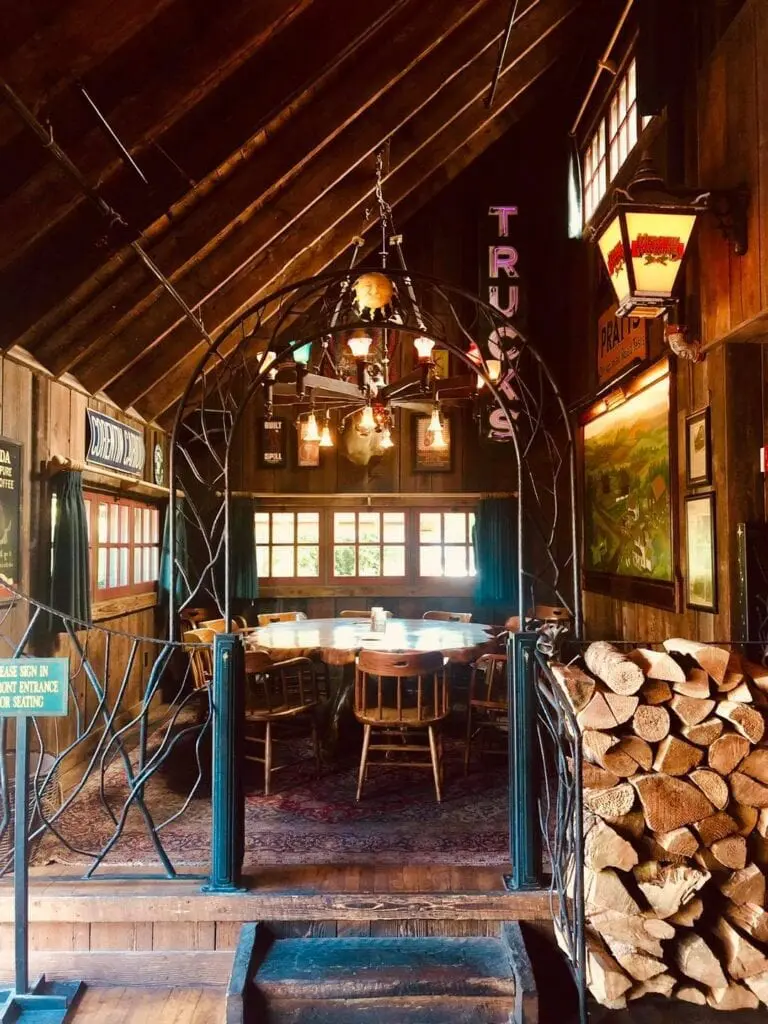 Columbia Gorge and Columbia Valley
OREGON WINE FESTIVALS
Spring Barrel Wine Tasting Event Weekends: Yakima Valley wine tasting from the barrel is a unique experience. Expect wines to taste different than you are used to out of the bottle. The vintages are brand new – giving tasters a sneak peek in to how they could mature. Will it be an award-winner? Check the site for the creative tasting opportunities.
Northwest Food and Wine Festival: The annual Northwest Food and Wine Festival has become the definitive Portland wine fest with a targeted half-day wine and food celebration. The festival brings the highest quality regional wines, spirits, beers, foods and prominent chefs and restaurants.
If you're looking for things to do besides sipping in the Oregon wineries, we have A LOT OF IDEAS for things to do in Oregon that go well beyond the vines.
Twenty miles away from Salem is Oregon's largest state park, Silver Falls, which covers over 9,000 acres of land. Anyone who enjoys the outdoors will find plenty of opportunities to get active here so it's a must for all nature lovers.
Less than 90 miles from Eugene, Clear Lake is an absolute must-see mountain lake. The dead trees standing upright 100 ft beneath its surface make it exceptional. Rent a canoe or kayak to fully explore this geological wonder.
One of the best things to do in Willamette Valley is to rent a bike and take the river bike trail. It's a 12-mile path system that bridges the cities of Springfield and Eugene.

Sip in More Oregon Wine Country…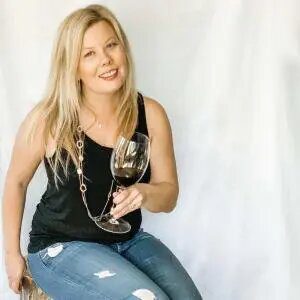 Elaine Schoch (pronounced the German way – Shock) is the editor and founder of Carpe Travel as well as an award-winning travel writer, wine judge, certified by the Wine & Spirit Education Trust (WSET) Level 2 and certified American Wine Expert. She is married to The Husband and has two kids, Princess One and Two – who's interest and knowledge in wine is quite extensive. Not to mention the stamps in their passports.