Our Walla Walla Wine Country Travel Guide shares a brief history of the region, terroir, where to sip, where to stay and things to do beyond the vines.
Walla Walla isn't just a part of Washington that makes delicious onions. In a short time it has become a world-renowned wine region and culinary destination that all wine lovers should explore.
WHERE IS WALLA WALLA?
The Walla Walla Valley AVA straddles Washington and Oregon states with about two-thirds of the vineyards on the Washington side.
BEST TIMES TO VISIT
Spring and fall are the best time to visit the Walla Walla wine region. Spring features bud break, blooming florals, and cooler temps – yet warm enough to enjoy outdoor activities. In the fall, experience harvest and enjoy the area's outdoor oasis. Bonus: Weekday travelers find lower prices. For summer travel, be mindful of the scorching high temperatures. And in the winter, consider that a lot of wineries close having sold out of their wines, so it's not busy enough to remain open. If you do visit in the colder months, book winery visits in advance.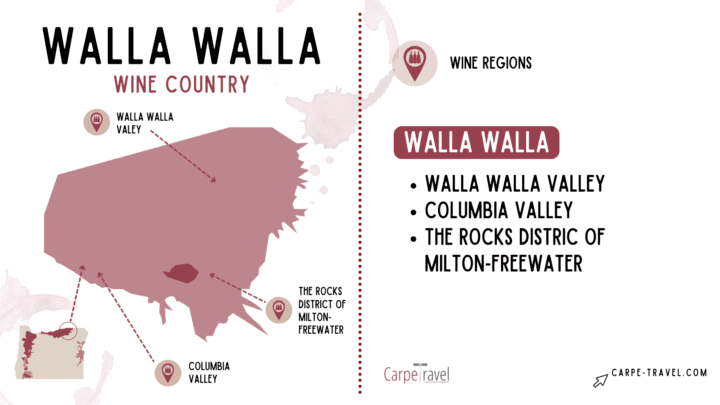 One of Washington's 14 federally recognized American Viticultural Areas (AVAs), Walla Walla is a small farming community tucked in the southeastern corner of the state.
Sandwiched between the Cascade Mountains and the Columbia River to the east and the Blue Mountains to the west, Walla Walla's unique geographic position makes it an agricultural heaven and an outdoor enthusiast's dream.
To understand the Walla Walla Valley AVA, it is helpful to understand Washington State's geographic makeup. Washington is thought to be dark and quite rainy, however, given some unique geographic features this is only true for the state's western portion, which also happen to be the most populated (Seattle, Tacoma, Olympia). Eastern Washington is actually quite sunny, dry, and what some call a desert, getting only six to eight inches of rainfall annually.
The Pacific Ocean and the Olympic Mountains form the state's western boarders helping protect the Puget Sound and Seattle areas from the cool, winds from the Pacific Ocean. The Cascade Mountains to the east create a "rain shadow", which keeps moisture in the Puget Sound and Seattle areas while protecting the state's eastern portion, aka the Columbia Valley. As a result, the Columbia Valley – home to nine of Washington's 14 AVAs, including Walla Walla – has the perfect wine production climate. Bonus: the climate and topography also make for ultimate weekend getaways for those living in Portland and Seattle who miss the sun.
While most of the Columbia Valley is quite dry, Walla Walla receives more moisture than others. With the Columbia River to its west and the Blue Mountains to its east, Walla Walla is cooler and wetter than a number of the eastern growing regions. This allows a limited number of vineyards in the eastern section of Walla Walla to dry farm, which is an extreme rarity in Washington and a technique that results in outstanding wine.

What's the Secret to Washington's Wine Success?
The answer lies in Walla Walla's global positioning. Wine regions around the world fall between 30°-50° degrees of latitude. Walla Walla's latitude is 46° N, the same as the wine regions of Bordeaux and Burgundy in France.
These regions are exposed to the same angle of the sun and length of day, which impacts the grape's exposure to growing conditions. Pair this with deep, well drained soils formed on loess hills and the unique diurnal shift – day-to-night temperature variability – Walla Walla is quite literally positioned to be one of the world's next renowned wine regions.
Washington State has some of the most dramatic fluctuations of any wine region in the world with up to a 40° degree Fahrenheit different between day and night time temperatures. The diurnal shift ensures balance between grape sugar ripeness and crisp acidity.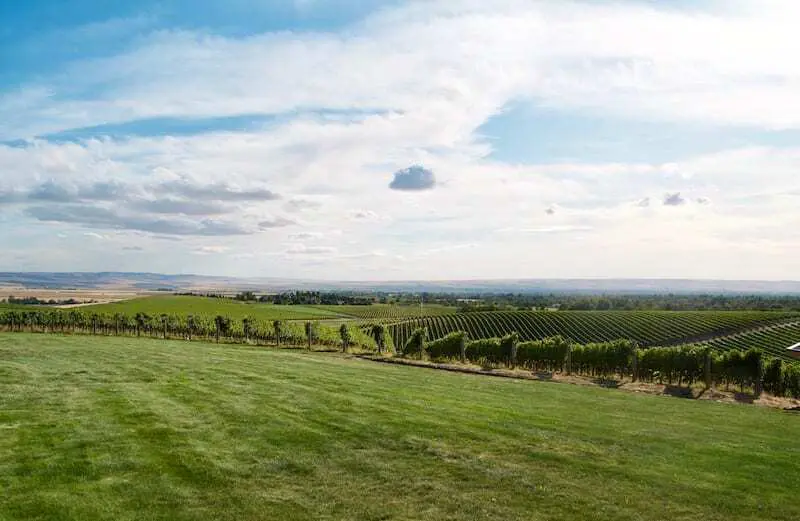 TOP GRAPE VARIETIES
Grape production in the Walla Walla Valley is dominated by red varieties with Syrah being one of the areas most awarded varietal. However, Cabernet Sauvignon is the most planted and gaining ground as a top varietal wine for awards.
The growing season is longer in Walla Walla than other areas of the Columbia Valley so you see more wineries experimenting with warm climate grapes such as Petit Verdot, Tempranillo, and Malbec. (I've been impressed with the Petit Verdot I've sipped!)
White Wine Grape
RED Wine Grape
Vines were planted in the Walla Walla Valley as early 1850s by Italian immigrants.
In 1974, Gary Figgins of Leonetti Cellar began planting grapevines. Three years later – 1977 – Leonetti Cellar became the first commercial winery in Walla Walla. Figgins, along with other area pioneers including, Woodward Canyon Winery and L'Ecole N°41 helped kick start the Walla Walla wine region and establish it as an official AVA in 1984.
Like everywhere else in the country, however, Prohibition put a cork in wine production in the early 1900s. The area's wine renaissance didn't hit until the 1970s.
The region grew slowly with only 50 operating wineries in 2002. Today Walla Walla wine region is booming with more than 120 wineries (2019).
With 120+ wineries and 30 walk-in tasting rooms in downtown Walla Walla, the area offers a lot to sip in. We've shared the best Walla Walla wineries for your west-side grape escape.
DAMA
Garrison
Creek
Double Back Winery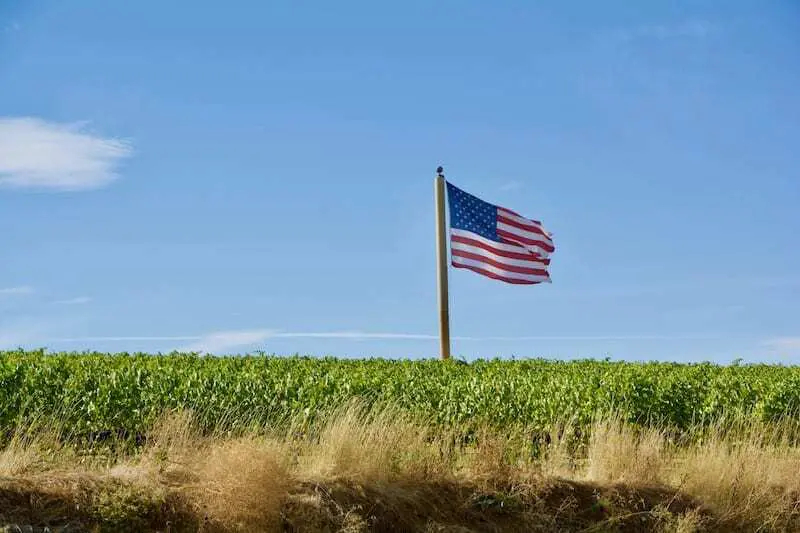 Planning Your Walla Walla Valley Wine Country Vacation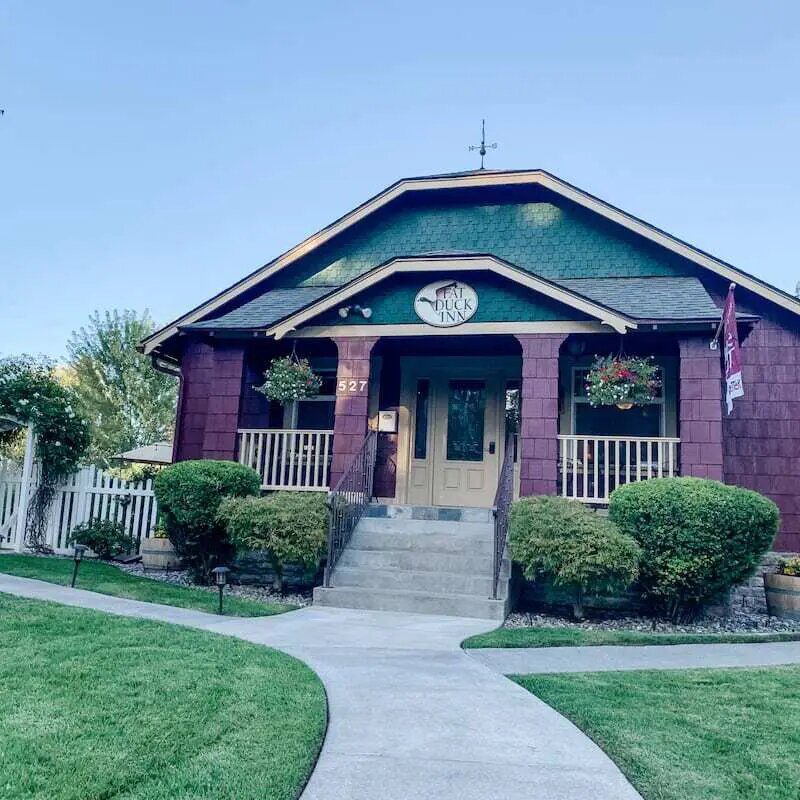 MEET WALLA WALLA WINEMAKERS
There are endless activities in Walla Walla, from snagging Walla Walla Sweets (onions!) at the Farmer's Market to history, hiking to golf, breweries to theater, and more.
Love hiking and experiencing natural beauty? One of the best things to do in Walla Walla is to take a hike through the Blues – amazing views of this amazing canyon with its north-facing slopes, wildflowers, and ponderosa pine trees.
Pioneer Park is the oldest of the 15 parks in Walla Walla. In 1902 Frederick Law Olmstead – the father of landscape architecture and the designer of New York City's Central Park – designed the 46-acre park.
---
Sip in More Walla Walla Wine Country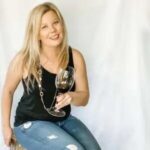 Elaine Schoch (pronounced the German way – Shock) is an award-winning travel writer, wine judge, certified by the Wine & Spirit Education Trust (WSET) Level 2 and certified American Wine Expert. She is the editor and founder of Carpe Travel, a mom to two, a wife to one and in-between it all, working to become a Certified Wine Specialist (CSW).